At a glance
Expert's Rating
Pros
High build quality
Good pen control
Excellent sound and webcam
Cons
Not top notch performance
Moderate battery life
Slightly faded screen
Our Verdict
If you can't have dedicated desk space for a desktop computer, this is a great home office option for all your office tasks, from Office to video conferencing. However, the screen and performance aren't enough, and the short battery life makes it less mobile than it could be.
Price When Reviewed
$1,049.99
Best Prices Today: HP Envy x360 15
HP's Envy series is a slightly more luxurious alternative to the cheap, unbranded base models and the still affordable yet standard consumer Pavilion line. But that doesn't mean it has to be unnecessarily expensive. This folding 15-inch laptop with both touchscreen and pen is just under $1,000, which is a big value for the money.
It's a well-built laptop with a thin design, dark aluminum surfaces and slightly rounded edges and corners, making it comfortable to grip and carry around. At least in the folded position. If I turn it inside out, the sharper edges dig into my hand in an uncomfortable way. The 360 design is mostly for setting up the computer in photo frame mode or laying it flat on a table for pen control.
The computer I received for testing has an AMD Ryzen 7 processor in the 5000 series, built on Zen3 architecture and 7-nanometer technology. It sits roughly midway between the 12th and 13th generation Intel Core i7 processors in terms of performance, giving it plenty of power for all kinds of everyday use.
Looking for more options? Check out PCWorld's roundup of the best 2-in-1 laptops available right now.
HP Envy X360 15: Specifications

Processor: AMD Ryzen 7 5825U, 8 cores up to 4.5 GHz
Graphics: AMD Radeon RX Vega 8
Memory: 16 GB ddr4
Storage: 512 GB SSD, SD card slot
Display: 15.6″ IPS, 1920×1080 pixels, multitouch
Webcam: 1440p, ir for Windows Hello
Connections: 2pcs USB 3 gen 2 type c with DisplayPort and pd, 2pcs USB 3 gen 2 type a, HDMI, headset
Wireless: Wifi 6e, Bluetooth 5.3
Operating system: Windows 11 Home
Other: Flippable to tablet mode, included stylus, backlit keyboard
Noise level: 0-36 dBa
Battery life: 1 hour 30 minutes (high load), 10 hours (low load)
Size: 35.9 x 22.9 x 1.86 cm
Weight: 4.40 lbs
Price: $948.09
HP Envy X360 15: Performance
Cinebench R23, CPU: 10,866 points
Cinebench R23, CPU and core: 1,436 points
Geekbench 6, CPU: 6,904 points
Geekbench 6, CPU and core: 1,895 points
Geekbench 6, GPU: 15,153 points
Disk read: 2,909.23 MB/s
Disk write: 1,666.82 MB/s
HP Envy X360 15: Fast enough for most things
Browsing, office applications, and simple image editing all run smoothly, and multitasking isn't a problem unless you're trying to render video, hold a Zoom conference, and browse dozens of tabs at once. You get 16 gigabytes of RAM, which is standard in the price range, and a slightly small 512 gigabyte SSD, where some competitors give you 1TB. The disc isn't the fastest either, but you'll need to write large amounts of data intensively to feel the difference.
Mattias Inghe
The processor seems to struggle to keep power consumption down, despite its 7-nanometer architecture. In my measurements, I can't get more than a maximum of ten hours of active runtime, with the computer turned on and with minimal use on a dimly lit screen.
The computer's 15.6-inch screen with 1080p resolution feels a bit like a relic of a laptop from five or six years ago. 16:9 format instead of the now popular 16:10, low brightness of 250 cd/m2 at best and color gamut just below SRGB standard. It's certainly not bad in the right indoor light, and viewing angles and contrast are convincing, but there's no real light or color intensity for either movie watching or creative work.
HP Envy X360 15: The pen is a plus point
It's a shame, because with an excellent pen with good control, it could have been brilliant for drawing and detailed image editing. The pen provides direct and detailed control with natural pressure sensitivity, and is comfortable to hold. It charges with a USB-C cable, preferably directly into your computer, and is ready to go with your computer.
For the most part, however, you'll be controlling the computer with the mouse pad and keyboard, and I don't have any major complaints about those either. Except that the keyboard is somewhat cramped, to make room for speaker grilles and a row of navigation buttons on the sides, and that the computer's power button is an ordinary key above the backspace button, making it easy to access by mistake.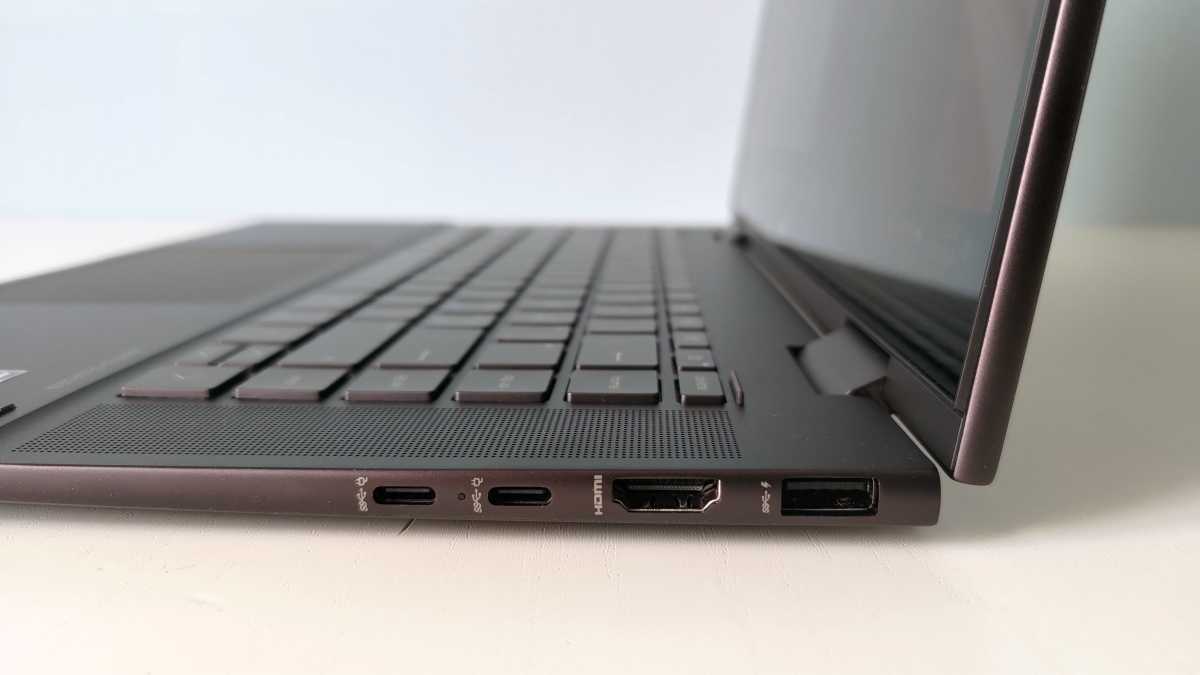 Mattias Inghe
Why manufacturers stubbornly continue to do this I will never understand, and I will whine about it every time they don't do anything to address that risk. Otherwise, the keyboard has good typing feel and clear backlighting, and the half-sized mouse pad is comfortable and provides proper control.
HP Envy X360 15: Best-in-class webcam
The speakers on the side of the keyboard, combined with two more on the underside of the computer, provide clean, distinctive and powerful sound. They're great for playing music, and also for reproducing voices. Together with a surprisingly good 1440p webcam and competent built-in microphones, the Envy X360 is all you need for a successful video meeting. HP even has an additional program that can start automatically when the webcam is activated. It uses the screen as a kind of ring light. Simple and smart.
Connectivity and connections are no surprise. You get Wi-Fi 6e support, and four USB ports, two Type-C and two Type-A. The type c ports would have been thunderbolt 4 in an Intel-chipset laptop, but here you have to do without some features, like external PCI express. But you get fast data, power, and display port output on both type c ports. So, it's almost as good.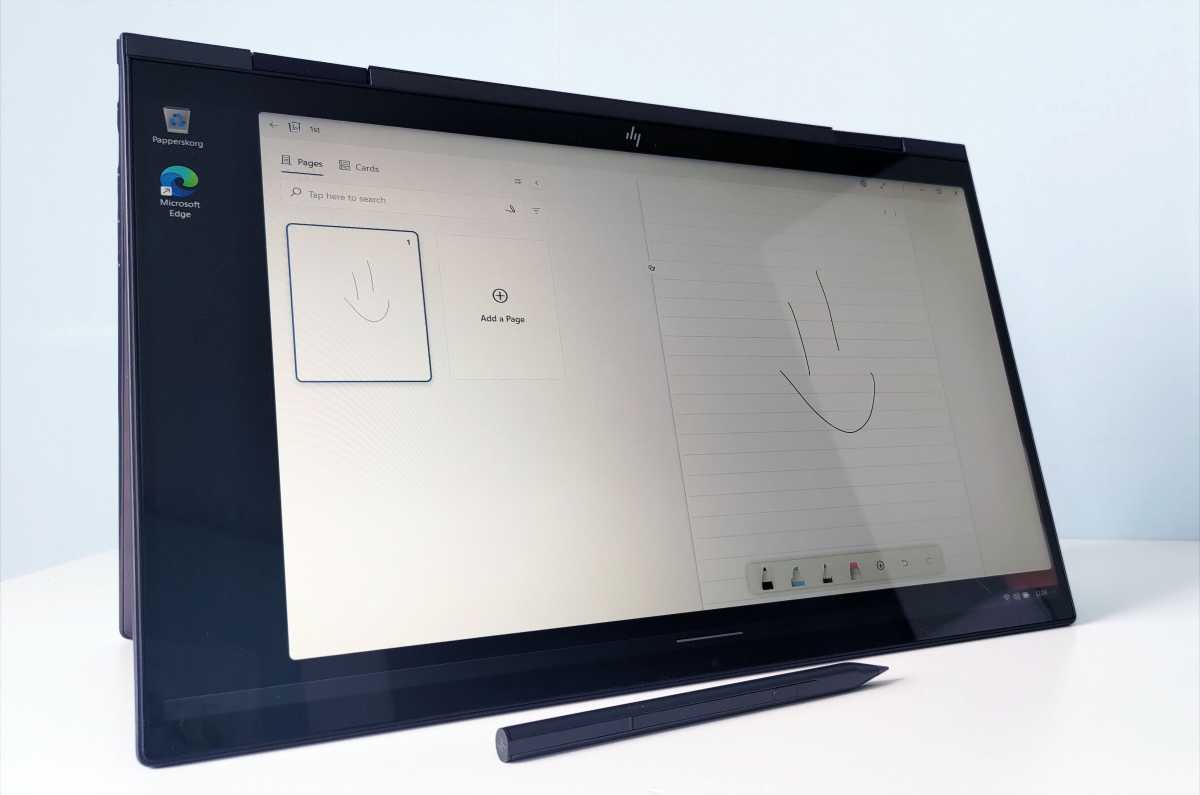 Mattias Inghe
HP throws in some annoying bloatware, like Livesafe, Lastpass and Express VPN. As well as several own apps for functionality and system control. Some of them I feel no need for, like Duet Display which can connect a tablet to the computer, and Quickdrop which can transfer files from and to a mobile phone. But they can certainly come in handy for someone, so I don't see a downside to their existence.
This article was translated from Swedish to English and originally appeared on pcforalla.se.
Best Prices Today: HP Envy x360 15