At a glance
Expert's Rating
Pros
Excellent switches
Hot-swap sockets
Comfy wrist rest
"Thocky" typing feel
Cons
ABS keycaps
Synapse software only
Warranty void if opened
Our Verdict
While not deviating too much from Razer's formula, the BlackWidow V4 75% delivers a fantastic typing experience and enough premium features to make it a great crossover keyboard for gamers who want to dip a toe into the custom scene.
Price When Reviewed
$189.99
Best Prices Today: Razer BlackWidow V4 75% keyboard
Razer is the archetypal "gamer" brand, and at present it sells dozens of different keyboards. But they're all well, gamer keyboards, with a fairly narrow focus on that market. Aside from a brief flirtation with "office" products, the company hasn't engaged with the custom, boutique side of the market, exemplified by brands like Keychron, Drop, and Glorious. Until now.
Going by its name alone, the BlackWidow V4 75% is just a slightly shrunken version of the excellent V4 Pro. But it's much more than that. As Razer's first keyboard with hot-swap switches, and filled to bursting with high-quality parts and features, it bridges the gap between gamer and custom keyboards.
mentioned in this article
Razer BlackWidow V4 Pro
Price When Reviewed:
229.99
Further reading: See our roundup of the best gaming keyboards to learn about competing products.
At an inherently middle-ground design, the V4 75% isn't perfect. Those wanting a "pure" gaming experience will probably be able to find a better deal, and those who want a more premium custom keyboard can get a more targeted option for around the same price. But if you find yourself torn between gaming keyboards and those that embrace a custom feel, it's an ideal compromise.
What features does the BlackWidow V4 75% have?
Physically, the V4 looks similar to a lot of 75% keyboards, like the Asus ROG Azoth or the Keychron Q1. It swaps out the more typical dial for a horizontal one, a shortened version of the one on the right side of the full-sized V4 Pro, chopping down the pronounced media controls to just Mute and Play/Pause. Other than that, it's a familiar layout (only the right Shift key is shortened) in Razer's typical jet black.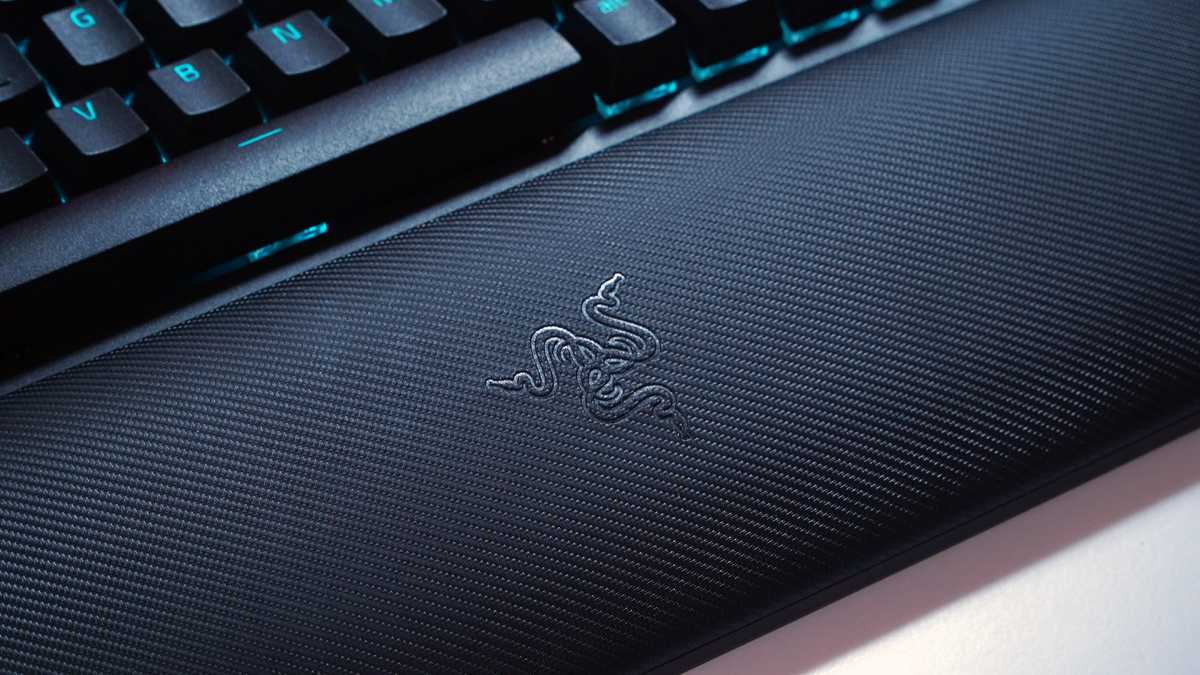 Michael Crider/Foundry
The keyboard inherited a few other traits from the V4 Pro, including a cushy, comfy wrist rest that weakly attaches to the main board via magnets, and RGB lighting that extends to the left and right side in strips (but not the rest). It's also wired, with no wireless option, something Razer dropped from the V3 series, and still comes with ABS plastic keycaps instead of the more premium PBT.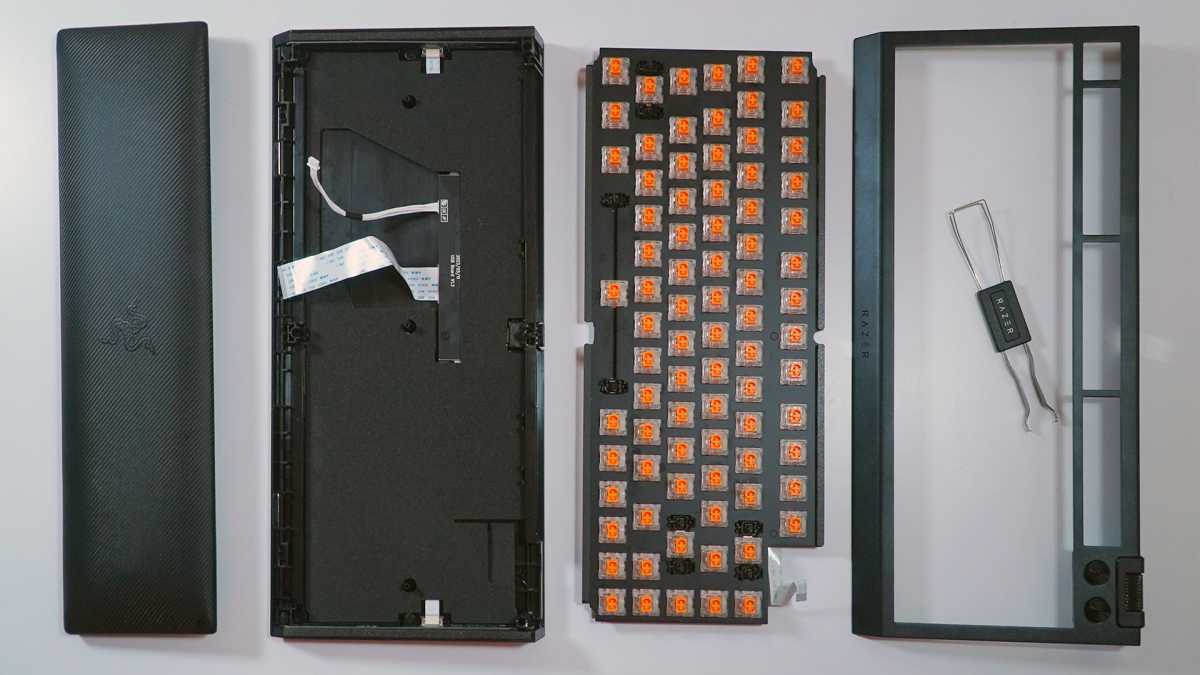 Michael Crider/Foundry
The rest of the design is all new. Razer took a good, long list at the most popular semi-custom keyboards, plus the current trends on keyboard communities. The result is a laundry list of premium and custom features. And here it is, because I don't want to bore you:
Hot-swap switch sockets
Aluminum body (top and two sides)
Gasket mount
PCB and body foam
PCB "tape mod" layer
FR4 (plastic-style) plate
Lubricated stabilizers
User-accessible case…sort of
So yeah, this is a sizeable departure from Razer's traditional design, while keeping most of the gamer elements it's been building up over the last few years. The hot-swap option is something that's a pure plus for pretty much anybody, unless you want rare and proprietary optical switches, as seen on the Huntsman line. The gasket mount, internal foam, and "tape mod" — a popular aftermarket addition that Razer has essentially industrialized — are all aimed at making the typing "feel" more premium.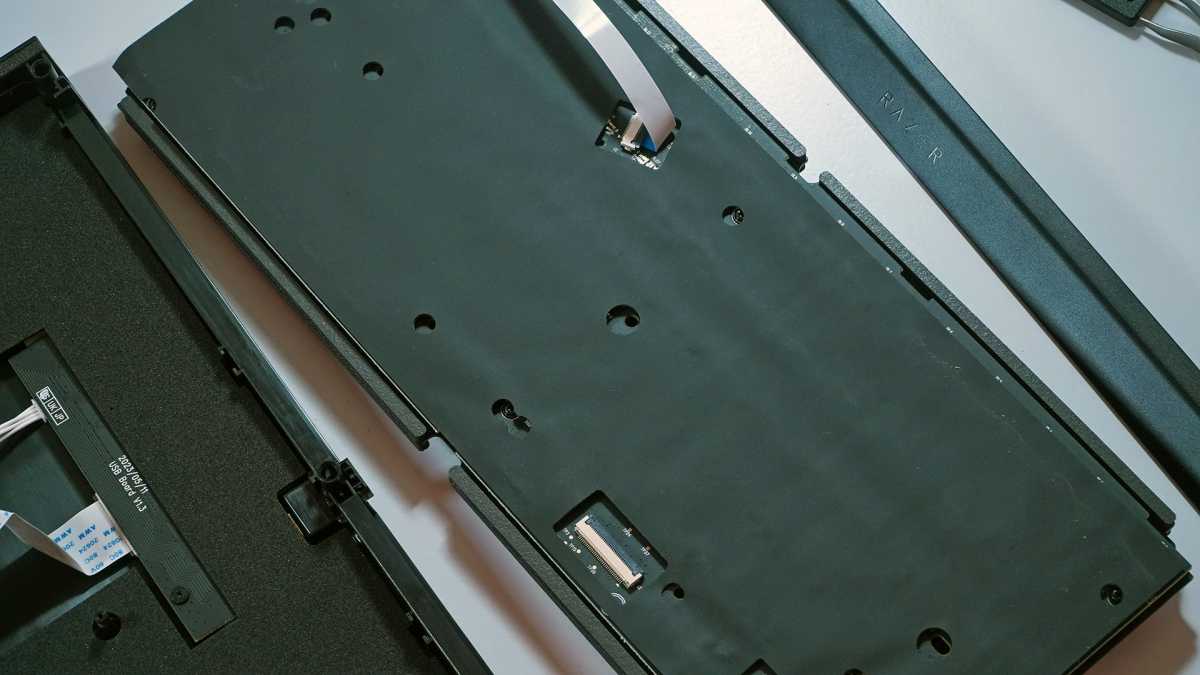 Michael Crider/Foundry
But that's only half of the equation. The other half is the newly designed "Razer Orange V3" switches that come standard. Razer's made a big to-do about how much improvement has been made over previous designs, and interestingly, it's chosen tactile switches (small bump, no click) over the totally smooth linear switches present in most gaming keyboards. Again, this is based on feedback from the larger community.
How does it feel to type on the BlackWidow V4 75%?
So what has all this work achieved in terms of typing and gaming? Speaking as a mechanical keyboard nut, I'd say it's made a board that has a surprisingly good typing experience — and a shockingly good one for a board still very much aimed at gamers. The immediate improvement over other Razer boards, even the most expensive ones in the line, is immediately apparent.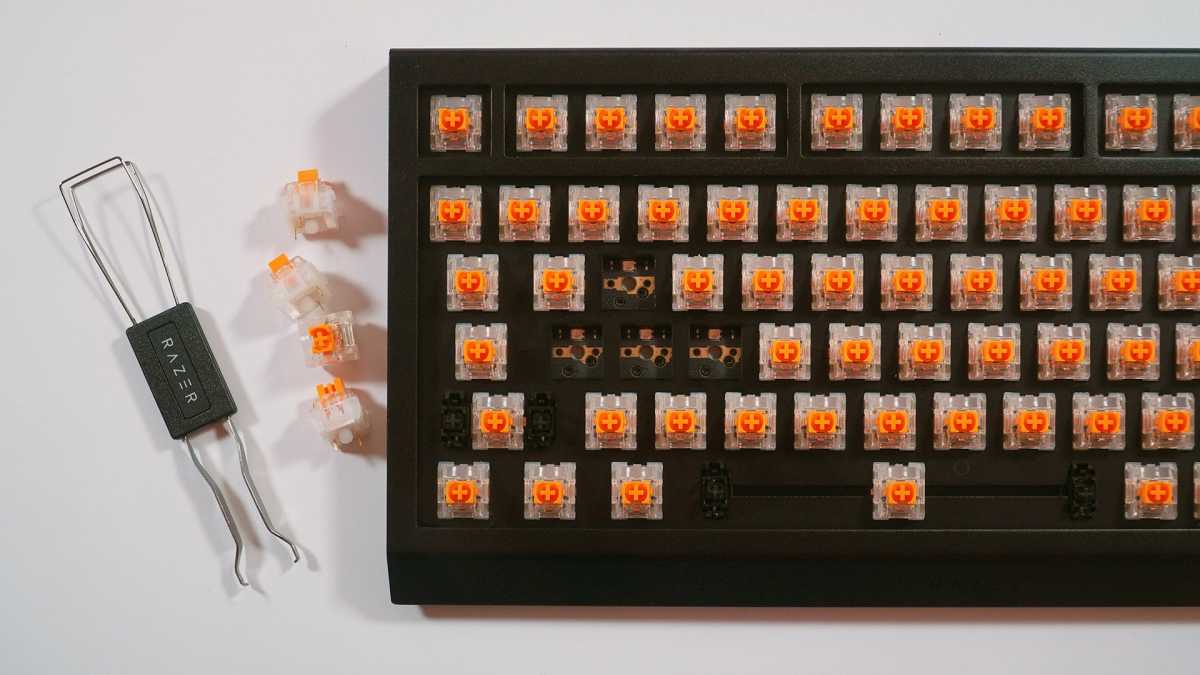 Michael Crider/Foundry
The aluminum deck combined with the foam and tape mod make the switches somewhat "thocky," to use the jargon of the mech hobby. The slight bump is noticeable, but very smooth thanks to thick, rigid stems. It's not as deep, resonant, or dramatic as some of the multi-hundred-dollar builds from boutique sellers, but it's a definitely a leg up on just about any gaming-branded board out there. If it weren't for the Razer name and marketing, I'd say this board is better for typing than for gaming.
Further reading: See our roundup of the best mechanical keyboards to learn about competing products.
All that being said, it's got a few points against it versus a more focused "custom" board like the GMMK Pro or the Keychron Q1. First, it's a plastic body — the metal is only on the top deck, plus the front and rear sides. You can see the plastic (complete with "FOR GAMERS, BY GAMERS" repeating text, in case you've forgotten) on the bottom, along with the double-stage feet. That makes it significantly lighter than other 75% boards with all metal bodies.
Michael Crider/Foundry
Second, Razer has chosen to stick with its Synapse software instead of the standardized, multiplatform QMK or VIA for programming. It's understandable — Razer has sunk a lot of resources into Synapse, including cross-platform syncing of the Chroma lighting with such diverse systems as Amazon Alexa and Phillips Hue. And as driver programs go, Synapse is probably the best on the market. But purists will still resent having to use proprietary software.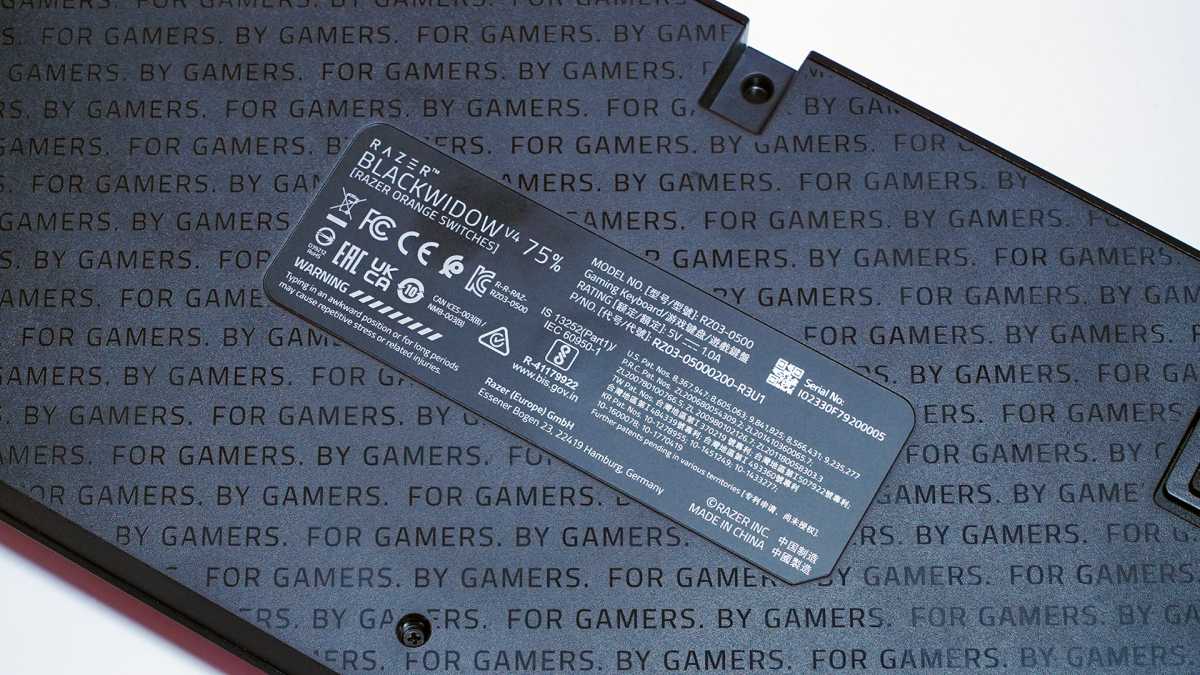 Michael Crider/Foundry
Lastly, Razer PR emphasized to me that the BlackWidow V4 75% was made to engage with the custom hobby crowd, with a body that can be disassembled by removing just six standard Philips-head screws. And indeed, this is the case. But the screw right beneath the USB cable has a telltale warranty sticker covering it. A dive into the user manual confirms that, indeed, your warranty is void if you open up the keyboard, even if no further modifications are made. That's far from the mod-friendly image cultivated by some of Razer's competitors in this space, and such an obvious disinclination to further customization has to count against it.
How is the BlackWidow V4 Pro for gaming?
As I said previously, the excellent tactile Orange V3 switches almost make the BlackWidow V4 75% more suited to typing than to gaming. But if you want it for the latter — and I have to assume that a lot of Razer enthusiasts do — you won't find it lacking.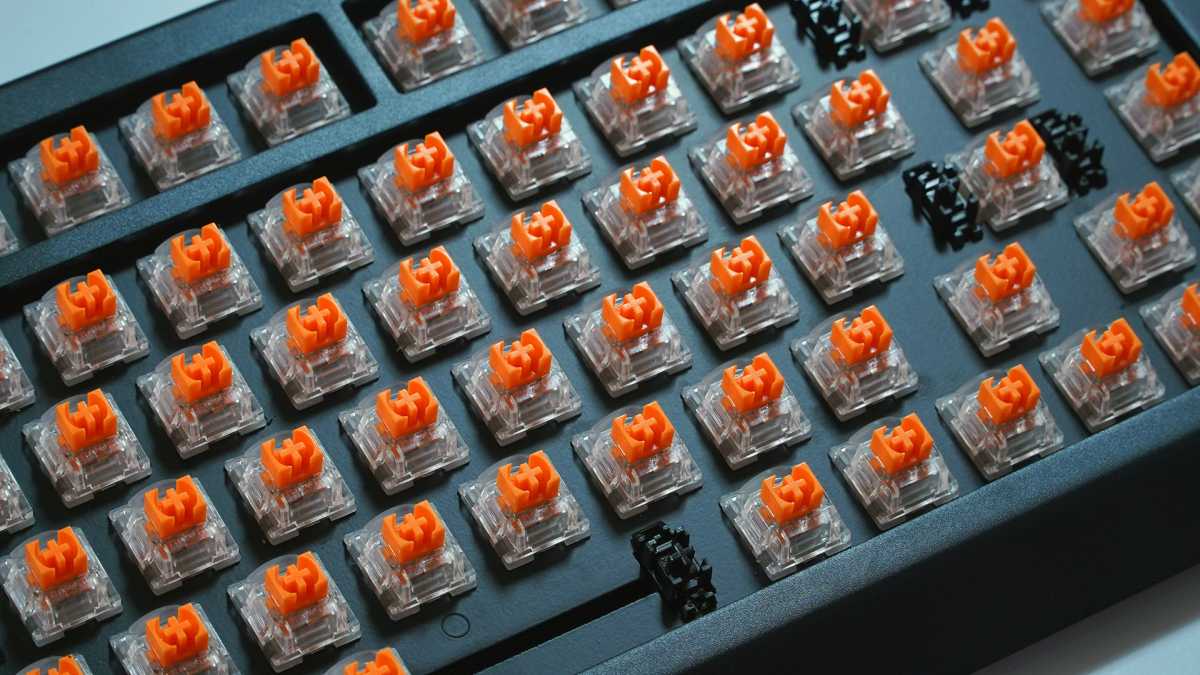 Michael Crider/Foundry
As with most of Razer's recent keyboards, it's completely customizable in Synapse, can be loaded with offline profiles in local memory, and can program macros on the fly. It has 8,000Hz polling, far more than any human being can actually make use of, and quick "game modes" disable the Windows button, Alt-Tab, and Alt-F4. Though once again there are a few buttons that are off-limits for programming, including Win, Fn, and the play/pause button.
Michael Crider/Foundry
The V4's super-comfy wrist rest makes extended gaming sessions a breeze, and I think some gamers may prefer the smaller, backpack-friendly size (not to mention the lighter plastic body) versus the full-sized V4 Pro. And yes, the lighting does look very pretty, especially with the side strips — I'm partial to the "fire" preset that makes it glow like a Christmas fireplace.
How does the BlackWidow V4 Pro compare for value?
Here's where things get interesting for the BlackWidow V4 75%. At $190, it's $40 less than the much larger, heavier V4 Pro. And considering all the engineering and extra parts that went into the design, I'd say that's more than fair. But how does it compare to similar keyboards from the competition?
As a wired, gaming-focused 75% board that swings for the "custom" crowd, I'd say the Glorious GMMK Pro is the closest model to compare it to. It also has side lighting and a nice wrist rest, and comes with a nearly identical layout and set of features, minus the "tape mod," but with a custom break-away cable and a full aluminum body. For these luxuries, Glorious asks $350. Razer's a clear and dramatic winner in terms of value, and depending on your tastes, its more gaming-focused software and much faster polling may make it an outright winner anyway.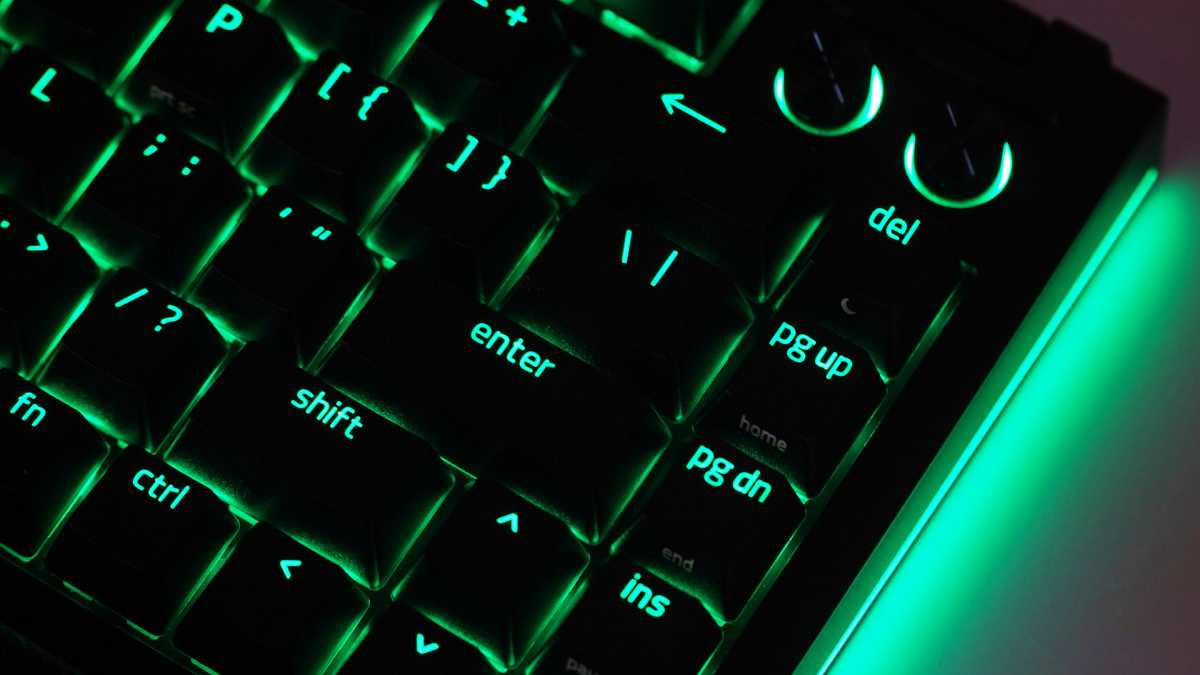 Michael Crider/Foundry
The V4 75% also competes with the Asus ROG Azoth, which includes wireless capabilities, a full metal frame, an OLED screen, and a switch lubing kit, even if it is rather barebones. But I found the screen a poor replacement for a standard dial with very little practical use, and Asus' gaming software is abysmal. Razer's a clear winner unless you can't live without high-speed wireless.
Which brings up the most interesting comparison: the Keychron Q1. I reviewed the wireless Pro version of this board, and it remains our top overall pick for pure mechanical keyboards, but the wired-only board is a more direct match for Razer here. At $189 for the fully assembled knob version, it has a slight advantage in price, comes with RGB lighting (sans side strips), full PBT keycaps, gasket mounting, and a full aluminum body. All it's missing in the hardware feature list is Razer's 8,000Hz polling, the built-in "tape mod," and that very cushy wrist rest…but Keychron has chosen to make its keyboards programmable with VIA and QMK. And perhaps more pertinently, there's no warranty issue just for opening it up, and comes with an Allen wrench included for just that purpose.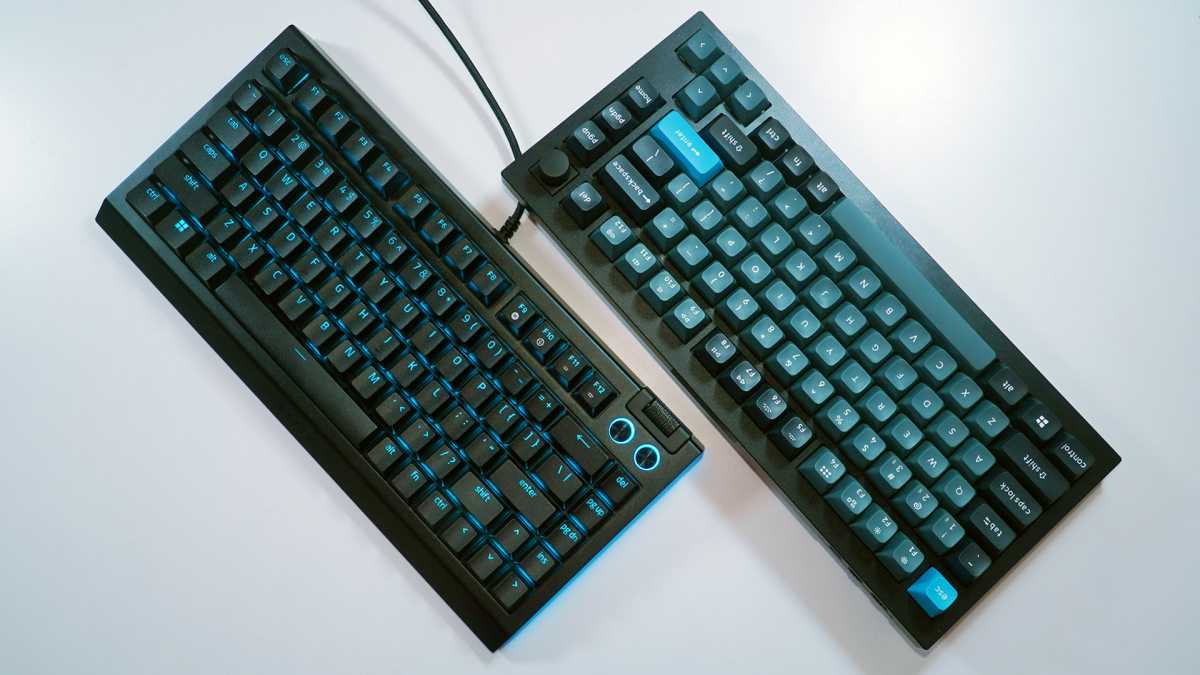 Michael Crider/Foundry
I'm prepared to call this a wash. Those who want a keyboard for pure gaming prowess and some light custom options will be happier with the BlackWidow V4 75%, even with its somewhat low-rent ABS keycaps and lighter plastic body. Those who want to go all-out on the custom side of things will get more bang for their buck with the Keychron, which is still perfectly serviceable for gaming if not so razor- laser-focused on it.
All rambling comparisons aside, the BlackWidow V4 75% is a great keyboard, and a huge step forward for Razer. I wish it came with PBT keycaps, and offered an option for programming aside from Synapse. But as a gaming keyboard it's incredibly comfortable and satisfying to use. It's an excellent choice if you want great gaming and typing with the option to dip your toes in the custom keyboard craze, or just want a more premium option that maintains Razer's gaming heritage.
Best Prices Today: Razer BlackWidow V4 75% keyboard