At a glance
Expert's Rating
Pros
Unique design with compact stand
Effectively infinite contrast ratio
Excellent motion performance in games
Cons
Disappointing color performance for OLED
Lackluster HDR
No USB-C
Our Verdict
The AOC Agon Pro AG276QZD is one of several new OLED gaming monitors to serve awesome gaming visuals with crisp motion, but it fails to stand out from the crowd.
Price When Reviewed
$999.99
Best Prices Today: AOC Agon Pro AG276QZD
AOC is the latest to enter the increasingly competitive field of 27-inch, 1440p, 240Hz OLED gaming monitors. The Agon Pro AG276QZD attempts to set itself apart with a unique, asymmetric design and good connectivity, but image quality quirks hold back the AG276QZD's potential.
AOC Agon Pro AG276QZD: What are the specs?
If the AOC Agon Pro AG276QZD's specifications feel a bit familiar, well, that's no surprise. The recent flood of 27-inch, 1440p OLED gaming monitors rely on a particular LG Paper White panel suited to computer monitors.
Display size: 26.5-inch widescreen
Native resolution: 2560×1440
Panel type: OLED
Refresh rate: 240Hz
Adaptive Sync: G-Sync compatible
HDR: Yes, HDR10
Ports: 2x HDMI 2.0, 2x DisplayPort 1.4, 2x USB-A 3.2 Gen 1, 3.5mm audio-out
VESA mount: Yes
Speakers: Yes, 2x 5-watt
Price: $999.99
That makes it hard for any one monitor to stand out, and the AG276QZD is no different. Its size, resolution, and refresh rate exactly match competing monitors from LG, Corsair, Asus, and Acer.
Further reading: See our roundup of the best gaming monitors to learn about competing products.
AOC Agon Pro AG276QZD: Design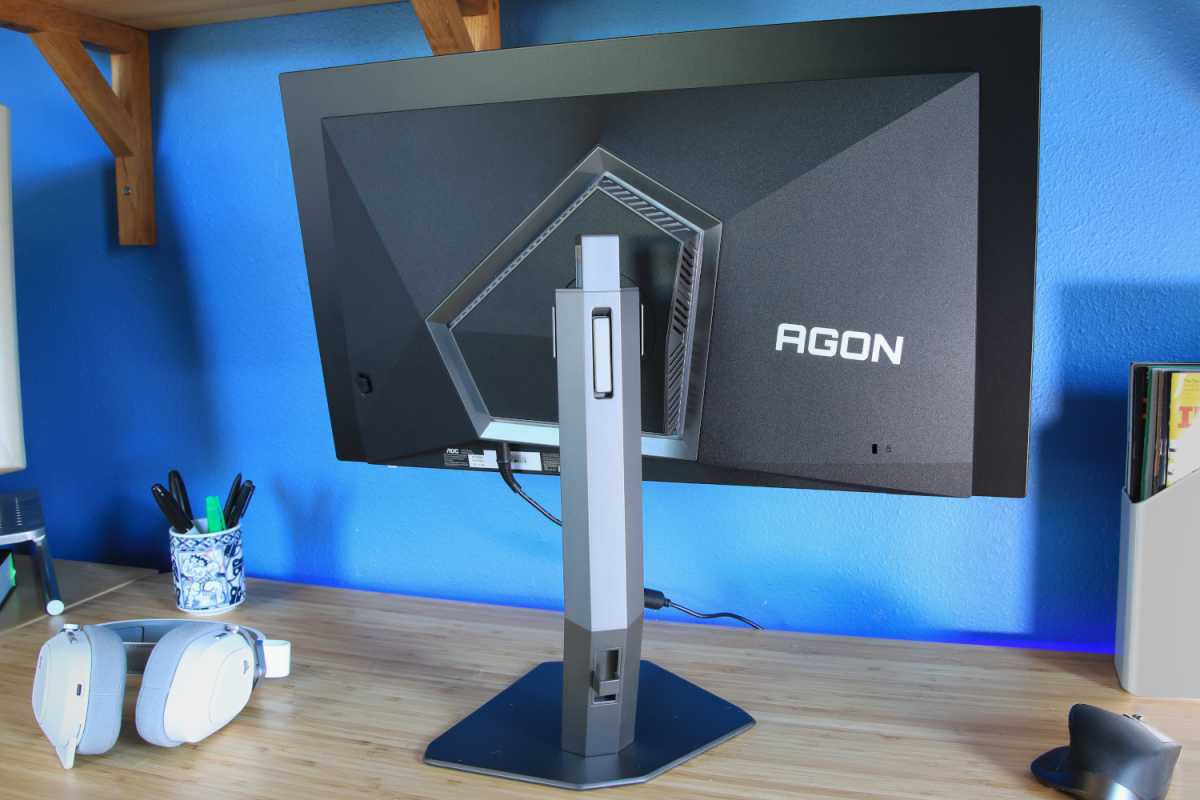 Matt Smith
AOC must've understood the Agon Pro AG276QZD's technical similarities to its competition, because the company goes wild with the monitor's design.
The display's look revolves around an asymmetric pentagon shape found on both the monitor's rear panel and the monitor stand. It's a bold alternative to the classic symmetric shapes used by most competitors. AOC adds emphasis with customizable RGB-LED lighting on the rear of the monitor. The light's aren't bright, however, so they only leap out in a dark room.
AOC's asymmetric design continues with the compact stand base. The design takes some adjustment, as it's difficult to know which orientation is the "correct" placement. Looks aside, the stand's small, slim profile is good news for gamers with limited desk space. Ergonomic adjustments are available, too, with support for height, tilt, swivel, and rotation.
The stand attaches to the monitor with a clip mechanism instead of a VESA mount. However, the display panel itself is VESA compatible, so a third-party monitor arm or stand remains an option.
AOC Agon Pro AG276QZD: Features and menus
A pair of HDMI 2.0 ports and DisplayPort 1.4 ports lurk behind the AOC Agon Pro AG276QZD's rear panel, providing a total of four video inputs. That's excellent for any gaming monitor, and a slight improvement over the alternatives, which usually have three video inputs.
However, only the DisplayPort 1.4 inputs can handle the monitor's 1440p resolution at its maximum refresh rate of 240Hz. The HDMI 2.0 ports are limited to 1440p at 144Hz. AOC's competitors share this problem.
USB-C connectivity is limited to two USB-A 3.2 Gen 1 downstream ports powered by a single USB-B upstream. This isn't a lot of USB connectivity—though, again, it's similar to the competition. If you want USB-C, consider the Corsair Xeneon 27QHD240.
AOC's menu system is adequate, but only just. A joystick on the monitor's right rear flank provides quick, responsive access to the menus. However, the menu system's arrangement can prove confusing. Some menu options are adjusted with a left/right movement, while others use an up/down movement. The lack of consistency can lead to mistakes.
The monitor includes several color modes, color temperature, and color gamma presets, but most are not calibrated to a particular target. There's an sRGB and DCI-P3 mode, at least. AOC chucks in gaming-centric features, like a crosshair and customization of the "LightFX" RGB-LED lighting on the monitor's back panel. Picture-in-picture and picture-by-picture modes are available, too.
Speakers are bundled in the AG276QZD, but don't expect to rely on them. They deliver thin, hollow sound that's easily overwhelmed by bass. They're okay for podcasts, but music, games, and movies can sound harsh, metallic, and grating.
How is the AOC Agon Pro AG276QZD's SDR image quality?
The AOC Agon Pro AG276QZD's 27-inch 1440p panel provides the technology needed to deliver top-tier image quality. It lives up to expectations in some areas, but stumbles in others.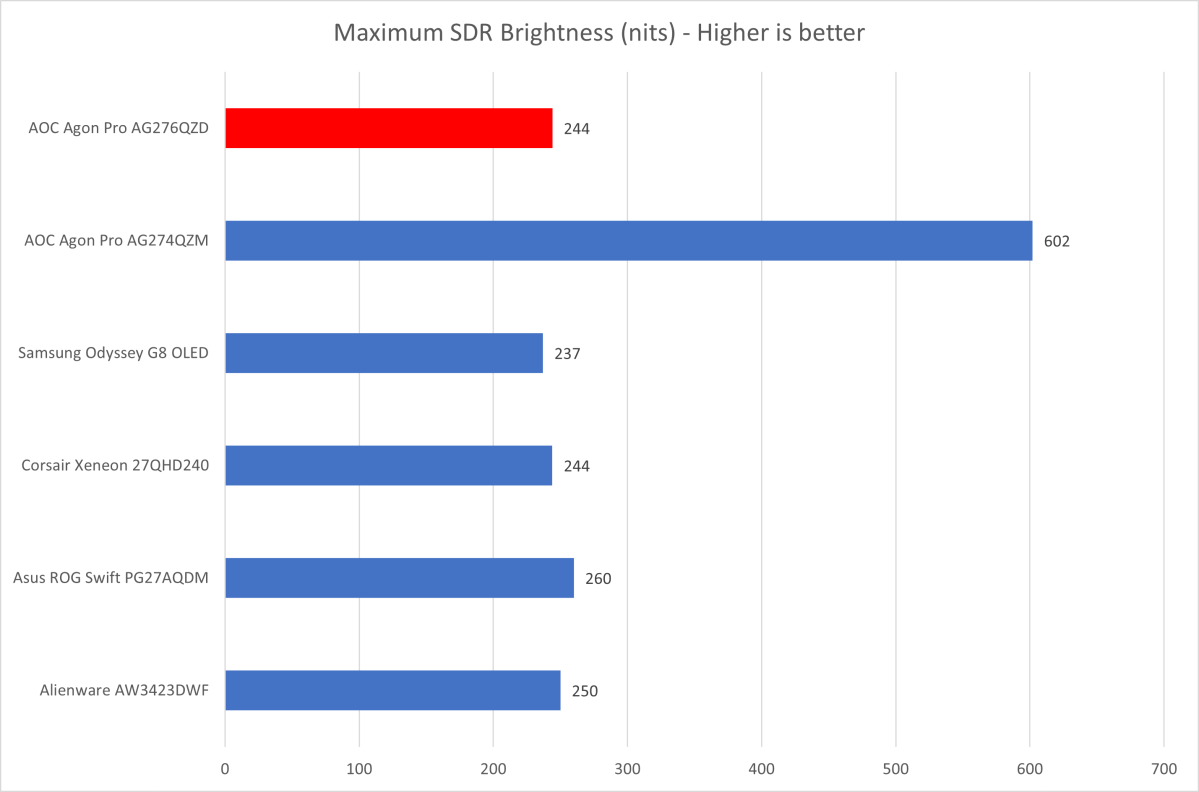 Matt Smith
Brightness is an unsurprising limitation of the AOC Agon Pro AG276QZD. All monitors based on the LG Paper White OLED panel have problems in this area. That said, a brightness of 244 nits is usable in most situations, and I generally left the monitor at roughly 50 percent of its maximum. Brightness is only an issue when the monitor is used in an extremely bright room or near a sunlit window.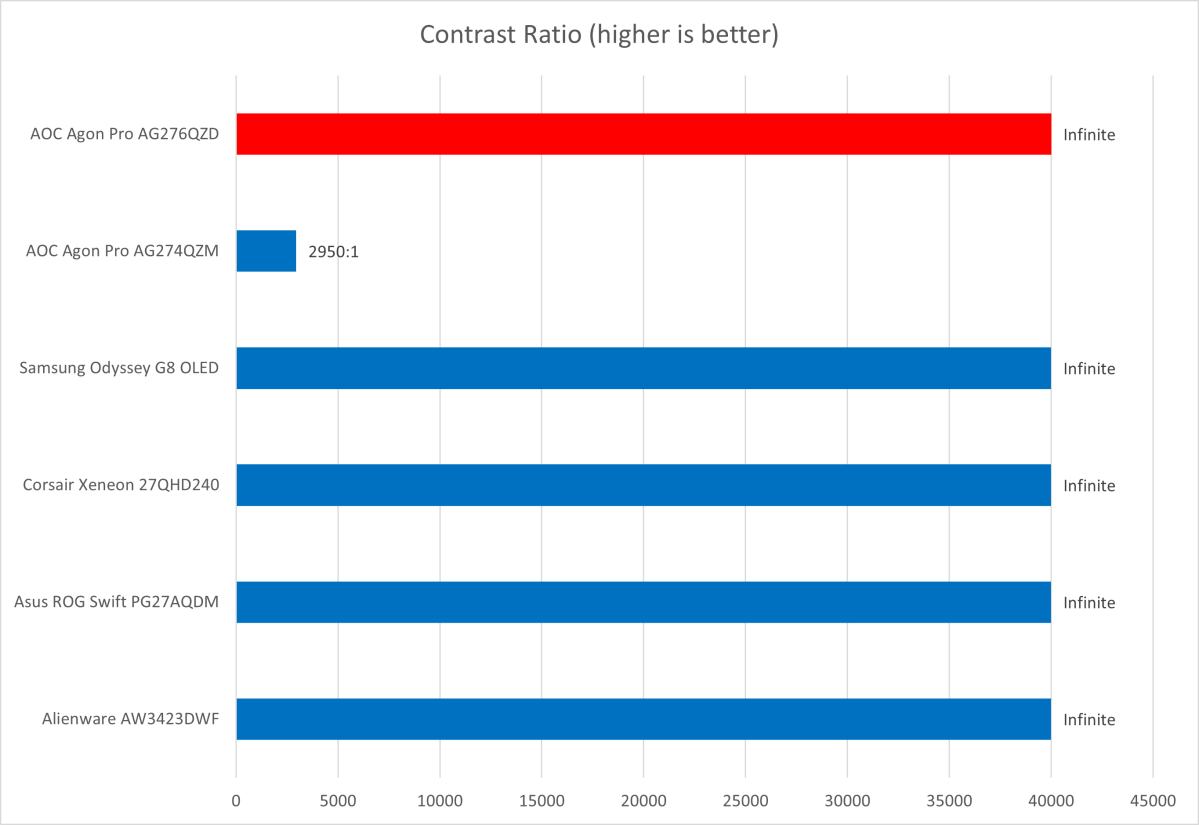 Matt Smith
The AG276QZD delivers on OLED's promised contrast with an effectively infinite contrast ratio. This occurs because the monitor can deliver a brightness of exactly zero nits when required.
Infinite contrast leads to a rich, immersive experience. There's a real sense of depth and dimensionality to high-resolution, contrast-rich content. This, along with the monitor's thin bezels, can make it seem as if you're looking through a window, not at a display.
Dark, moody content excels, as there's no hint of the grayish glow common to most monitors. Shadow detail is well preserved, too, so subtle figures and silhouettes remain visible in dim scenes. That's useful when playing games like Diablo IV or Left 4 Dead 2, and when viewing dimly lit movies such as The Batman.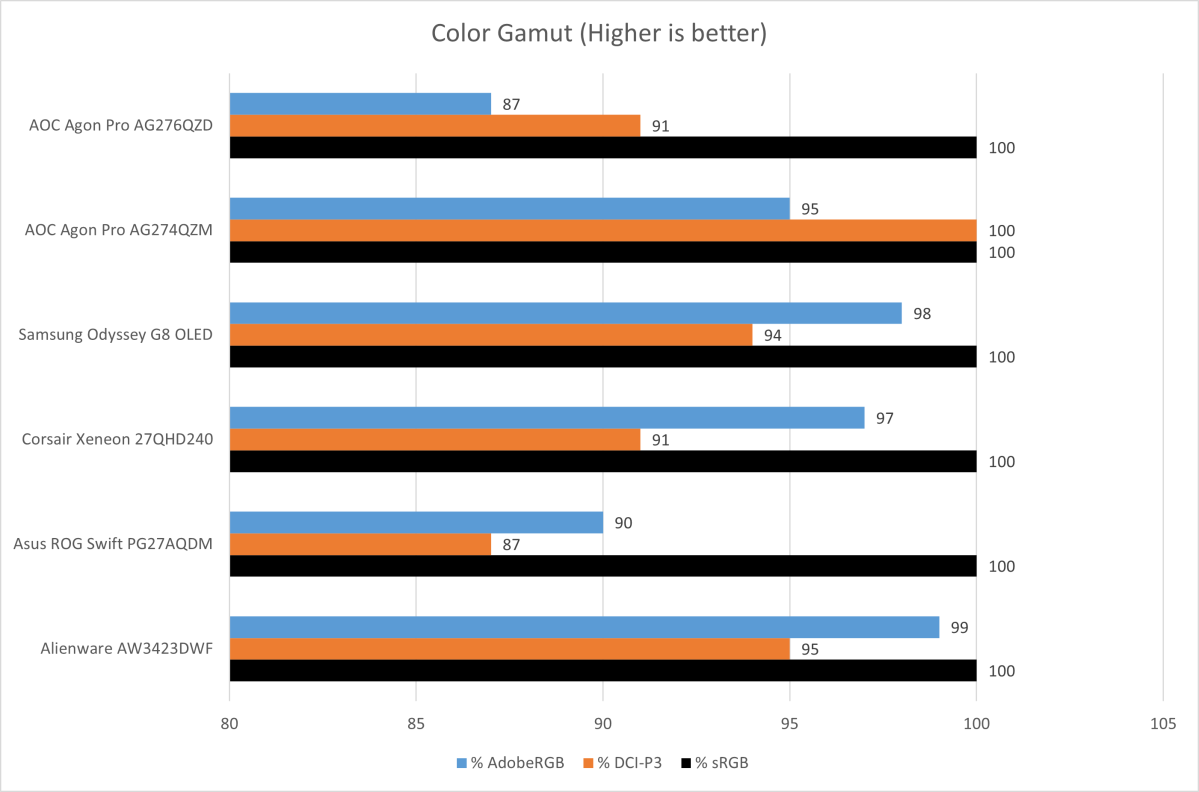 Matt Smith
Color gamut is where AOC's fortunes begin to turn.
The AG276QZD provides a color gamut that spans 100 percent of sRGB, 91 percent of AdobeRGB, and 87 percent of DCI-P3. That's short of the competition. Corsair's Xeneon 27QHD240 and Alienware's AW3423DWF both outperform the AOC in color gamut. The same is true of AOC's Agon Pro AG274QZM, a Mini-LED alternative.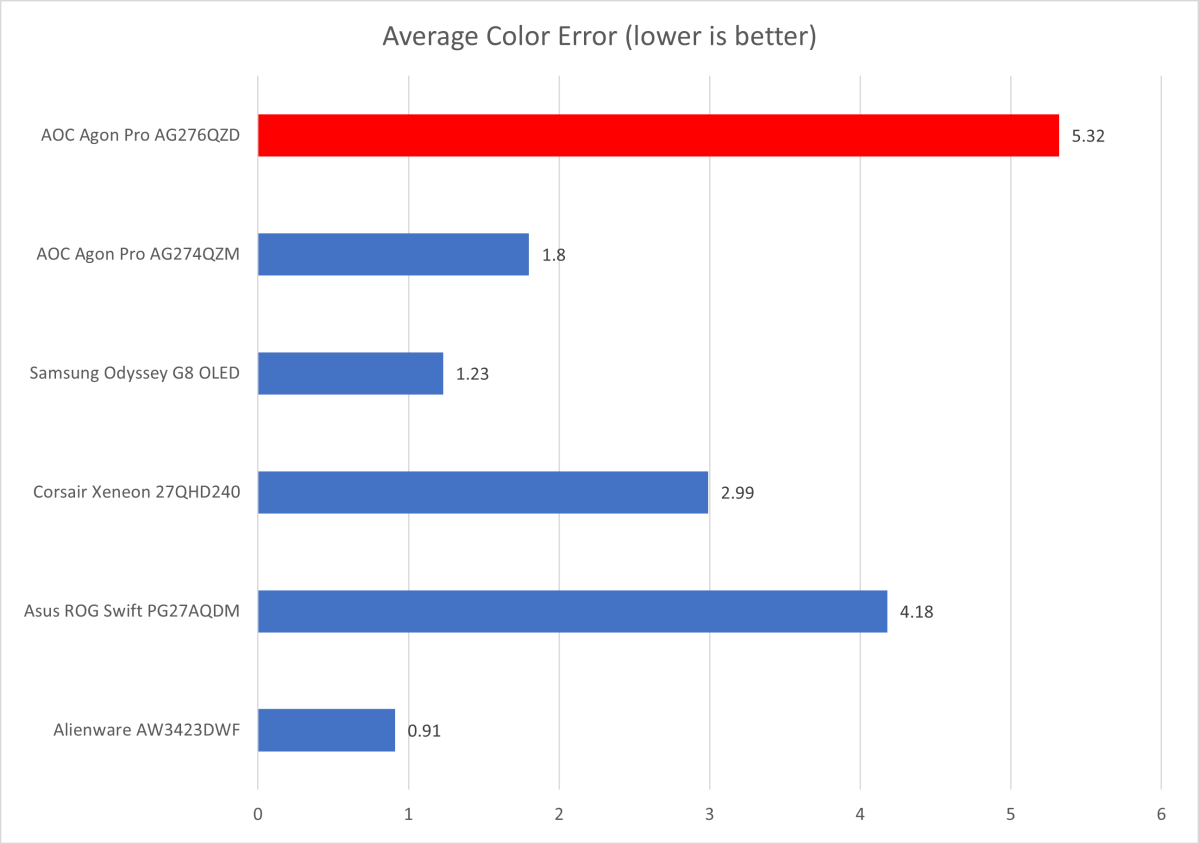 Matt Smith
And color accuracy is where the story truly sours. The AG276QZD scored rather poorly in color accuracy with an average color error far beyond any of its alternatives.
I've tested enough monitors based on LG's Paper White panel to, at this point, call disappointing color accuracy a common problem for this panel type. The AG276QZD is the worst of the bunch, however, and it shows.
Colors tend to appear overly saturated and neon-like on the AG276QZD. This is most obvious in yellow, which tends to shift towards an unnatural yellow-green hue, but I saw a similar over-saturated skew present in cyan and magenta. I tried to tame this effect with the monitor's color calibration features, but with limited success.
How much this matters depends on how you plan to use the monitor. Gamers likely won't notice anything amiss. Indeed, a somewhat over-saturated and vivid look can seem subjectively better in games, even when it's not technically accurate. If you're a content creator who works with photos, video, or digital art frequently, however, give the AG276QZD a pass.
I also noticed the monitor's default gamma was off at a reading of 1.9. This indicates images appear a bit more luminous than they should. Color temperature was acceptable, though, with a reading of 6800K (just a tad cooler than the desired 6500K).
Sharpness can be an issue. Most OLED monitors currently available have a sub-pixel layout that differs from the RGB layout Windows expects, which leads to color fringing issues around high-contrast borders. When reading a fine text, for example, you may notice the space between letters or digits has a jagged and somewhat off-color look. It's not a major problem for web browsing, but it could become annoying if you spend most of your time in Excel.
How is the AOC Agon Pro AG276QZD's HDR image quality?
The AOC Agon Pro AG276QZD supports HDR but, unlike its competition, it's not VESA DisplayHDR 400 True Black certified. This proves less important than you might think, but HDR performance is disappointing.
That's because the AG276QZD, like all OLED monitors, has difficulty achieving and sustaining a high level of brightness. I measured a maximum HDR brightness of 224 nits (a bit less than SDR, actually). That's way below the 600 to 800 nits required for a passable HDR experience. In real-world viewing, the monitor's limited brightness means bright areas of an image that should reveal more detail instead appear washed-out and uniform.
I also noticed the usual issues with SDR tone mapping when HDR is turned on in Windows. SDR content viewed on the Windows desktop will appear less color accurate when HDR is turned on. Many monitors share this problem, and it's certainly noticeable here.
No OLED gaming monitor on the market right now is a great pick for HDR content. Still, the AG276QZD's overall performance is lackluster. In general, gamers who want to use HDR on an OLED gaming monitor should look towards monitor's with Samsung's QD-OLED panel, such as the Alienware AW3423DWF and Samsung Odyssey G8 OLED, as they deliver superior peak brightness.
How is the AOC Agon Pro AG276QZD's motion performance?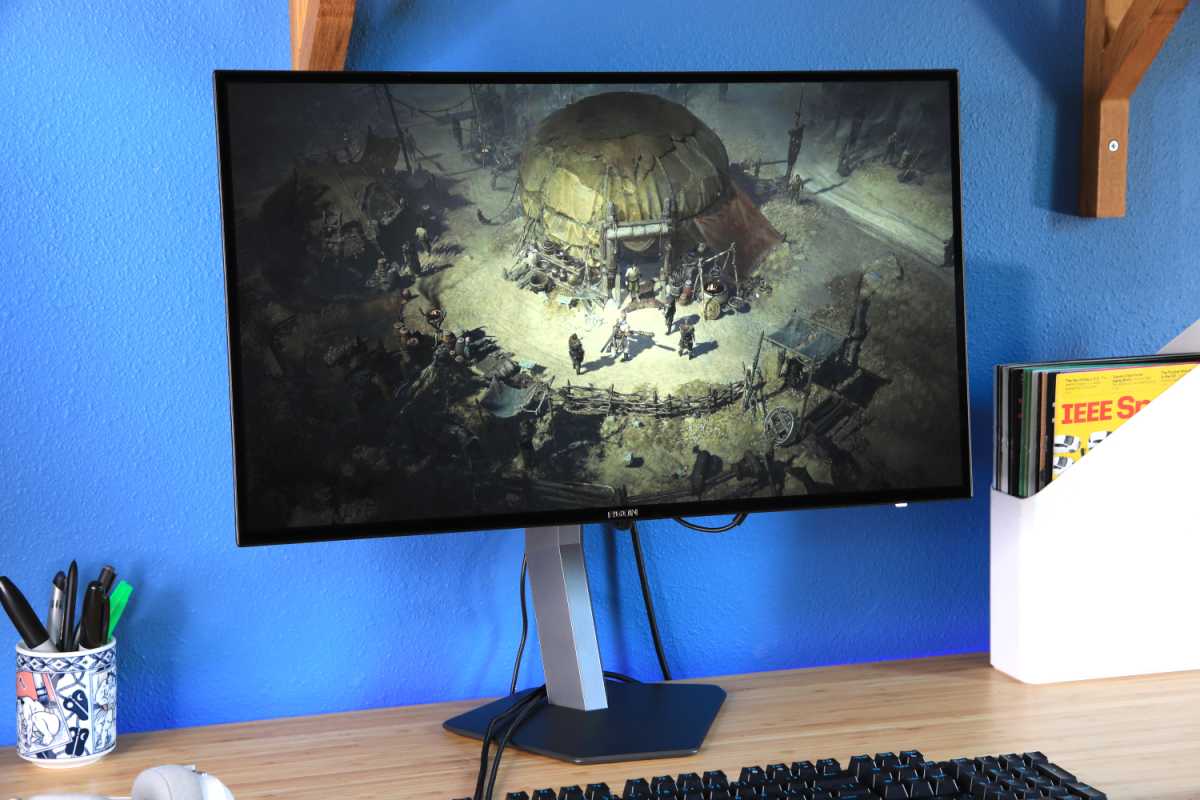 Matt Smith
Motion clarity is an undeniable win for the AOC Agon Pro AG276QZD. It delivers the killer combo: a 240Hz refresh, extremely low pixel response times, and Nvidia G-Sync support.
The 240Hz refresh rate provides buttery-smooth gameplay with a tight, crisp response to user input. Granted, the game you're enjoying will need to render at 240 frames per second to fully use this feature, but the monitor's 1440p resolution (which demands less of a video card than 4K resolution) makes this achievable in esports titles on midrange graphics hardware.
Low pixel response times help make the most of the 240Hz refresh rate. OLED panels can achieve response times down to 0.03 milliseconds gray-to-gray. This results in less motion blur, as pixels "respond" to changes in color quickly. While this is useful at 240Hz, it also applies at lower refresh rates, which is handy if you enjoy demanding games that dip your frame rate into the double-digits.
mentioned in this article
Alienware AW3423DWF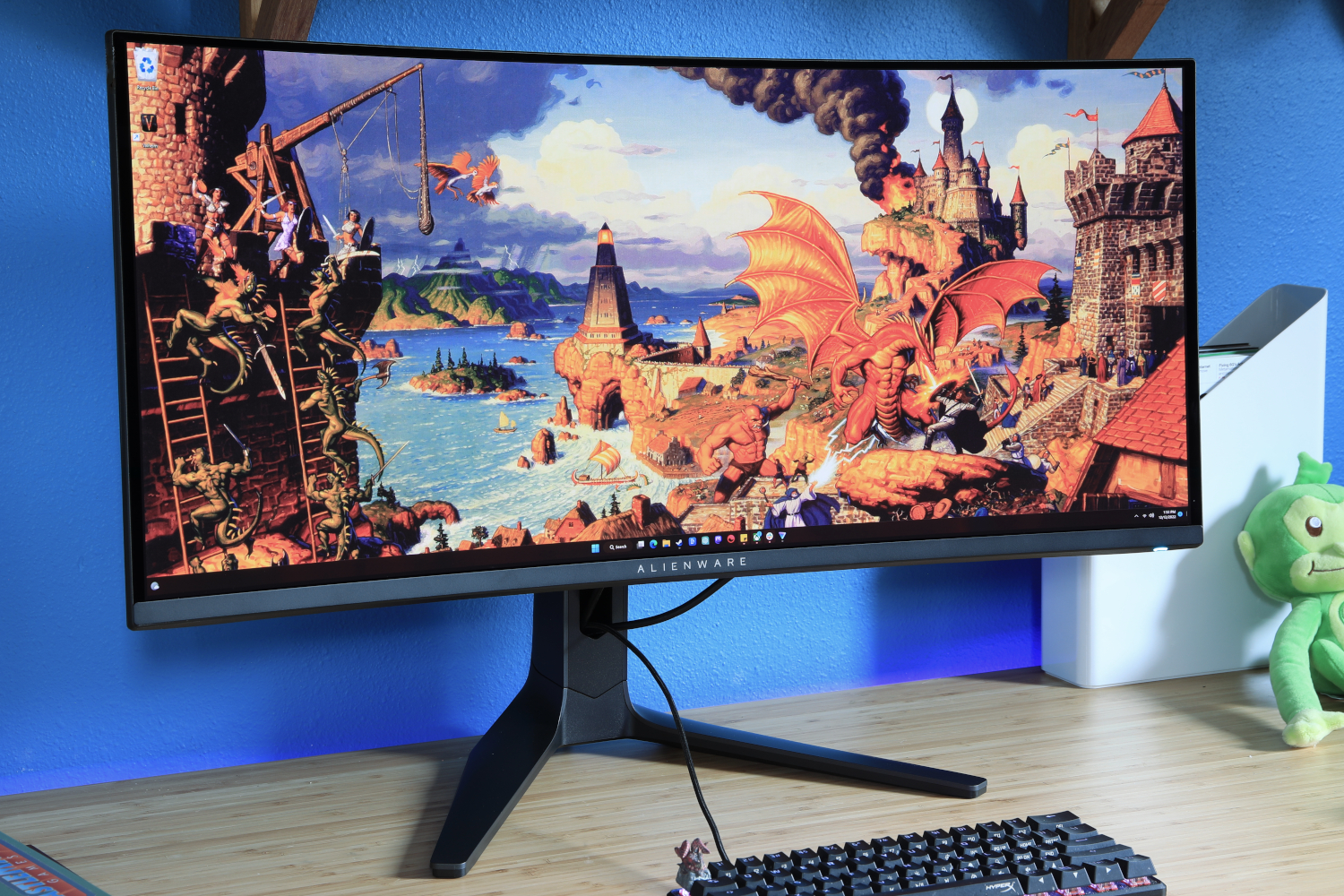 Price When Reviewed:
$1,099.99
Official Nvidia G-Sync support is appreciated, too. There's nothing wrong with AMD FreeSync but, as Steam's hardware survey makes clear, most PC gamers opt for an Nvidia graphics card. And there's a bonus: though not officially listed, AMD FreeSync Premium when I connected the monitor to an AMD Radeon 6600 video card.
The AG276QZD's excellent motion clarity isn't unusual for the category. All 27-inch, 1440p, 240Hz OLED monitors achieve similar results. Still, the motion clarity offered here is sure to please both casual and competitive players.
Is the AOC Agon Pro AG276QZD worth it?
The AOC Agon Pro AG276QZD has a clever design and good feature set for a 27-inch 1440p OLED monitor, but it feels like an also-ran in the category.
Alternatives like the Corsair Xeneon 27QHD240 deliver better overall image quality with a side of USB-C connectivity. The real threat, however, is the Alienware AW3423DWF and Samsung Odyssey OLED G8: these 34-inch ultrawides deliver a larger display, better color performance, and brighter HDR at a similar price.
If you're not committed to OLED, the AOC Agon Pro AG274QZM is a compelling alternative. Priced just $50 higher, this Mini-LED monitor scores wins in brightness, color performance, sharpness, and HDR image quality.
The AOC Agon Pro AG276QZD is a decent OLED gaming monitor but, absent a major discount, it's tough to recommend over the alternatives.