At a glance
Expert's Rating
Pros
36,000 DPI sensor is extremely powerful and accurate
Weighs just 54 grams
Tri-Mode connectivity means it's highly versatile
Cons
Buttons aren't very audible
Left-side buttons are a little small
No 4000Hz HyperPolling
Our Verdict
The ROG Harpe Ace Aim Lab Edition is one of the best esports mice you can currently buy. It offers power, precision, and style in equal quantities.
Price When Reviewed
149.99
Best Prices Today: ROG Harpe Ace Aim Lab Edition
Born of a collaboration between Asus and Spacestate's Aim Labs, the ROG Harpe Ace Aim Lab Edition is a magnetic option for serious gamers. It weighs just 54 grams, yet amazingly it boasts Tri-Mode connectivity, offering you the option of Bluetooth as well as a wired or 2.4GHz Wi-Fi connection.
As far as performance goes this mouse's 36,000 DPI sensor is one of the most precise and accurate we've ever used. Its symmetrical body delivers a precision control we've been looking for in competitive mice for some time now. It's with those thoughts we can say the ROG Harpe Ace Aim Lab Edition is an exceptional choice for gamers, having just about everything you'd wish for in a gaming mouse for the fastest competitive play.
Further reading: See our roundup of the best gaming mice to learn about competing products.
ROG Harpe Ace Aim Lab Edition design
Collaborations can push products to new and exciting levels. You can see that's the case with the ROG Harpe Ace whose design is refreshingly minimalist, a device honed for gamers who need a reliable high-performance mouse. Asus claims the mouse was co-designed and tested by professional esports players, which would account for why it just feels so perfect for FPS.
By far the most glaringly obvious feature is its light weight. I say that a lot these days as companies keep making lighter gaming mice for me to try out, but in the Harpe Ace's case its loftiness is a true tour de force worth celebrating. I mean, to make a mouse just 54 grams — lighter than a tennis ball — with Tri-Mode connectivity (a wired connection as well as 2.4GHz Wi-Fi and Bluetooth) is quite a feat of engineering.
The secret sauce to that weightlessness is in the material used for the mouse's top. It's made of nylon, yet it looks and feels indistinguishable from plastic. Remarkably, it's nothing like the nylon you'll see in a beaten-down pair of swimming togs — it's extremely strong, neither creaking nor buckling under the weight of my hand. This nylon is naturally grippy too, with a texture somewhere between completely smooth and fine sandpaper. Asus has also added extra grips on both of the mouse's flanks for even more gripping power.
The Harpe Ace is shaped like most esports mice in that it's extremely symmetrical — one side looking identical to the other. Clearly this is a mouse meant to have laser-like precision, to be an unstoppable weapon in first-person shooters. It's also a mouse that will fit all the main grip types. But that doesn't mean it's featureless. From the back a gentle hump rises up to the mid-section and then tapers off toward the front. It also has straighter sides and a longer fit near the fingers than some of its esports rivals. It measures 5.02 x 2.51 x 1.56 inches, which comfortably fits most medium to large hands.
The button configuration is extremely simple, offering up zero distractions that could cost you a frag. This minimalism is reminiscent of mice like the Razer DeathAdder V3 Pro and Logitech G Pro X Superlight. You get just five buttons on the top. These consist of two small left side buttons, two beautifully proportioned main clicks and a single click in the mouse wheel. Underneath you'll find a DPI button, a Bluetooth paring button and a button to switch connectivity settings.
The Harpe Ace's motion is clearly smoother than other competitive gaming mice thanks to generous PTFE feet on the underside. That term "PTFE feet" is used quite loosely these days. In fact, what you often get instead are slim-line strips of PTFE located at the fore and aft of the mouse's bottom — but not in this case. No, the Harpe Ace has large triangular shaped patches that provide just that bit of extra glide on surfaces. Around the sensor is a generous ring of PTFE, too, reducing the impact of your hand's weight where it's at its heaviest.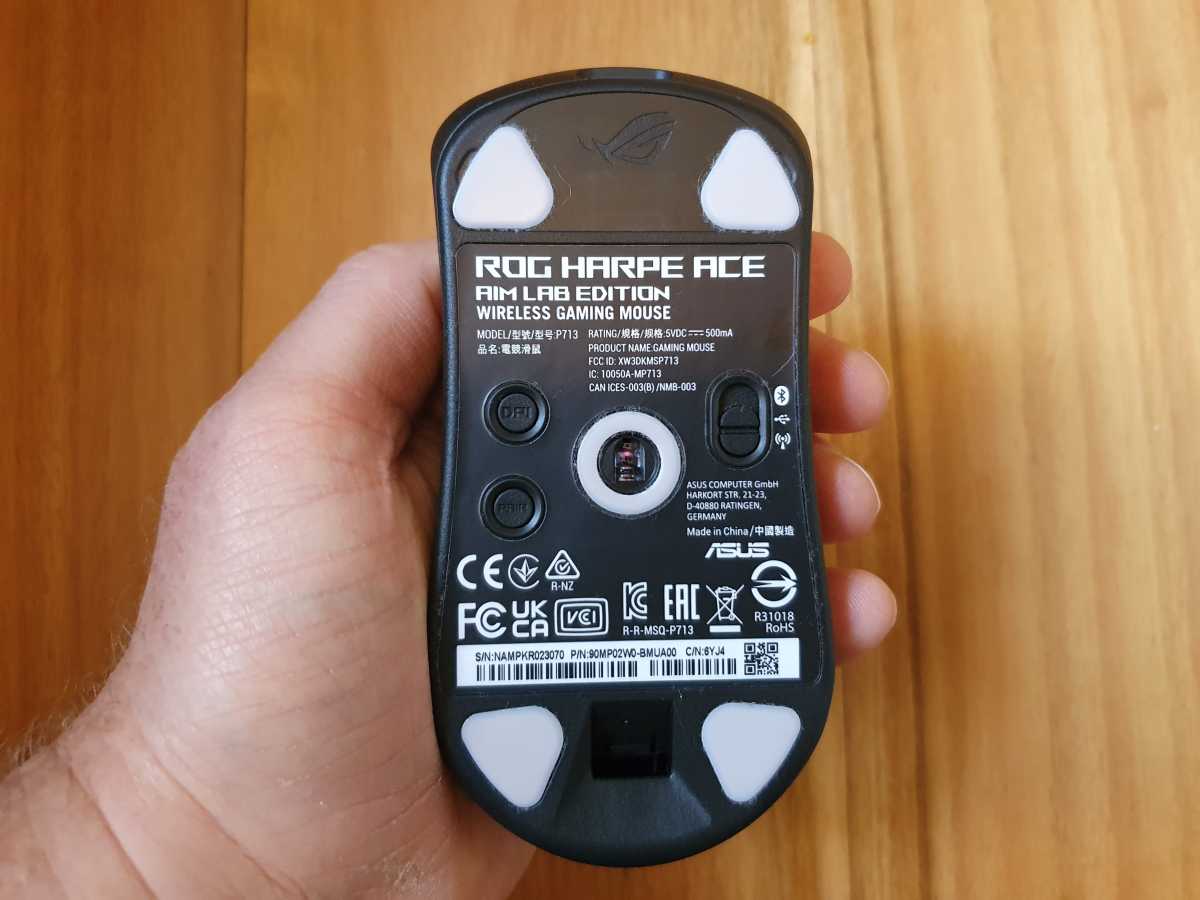 Dominic Bayley / IDG
Other notable features include a single programmable RGB lighting zone inside the mouse wheel. This contrasted nicely against the dusky matte-black color of my review mouse, providing some greatly appreciated eye candy in low lighting. The mouse wheel itself feels remarkably tactile too, in that the rubber caught the end of my finger easily, eliminating any annoying slippage while I was spinning it.
How does the ROG Harpe Ace Aim Lab Edition perform?
The ROG Harpe Ace Aim Lab Edition's 36,000 DPI (dots per inch) optical sensor is one of the highest-resolution sensors to cross my review bench. Be that as it may, it's also a spectacular performer — both extremely powerful and precise. But don't take my word for it; Asus claims this next-gen sensor has a less than 1 percent CPI (counts per inch) deviation, which means it's one of the most sensitive you can find.
Consequently, you can keep your movements extremely tight — it reacts to the tiniest jolts, something competitive gamers will undoubtedly put to good use. You can make minute movements and achieve the same distance as you might with larger hand movements in other mice. This gives you a time advantage, and if you have a time advantage, however slight, you're already ahead of the competition.
Breaking things down in a game of Fortnite and on lower DPI settings, the Harpe Ace sniped perfectly, allowing my crosshairs to fall effortlessly on the tiny far away targets that strafed into my scope. On higher DPI settings, however, the Harpe Ace was even better still. It easily handled me weaving in and out of buildings, while simultaneously switching weapons and turning around to watch my six — a combination of moves that can be all too much for some esports mice.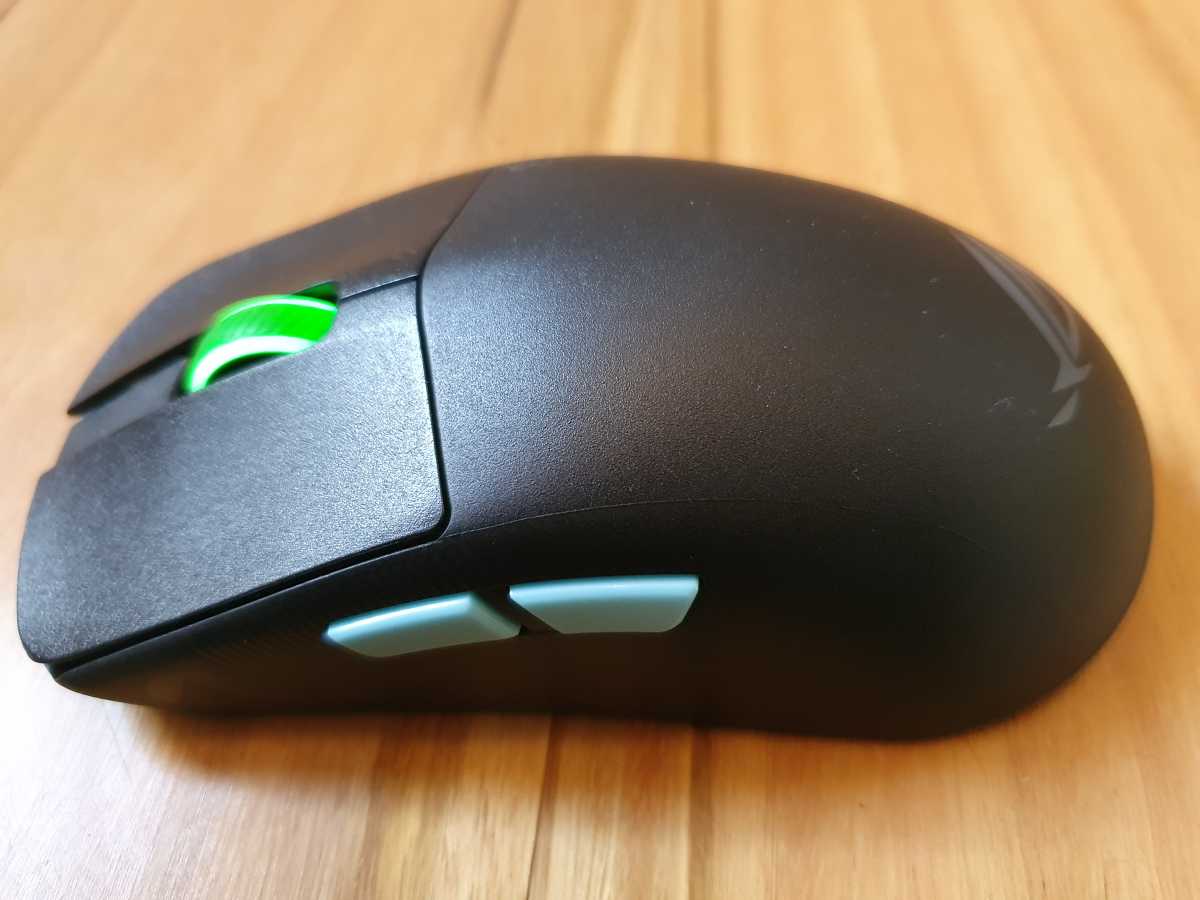 Dominic Bayley / IDG
In tense action, when I tend to get a little overzealous and clinch the mouse too hard, the Harpe Ace didn't lose any of its accuracy. Its symmetrical body and sturdy straight sides meant it didn't jolt left or right when I fired, which meant there was a lot less miss-hitting, something that can drive me up the wall.
The Harpe Ace also felt exceptionally smooth. It slid around my mouse mat without that catching sensation that I sometimes get. Having a little extra length where my fingers sat was also a big bonus — especially after long gaming sessions where my fingers sometimes feel a little creaky. Not here. My fingers felt fresh and relaxed.
The Harpe Ace's buttons felt nice and reactive too. They're not as audible as you'll find in mice like the Razer DeathAdder V3 Pro, so if you're the kind of gamer that likes to listen closely to your buttons' clicks, you may be a bit disappointed. Still, most esports players are going to have two pairs of headphones on anyway so that's unlikely to be an issue for them. Thankfully, there was no stickiness in the button switches, which seemed very responsive to my clicks.
Mentioned in this article…
Razer DeathAdder V3 Pro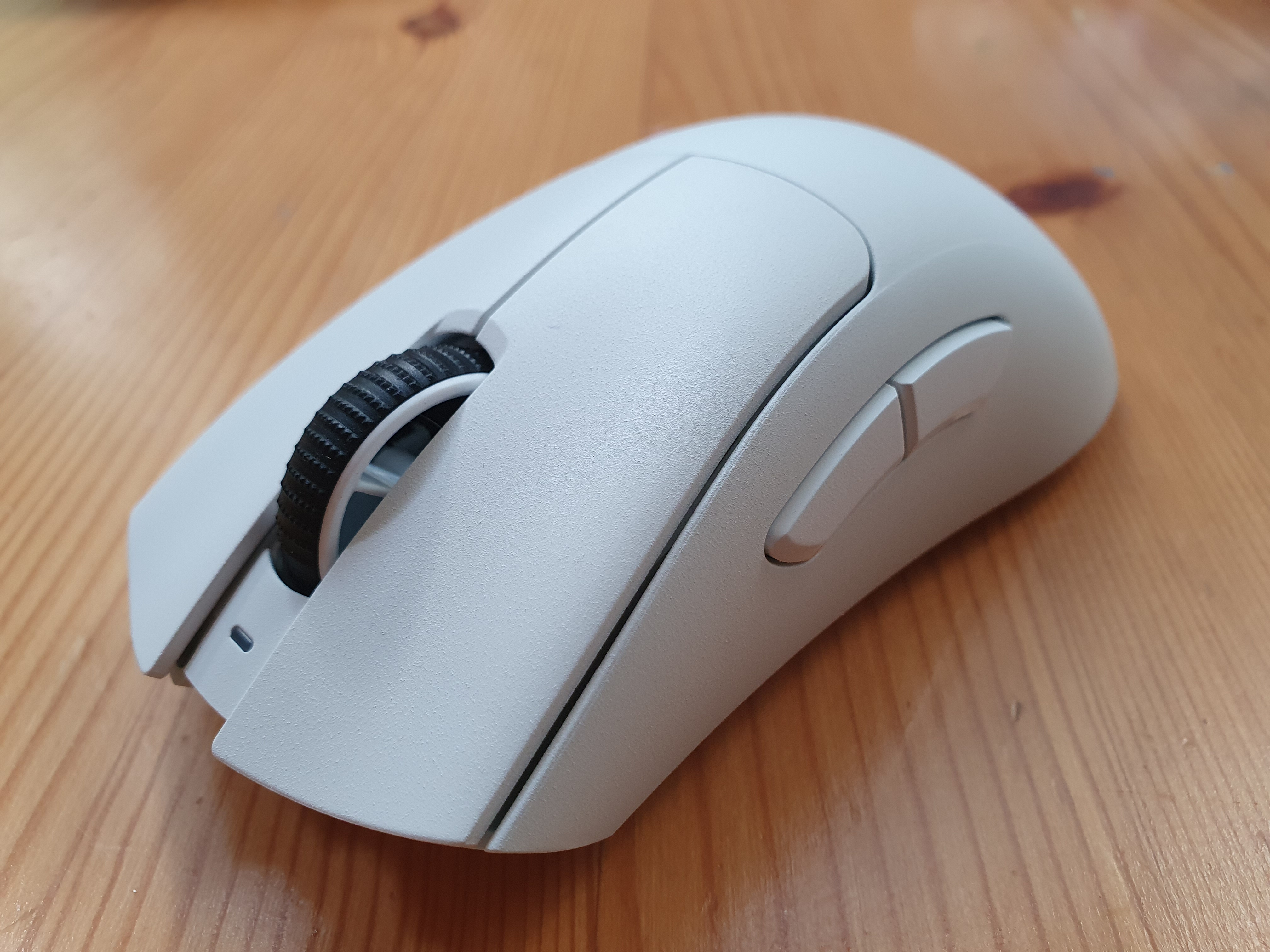 Price When Reviewed:
149.99
Overall, I was well pleased with the Harpe Ace for my FPS gaming. Yet as good as it was, I would still change on niggling thing — the size and positioning of the left side buttons. They're quite small and their center positioning makes them a little hard to hit. I would have made them just a tad longer, and thereby a little easier to fire off my ancillary commands.
ROG Harpe Ace Aim Lab Edition software
The software program, Aim Labs, hasn't been exclusively made for use with the Harpe Ace, but considering Aim Lab was one of the mouse's design partners, you're encouraged to give it try. After downloading it for free from Steam, you'll want to find the settings optimizer. Here you'll be directed through a series of aiming tests and settings recommendations designed to elevate you and your mouse's performance. On the whole, Aim Labs is a helpful tool that, if anything, helps you practice your aiming and familiarize yourself with your mouse's feel — which is a transferable skill to competition, like any kind of sports practice.
Dominic Bayley / IDG
As fun as Aim Labs is, though, most of your settings changes can be done using Asus's Armoury Crate software. Here you can tweak DPI, choose a preferred polling rate up to a maximum 1,000Hz, and modify the mouse's acceleration and deceleration settings. You can also change the color of the RGB lighting in the Harpe Ace's mouse wheel and apply a range of dazzling effects.
One whole submenu is also dedicated to surface calibration, a feature you don't often see in competitor apps. This feature lets you calibrate your mouse to work with a number of known mousepads, or else you can manually calibrate your mouse for a more bespoke feel. You can also vary the mouse's lift-off distance. Mind you, Armoury Crate only lets you choose between low and high lift-off distances, which is considerably less than you can choose from in Razer's Synapse app.
The Harpe Ace has four programmable onboard profiles. Once you've assigned your preferred commands, changing between them is as simple as holding down the DPI button on the mouse's underside while simultaneously pressing one of the Harpe Ace's five mouse buttons. You can also extend the Harpe Ace's generous 90-hour battery life (79 hours with RGB lighting switched on and the default effect setting) by adjusting a few power settings.
How does the ROG Harpe Ace Aim Lab Edition compare in value?
The ROG Harpe Ace Aim Lab Edition costs $149.99, which isn't all that unusual for an esports mouse. What's unusual is that it weighs just 54 grams and has all three connectivity options — two features that you'd be very lucky to find in any other esports mouse even at this premium price point.
For example, there's the 51-gram Glorious Series One Pro Wireless, which is slightly lighter and currently costs $99, yet it only has Wi-Fi connectivity and no Bluetooth. Then there's HyperX's Pulsefire Haste 2 Wireless which costs $89.99 and has both Bluetooth and Wi-Fi but adds an extra 7 grams of weight to make 61 grams, which does make it feel somewhat heavier and slower to move by comparison.
Looking at other hot esports contenders from 2022 and 2023, like the Razer DeathAdder V3 Pro and the Logitech G Pro X Superlight, you find that despite being excellent esports mice they also lack Bluetooth. They're also a little heavier than the Harpe Ace, racking up more than 60 grams a piece. Yet, the V3 Pro shares the same $149.99 price tag and the X Pro Superlight is a little more expensive, costing $159.99.
Mentioned in this article…
Logitech G Pro X Superlight Price When Reviewed:
159.99
If you can see a pattern presenting itself here, you're not wrong. Yes, the Harpe Ace is a unique find among esports mice and for that reason its $149.99 price tag seems reasonable. If you ask me, that's likely to draw discerning gamers to it like flies on a river roast.
Should you buy the ROG Harpe Ace Aim Lab Edition?
The ROG Harpe Ace Aim Lab Edition has had a heck of a lot of pro gamer input, and it really shows. Not only is it an ideal weight and shape for fast competitive gaming, somehow Asus and Aim Lab have added one of the most precise sensors we've ever used and Tri-Mode connectivity. All this makes it a modern gaming enigma that you don't want to miss out on trying.