If you're streaming your gameplay to a group of friends and/or family, there's a new option in town: Microsoft Teams. Yes, you read that right. Microsoft has added a new integration for the Xbox Game Bar that allows livestreaming to the company's business-focused chat and video-calling app.
As reported by The Verge, a new "Microsoft Teams Play Together" widget enables the integration in Windows. Once you install it via the Microsoft Store app, you can share your desktop to Teams, allowing your friends to watch your game. You can also join video calls while playing, which lets you see friends and family as an overlay on your game. Up to 20 people can be in a call at one time.
You might assume this feature was originally intended for work purposes, but it's truly meant to have a gaming bent. Microsoft says this integration enables "a place to hang out while watching and playing games." As you might recall, rumors circulated back in 2021 about Microsoft potentially acquiring Discord, but a buyout never happened. Instead, it appears Microsoft crafted its own take on Discord's most popular features.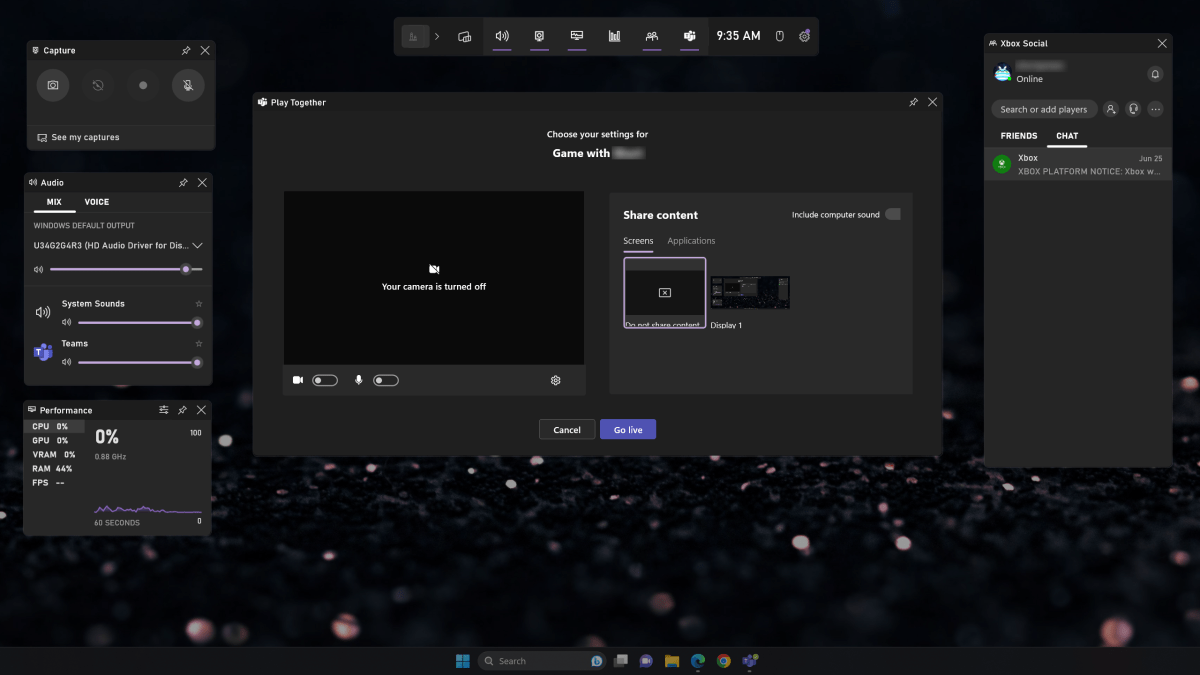 PCWorld
But unfortunately for Microsoft, the initial launch appears to fall short of rival services—when The Verge tried out the new Teams integration, the frame rates ran at 30fps or lower. Meanwhile, Twitch caps at 1080p/60fps, YouTube allows 4K/60fps, and though Discord's free streaming is restricted to 720p/30fps, its paid Nitro subscribers can go up to 4K/60fps. The video overlay feature also did not seem to work properly yet.
The integration doesn't currently allow streaming from just specific apps, either. Your whole desktop (or at least, a whole display, if you have more than one monitor) gets transmitted for everyone to see. You'll have to be careful to avoid accidentally showing what you've got open in your windows, if it's a concern.
Microsoft may be facing an uphill battle in wooing gamers and their friends from Discord and other services. It'd be a different story if the feature was in Skype instead. Only those stuck using Teams will find this worthwhile, and that's likely just people at work on locked-down corporate PCs. But even then, work-issued equipment for personal use is always a dicey proposition. While tech giants keep adding consumer features to their business apps, those of us in the trenches are usually under strict command by IT departments to never mix the two purposes.