Review: Forecast.io is a fantastic service and a fantastic Web app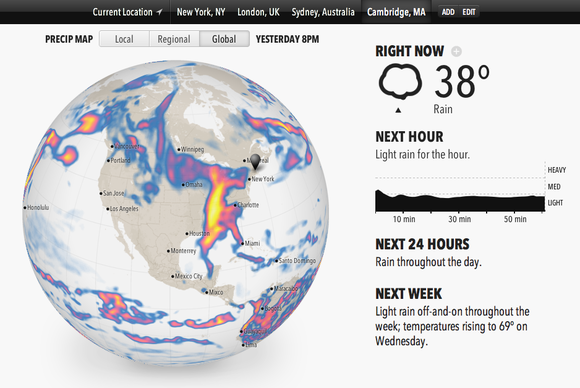 Today's Best Tech Deals
Picked by PCWorld's Editors
Top Deals On Great Products
Picked by Techconnect's Editors
At a Glance
Dark Sky Company Forecast.io
Like the quest for perfect weather itself, looking for the perfect weather app can sometimes feel neverending. There are apps that don't give you enough data. There are apps that give you too much. There are apps that use great data for seven-day forecasts, but terrible data for realtime information. And there are apps that simply look terrible when presenting their information. And then, there's Forecast.io—which technically isn't an app at all.
The skinny
Last year, a few developers got together and put together a project called Dark Sky—a $4 realtime weather app that told you exactly when to expect rain or snow. And not only did it provide this information, it was accurate; more often than not, it was right, too. Dark Sky became the app many of us popped open to see if we could flee a restaurant in-between showers or if we had time to make a grocery run before the snowstorm hit.
But try as I might, it was hard to justify having Dark Sky replace my default weather app. Knowing the current weather was great, but sometimes you need more comprehensive data: I can't accurately pack for a week-long trip to California if I only know how warm it's going to be for the first day.
Enter Forecast.io: all the realtime action of Dark Sky mixed with 17 additional weather service forecasts. The developers of Dark Sky put their heads together and came up with a system that allowed them put many of the most prominent weather forecasting systems to work alongside their own product—and they did it entirely on the Web.
The many faces of Forecast.io
Visit Forecast.io on your PC, Mac, or iPad, and you'll see a beautifully-designed HTML5 website with a local, regional, and global radar map, offering precipitation and temperature averages along with a full seven-day forecast.
You can even enable a beta feature called Time Machine, which allows you to see forecasts from the distant past into the far-distant future. (I was able to travel as far back as February 5, 1943, all the way to December 31, 9999—though I suspect meteorologist data for 9999 isn't as exact as the day claims.)
Visit the website on an iPhone or iPod touch, however, and the fun begins. Forecast.io first prompts you to add a website bookmark to your home screen; once you do so and tap it to open, you're brought to what, by all appearances, should be an app. And it is, sort-of: It's a Web-based iOS app, built entirely in HTML5, Javascript, and CSS.
In 2007, before the App Store and third-party apps existed, Apple CEO Steve Jobs touted Web apps as "a sweet solution" and an "innovative new way to create apps for iPhone." Six years later, the team behind Forecast.io has taken those words to heart: The app is gorgeous, with no evidence of its web-based properties, and it offers all the features of its full website counterpart save for Time Machine (rotate your device into landscape orientation, and you'll see a "coming soon" banner for the service).
Open the app, and you'll see the current temperature and weather; tap on it to see wind, humidity, visibility, and pressure statistics, along with the temperature lows and highs and whether the temperature is falling or rising. Below that are precipitation predictions for the next hour and day, along with a chart of how heavy the rain, sleet, or snow might be in the next sixty minutes. You can refresh the page by pulling down anywhere on the screen.
Tap or swipe up on the "NEXT WEEK" tab at the bottom, and you'll reveal a full seven-day forecast. You can tap on any of these days to get an hour-by-hour prediction of the weather, along with the day's sunrise and sunset points. Tap the day again to minimize the information. You can return to the main screen by swiping down or tapping on the Next Week button again.
Tap the Map button in the upper right corner of the main screen to access a beautiful rendition of radar throughout the globe. As on the Forecast.io website, radar can be divided into Local, Regional, or Global areas; you can also manually scroll through the next week of predictions by dragging to the left or right on the map. Radar transitions are smooth and fun to watch, and they'll follow the speed of your finger—whether you're going incredibly slow or swiping right across.
I do wish that Forecast.io offered a color key for its radar; you can guess from the colorations what light precipitation and heavy precipitation look like, but there's no division between snow, sleet, and rain.
Like the desktop version, you can save multiple locations, including GPS data for your current location; just tap or swipe to the right on the horizontal dots and lines icon to reveal a black sidebar. (This is also where you can change your weather information from Fahrenheit to Celsius, if you're so inclined.)
Bottom line
Forecast.io is not only a great Web app—and the first one to grab a permanent spot on my home screen—but it's a great service, too. Dark Sky's real-time forecasts work incredibly well for me here in the U.S., and its third-party data is excellently presented. I only wish it could hook into Siri so I could ask, "When will it stop raining?"
This story, "Review: Forecast.io is a fantastic service and a fantastic Web app" was originally published by TechHive.
Note: When you purchase something after clicking links in our articles, we may earn a small commission. Read our
affiliate link policy
for more details.
At a Glance
Dark Sky Company Forecast.io
Shop Tech Products at Amazon