Demo Mobile may not be as big as E3 or CES, but the mobile-focused event attracts startups and companies looking to share their latest wares and ideas. While many of the products and services on display at this week's conference in San Francisco are still in the early stages of development, they paint an interesting portrait of what to expect in the mobile world in the not too distant future.
I spent some time at Demo Mobile this week and found four products and services worth watching in the coming year. Some of them may never make it to market, but they are just too cool not to share.
Paging Dr. Smartphone
If I had the Kinsa Smart Thermometer, then maybe I could have avoided unleashing the plague upon the TechHive offices a few weeks back. The thermometer plugs into your smartphone and uses an app to take your temperature. The app keeps track of any symptoms you're feeling and will show you maps of the surrounding areas so you know what illnesses have been making the rounds. You'll also be able create private groups to track illnesses within certain circles—something that Kinsa hopes will appeal to parents who might be worried their kids will catch something from their classmates.
The thermometer accessory is currently making its way through the FDA, and the app will initially only be available for iOS. (The company plans to expand to other devices shortly after launch.) Kinsa currently has an IndieGogo page set up for additional funding and hopes to launch both the thermometer and app sometime this fall.
Program like a pro
What if you could control your tablet from your Fitbit fitness gadget? Or set your smartphone to tweet every time you played with your Sphero? Normally these types of interactions would require you to have a degree in software engineering and a few hours of free time to get going. But MakerSwarm, one of the nerdier products featured at Demo Mobile is an app that lets you program these sort of interactions between connected devices without knowing a lick of code.
Developed by research agency Maya, the app (which is still in alpha) runs on Android and takes advantage of the OS's intents framework to access the features of the particular device you're connecting to. So if you're hooking up your Sphero to your phone, you can have the Sphero activate the phone's camera every time the remote-controlled orb moves a certain way. Connecting devices is as easy as drag-and-drop, and there seems to be no limit to the number of devices you can connect together. Maya introduced MakerSwarm by using a Sphero to launch three remote-control AR Drones that were steered by an employee wearing a fitness tracker. Pretty awesome stuff.
No word on when the app will be publicly available, so it might be a while before you can connect all of your smart devices together to create your own makeshift Skynet.
Your own personal satellite
Speaking of Skynet, Nanosatisfi's entire presentation centered around launching a Skynet of your very own. (The satellite, not the evil computer from the Terminator franchise.) The company ran a successful Kickstarter campaign last summer with the goal of creating affordable personal satellites that people could load up with their own software. The satellites can also be used to take photos and video, though the satellites aren't permanent and will eventually burn up as they fall back to Earth.
Nanosatisfi is still working on getting the costs of its satellites down to several hundred dollars. If the company proves successful, its dream of a future where everyone has their own object in orbit may soon become a reality.
Gamifying Beer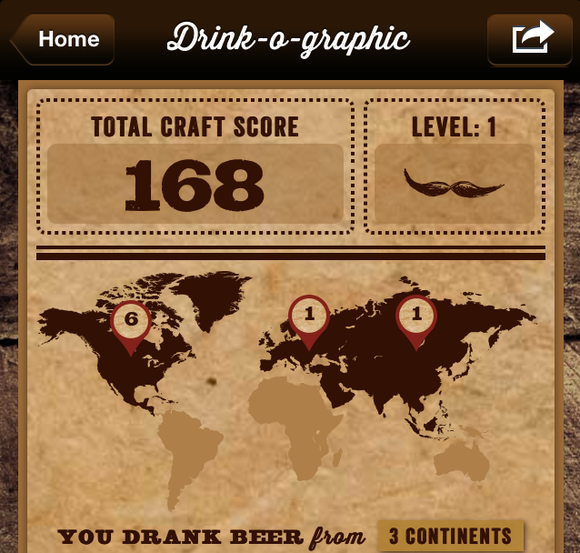 The creators of the Beer Hunt app for iOS have an even loftier goal than the folks over at Nanosatisfi—they aim to make beer even more enjoyable. To that end they've created an app that lets you "check-in" and score points every time you throw back a cold one. Beer Hunt currently has more than 5000 beers in its database, though it seems to be missing quite a few local Bay Area beers such as Trumer Pils.
As you log your drinks, Beer Hunt will begin to recommend beers based on your preferences. The point of the app isn't to drink a lot—Beer Hunt stops awarding you points if you keep checking in with the same drink—but rather to encourage you to try beers you otherwise wouldn't. The app is available for free from the iOS App Store right now; just remember to drink responsibly.
This story, "Beer and satellites: Our favorite Demo Mobile 2013 products" was originally published by TechHive.