At a glance
Expert's Rating
Pros
Excellent image quality
Durable and attractive design
Versatile clip-on stand
Unbeatable bang-for-the-buck
Cons
Doesn't include a protective case
HDR is supported but disappointing
Our Verdict
The Innocn 15A1F is a step up in terms of build quality, image quality, and stability—in sum, it's a luxurious package that belies its midrange price.
Price When Reviewed
319.99
Best Prices Today: Innocn 15A1F
Portable monitors have a reputation for mediocre image quality, but improvements in display panel technology and falling prices promise better results. The Innocn 15A1F is proof of this. It delivers high brightness, infinite contrast, and strong color performance at an MSRP that undercuts its competitors by $50 or more—and, when on sale, it's up to $200 less than alternatives from better-known brands.
Further reading: See our roundup of the best portable monitors to learn about competing products.
What are the Innocn 15A1F specs?
The Innocn 15A1F's specifications are typical for a budget or midrange portable monitor. It has a 15.6-inch OLED panel with a resolution of 1920×1080 and 60Hz refresh rate. The monitor's connectivity is also typical for a portable monitor, with two USB-C ports alongside one Micro-HDMI.
Display size: 15.6-inch widescreen
Native resolution: 1920×1080
Panel type: OLED
Refresh rate: 60Hz
Adaptive Sync: None
HDR: Yes, HDR10
Ports: 2x USB-C, 1x Mini-HDMI
VESA mount: None
Speakers: None
Price: $319.99
Innocn positions the 15A1F as a replacement for the Innocn 15K1F, which, according to the company, is no longer being stocked and will soon be unavailable (if it's not already by the time you ready this). The specifications of the new 15A1F are similar to the old model, but the MSRP has dropped to $319.99 from $399.99, and the 15A1F is currently available on Amazon.com for $149.99.
Innocn 15A1F design
The Innocn 15A1F's name might sound similar to the outgoing Innocn 15K1F, but don't be fooled. The new model's design has little in common with its predecessor—and that's for the best.
Build quality is a plus. Innocn pairs an aluminum rear panel with edge-to-edge glass up front. The result looks similar to an Apple iPad Pro, complete with rounded corners that make the display comfortable to hold and move. The metal body feels rigid and luxurious, too.
Innocn makes the unusual choice to ditch a display cover with built-in kickstand and instead uses a magnetic stand that clips to the back of the monitor. The clip-on stand is more stable than a keyboard cover, which ensures the display doesn't fall over when jostled. It also provides an excellent range of tilt adjustment.
Viewsonic's ColorPro VP16-OLED is even more versatile. It provides significant tilt adjustment and lifts the display above the surface of your desk. But Viewsonic's stand is a beast, leading to a hefty total weight of 4.8 pounds. Innocn's 15A1F is far lighter at just 1.6 pounds.
mentioned in this article
Viewsonic ColorPro VP16-OLED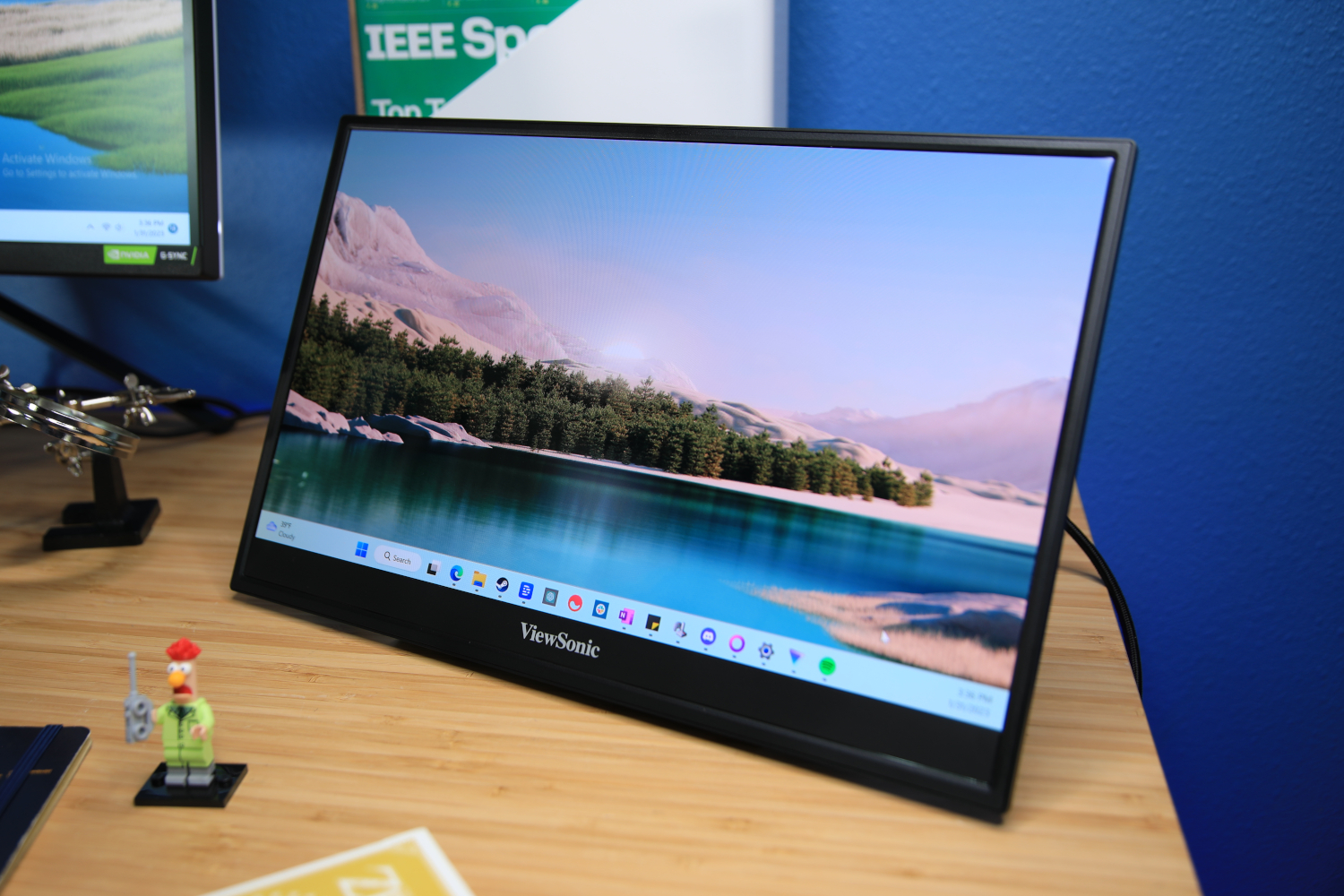 Price When Reviewed:
$399.99
Of course, using a clip-on stand instead of a cover with built-in kickstand leaves the display's glossy surface vulnerable, so most owners will want to buy a third-party case or cover. You'll also need to keep track of the clip-on stand when it's detached.
Those nitpicks aside, the Innocn 15A1F's new design is a win. It's attractive, functional, and light—all important traits for a portable monitor.
Matt Smith/Foundry
Innocn 15A1F features and menus
The Innocn 15A1F's connectivity is similar to most portable monitors. It has two USB-C inputs with DisplayPort alternate mode and USB Power Delivery, plus one Mini-HDMI input. All of the necessary cables, including adapter cables, are included in the box, making it easy to connect to a USB-A or HDMI port.
A USB-C power brick is included to provide power for the monitor. It won't be necessary if your desktop or laptop has a USB-C output that supplies enough power to handle the monitor, which requires roughly 15 watts.
The monitor's brightness, contrast, volume, display mode, and additional features are controlled using the power button and the volume rocker. A short press of the power button will display the on-screen menu when the portable monitor is on, and the volume rocker is used to flip back and forth between options. It's an awkward setup but common for portable monitors.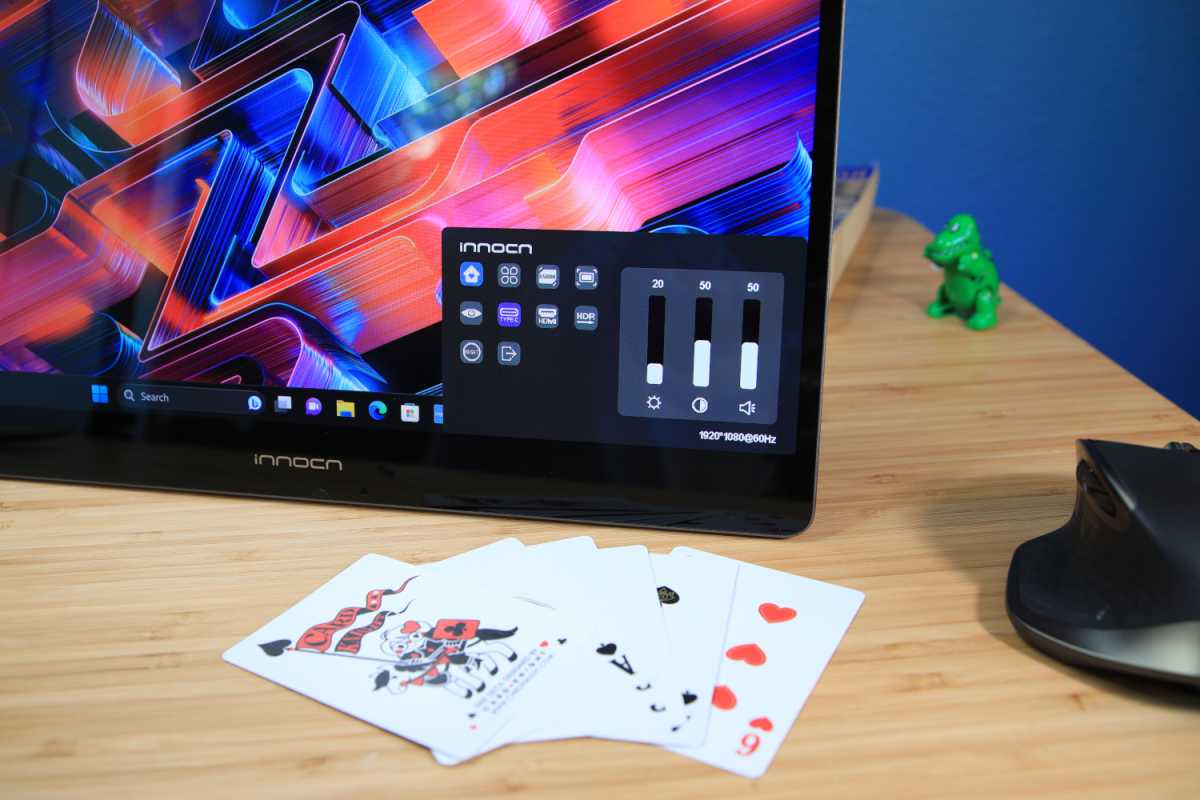 Matt Smith/Foundry
The 15A1F provides a healthy range of image quality options including several color temperature modes and the ability to calibrate color and gamma, although gamma calibration does not include any precise gamma target. Demanding professionals or content creators will want to see more, but this is close to as good as it gets for portable monitors. Viewsonic's ColorPro VP-16 OLED is the only portable monitor we've tested that provides significantly better image quality customization.
Speakers are included and, unlike most portable monitors, they're usable. Maximum volume is high enough to provide a listenable experience in a small room with little background noise, and dialogue proves crisp and easy to understand. The speakers lack bass, which means music and movies can sound muddy and hollow. Still, the Innocn 15A1F's speakers can work in a pinch and they're superior to most portable monitors.
Innocn 15A1F SDR image quality
The Innocn 15A1F's specifications are similar to both its predecessor, the Innocn 15K1F, and Viewsonic's ColorPro VP16-OLED. My tests found the new 15A1F performs closer to the VP16-OLED than its predecessor, scoring crucial wins in brightness and contrast.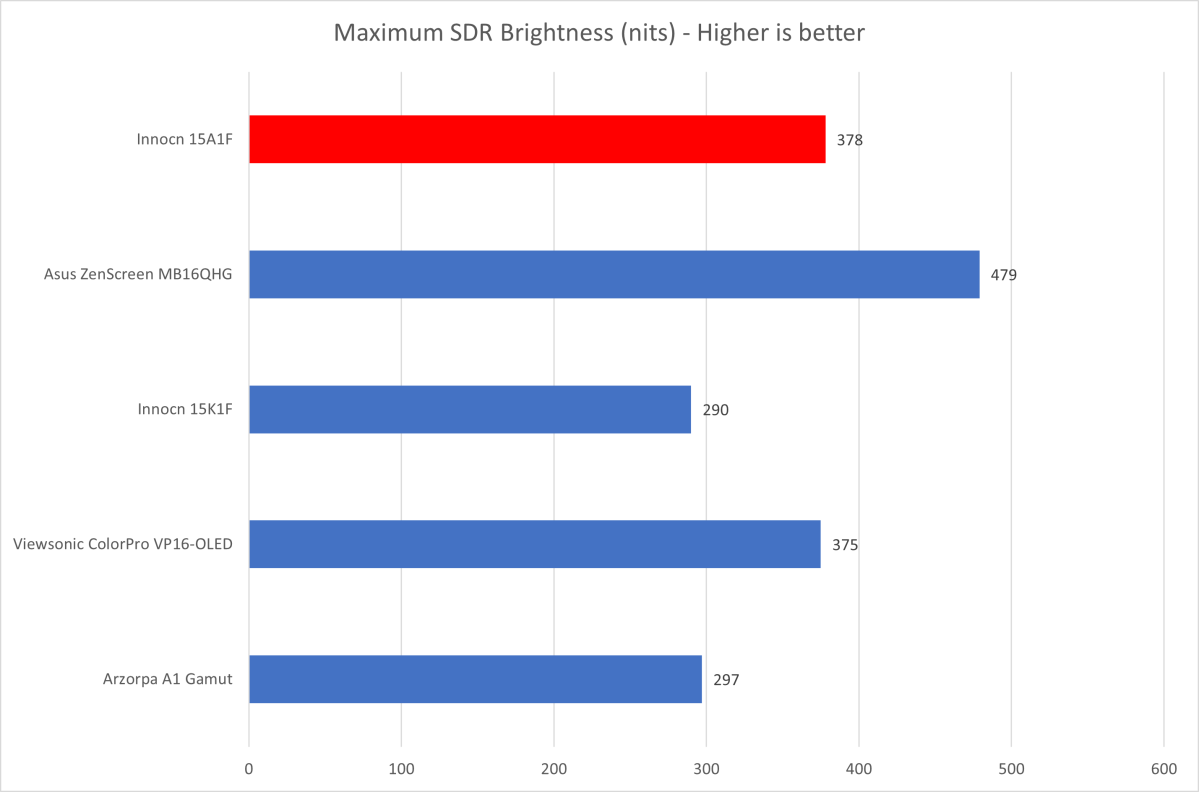 Matt Smith/Foundry
The 15A1F provides a maximum brightness of 378 nits. That's essentially identical to the Viewsonic ColorPro VP16-OLED and a big upgrade over the older 15K1F, which only hit 290 nits.
It's an important win. Brightness is key for portable monitors, as they're often used in situations where light control isn't available.You don't have the option to lower the shades if you find yourself sitting on the sunny side of a coffee shop or airport lobby.
The monitor's brightness still has limits. It's not comfortable to use outdoors on a sunny day and can be overwhelmed by direct sunlight from a nearby window. However, the 15A1F performs as well as can be expected from an OLED portable monitor. Those who desire an even brighter display should stick to a top-tier IPS monitor, such as the Asus ZenScreen MB16QHG.
Matt Smith/Foundry
Contrast is another win for the 15A1F, which provides an effectively infinite contrast ratio. This occurs because the monitor's minimum luminance is zero nits across all brightness settings.
Infinite contrast is typical of OLED panels, but not every OLED monitor achieves it. This includes the older 15K1F, which had a maximum contrast ratio of 18,600:1. The 15A1F's improved performance puts it on par with the Viewsonic VP16-OLED and most desktop OLED monitors.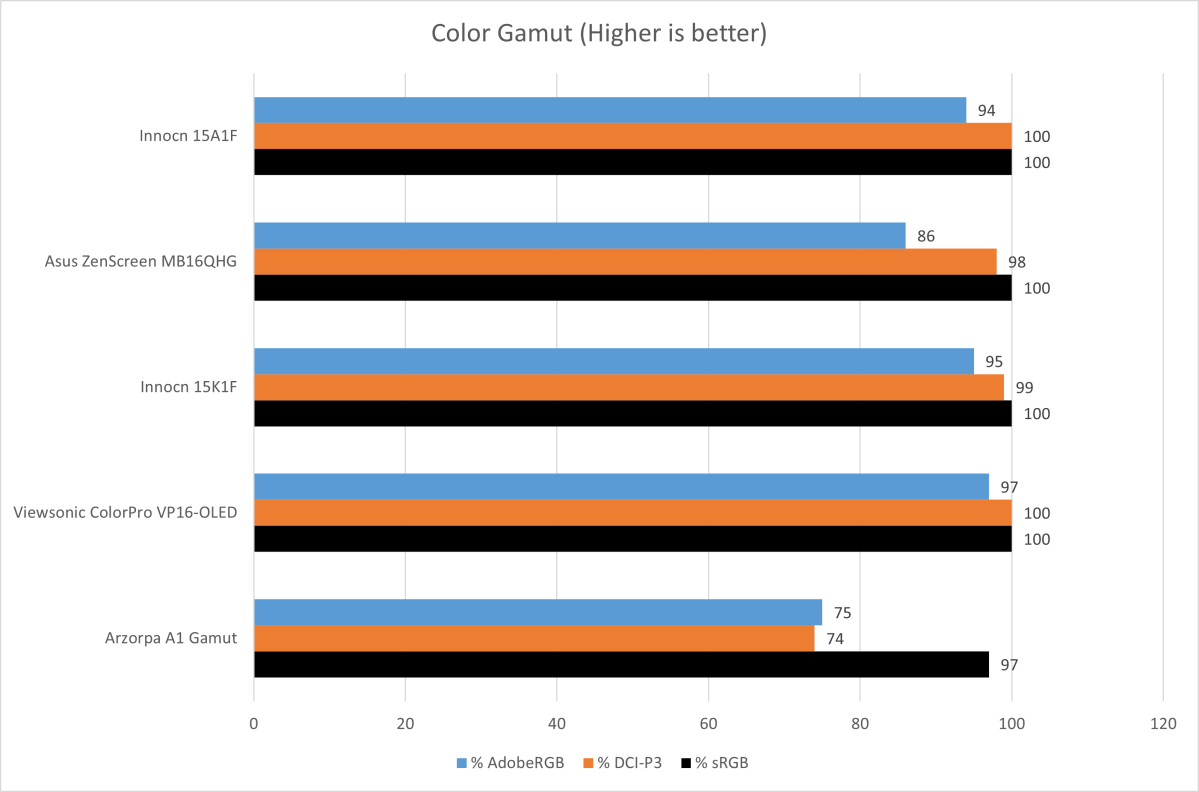 Matt Smith/Foundry
Color gamut results provide more good news, as the 15A1F delivers 100 percent of the DCI-P3 color gamut and 94 percent of AdobeRGB. These results don't meaningfully improve on the 15K1F and also fall a tad behind the Viewsonic ColorPro VP16-OLED, which provides 100 percent of DCI-P3 and 97 of AdobeRGB.
With that said, the 15A1F's color gamut results are excellent overall and clearly beat portable monitors without an OLED panel, such as the Asus ZenScreen MB16QHG. The 15A1F's strong color gamut provides a punchy, saturated look that's great for enjoying photos, movies, and games.
Matt Smith/Foundry
The 15A1F's color accuracy is reasonable at an average color error of 2.51. That's a fine result, and not significant enough to cause any immediate concern, but demanding users may notice a few flaws. The color error is most significant in blue, which seems to have a slightly brighter, neon-like appearance than desired. This is an era where the Viewsonic ColorPro VP16-OLED outperforms.
Fortunately, the 15A1F scores well in other image quality metrics. It returned a gamma curve of 2.2, which is precisely on our target and indicates that content looks roughly as bright as intended. Default color temperature came in at 6700K, which is only a hair off the target of 6500K. The image can appear a tad cooler and more sterile than ideal, but I doubt most owners will notice.
Sharpness is solid, as well. 1080p resolution might sound mundane in 2023 but, when applied to a 15.6-inch panel, it provides a pixel density of 141 pixels per inch. That's only a tad behind a 27-inch 4K monitor, which crams in 163 pixels per inch. The 15A1F's sharpness won't leave you floored, but it looks crisp while enjoying Netflix and legible when reading small fonts.
In short, the Innocn 15A1F looks fantastic. It's not quite as good as the Viewsonc ColorPro VP16-OLED, which provides better color performance, but the Innocn 15A1F is a close second, and less discerning users are unlikely to notice much difference. That's an impressive result, as Innocn's monitor is $50 less than the Viewsonic when sold at MSRP, and up to $200 less when on sale.
Innocn 15A1F HDR image quality
The Innocn 15A1F can handle an HDR10 signal, but displaying HDR takes a bit more work than with most monitors. The monitor didn't switch to HDR display mode automatically, which meant I had to turn it on manually in the monitor's settings.
HDR image quality is lackluster. The monitor's maximum brightness of 378 nits, though excellent for an OLED portable monitor, is far below the 1,000 nits (or more) that's ideal for HDR content. Detail in bright scenes and bright highlights, like a neon sign in a dark alley, don't shine as they should.
The monitor's lackluster HDR is disappointing but unsurprising. I've yet to test a portable monitor that provides a quality HDR experience.
How is the Innocn 15A1F game performance?
Gamers may be disappointed by the Innocn 15A1F's 60Hz refresh rate and lack of support for Adaptive Sync, FreeSync, or G-Sync. Gaming clearly isn't the priority, and those looking for improved motion fluidity and clarity will see better results from less expensive portable gaming monitors like the Azorpa G1 Game.
mentioned in this article
Arzopa G1 Game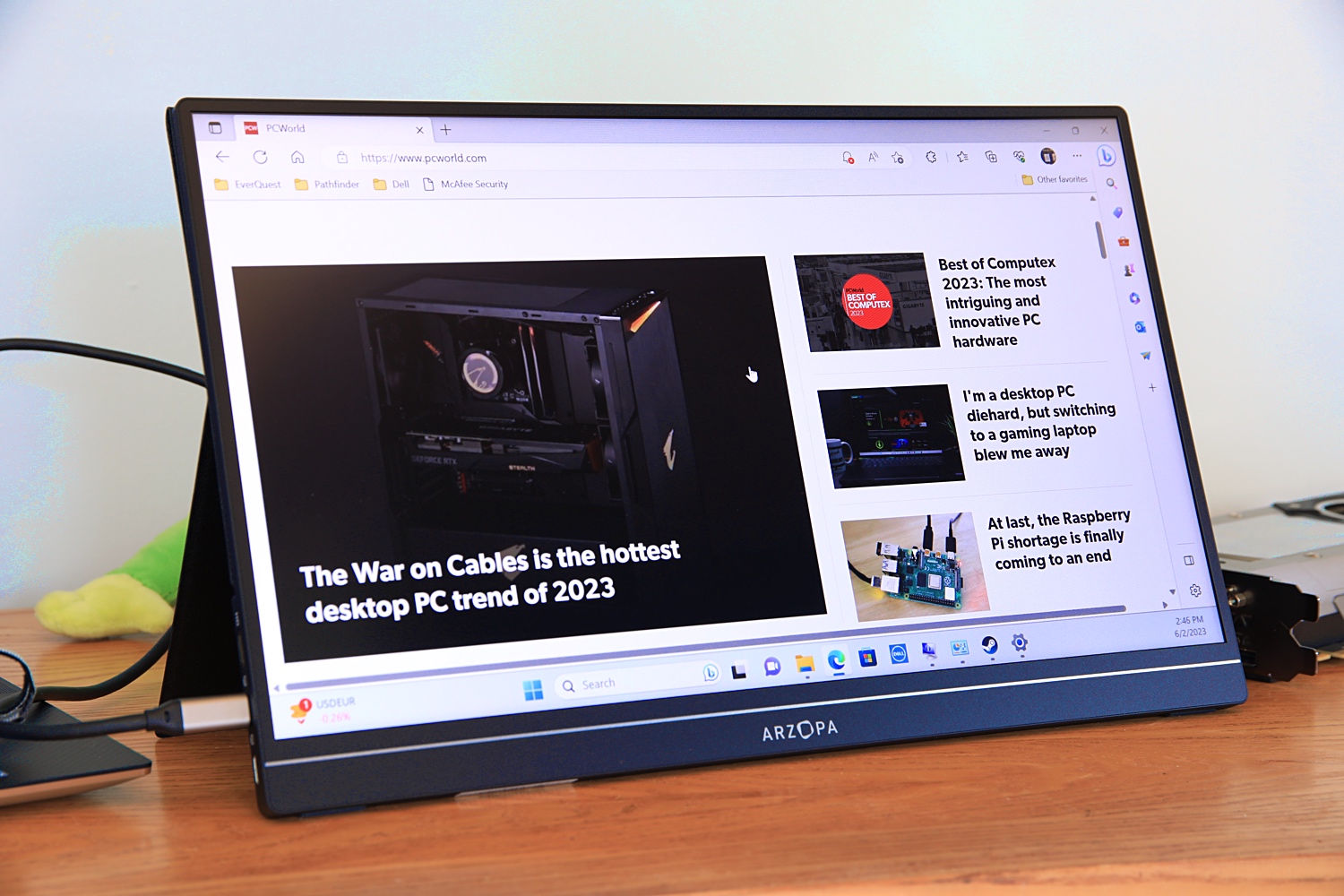 Price When Reviewed:
189.99
It's not all bad news. The Inncon 15A1F's image quality is superior to most portable gaming monitors, so players who crave improved contrast and color performance, or rarely play fast-paced titles, may prefer the 15A1F. OLED also benefits from lower pixel response times, which in turn reduces motion blur. Because of this, the 15A1F's motion clarity is slightly better than most portable monitors with a 60Hz refresh rate, though still far short of 144Hz alternatives.
Should you buy the Innocn 15A1F?
Innocn's 15A1F is an excellent portable monitor. It delivers attractive image quality, durable design, and a versatile clip-on stand that keeps the monitor stable and provides a wide range of tilt adjustment. It's not the best choice for fast-paced games, as it lacks a 144Hz refresh rate and Adaptive Sync support, but it's ideal for content creation, productivity, and general use. Innocn's competitive MSRP of $319.99, which often drops as low as $149.99 on Amazon.com, further sweetens the deal. Shoppers who want great image quality at a reasonable price will love the 15A1F.