Safeguarding your privacy on the web is a thankless task. Ads are an especially irritating part of web browsing—everyone wants to track your browsing habits just to sell you things. But now preserving your anonymity is becoming a little easier, thanks to a new set of Google Chrome settings that gives more control over targeted ads.
It's called Ad Privacy, and you'll need to dig into these settings to keep Google from using or sharing your browsing history for ad purposes. You get control over three aspects: ad topics, site-suggested ads, and ad measurement. Ad topics are themes identified from your recent browsing history that sites then use to personalize ads. Site-suggested ads are based on the sites you've visited—the algorithm guesses at what you like, then generates related advertisements. Ad measurement allows your data to be shared among sites, so that they can measure how well their advertising is doing.
All three options are turned on by default—it's up to you to turn it off if you want to stop the flow of information. Fortunately, it takes just a few moments to adjust.
How to control your ad privacy in Chrome
Ad Privacy hasn't reached all Chrome users yet—when I checked on four different PCs, just two of them had received the update. (One runs Windows 10, while the other is a Windows 11 machine.) When these settings become available, Chrome will display an overlay notification that lets you jump to them. You can also of course manually check your settings periodically to see if this new batch has appeared yet.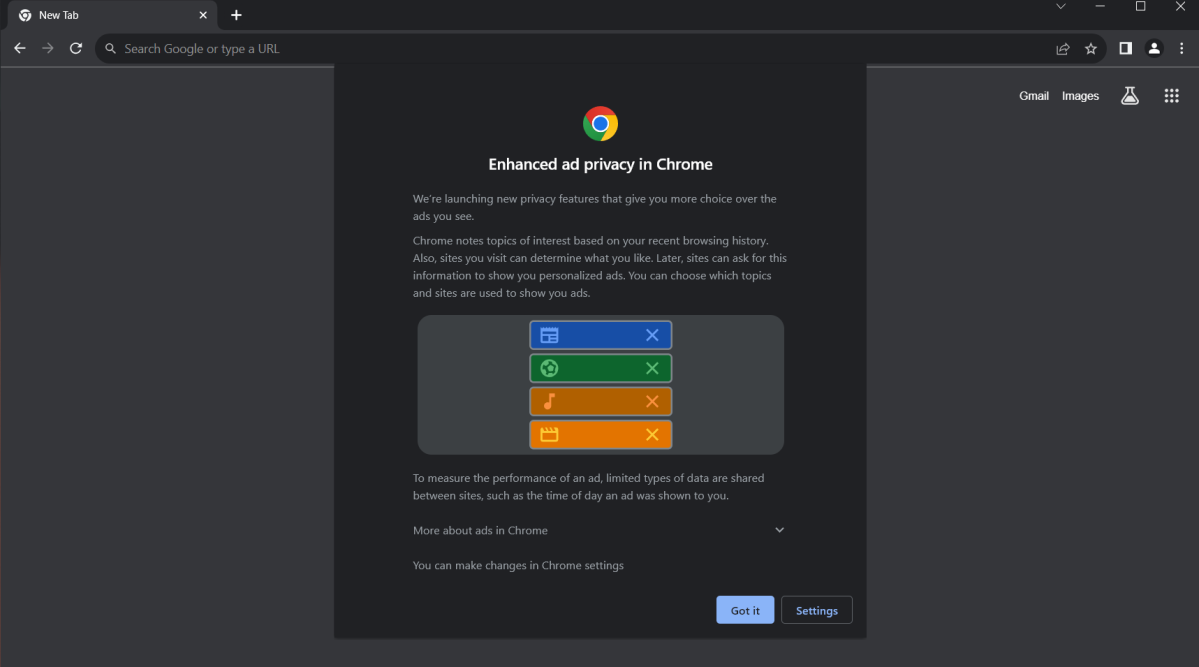 PCWorld
To manually check (or if you need to find the Ad Privacy settings again), click on the three-dot menu in the upper right-hand corner of Chrome, then choose Settings. Alternatively, you can enter chrome://settings in the address bar. If these new controls have reached your installation of Chrome, you'll see Ad Privacy in the menu on the left. Clicking on it should make the Ad topics, Site-suggested ads, and Ad measurement sub-options appear.
This slideshow shows the new Ad Privacy settings in Chrome. Click and drag on desktop or swipe with a finger on mobile to see all the images.
As mentioned above, these are all on by default. You'll have to select each setting to toggle them all off. For Ad topics and Site-suggested ads, you can also instead choose to leave them on, but restrict which topics and sites can be used to generate ads.
Don't forget Google's other privacy settings
Chrome's new Ad Privacy settings only affect browsing on your PC—it won't affect ad settings for your Google account or on mobile. You'll have to adjust those separately. For your Google account, head to https://myaccount.google.com/data-and-privacy, then scroll down to Personalized Ads.
You can also take further measures to strengthen your Chrome privacy settings—ads are just one part of it. Our guide to making Chrome more secure also overlaps with privacy; stuff like managing your cookies and clearing your data if you don't need it also helps keep you more anonymous online. At least, as much as you can be while using Google's services and products.