Review: DeskSMS doesn't rise above the other desktop texting apps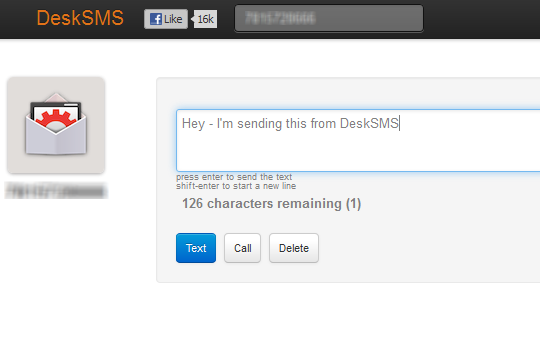 Today's Best Tech Deals
Picked by PCWorld's Editors
Top Deals On Great Products
Picked by Techconnect's Editors
At a Glance
Generic Company Place Holder DeskSMS
DeskSMS is one of a number of services that lets Android phone users text from a PC or Mac. Unfortunately, its $5 per year price tag and its plain-vanilla interface make it hard to recommend.
To use DeskSMS, you must install the Android app on your phone and grant it permission to access your Google account. You then open a browser window on your computer and head to desksms.appspot.com. (Like BrowserTexting, DeskSMS is available as Web app that works in most browsers, and as an extension for Firefox and Chrome.) Here, you log in and grant the Web app the same permission to access your Google account. You can choose to sync your Google contacts, too.
Then, you're ready to begin texting—although that's not immediately apparent, due to DeskSMS's barren Web interface. You simply get a blank screen, with the DeskSMS logo, a login button, and a field for entering a name or number at the top. I kept trying to logi n, thinking that this button was displayed because my login hadn't worked. After several attempts, I decided to try entering a number in the available field instead, and was pleasantly surprised to see my contacts appear as soon as I began typing.
Once you enter a number or contact name, DeskSMS displays a field on the site for entering your text message, which is limited to 160 characters. You can also call the number you've entered, but the phone call will be placed from your actual Android phone, not your computer. This could be a handy way to make calls if you're already wearing a headset, but beyond that, it's not terribly useful.
More useful is DeskSMS's integration with Google. It sends a copy of text messages that you've received to your Gmail or Google Talk accounts, if you'd like. This allows you to see and respond to your messages from yet another interface, which is handy if you're already using those services.
Still, DeskSMS has its limitations. It doesn't allow you to send MMS messages, and I wish that it offered a conversation view. It doesn't display your texting history, which would allow you to view past conversations. And even when you get a text in response to one you've sent via DeskSMS, the Web app only displays it in a pop-up notification, it never adds it to the texting field you use for composing messages. When you consider that these limitations come in an application that costs you $5 a year, well, that makes DeskSMS even harder to recommend.
Note: The Download button takes you to the vendor's site, where you can download the latest version of the software.
Note: When you purchase something after clicking links in our articles, we may earn a small commission. Read our
affiliate link policy
for more details.
At a Glance
Generic Company Place Holder DeskSMS

DeskSMS can handle the basics of desktop texting, but it doesn't work reliably enough.

Cons

No instructions
Didn't work reliably
Shop Tech Products at Amazon