Nvidia created its Deep Learning Super Sampling (DLSS) technology to help improve performance in games when you turn on ultra-strenuous ray traced visuals, all the way back when both ray tracing and DLSS were introduced alongside the GeForce RTX 20-series. DLSS 2 greatly improved the visual quality of upscaled images, while DLSS 3 added AI-generated frames to boost performance even more. Now, Nvidia returns to DLSS's ray tracing roots with DLSS 3.5, introduced today at Gamescom in Germany.
While DLSS 3 boosted performance, DLSS 3.5's "Ray Reconstruction" aims to improve the visual quality of upscaled, ray traced games, specifically by turning Nvidia's AI models on a critical process called "denoising."
Ray tracing is limited by the number of rays a GPU can "cast" into a given scene, to create the data needed for the realistic lighting effects. But there's no way to cast endless amounts of rays for picture-perfect images in games. Movie studios have all the time in the world to render the scenes for their films, but games need to respond instantaneously to you feedback without melting your GPU. As such, before a ray traced scene is rendered, modern games and graphics cards run "denoisers" devoted to eliminating the graininess caused by missing ray info in game frames.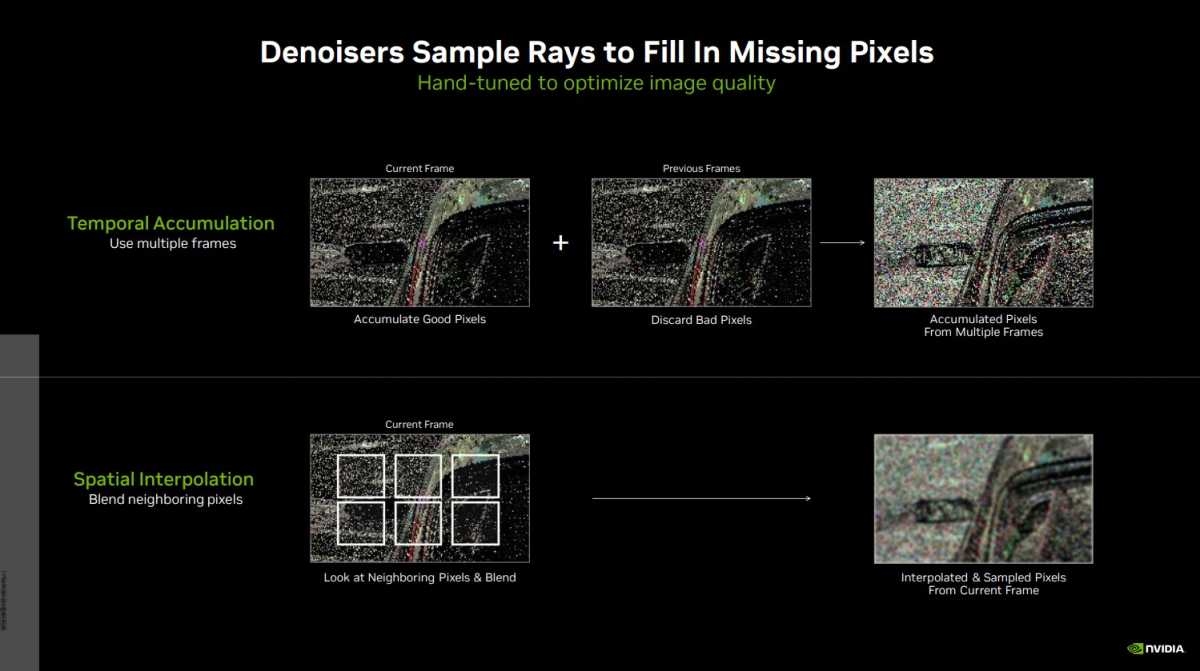 Nvidia
That's all well, good, and necessary, but it gets a bit more complicated, especially when DLSS gets involved. DLSS runs at a lower resolution than your display, then uses AI smarts to upscale the image to your native resolution. Traditional hand-tuned denoisers sample bits of a ray traced scene — either temporally, over multiple frames, or a spatial model based on neighboring pixels — and use the info to fill in the missing pixels where rays weren't able to be passed.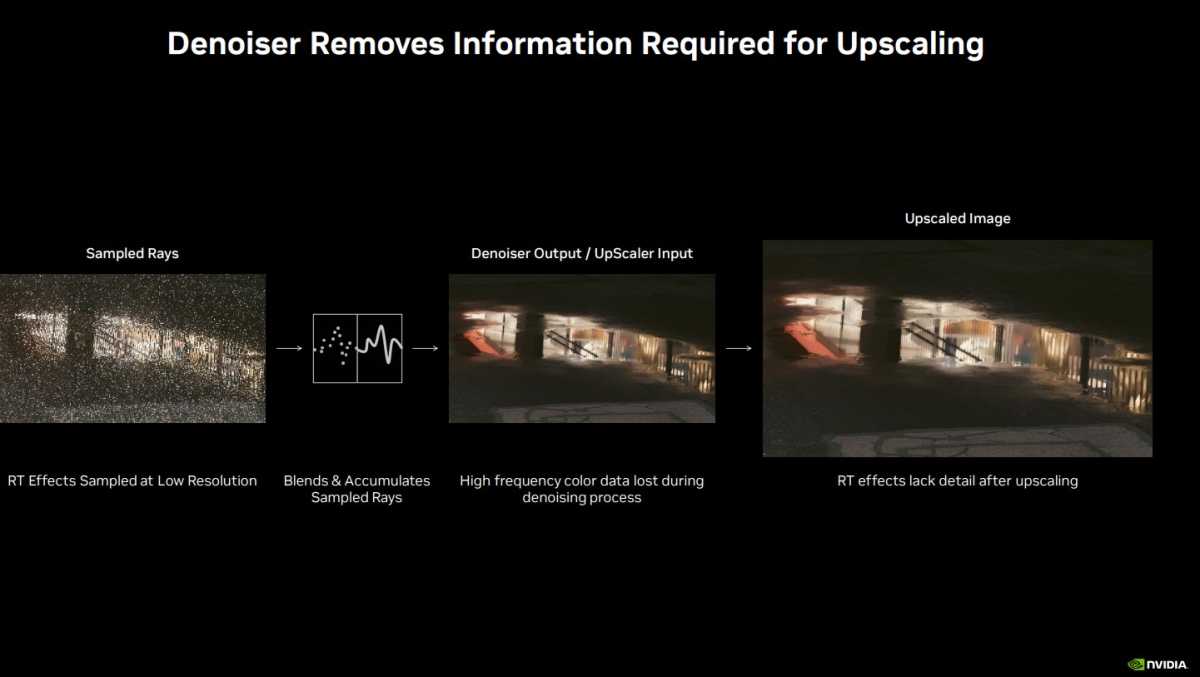 Nvidia
Nvidia
As anyone who has played a ray traced games know, the end result is pretty darn good. But Nvidia says traditional denoisers create slightly off outputs sometimes, resulting in lower-quality reflections and global illumination in especially detailed scenes, and inaccurate lighting effects on occasion. Have you ever played a game where your car's lights seemed to emanate from the bottom of your car rather than the headlights, or saw "ghosting" of its side mirrors traveling alongside your car? The way the denoisers and DLSS interplay is why.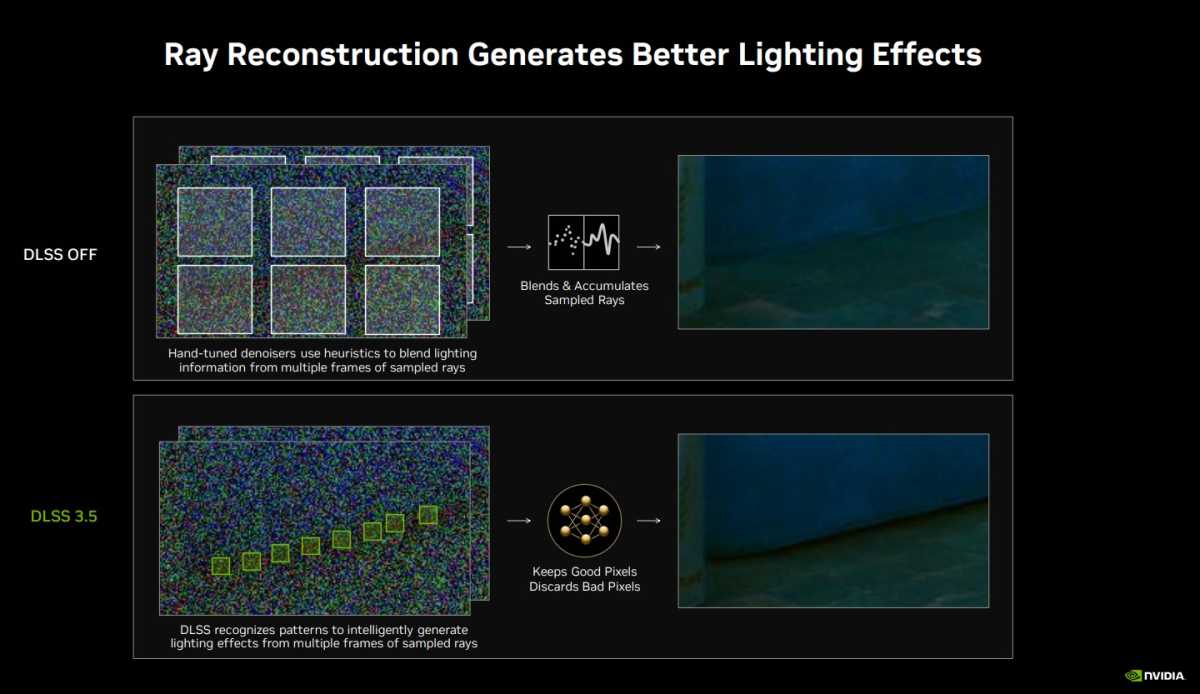 Nvidia
Enter DLSS 3.5. Nvidia's new Ray Reconstruction technology replaces hand-tuned denoisers with an AI-powered denoiser that's trained to recognize good and bad pixels from both temporal and spatial denoising, identify ray tracing effects specifically, and incorporate other game information — like motion vectors and surface colors — for a much more accurate final image in ray traced games, as you can see in the images below.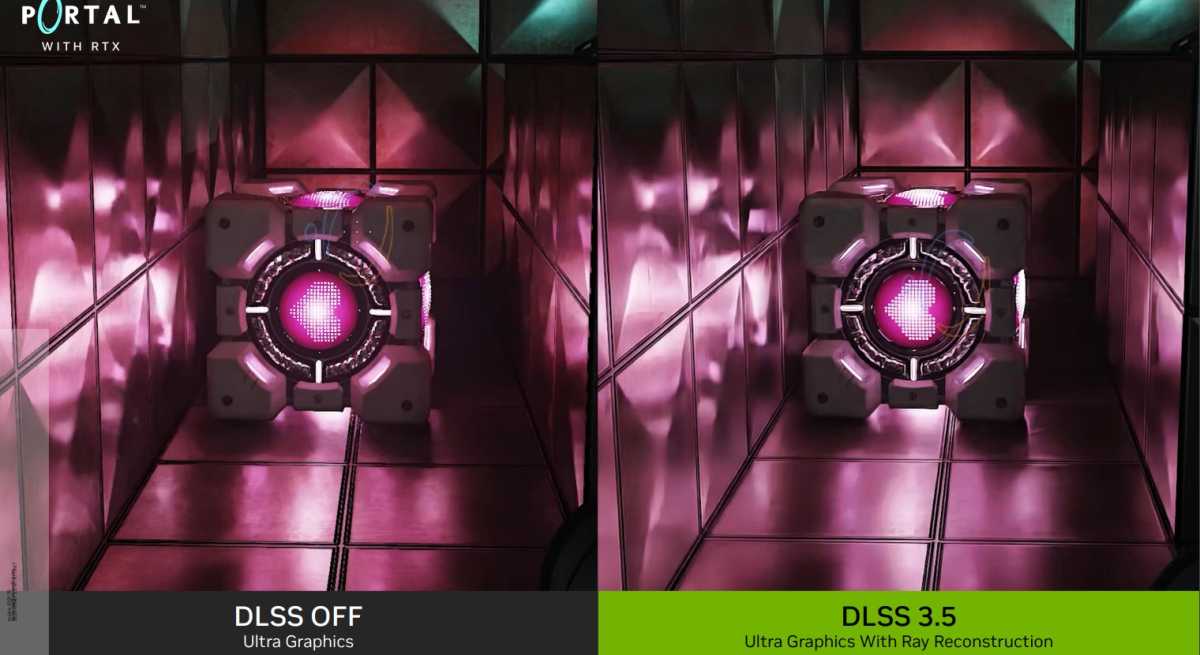 Nvidia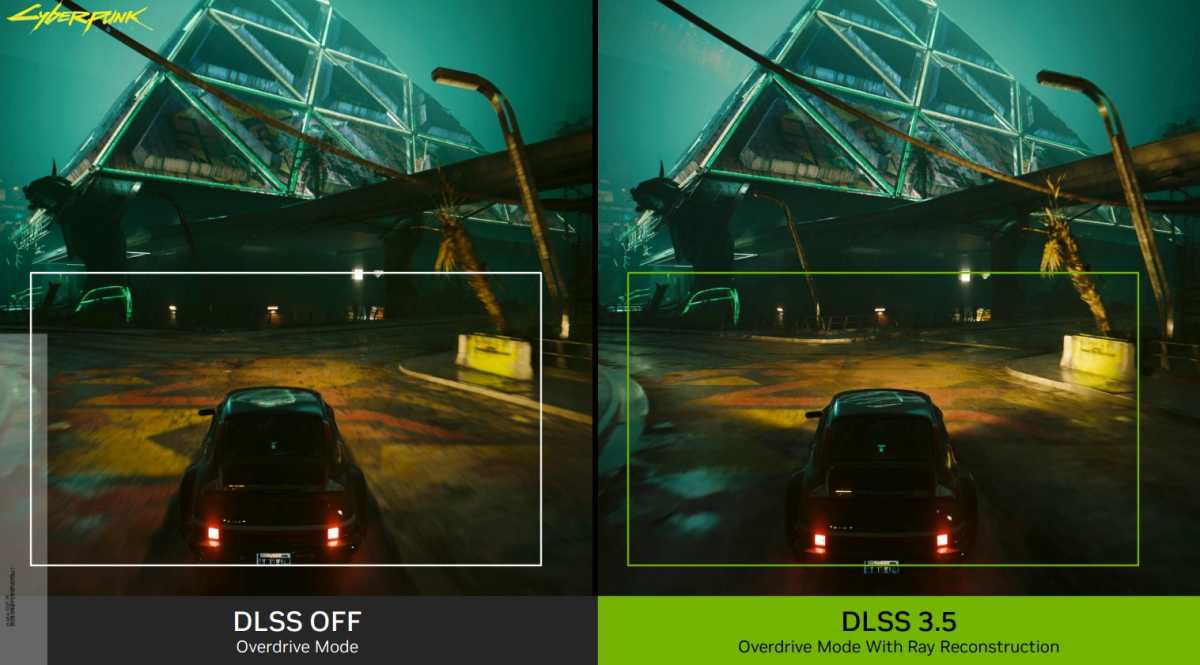 Nvidia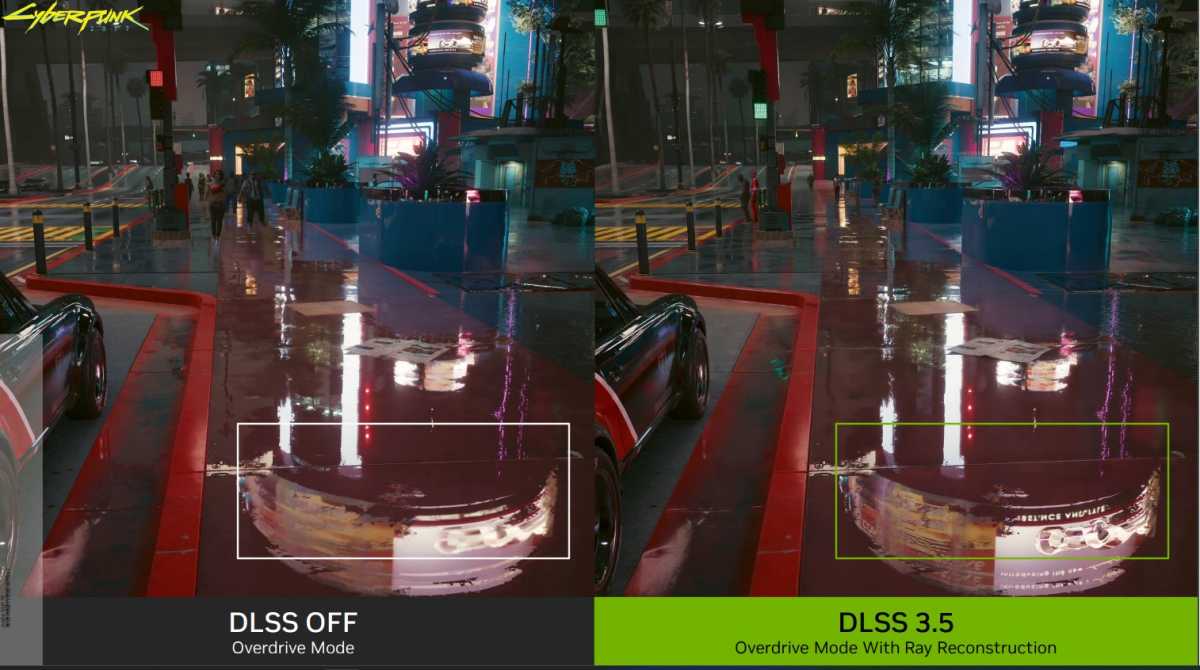 Nvidia
These are canned examples from Nvidia's press briefing, so take them with a grain of salt, but there's no denying whatsoever that the clarity, accuracy, and sharpness of ray tracing effects look significantly better with DLSS 3.5's Ray Reconstruction active. I can't wait to see it in action — and you can yourself if you check out Nvidia's booth at Gamescom this week.
DLSS 3.5 will debut later this year in Cyberpunk 2077's Phantom Liberty expansion this September, the just-as-hotly-anticipated Alan Wake II this October, and Nvidia's Portal RTX remake sometime this fall. It'll also be available in the D5 Render apps and Nvidia's Omniverse platform for creative types.
You may see a small performance uplift in complex ray traced games, depending on how many denoisers Ray Reconstruction is replacing in the game engine, but to be clear, DLSS 3.5 focuses on ray traced visual quality, not speed.
GeForce RTX 4070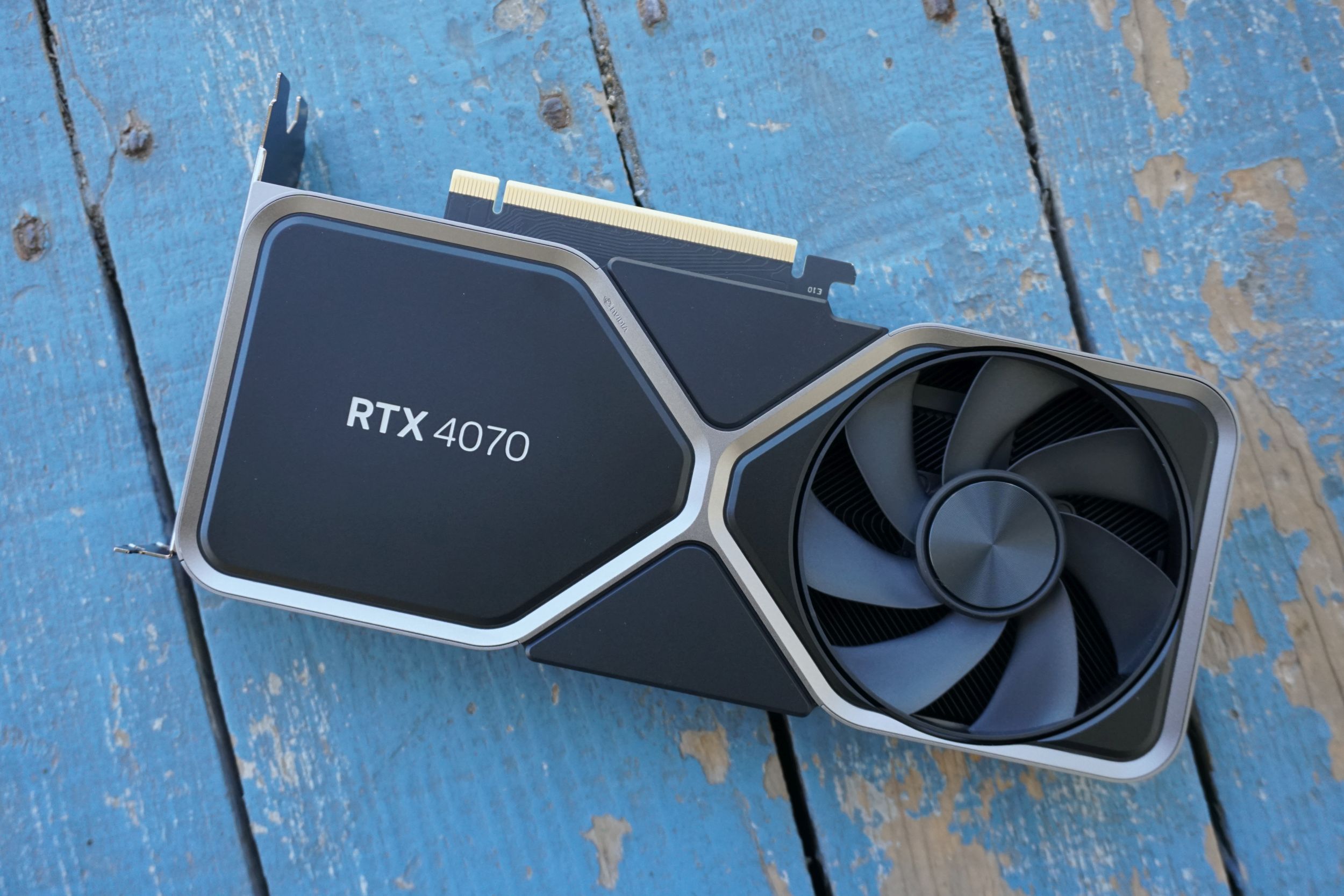 Price When Reviewed:
$599
Now for the better news: Unlike DLSS 3's AI-generated frames, which need special "Optical Flow Accelerator" hardware only found in new GeForce RTX 40-series GPUs, DLSS 3.5 works with any RTX graphics card — yes, even the original RTX 20-series offerings. Awesome. It will also be available for GeForce Now subscribers in supported games.
I've already been hot and bothered about Cyberpunk 2077's Idris Elba-starring Phantom Liberty expansion, and adding this nifty new technology on top only makes me that much more excited to return to the streets of Night City.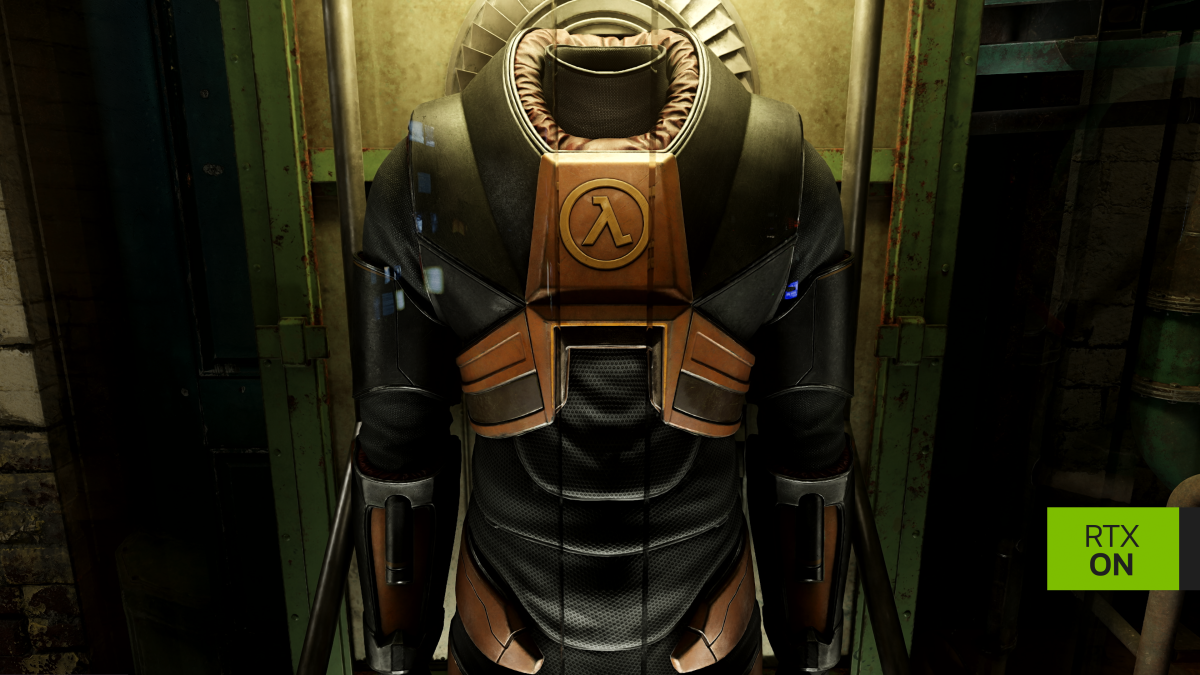 Nvidia
Beyond DLSS 3.5, Nvidia also announced that a team of top Half-Life 2 modders are joining forces to give the classic a full RTX Remix makeover, similar to Portal RTX. DLSS 3 (not 3.5) is also coming to Call of Duty: Modern Warfare III, Payday 3, and — get this — Fortnite. People have wondered how well DLSS 3's AI-generated frames would handle fast-paced competitive shooters, and soon we'll know.
Finally, on August 24, GeForce Now will get its first taste of Microsoft PC Game Pass games, including first-party titles like Gears 5 and Bethesda's Deathloop, along with a smattering of third-party games like No Man's Sky. You'll need to be a PC Game Pass subscriber to play them on GeForce Now, of course — here's a workaround explaining how to get two years of Xbox Game Pass Ultimate for dirt cheap.