SLIDESHOW
7 bars that mix highballs with high tech
From interactive tablecloths to high-tech games, these watering holes offer the amenities to bring out the nerd in anyone.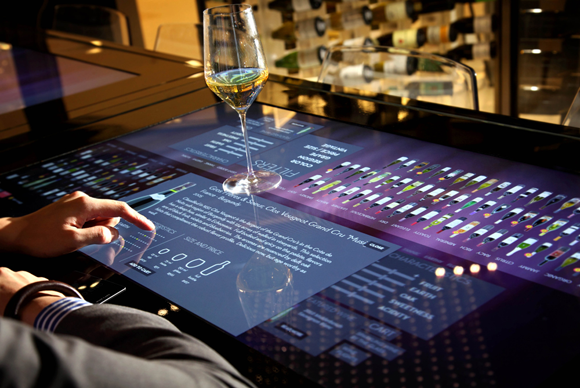 Because nerds like to drink
Like any other type of business that wants to find relevance in the 21st Century, clubs and bars are looking to technology to lure people in the door—and keep them inside as long as possible. The trend isn't necessarily new, but with the advent of touchscreen and LED technology, the "techification" of bars is beginning to accelerate. The seven following bars are great examples of what all our local watering holes might look like in the not-too-distant future.
Eyecandy Sound Lounge
Las Vegas is all about sensory overload, even in its laid-back bars and lounges. The booths at Eyecandy in Mandalay Bay Hotel & Casino let you plug in your iPod and send songs to the DJ to splice into the mix, pull up visualizations that dance to the music, or send text messages to tables across the room.
Graffiti Bar
The name is literal: Here's a bar top you can finger-paint on. In this Tokyo bar, you'll sit behind a line of seven LCD touchscreens that allow you to leave graffiti, browse menus, travel Google Earth, or talk to the waiter.
Amo Eno
This well-known Tokyo wine bar sets you up with your own digital wine consultant. It's built in to the table in front of you. American husband and wife Andrew and Brook Bradbury began working on a touchscreen wine list with Hewlett-Packard over a decade ago. The displays at Amo Eno have profiles on hand for more than 75 wines from Washington state to Uruguay. And with social media available on the same screen, you can tweet out your wine experience from the bar stool.
Ibar Ultra Lounge
Rio Las Vegas's bar sports Microsoft Surface touchscreen tabletops. Using the screens, you can order a custom mixed drink, play pinball, or browse Vegas shows and restaurants you might want to check out after you've had a few drinks.
GuestHouse
The 4000-square-foot first floor of San Diego nightclub Stingaree is outfitted with a wraparound 90-by-14-foot 3D projection wall that spans three-quarters of the room's wall space. The wall, designed by locally based AV Concepts, is covered by a special paint that reflects highly textured images shot from HD projectors hung from the ceiling.
Red MR
Karaoke franchise Red MR is scattering its karaoke outlets across Hong Kong. Many locations come ready with Kinect, for gesture control of games like I-Darts. The touchscreens in the rooms can read the chip on the bottom of your bottle to pull up information about the brew inside. The touchscreens also feature group games like poker.
Inamo
In the restaurant portion of this London hangout, overhead projectors turn tablecloths into control centers for ordering food or launching attacks in a game of Battleship. When the meal is over, diners can arrange their way home by calling a taxi or loading a London Underground map.
Next Up: Check out these related slideshows
Today's Best Tech Deals
Picked by PCWorld's Editors