Google didn't blow people away with its Wednesday morning keynote at the Google I/O developer conference. No new version of Android, no talk of Google Glass, no skydiving Fred Armisen (bummer). Instead, Google gave developers a host of new goodies and announced new features and services that seemed impressive, even if they didn't knock people's socks off. Get a look at the big stories to come out of this year's keynote.
A new look for Google Play
During Wednesday's keynote, engineering director Chris Yerga spoke briefly about a redesign for the Google Play Store. The most obvious change is a host of updates to the store's visual appearance, but there are also a number of improvements under the surface. Google Play will now give suggestions based on your personal preferences, chosen by Google's algorithms. It's a quick way to get a glance of something you might like if you're just browsing the store.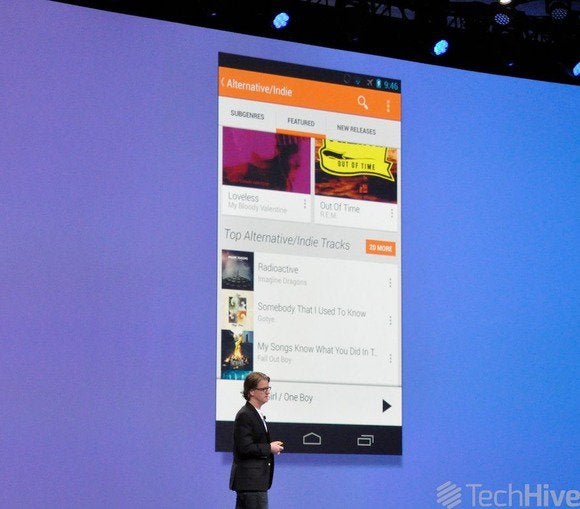 Not only that, but the top charts section will spotlight apps that are designed for tablets, a much-anticipated and much-requested addition to the store. Also, Google announced Google Play for Education, a curated version of the Play store specifically for schools and other educational institutions coming this fall. This version of the store will only feature apps handpicked by a group of editors, so unfavorable apps won't sneak in by accident.
Location-based APIs mean new features in future apps
A massive pile of new features for Google+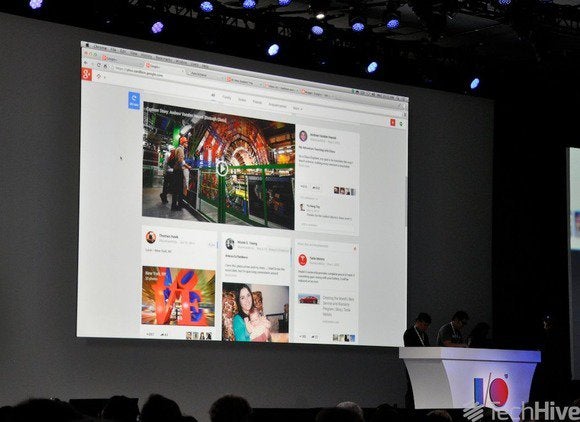 Google+ has been slow to catch on, but Google hasn't given up on its social network. The company announced a total of 41 (!) new features, including a new look, automatic hashtags, a new Hangouts app, and more.
Instead of a typical reverse-chronological news feed, the new Google+ will feature a multi-column stream to present text updates, photos, and videos that doesn't look all that dissimilar from Pinterest. In the keynote, Vic Gundotra, Google's senior vice president of engineering, likened traditional newsfeeds to a " a long list of things that have been shared with you, like a never-ending newspaper." No word on whether Gundotra has ever noticed that a newspaper uses columns of text and photos to deliver news instead of a long stream of blurbs.
Also new are automatic hashtags: Google+ will scan items you post to Google+ and try to assign relevant tags to them. In a demo, Gundotra used the example of a photo of the Eiffel Tower posted without any text description that Google+ was able to identify based on landmark recognition and metadata.
Finally, Google announced a new app for Google Hangouts that comes in versions for Android, Chrome and iOS, as well as in Web app form for Chrome OS. The app isn't just for videoconferencing, either; you can send text messages and images as well. The app is free to download and use.
Google turns data centers into darkrooms
▾

read more

▾
With three new location-based features, Google is about to give app developers even more tools to work with when creating apps that use your device's GPS functionality. First up are tweaks that reduce power consumption for when you use apps that utilize the cellular radio, Wi-Fi, or GPS. Support for geofencing lets developers create apps that carry out specific tasks when you arrive at a certain location. For example, a calendar app could remind you of an errand you need to run as you leave work for the day.
Last, developers can use the accelerometer inside a device to determine how you're traveling—whether by walking, car or other methods. A maps app, for instance, could detect if you're walking or on a car, and provide walking or driving directions to your destination, accordingly.
Cloud gaming goodies for Android
Cloud gaming has come to Android devices. The new Google Play Games services APIs make it easier for developers to incorporate a number of cloud-based features into their games. A new cloud-sync feature that developers can incorporate into their games means that if you stop playing a game on one device, you can seamlessly pick up where you left off on another.
Google Play Games will also bring with it the popular achievement features found from other gaming platforms. Developers can also use Google's APIs to create a cross-platform gaming experience, allowing iOS and Android users to play with one another. Google+ will also allow for easier notification of game invites, leaderboards, and matchmaking for your circles.
A Galaxy S4 with tasty, tasty stock Android
Like the Samsung Galaxy S4 but hate Samsung's software additions? You'll love the stock Android version of the Galaxy S4. This version of Samsung's flagship smartphone comes pre-loaded with the latest stock version of Android—that is, without the extra bells and whistles that Samsung added on—and an unlocked bootloader for all the hardware hackers out there.
This version of the phone will run on AT&T and T-Mobile networks and comes with 16GB of storage. But freedom from overlays and Samsung's add-ons won't come cheap—it'll cost $649, and you'll have to wait until June 26 to buy one.
Google Play Music All Access is 'radio without rules'
Spotify and Rdio have company. The awkwardly named Google Play Music All Access is a new music streaming service that lets you stream millions of songs (though Google provided no further specifics) for a $10 monthly subscription fee. You can use the service via your Web browser or using a dedicated Android app; the service will open in the US only for now, but Google says it will open in other countries "soon."
Google calls its new service "radio without rules," though terms and conditions will almost assuredly apply.
If you want to give it a go before you commit to paying the monthly fee, Google will offer a 30-day free trial; if you sign up for the trial by June 8, though, you'll be able to keep using the service beyond the trial period for $8 per month.
Chrome gets better, faster, stronger; Daft Punk not involved
If you use Chrome—what Google referred to as "the most popular browser used in the world"—you'll be delighted by some of its improvements, which are meant to boost Chrome's mobile experience and to make the browser feel more unified across devices and platforms.
One particularly welcome change is a simplified mobile shopping experience through Chrome. Chrome can now synchronize your payment and shipping information across devices, which brings shopping down to three easy steps: check out, review the information Chrome offers up, and then submit.
Chrome now includes support for a number of new Web technologies that, if adopted by developers, could mean a faster Web browsing experience. WebP is Google's image format alternative to JPEG, which can cut image file sizes by a third. VP9 is a new video encoding codec that requires just half the bandwidth of the more popular and ubiquitous H.264 codec, which could save bandwidth for mobile customers. YouTube will roll out VP9 support later this year, according to Google.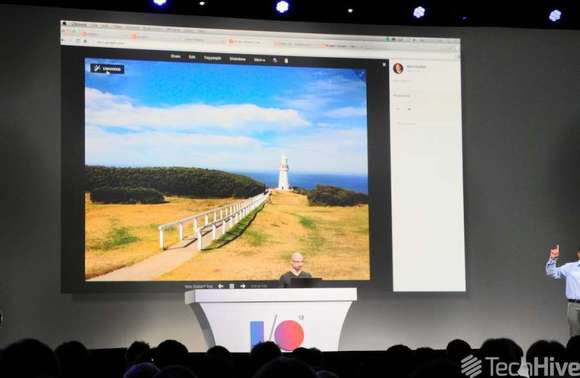 Speaking of Google+, the service will now offer a number of new photography tools that could make it easier to edit and share the photos you publish to your Google+ profile. For one, Google will offer 15GB of storage for your full-quality photos (up from the 5GB available now).
A new "Highlight" feature will automatically scan through your uploaded photos and showcase what it thinks are your best shots (blurry shots and photos of annoyed-looking spouses, be gone!). Also new is an Auto Enhance tool that will correct white balance and red-eye issues, among others.
Lastly, Auto Awesome can combine multiple images into a new photo or series of photos. For example, you can tell it to take a series of photos and turn it into an animation, or you can use it to stitch together photos into a panorama. The company says you can expect these new features to roll out sometime Wednesday evening.
Google search updates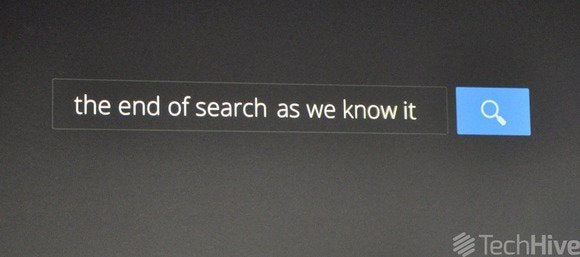 There were also several announcements related to search on Wednesday, delivered by Google's Senior Vice President Amit Singhal. Google plans to ramp up its knowledge graph technology, which helps to connect you with other information you might find useful while you're searching. Searching for the population of Poland, for instance, might lead to Google displaying the populations of nearby countries in the sidebar.
Google Now learns some new tricks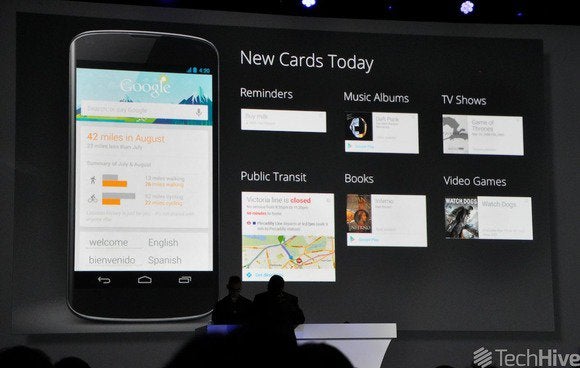 Google Now got a minor update as well: You will soon be able to get public transit schedules through Google Now, ask it to suggest a new book to read or a new TV show to watch, or ask it to remind you that you need to move your car on street-sweeping day. Hooray! Also, Google Now reminders can take advantage of location data, so if you need it to remind you to check something when you get to work in the morning, it can send you a reminder when you read your office.
Talking to your device will also become easier and won't require you to launch any app at all—simply say "Okay Google," and begin speaking your query. Google will bundle in features like conversational questions, where you can ask the location of a place, then how to get there. Google will know you're asking about the place you just requested the location of.
Map nerds rejoice—a new Google Maps is coming
Not to be forgotten, Google Maps will soon get a significant update, confirming rumors that surfaced last week. The most obvious change is a new look: The new Google Maps eschews the sidebar for an attractive map view that takes up your entire browser window. It uses vector-based maps instead of the traditional tile of map images that Google has traditionally used. You can also look at rotatable 3D views of places—similar to the Flyover view in Apple's Maps app in iOS 6.
The new Google Maps features restaurant reviews from Zagat, and is designed to make it easier to find points of interest near you. Google I/O attendees were granted access to the preview of the new Maps tool; the rest of us will have to sign up for an invitation.
Note: When you purchase something after clicking links in our articles, we may earn a small commission. Read our
affiliate link policy
for more details.