Review: Pilot a fighter spaceship and flying robot in Strike Suit Zero sim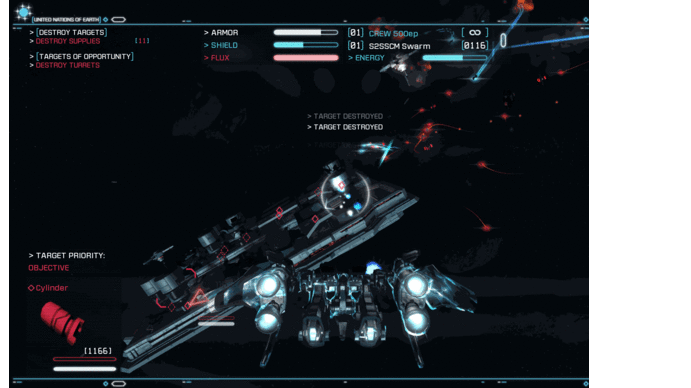 Today's Best Tech Deals
Picked by PCWorld's Editors
Top Deals On Great Products
Picked by Techconnect's Editors
At a Glance
Generic Company Place Holder Strike Suit Zero
FreeSpace 2 and other space combat classics kept the genre alive, albeit on the back burner, for years Then indie game studio Born Ready Games came along and decided to create a modern space combat simulator: Strike Suit Zero ($20).
Developing the game was not without its difficulties: When funding ran out midway through the project, Born Ready Games turned to Kickstarter for extra funding. The crowdsourcing website doesn't always work out, but in this case it did: Born Ready raised almost double their original $100,000 goal, and carried on to release the game as planned.
The end result is a game with thoroughly modern, gorgeous looks, and simple, intuitive controls that puts you in the cockpit of a space fighter. While the game's controls and HUD are simpler than those of FreeSpace 2, it innovates in the spacecraft department in a big way: You get to fly a giant robot.
Most of the time, Strike Suit Zero looks and maneuvers like a typical space fighter. But hit a button on your controller, and it instantly transforms into a hulking mech, armed to the teeth and capable of hairpin turns and aerobatics that just don't make sense in a fighter.
Transforming into a robot makes the game feel almost like a first-person shooter...in space. It's a throwback to the old Descent series, the same one FreeSpace 2 eventually evolved from. For example, in one of the early missions you have to destroy a series of storage platforms containing enemy supplies. You can fly at a platform at breakneck speeds, afterburners ablaze, only to transform at the very last moment and find yourself hovering in front of the platform as a fully armored mech, ready to obliterate everything in sight. This makes for a very engaging, cinematic gameplay.
Strike Suit Zero is an unforgiving game. Although each mission has a number of checkpoints, they are often spaced quite far apart. To make progress, I had to keep going through missions again and again. Dying often means replaying a 10-minute sequence, trying to do better than the last time. It does get frustrating, but it's also fun to see your skill improving from one run to the next.
Strike Suit Zero keeps things simple: there is no multiplayer mode, no radar on your HUD, and no complicated key mappings to remember. It is easy to pick up, beautiful to play, and challenging to master.
Note: The Download button takes you to the vendor's site, where you can download the latest version of the software.
Note: When you purchase something after clicking links in our articles, we may earn a small commission. Read our
affiliate link policy
for more details.
At a Glance
Generic Company Place Holder Strike Suit Zero

Strike Suit Zero breathes new life into an old genre, and introduces an engaging innovation in space combat: A space fighter that transforms into a mech.

Pros

Beautiful graphics
Fun, challenging gameplay
Shop Tech Products at Amazon