Are you tired of seeing the same 27-inch, $1,000 OLED panel being trotted around by half a dozen different brands? Probably not because you're not a technology news writer who has to pore over nearly identical specification lists to find anything slightly different, but I digress. Asus has three new OLED monitors for gamers to drool over, and none of them are 27 inches. They're all quite a bit bigger…and probably a lot more expensive. They were announced at the Gamescom event in Germany.
Asus
First up is the ROG Swift PG32UCDM, a 32-inch 4K monitor. It's perhaps the most conventional design of the bunch — it's relatively large by monitor standards, but sticks to the usual 16:9 aspect ratio. 240Hz and .03 millisecond response time give it some serious gaming chops, but there's plenty of new tech specific to that vibrant QD-OLED panel. At 1,000 nits, it's considerably brighter than some alternatives and a custom heat sink and graphene layer protect it from heat and reduces the risk of burn-in. The USB Type-C port includes power delivery and an integrated KVM switch. Asus plans to get this one on the shelf in the first quarter of 2024, no price announced as of yet.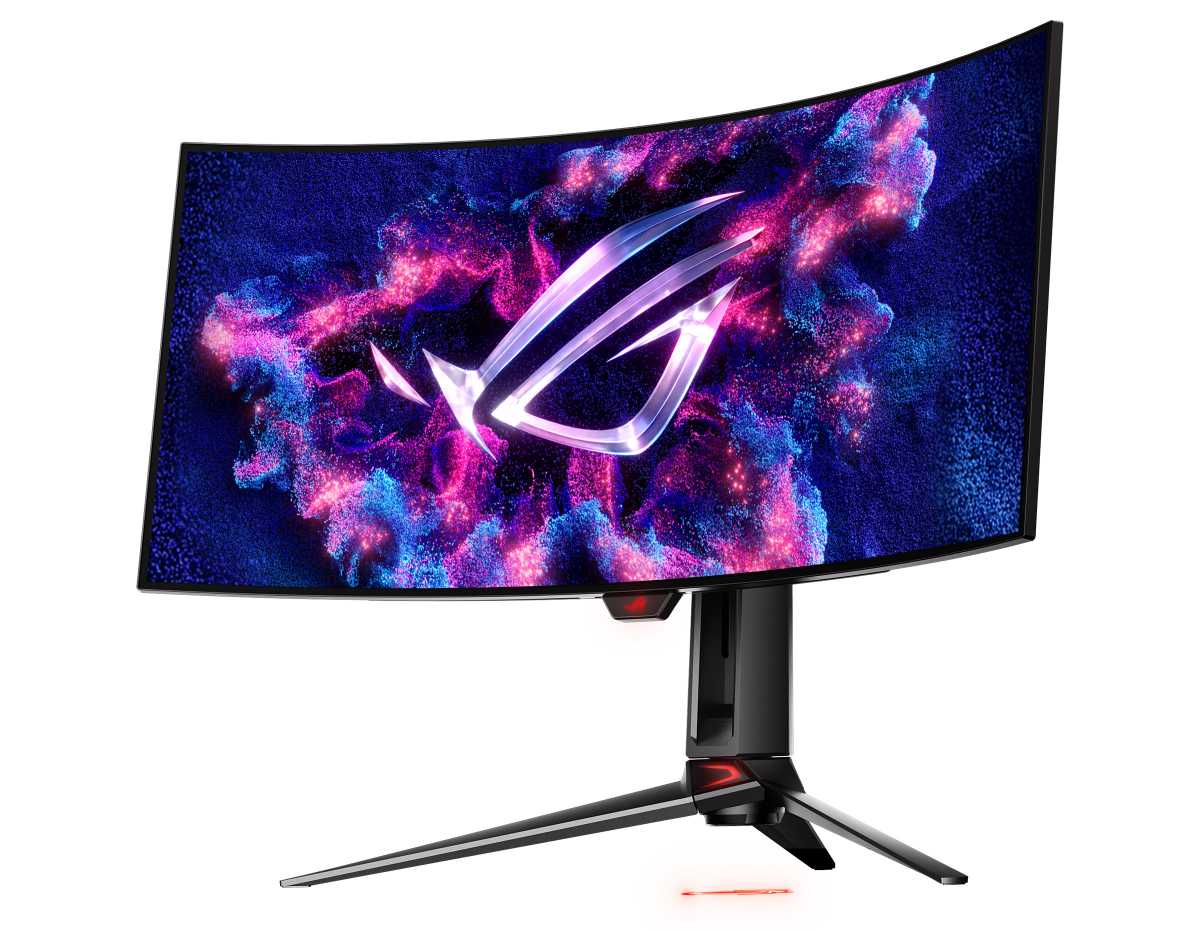 Asus
Those who like their widescreens a little more ultra will want to check out the ROG Swift PG34WCDM, a 34-inch, 3440×1440 version of the design with an 800R curve rating. This wider monitor gets official Nvidia G-sync compatibility, an even brighter 1,300 nit rating, and 90 watts of USB-C power delivery. It's a closer competitor to Alienware's popular 34-inch OLEDs, but with faster refresh and more connection options, it might just pull ahead. Again, it's scheduled for a Q1 release with no price enumerated.
The big daddy of the new ROG line is the Swift PG49WCD (up in the header image), a massive 49-inch OLED panel that stretches the resolution to 5120×1440. So in size and res, it's basically two 24-inch 1440p panels side by side. It has a less dramatic 1800R curve rating, a slower 144Hz panel with no mention of G-sync, and the brightness steps back down to just 1,000 nits, but the rest of the features are preserved. This one's coming a lot sooner in October, for a price of $1,499. That's a lot, even for a monitor of this size, but for a gigantic OLED it's surprisingly affordable. Compare it to the Samsung G95SC, which has a faster refresh rate but costs $1,800 retail.
It's great to see OLED monitors spreading out into more form factors, and with the largest of the panels being cheaper than the competition, maybe we'll see some offerings at lower price points, too. In the meantime, check out PCWorld's roundup of the best gaming monitors.