Review: Ashampoo Photo Commander 11's may features add up to a disappointing image editing experience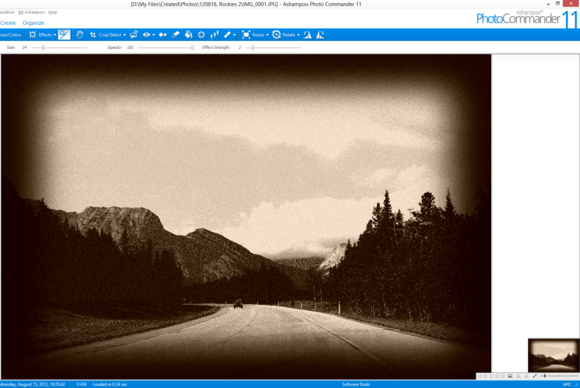 Today's Best Tech Deals
Picked by PCWorld's Editors
Top Deals On Great Products
Picked by Techconnect's Editors
At a Glance
Generic Company Place Holder Ashampoo Photo Commander 11
A feature list is a tempting, treacherous marketing tool. Just because a product can do something, doesn't mean it can do it well. Case in point, Ashampoo Photo Commander: This "do-it-all" photo tool has an enviable list of features that includes anything from 3D image support to a MiniMap to eliminate scrollbars, and yet ends up feeling underpowered, clunky, and disappointing.
Ashampoo' Photo Commander's glut of features carries through to its default window arrangement: a menu bar, two toolbars, a file browser with its own partially-visible toolbar (that opens on Ashampoo's Pictures library, not your own Pictures folder), image metadata, and a wide timeline with many filtering options. The middle of the window has an area to display the selected image, too, crowded in by all of the other interface elements.
For an application that offers so many features, Ashampoo neglects some of the very basics. For example, it doesn't automatically rotate vertical photos: If you happened to take a photo with your camera turned sideways, Ashampoo will display the photo sideways, even if it contains rotation information. Even Windows Explorer, which doesn't purport to be an image editing application, heeds this rotation metadata and shows images correctly turned.
Another issue is that Ashampoo Photo Commander feels slow. On a Windows 8 system with an Intel i7-3770K CPU and 32GB of RAM, I had to wait for several seconds until Ashampoo finally displayed all of the thumbnails for a single folder. When I navigated into that same folder using Windows Explorer, the thumbnails appeared instantly, with no perceptible lag at all.
Before Ashampoo tries to tackle complex image editing tasks, it should take care of the basics. With free competitors such as Google's Picasa offering a fast and polished image editing experience, Ashampoo is facing some serious competition. The key to winning may be in the details and fit-and-finish, rather than in adding one more bullet to the feature list.
Note: When you purchase something after clicking links in our articles, we may earn a small commission. Read our
affiliate link policy
for more details.
At a Glance
Generic Company Place Holder Ashampoo Photo Commander 11

Ashampoo Photo Commander 11's performance does not justify its price tag.

Pros

A comprehensive feature set

Cons

Slow
Cluttered interface
Does not automatically rotate images
Shop Tech Products at Amazon