After weeks of leaks and full-blown accidental reveals, it's finally official: AMD fleshed out its Radeon RX 7000-series today, introducing both the $499 Radeon RX 7800 XT and the $449 Radeon RX 7700 XT during a keynote from Germany's Gamescom.
These graphics cards aim to deliver sublime 1440p gaming performance, with AMD claiming that its new duo outpunches Nvidia's rival RTX 4070 and 4060 Ti by a hefty margin in many games at maximum settings. The Radeon RX 7800 XT and 7700 XT manage to easily clear the hallowed 60 frames-per-second mark at 1440p/max in games where older GPUs like the Radeon RX 5700 XT and GeForce RTX 2070 Super are starting to show their age, like The Last of Us and Star Wars: Jedi Survivor.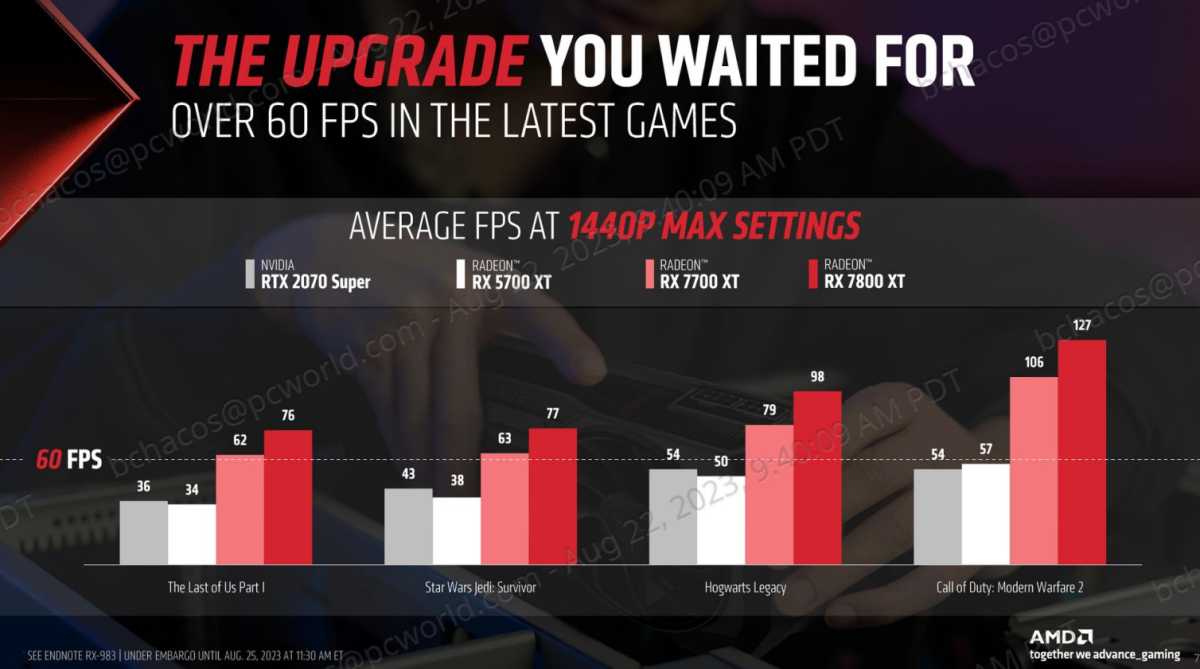 AMD
And that's without any of AMD's performance-boosting software features enabled. AMD also pulled back the curtain on the DLSS 3-like FSR 3 with Fluid Motion Frames at Gamescom, while finally unleashing its long-teased "Hyper-RX" feature to supercharge frame rates in other ways.
Both graphics cards are built using AMD's modern 5nm RDNA 3 architecture and 6nm memory chiplets, along with the next generation of the company's on-die Infinity Cache (albeit in lower capacities than last gen). They also offer AV1 encoding and DisplayPort 2.1, with the latter being something missing in rival GeForce GPUs. You can read all about RDNA 3's capabilities in our review of the Radeon RX 7900 series. Here's what you need to know about the Radeon RX 7800 XT and Radeon RX 7700 XT.
AMD Radeon RX 7800 XT specs
Let's start with the more powerful Radeon RX 7800 XT first. The specs:
Compute units: 60
RT accelerators: 60
AI accelerators: 120
Game clock: 2124MHz
Boost clock: 2430MHz
GDDR6 memory: 16GB
Memory bus: 256-bit
Memory speed: 19.5Gbps
AMD Infinity Cache: 64MB
DisplayPort: 2.1
AV1 hardware encoding: Yes
Total board power: 263 watts
Price: $499
Keen-eyed graphics geeks will notice that with 60 compute units, the new Radeon RX 7800 XT actually matches the compute unit count of last generation's Radeon RX 6800 and not the 6800 XT. The 6800 XT had 72 CUs, a substantial amount more, so it'll be interesting to see how much faster the new Radeon RX 7800 XT is than its predecessor — or if it even is. Hopefully AMD isn't pulling a pricey side-grade comparable to Nvidia's meh GeForce RTX 4060 Ti.
I asked about the difference in compute units during a press briefing ahead of Gamescom. Scott Olschewsky, Radeon's director of product management, said that when AMD looks at branding over generations, it doesn't take compute units into consideration — just performance and positioning. He said the number of CUs doesn't really matter when it comes to naming Radeon GPUs.
The newer GPU can lean on higher clock speeds to help push performance, with the Radeon RX 7800 XT hitting a 2124MHz Game Clock and 2430MHz Boost Clock, compared to the 6800 XT's 2015MHz and 2250MHz, respectively. AMD claims the Radeon RX 7800 XT beats Nvidia's $600 RTX 4070 in a wide variety of games, though the GeForce card claims some healthy victories of its own in games with ray tracing enabled. AMD's ray tracing chops are much better than last gen but still can't go toe-to-toe with Nvidia's hardware in games that heavily use the intensive visual effects.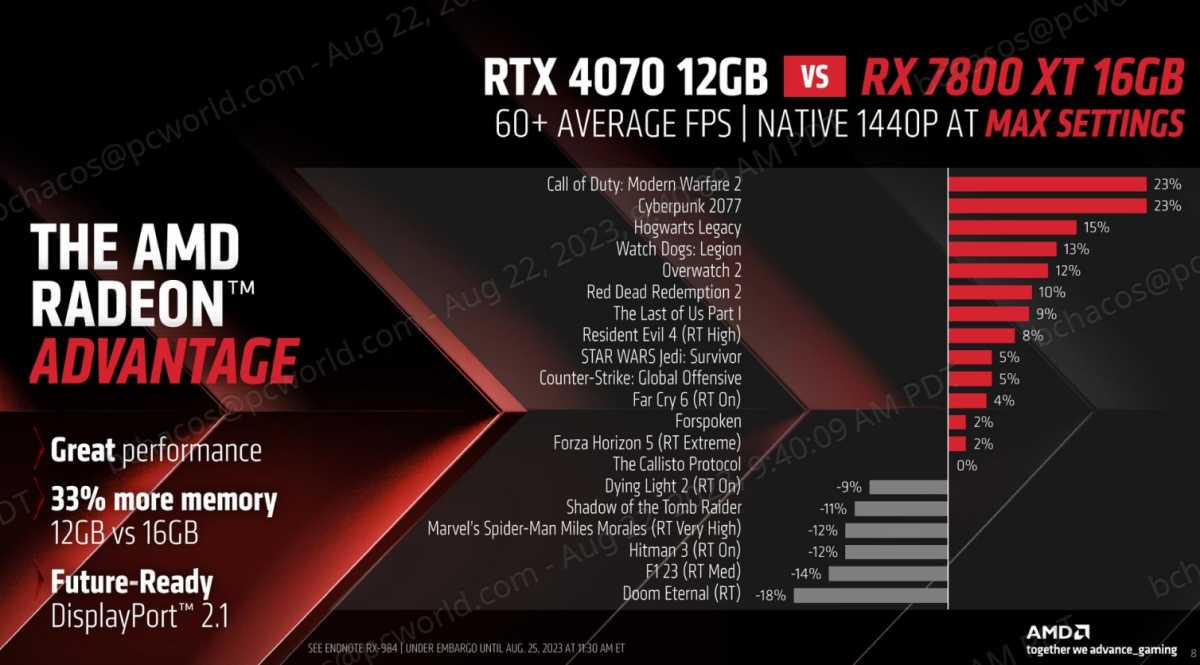 AMD
AMD's graphics card holds a crucial memory advantage over its rival as well, in an age when games are starting to gobble down ever-increasing amounts of RAM. The Radeon RX 7800 XT comes with a full 16GB of GDDR6 memory, compared to the RTX 4070's 12GB. Both should be plenty for playing most games at 1440p max settings, but as recent events have shown, you ideally want 16GB for full-fidelity 1440p gaming.
Interestingly, while the Radeon RX 7800 XT uses a bit less power than the 6800 XT, it consumes 14W more power than the Radeon RX 6800, which also had 60 CUs.
AMD Radeon RX 7700 XT specs
Onto the Radeon RX 7700 XT!
Compute units: 54
RT accelerators: 54
AI accelerators: 108
Game clock: 2171MHz
Boost clock: 2544MHz
GDDR6 memory: 12GB
Memory bus: 192-bit
Memory speed: 18Gbps
AMD Infinity Cache: 48MB
DisplayPort: 2.1
AV1 hardware encoding: Yes
Total board power: 245 watts
Price: $449
The Radeon RX 7700 XT uses a cut-down version of the Radeon RX 7800 XT's die, sporting fewer compute units, a narrower memory bus, and less GDDR6 memory and Infinity Cache. In exchange, it hits slightly higher clock speeds and uses a bit less power.
Interestingly, while the Radeon RX 7800 XT has fewer compute units than its predecessor, the Radeon RX 7700 XT pushes comfortably ahead of the last-gen 6700 XT (which remains an outstanding purchase in today's GPU market). The 6700 XT wields 40 CUs but the Radeon RX 7700 XT has 54. The new GPU has much lower clock speeds, however, hitting a 2171MHz average game clock versus the 6700 XT's 2424MHz.
The memory loadout remains consistent, offering 12GB of GDDR6 memory across a 192-bit bus. It's a major advantage over the $400 RTX 4060 Ti, which we can't recommend for 1440p gaming thanks to its paltry 8GB of VRAM and minuscule 128-bit bus. Nvidia's GPU landed with a resounding thud so AMD's new offering has a real chance at owning this segment of the market if performance is up to snuff.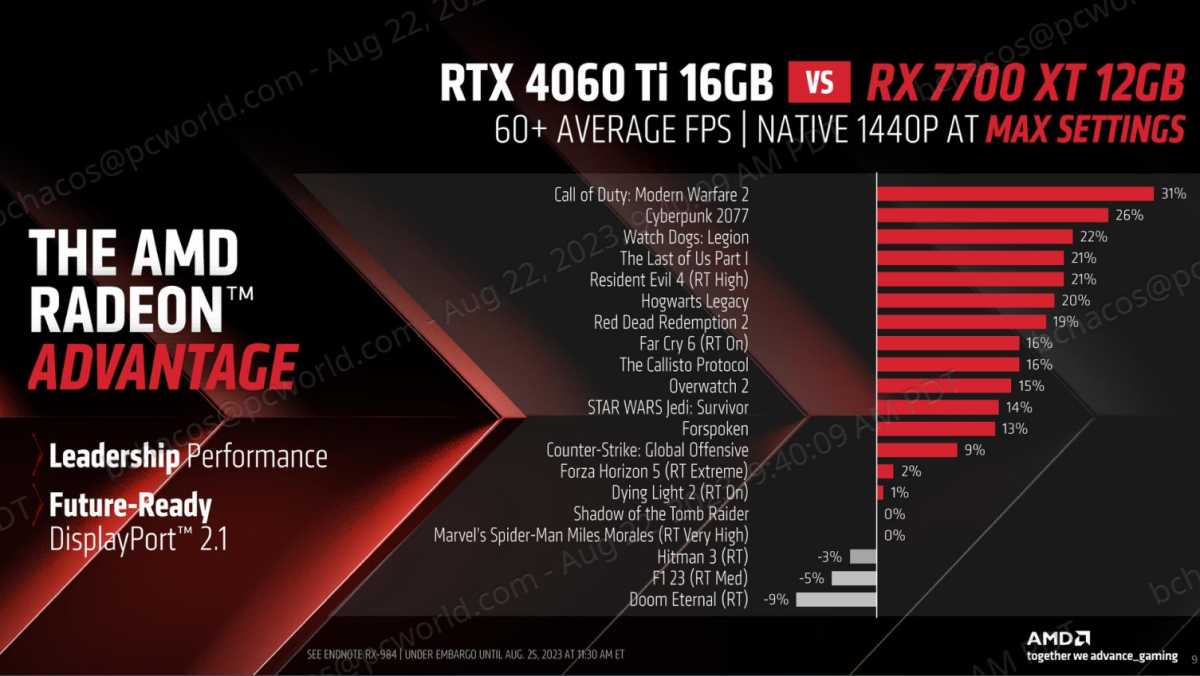 AMD
Going off AMD's numbers, it certainly looks like it. AMD has a double-digit performance advantage in over half the games listed, and the Radeon RX 7700 XT meets or beats the 4060 Ti in some games that AMD said the 7800 XT loses to the 4070 in, such as Dying Light 2 and Spider-Man Miles Morales with ray tracing on.
Filling out the new generation
At their bones, the memory configuration of the Radeon RX 7800 XT and 7700 XT look much better suited for long-term 1440p gaming than Nvidia's rival RTX 40-series GPUs, though the GeForce offerings will likely maintain a lead in ray traced games.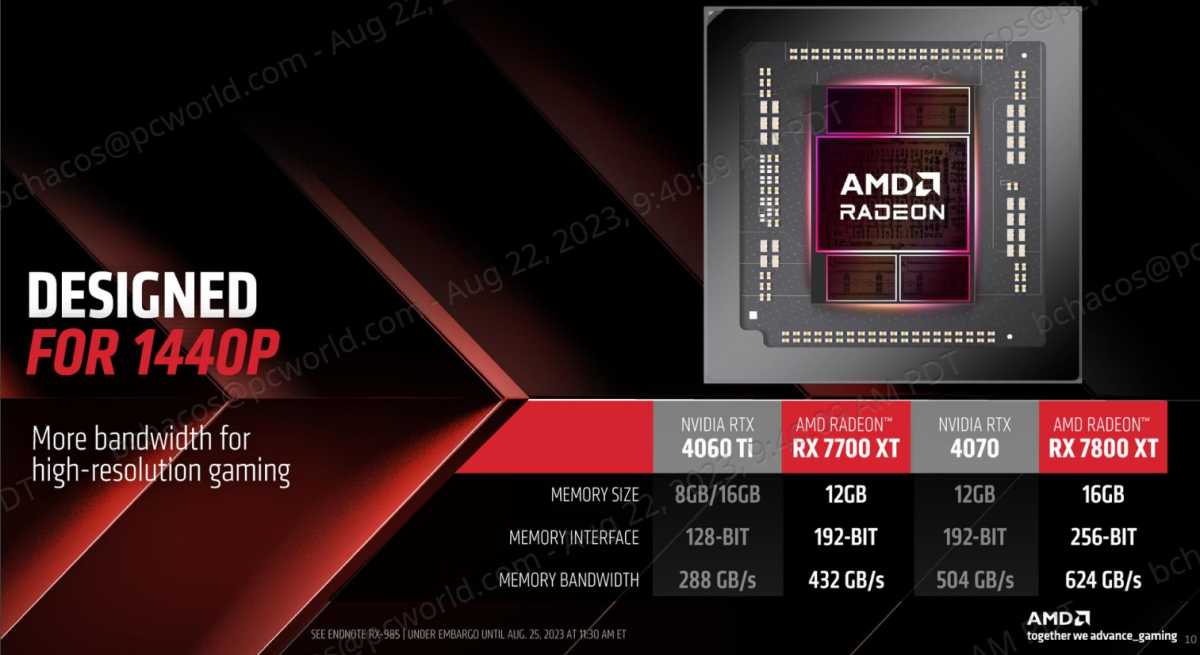 AMD
All modern Radeon 7000 GPUs support AV1 encoding, DisplayPort 2.1, and AMD's killer suite of software features (like Smart Access Memory, Radeon Anti-Lag, Radeon Super Resolution, FSR, and more). To make these new Radeon GPUs even more tempting, AMD took the wraps off FSR 3 and the long-promised Hyper-RX feature at Gamescom, with both pushing performance to blistering new heights with the help of DLSS 3-like "AMD Fluid Motion Frames." Hit those links to learn more about each of the new features.
AMD's new graphics cards hit the streets on September 6, and the company will even toss in a free copy of Bethesda's hotly anticipated Starfield with purchase. You'll be able to pick up an AMD-designed version of the Radeon RX 7800 XT alongside the usual blitz of custom boards, but the Radeon RX 7700 XT will only be available from AMD's GPU partners like Sapphire, XFX, and Asus.
Further reading: The best graphics cards for PC gaming