As part of a Gamescom announcement blitz that also saw the reveal of new Radeon RX 7700 XT and 7800 XT graphics cards and FSR 3.0, AMD finally delivered on its long-promised Hyper-RX feature — complete with a surprise twist that builds and expands on FSR 3.0's key technology.
AMD first teased Hyper-RX all the way back in November 22. It's not actually a new feature, per se; instead, it's a singular switch that activates Radeon Software's existing Radeon Super Resolution, Radeon Boost, and Radeon Anti-Lag technologies all in one go to drastically improve both frame rates and responsiveness in games.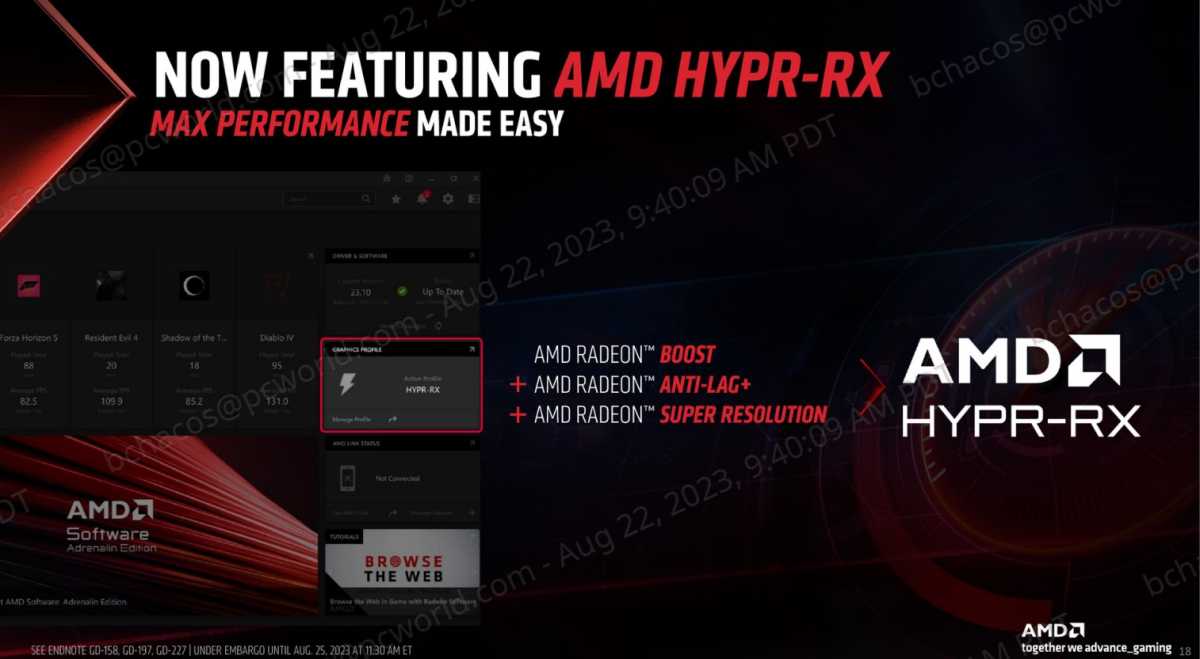 AMD
Radeon Super Resolution is essentially a simplified version of AMD's performance-boosting FSR 1.0 upscaling technology. Radeon Boost builds upon that by intelligently lowering the resolution when fast on-screen user movement is detected, helping increase performance when the action is hot and heavy (and you're unlikely to notice a reduced resolution). Radeon Anti-Lag improves CPU pacing in GPU-bound games to increase click-to-response times.
Flipping the Hyper-RX switch activates all three. In tandem, AMD says, Hyper-RX delivers deeply tangible gaming improvements, as you can see in the chart below.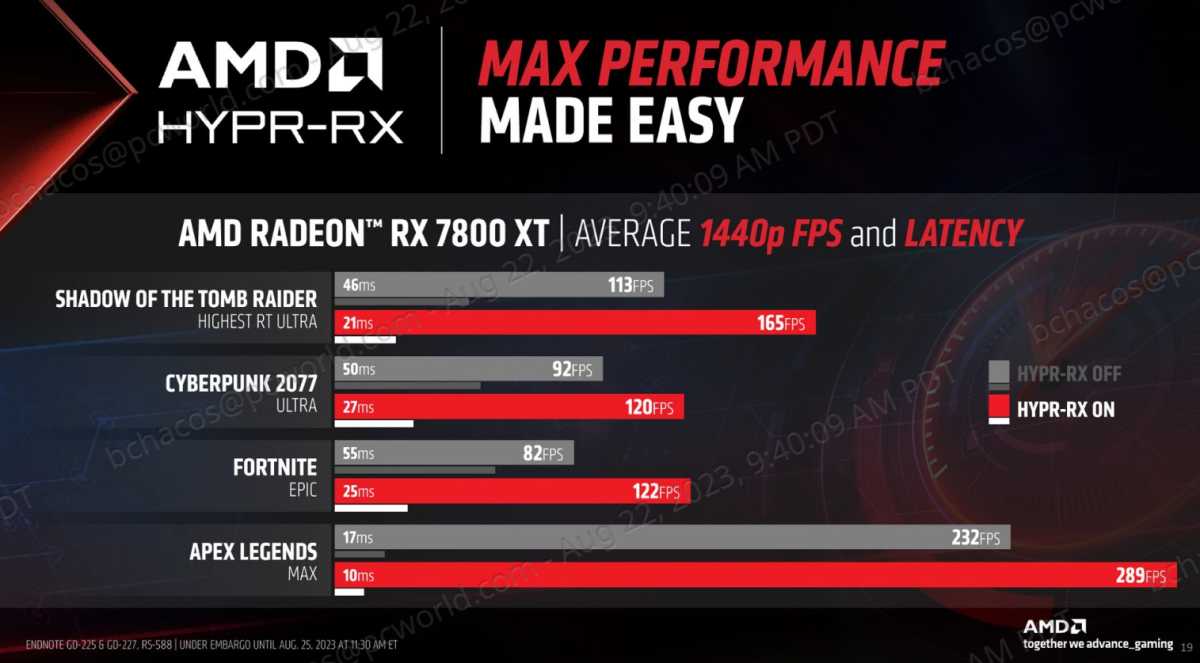 AMD
It's worth noting that Radeon Boost is only available in select games, and that includes all the games in the chart above. Even with Radeon Super Resolution and Anti-Lag active, however, your games should feel significantly faster, albeit possibly with a slight downgrade in visual quality (especially if you're playing at 1080p resolution).
Hyper-RX will make its debut in a new Radeon Software driver releasing on September 6, alongside the Radeon RX 7700 XT and 7800 XT. But what's coming in a later update is even more exciting.
Hyper-RX gets AMD Fluid Motion Frames
The secret sauce in AMD's FidelityFX Super Resolution 3.0 (FSR 3.0) is the addition of "AMD Fluid Motion Frames." Like Nvidia's vaunted DLSS 3, AMD's solution interpolates frames between the frames natively generated by your graphics card, only without the need for dedicated AI hardware as it doesn't rely on machine learning. Doing so greatly increases your overall frame rate and visual smoothness thanks to all those "fake" frames.
Here's the thing though: While FSR 3 and DLSS 3 require active integration by game developers, AMD says its Fluid Motion Frames technology does not. That means it can be baked into Radeon Software at a driver level and used for virtually all games, numbering thousands of titles. So the company plans to include Fluid Motion Frames into Hyper-RX at some point in the future to increase performance even more.
Whoa.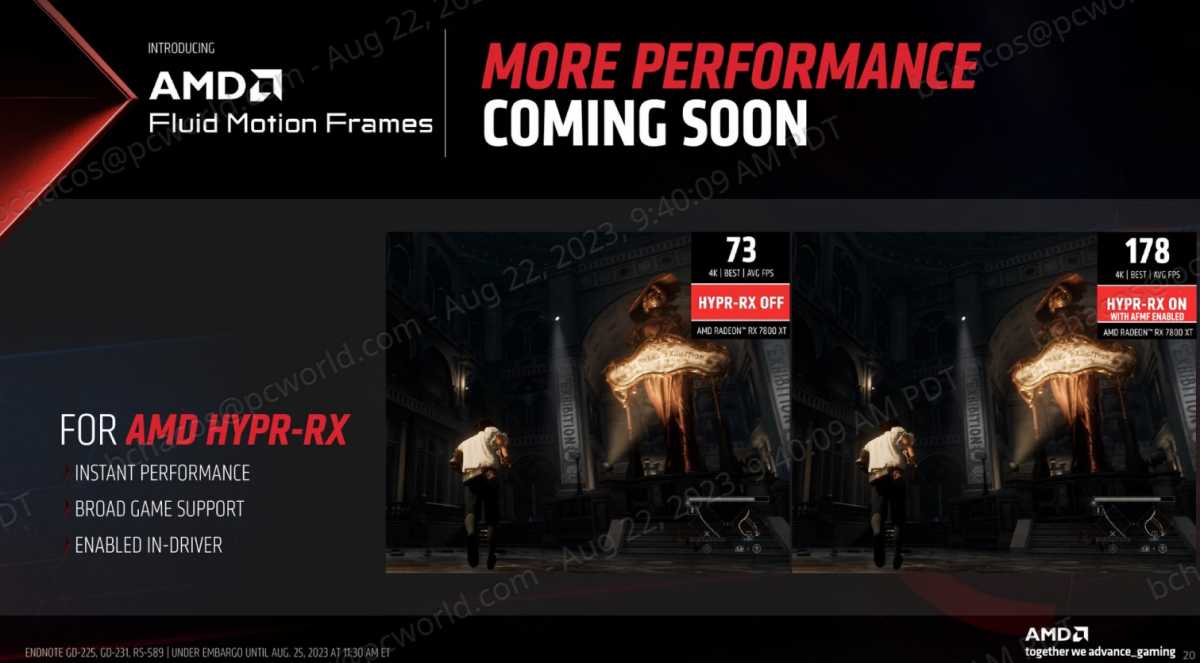 AMD
AMD didn't delve into the nitty-gritty details of how Fluid Motion Frames works or promise a timeline on when its coming to Hyper-RX, nor have we seen FSR 3 in action to gauge its quality, but that's a very enticing feature on paper. Being able to flip on a DLSS 3-like technology in almost any game could mean big things for everyday gaming for Radeon owners.
Better yet, since "fake" frames can decrease responsiveness, it needs to be balanced by a lag-reduction feature. There's a reason Nvidia Reflex is mandatory in DLSS 3 games. As part of the Hyper-RX suite, Fluid Motion Frames will naturally be paired with AMD's own Radeon Anti-Lag.
Exciting times. I can't wait to play around with Hyper-RX myself, and see how those Fluid Motion Frames handle in FSR 3.0. We've got more information about FSR 3 and the new Radeon RX 7700 XT and 7800 XT graphics cards if you want to go even deeper down the AMD rabbit hole.
Further reading: 5 killer Radeon GPU features that level up your gaming experience
Pulse Radeon RX 7600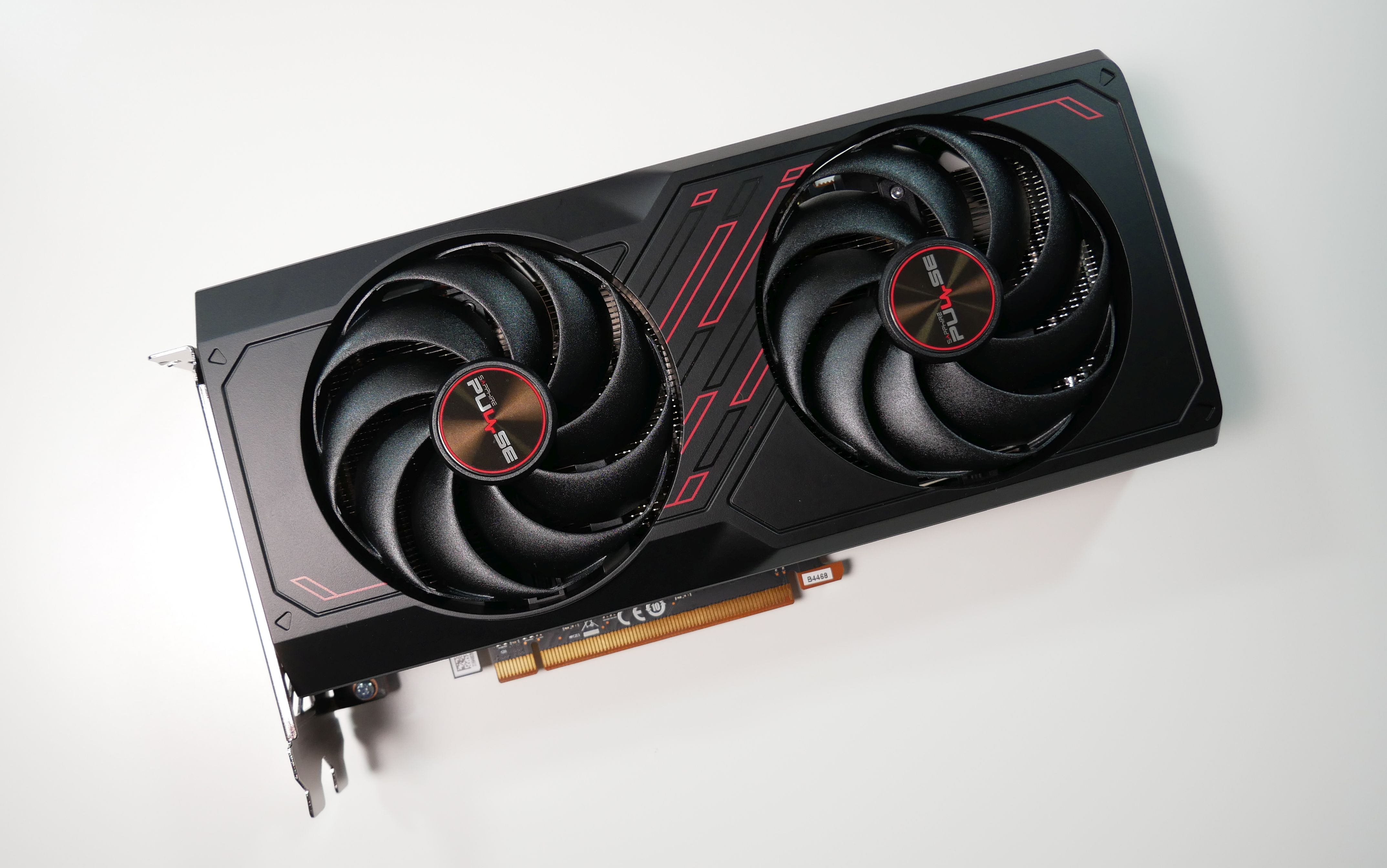 Price When Reviewed:
$269