At a glance
Expert's Rating
Pros
Only wireless board in this niche
Good software package
Cons
Chattery, uncomfortable switches
Limited dual actuation
Poor build quality
Short battery life
Our Verdict
The Apex Pro TKL Wireless is the only wireless board in this category. Even so, with its cheap build, high price, short battery life, and limited dual actuation options, it should only be considered if wireless is an absolutely must-have feature in this very small niche.
Price When Reviewed
199.99
Best Prices Today: Apex Pro TKL Wireless keyboard
SteelSeries makes a lot of gaming keyboards, and has done so for a long time. And yet the company really isn't known for them — the boards have never attained the same kind of acclaim as their well-loved headsets or mousepads. And despite some impressive technology crammed into its case, the Apex Pro TKL Wireless isn't changing that status quo. The capabilities of the keyboard are interesting, but not especially compelling, and its best technical tricks are performed better elsewhere.
With chattery keys that are unsatisfying for both typing and gaming, corners cut on materials, poor battery life, and yet another OLED screen with utility that's questionable at best, the Apex Pro TKL Wireless just isn't worth consideration, even if you're in the very small niche of gamers who want selectively actuated key switches.
Further reading: See our roundup of the best wireless gaming keyboards to learn about competing products.
Apex Pro TKL Wireless design and specs
The Apex Pro TKL Wireless — which I'll just call the Apex Pro from now on — looks like a fairly unremarkable board, until you spot the OLED screen hanging out in the top layer. The "TKL" moniker describes a full-sized layout minus the 10-key number pad ("tenkeyless"), but it also deletes the Print Screen, Scroll Lock, and Pause buttons in favor of the screen and a volume wheel. It also has magnetic actuation switches that can be adjusted or bound to double functions, which puts it in rare company with the Corsair K70 Max, Razer's Huntsman Analog series, and the Wooting Two HE. We'll discuss those special switches later, but SteelSeries distinguishes this particular board as the only one with manually adjustable switches that's also wireless.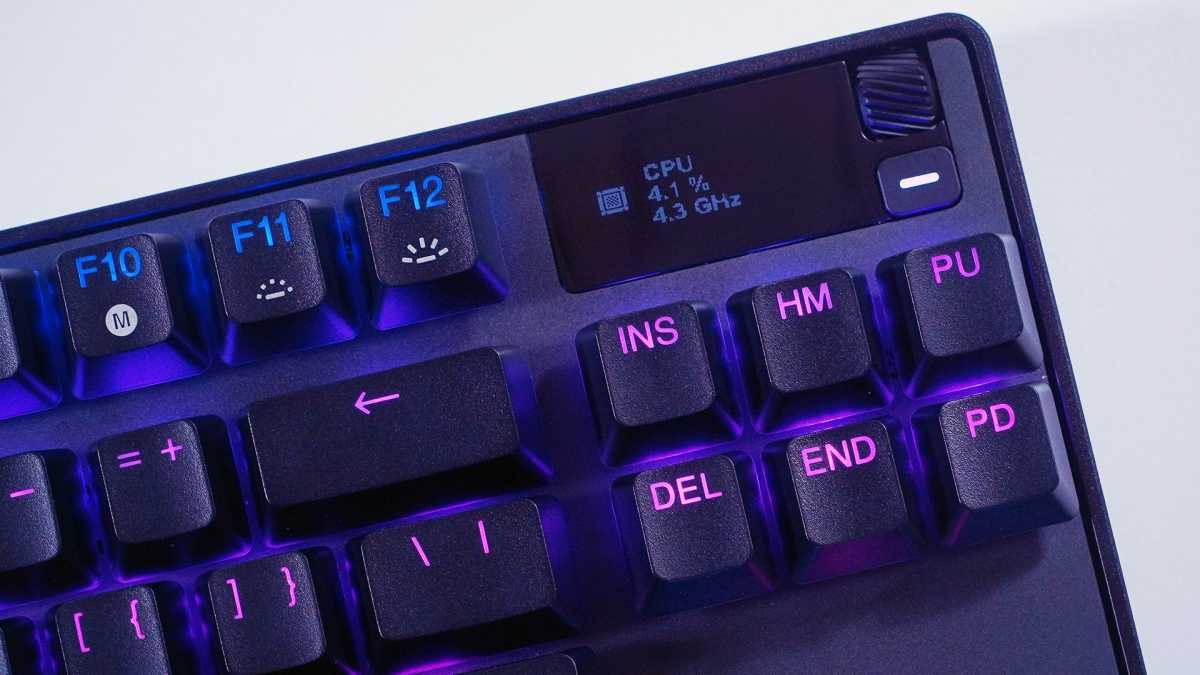 Michael Crider/Foundry
Unfortunately, the Apex Pro falls short on fit and finish compared to those other boards, not to mention its own very hefty $250 price tag. The case has an aluminum plate beneath the switches, but the rest of the body is plastic and cheap, including the magnetic wrist rest. The USB cable is braided, but flimsy, and on several occasions simply didn't plug in, leaving the juice-hungry keyboard on its last legs when I came back to my desk in the morning. The volume wheel is extremely small and tricky to hit beneath the keys, to the point that I simply stopped using it.
But the most damning thing about the keyboard is that it's just not very enjoyable to use. Magnetic actuation switches are a technical marvel, but the ones on the Apex Pro are rickety and chattery as you press down on the linear switches. Even with rather nice PBT keycaps (still looking at you for that omission, Razer!), it feels unsatisfying to type and to game. The rattling, clacky sound of the board in use is something I'd expect from a budget whitebox build at a fraction of this price. After coming off the finely-tuned switches of the BlackWidow V4 75%, which lack the actuation magic but just feel nice, the SteelSeries was a huge let-down.
Michael Crider/Foundry
As with other optical and magnetic switch keyboards, these switches are not hot-swap, so customization is limited to the standard keycaps. An understandable technical limitation, but a shame nonetheless, considering the poor typing on these particular switches.
What about the Apex Pro's OLED and wireless?
Sadly the poor aspects of this keyboard don't stop there. Once again, I find the inclusion of an OLED screen basically useless for my style of typing and gaming. I can see someone who has dozens of individual profiles with meticulously tuned settings making use of it, but for me it was basically just a fancy battery meter. And since the keyboard helpfully displays the remaining battery in a green bar via the backlights of the number bar (a feature that's pretty slick on its own), I didn't even need that.
Michael Crider/Foundry
Sure, you can load the screen up with custom black-and-white graphics, or even animations. But why would you want to? And possibly more pertinently, why would you want to pay for the privilege? The screen can show system information like your CPU load or temperature, but again, these are things I'm already monitoring on my PC screen if I'm concerned about them. And they're much easier to see there anyway.
The Apex Pro is lacking as a wireless board, too. The battery life is quite poor, with the board petering out in just a couple of days of regular work use. I'm no electrical engineer, but I think the extra complexity of the switches might be contributing to rapid battery drain…which would explain why no other keyboard manufacturer offers these switches in a wireless board. Having an always-on screen, even at the lowest illumination, certainly doesn't help. At least the wireless connection was rock-solid.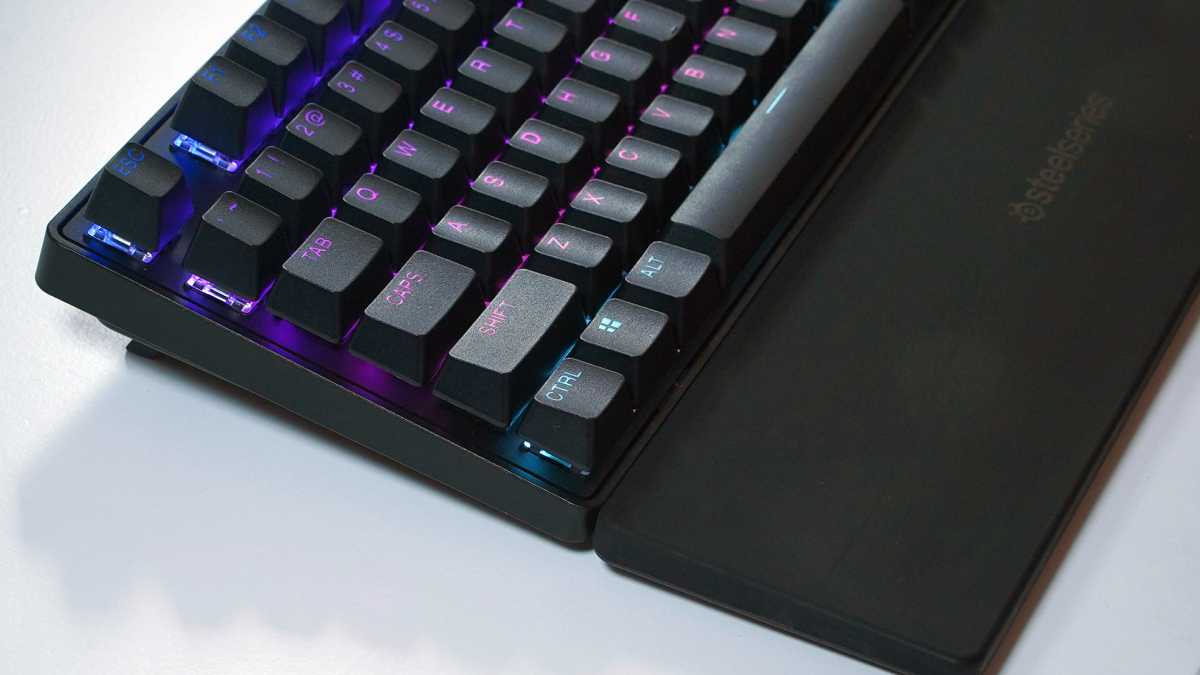 Michael Crider/Foundry
I'd be tempted to say that the board might travel well due to its low weight, but I can't see myself going for that option thanks to its lack of comfort and its noisy profile. Trying to use this thing in a coffee shop will definitely get you some disapproving glances, though a busy gaming meetup might be more forgiving.
Adjustable switches with too many limitations
The headline feature of the Apex Pro is those magnetic switches, which SteelSeries calls "Omnipoint." They're not quite unlimited in terms of actuation, but you can manually set their sensitivity from just 0.1mm down to a full-length 4.0mm press. In layman's terms, you can decide how hard you have to press the keys to get them to register. That capability also unlocks the possibility of binding two separate functions to the same key. So for example, in a shooting game you can set it up to lightly tap the Q button to throw a flash-bang grenade, or jab the Q button hard to toss a full explosive.
Michael Crider/Foundry
But the Apex Pro proves limited even in this signature feature. Only the primary alphanumeric keys and modifiers have adjustable magnetic actuation; the Function row, arrow cluster, and the six keys above it do not. You can see this in the SteelSeries GG software suite, but it's also visible on the switches themselves, which have red stems instead of white. That in itself wouldn't be a huge problem (except possibly the arrow cluster), but there's a secondary limitation. Only eight keys can be bound with a dual actuation binding per profile, with a maximum of five profiles loaded on the keyboard's memory.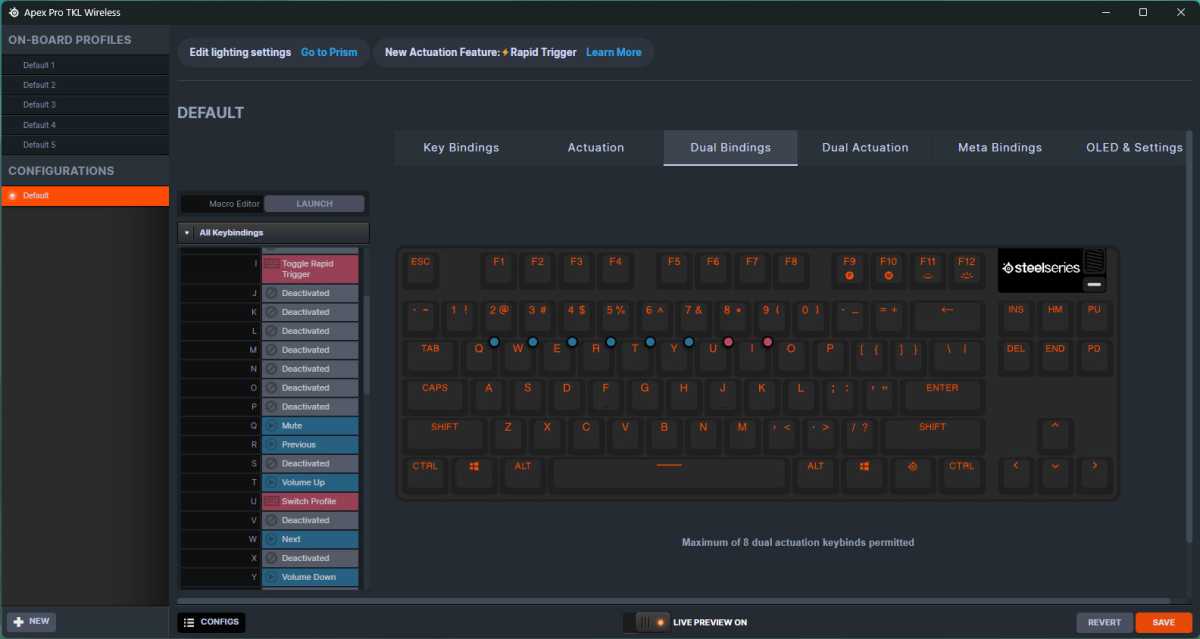 Michael Crider/Foundry
Now in all fairness, this is an extremely small nit to pick. I can't imagine too many people will really dive into the dual actuation function itself, and even fewer will be put off by this restriction. But in restricting our comparison to gaming keyboards with manual actuation switches, we're already talking about a group of users looking for an extremely specific feature, and presumably wanting to take advantage of it to the fullest. Not only that, they're paying for the privilege with one of the most expensive boards in this category. That being the case, these limitations move from a molehill to a mountain.
a better alternative
Corsair K70 Max RGB keyboard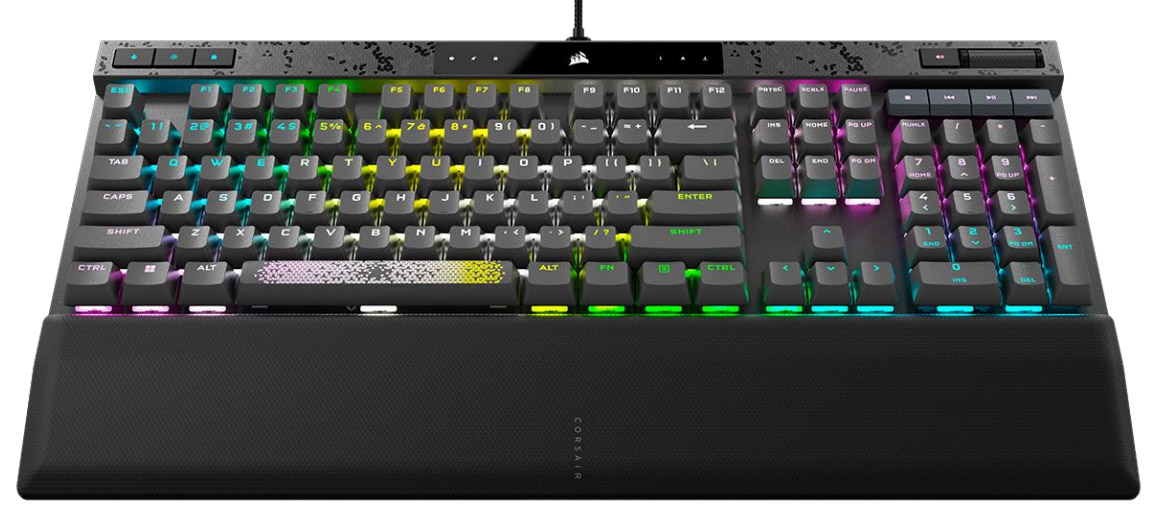 Price When Reviewed:
$219.99
SteelSeries' GG software is competent and appealingly designed, and I enjoyed the many color presets and integration with third-party tools like Discord. I found the dual bindings easier to navigate than on Corsair's iCue software. But however easy it is to use, the hardware limitations sink it for a recommendation over similarly equipped keyboards.
Is the Apex Pro TKL Wireless worth it?
At $250, the Apex Pro TKL Wireless is both SteelSeries' most expensive keyboard and tied with Razer for the most expensive gaming keyboard with adjustable actuation switches. The Hunstamn V2 Analog (currently $195 street price) lacks an OLED screen and wireless capability, but as I've demonstrated, neither of those are big points in SteelSeries' favor on this board, thanks to a lack of utility and short battery life respectively. The Huntsman also has more comfy switches and a far better wrist rest.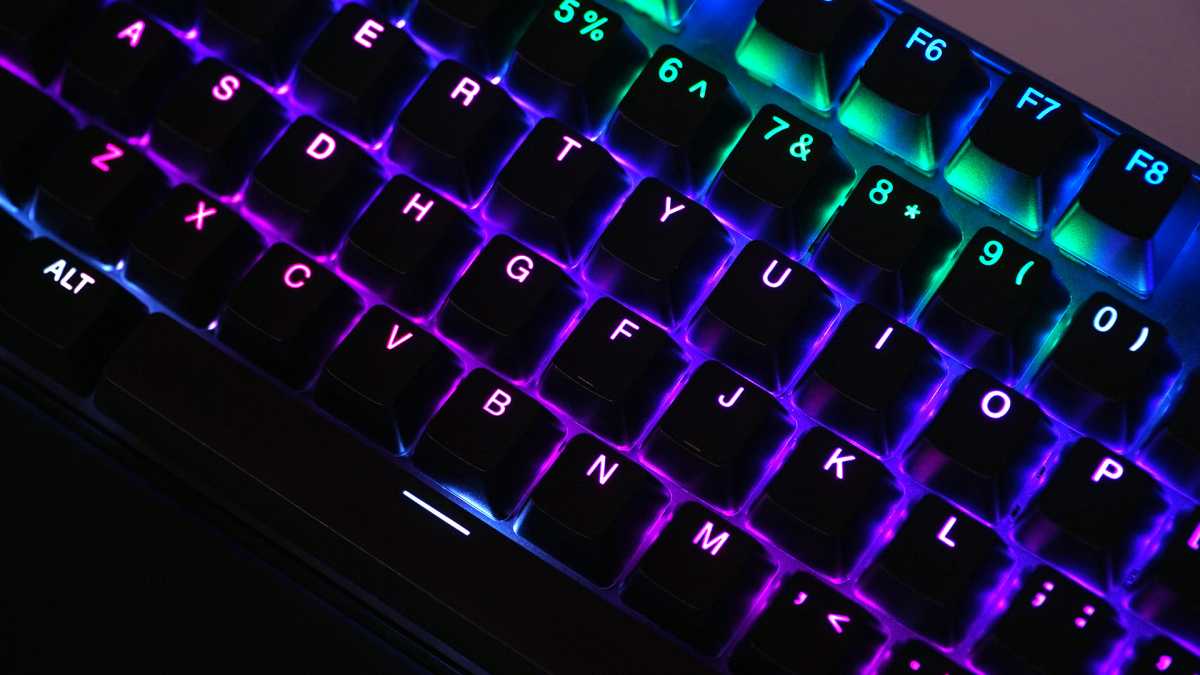 Michael Crider/Foundry
Corsair's K70 Max is our current pick in this very niche category, coming in at $20 cheaper (again, wired only) with a better typing and gaming experience, more dual actuation options across the entire board, and just a much better overall build. There's also the Wooting Two HE, which lacks gaming flair and a wrist rest, but is far cheaper at just $195.
Any way you look at it, the Apex Pro is a bad deal. Unless you simply can't live without an adjustable actuation keyboard that also has a teeny-tiny, nearly unreadable black-and-white screen, and wireless operation with a battery life that will disappear faster than a box of Oreos at a middle-school sleepover, go for something else.
Best Prices Today: Apex Pro TKL Wireless keyboard