It's taken a while to get here, but AMD's long-awaited FSR 3 technology will finally make its debut in September, aiming to drastically improve performance in games that support it.
AMD first teased FSR 3 all the way back in November, hot on the heels of Nvidia's DLSS 3. DLSS 3 leverages the tensor cores in RTX 40-series graphics cards to insert AI-generated frames between every traditionally rendered frame, which greatly increases frame rates and visual fluidity. AMD's FSR 3 is powered by "Fluid Motion Frames" technology that accomplishes a similar goal, but using more traditional frame interpolation rather than machine learning. It doesn't require dedicated AI hardware like DLSS 3.
That lets FSR 3 run on many graphics cards and platforms alike — a key goal for AMD, whose APUs power the Xbox Series S/X and PlayStation 5 as well. AMD designed the open-source FSR 3 to be easy for game developers to include across all those platforms as well as the PC, and the technology is expected to be made open source like prior FSR implementations. FSR 3 will run on any Radeon graphics card from the RX 5000 series onward, or equivalent competitor GPUs, but AMD recommends using more modern Radeon RX 6000 and 7000 graphics cards for the best performance.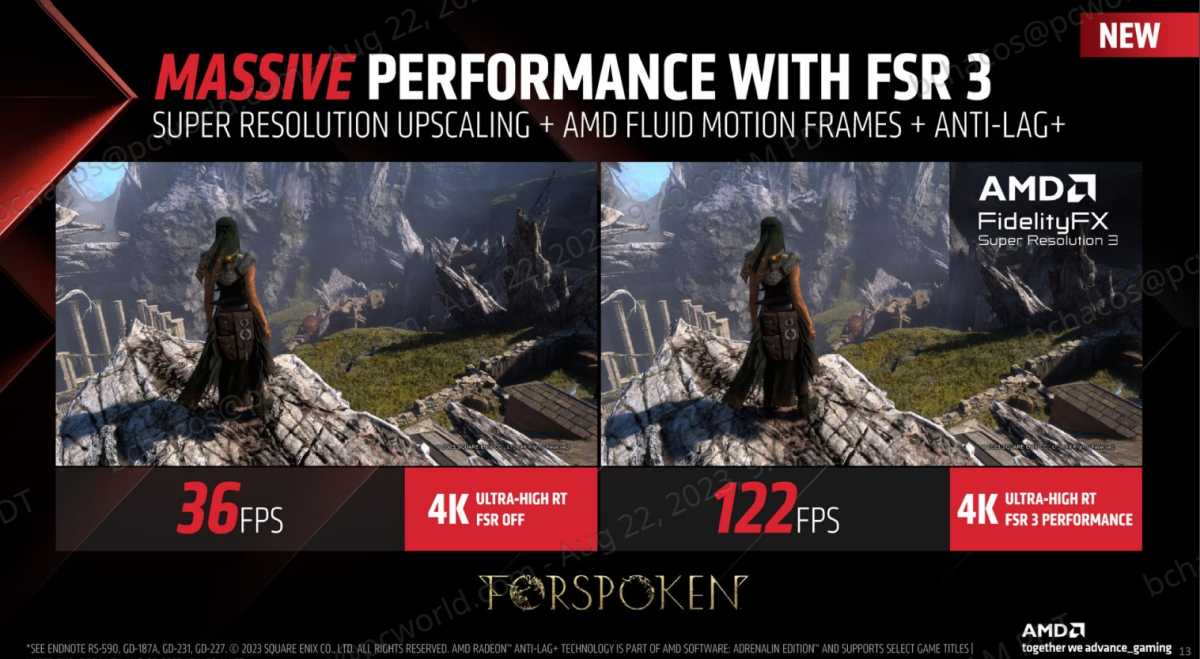 AMD
Speaking of performance, AMD gave a hint of what to expect from FSR 3 in the game Forspoken, which will join Immortals of Aveum in debuting FSR 3 integration in September. With FSR 2's Super Resolution upscaling on and AMD's Fluid Motion Frames active, Forspoken's performance leaped from 36 frames per second at 4K with ultra-high ray tracing on all the way to 122fps. Wowza.
FSR 3 also activates Radeon Anti-Lag+ to help combat the latency added by the inserted frames, similarly to how Nvidia requires DLSS 3 games to include Nvidia Reflex. With DLSS 3, the combination helps games become slightly more responsive, but nowhere near as reflexive as you'd expect given the massive frame rate increase — because those inserted frames can't respond to your inputs like the normal ones do. I'd expect FSR 3 to perform similarly.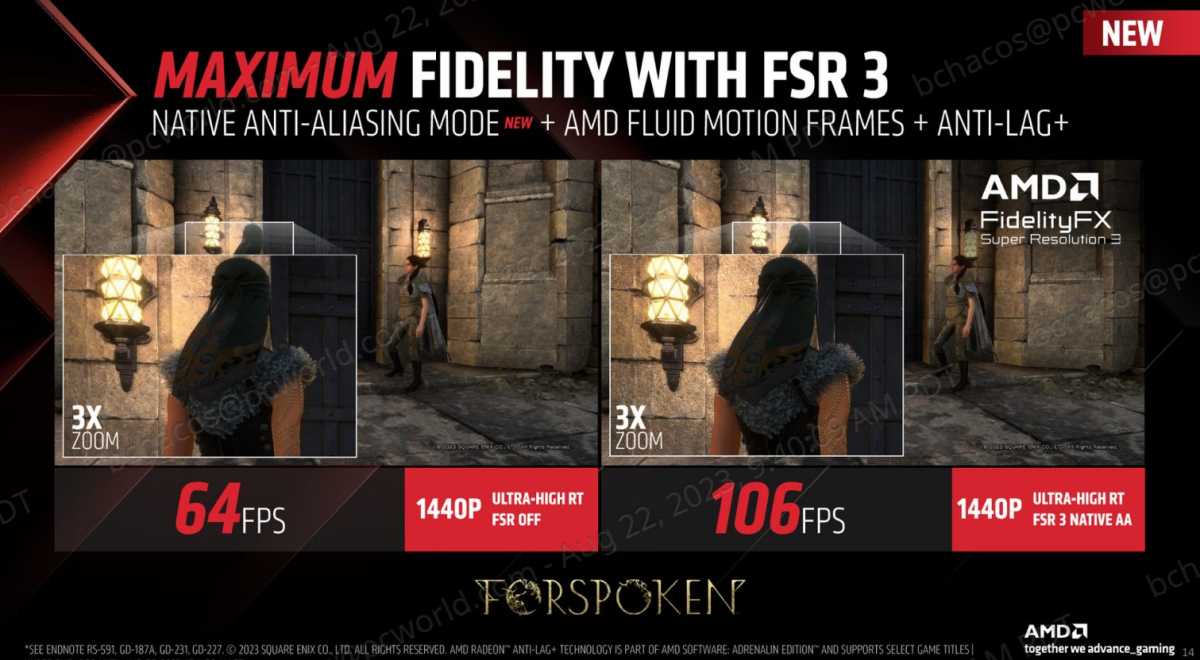 AMD
Also like DLSS 3, AMD's FSR 3 gives you the option to activate Fluid Motion Frames without turning on the Super Resolution feature, using your game's chosen anti-aliasing mode instead. Doing so lets you enjoy the frame rate boost Fluid Motion Frames provides, but without the extra performance boost (and potential small visual downgrades) that upsampling provides.
Several other games are scheduled to integrate FSR 3 in the future, including heavy-hitters like Cyberpunk 2077, Warhammer 40K: Space Marine II, and Frostpunk 2. The technology will also be available as an Unreal Engine plugin soon, which should really throw open the flood gates for game support.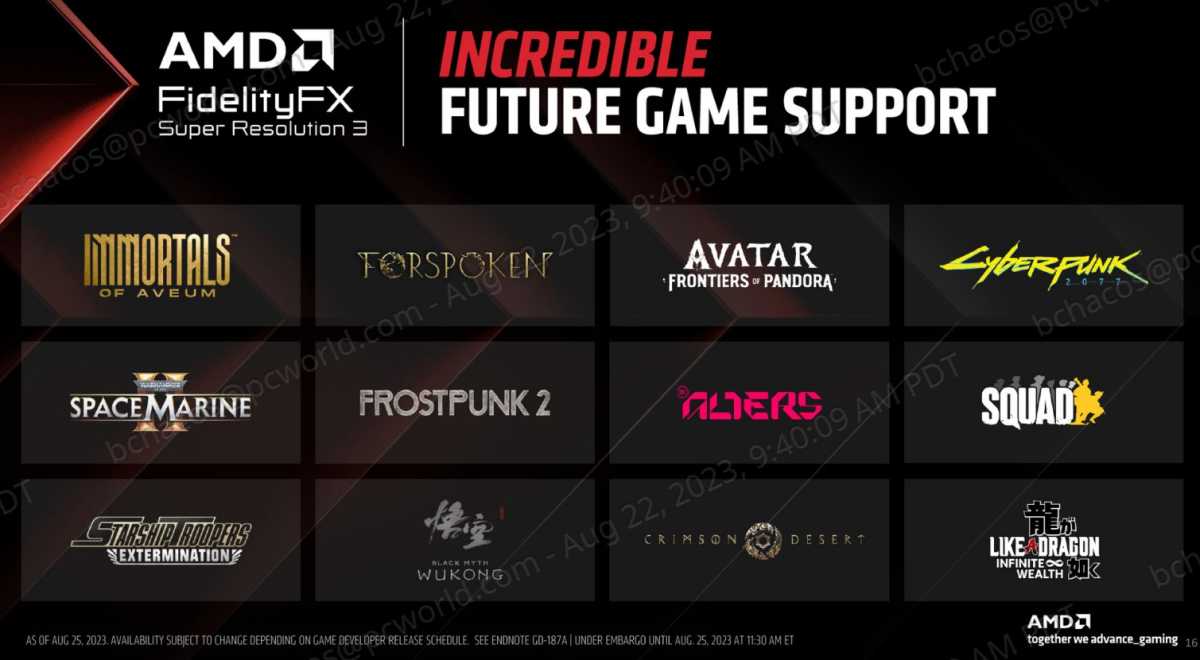 AMD
So that's what you need to know about FSR 3 when it arrives in September. Developers will need to implement it in games. But here's a cool twist: AMD can run its Fluid Motion Frames technology at a driver level, letting it work with virtually every modern game in your library. Now that's exciting!
AMD plans to integrate Fluid Motion Frames into its new performance-boosting Hyper-RX feature, which is launching on September 6. The Fluid Motion Frames won't be in there to start, but will be added in the coming months. AMD also announced the Radeon RX 7700 XT and 7800 XT, a pair of graphics cards targeting fast 1440p performance.
AMD Radeon RX 7600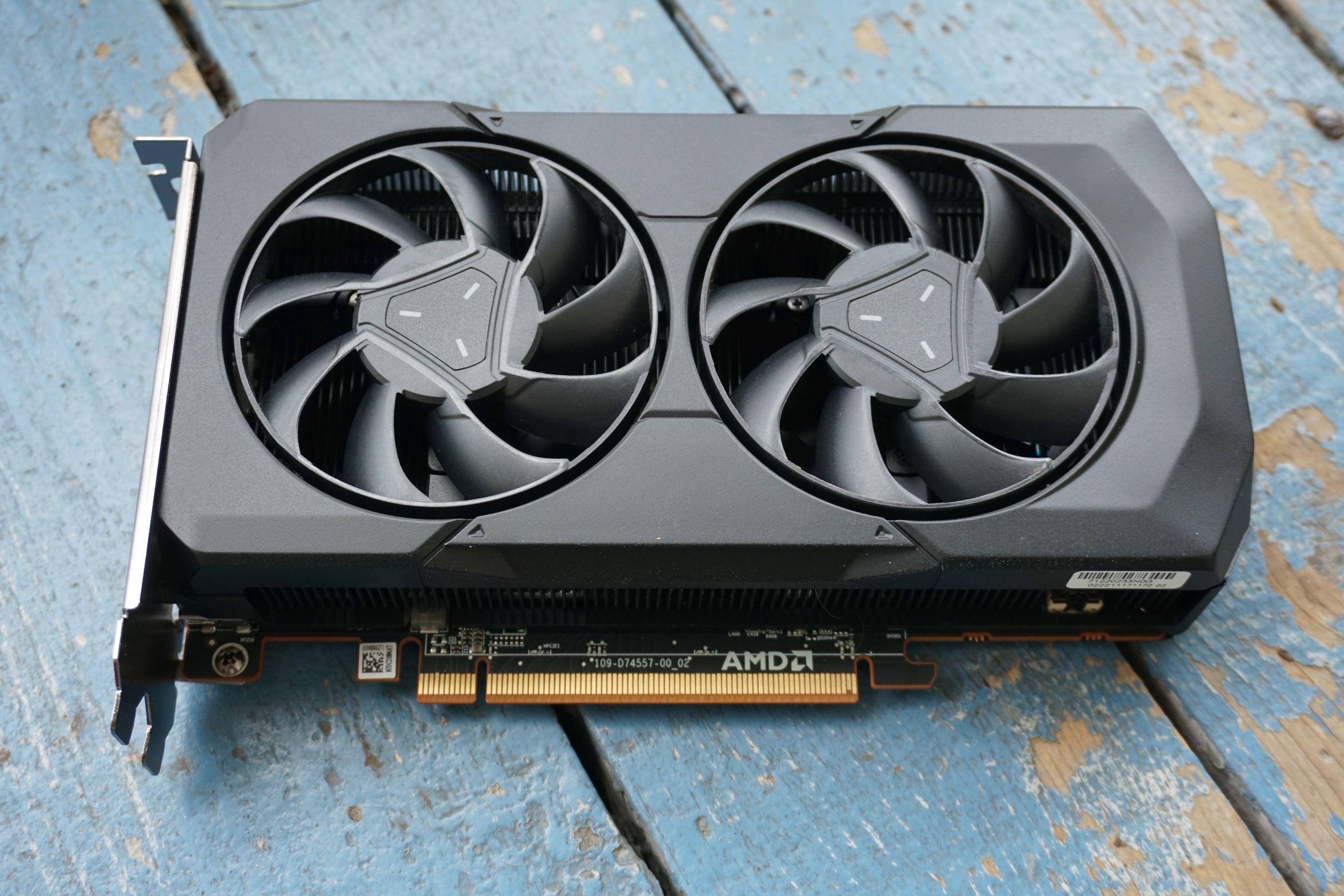 Price When Reviewed:
$269