Whenever a CPU socket gets a little long in the tooth, it becomes a waiting game to see when new chips will render it obsolete. While AMD fans rode the AM4 platform for five years, Intel sticks to a more general two- to three-year cycle. So it's a bit of a coin flip as to whether you'll be able to use the newest Intel CPUs on a motherboard from a couple of years ago. But according to news on a Z790 refreshed chipset from Gigabyte, Intel's "next-gen" processors will stick to the LGA 1700 socket, first introduced in 2021. Pop those champagne bottles, frugal PC builders.
Which isn't to say there's nothing new in the refresh of the Z790 chipset, or the upcoming next-gen Intel CPUs themselves (most likely called 14th-gen, but Gigabyte wouldn't confirm). In addition to a subtle branding shift and the usual gentle capability bump, a refreshed memory controller and tweaks to the PCB and memory layout mean that buying a new motherboard will unlock some absolutely bonkers DDR5 DRAM speeds.
A demonstration showed to PCWorld had the memory running as fast as 8,266MHz with an overclock, something that's not possible on current hardware (at least not without modification far beyond most people's means). Gigabyte believes it'll be the only vendor able to hit those speeds with changes to the PCB, like new back-drilling technology that reduces signal interference.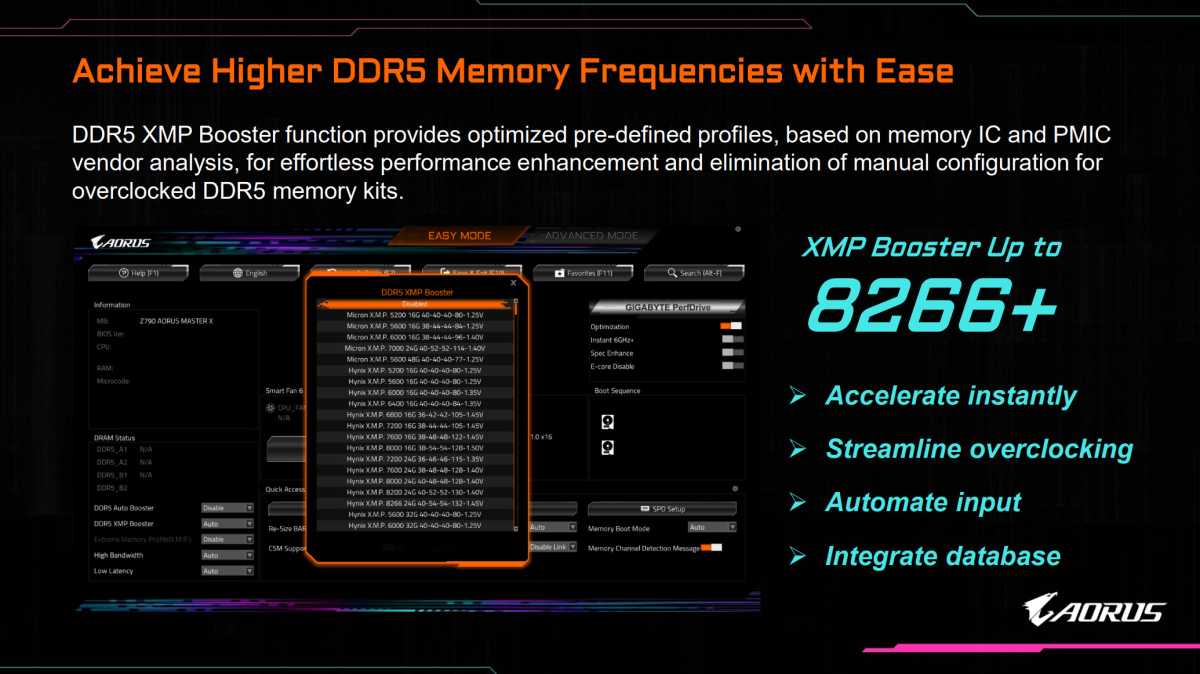 Gigabyte
Gigabyte's new Aorus Z790 and B760 motherboards will also have some pretty cool tricks on top of the refreshed chipset. Redesigned M.2 slots, made with the scorching temps of PCIe 5.0 SSD drives in mind, have some built-in mitigating factors. All the new models have re-engineered heat dissipators, with the highest-end Z790 Xtreme X getting a matching "Xtreme" M.2 heatsink, which Gigabyte claims can cool down a Gen 5 drive by up to 50 degrees Celsius. All this tech will come with a new EZ-Latch Plus system, meaning screwless installation of both M.2 drives and heatsink, as well as PCIe graphics cards and other expansion cards (on the Xtreme X and Master X versions of the board).
Adam Patrick Murray/Foundry
Other parts of the motherboard get redesigned "thermal armor" with new integrated heat pipes and thermal pads, tougher "load bearing" PCIe 5.0 slots that can handle the chunkiest of GPUs without a secondary bracket, and Wi-Fi 7 capabilities for wireless models. The Z790 Xtreme X, the top-of-the-line model, gets the flashiest feature of all: a 5-inch LCD over the I/O cover to show system info…or just cool graphics. It's the hottest thing in over-the-top builds.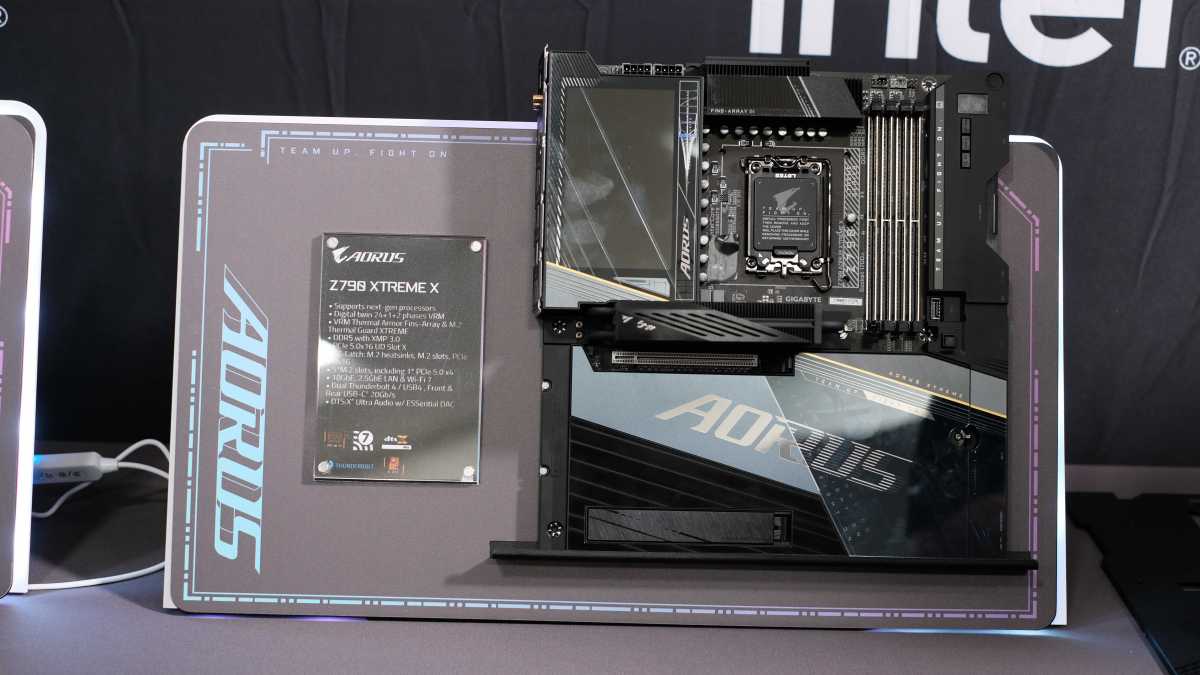 Adam Patrick Murray/Foundry
We don't know precisely when the refreshed Z790 motherboards will be available, or the next-gen Intel chips that plug into them. We were told that Z890 motherboards, presumably for Intel's 15th-gen chips and almost certainly a new CPU socket, definitely won't be coming out until sometime next year.