At a glance
Expert's Rating
Pros
Excellent color gamut and accuracy
Sharp, vivid picture
Strong HDR performance
Good connectivity
Cons
Design looks nice, but feels inexpensive
Thin user manual
Confusing on-screen menu
Our Verdict
The Innocn 27M2V beats expectations with top-tier scores in color gamut, contrast, and brightness, yet undercuts competitors on price.
Price When Reviewed
$679.99
Best Prices Today: Innocn 27MV2
Innocn has risen to relevance with aggressively priced displays that frequently undercut competitors on Amazon. Of course, low pricing raises the question: What's the catch? The Innocn 27M2V, a 27-inch 4K, 160Hz Mini-LED monitor that routinely sells for just $679.99, provides a surprising answer: There isn't one.
Further reading: See our roundup of the best 4K monitors to learn about competing products.
Innocn 27M2V specs
The Innocn 27M2V's specifications are typical for a high-end 4K monitor. It provides 3840×2160 resolution, a maximum refresh rate of 160Hz, USB-C connectivity, and a dynamic Mini-LED backlight.
Display size: 27-inch widescreen
Native resolution: 3840×2160
Panel type: Mini-LED
Refresh rate: 160Hz
Adaptive Sync: AMD FreeSync Premium Pro
HDR: Yes, HDR10
Ports: 1x USB-C with DisplayPort and 90 watts Power Delivery, 1x DisplayPort 1.4, 2x HDMI 2.0, 1x 3.5mm audio jack
VESA mount: 100x100mm
Speakers: Yes, two 5-watt speakers
Price: $799.99 MSRP, $679.99 on sale
These are premium features, but the Inncon 27M2V is reasonably priced. It carries an MSRP of $799.99 on Amazon but, according to Amazon price-watching website CamelCamelCamel, frequently dips to $679.99.
Innocn 27M2V design
The Innocn 27M2V stands out from most computer monitors sold at a similar price thanks to its unique silver faux-metallic exterior. It's a departure from the more common matte black or occasionally white exteriors found on most competing monitors. This choice offers a refreshing change of pace. The design has a professional and pseudo-ruggedized look, especially on the rear panel, where plastic ridges create an impression of added reinforcement.
However, the build quality doesn't match up to the design. The monitor is primarily made of plastic, and the type of plastics used lack texture. They possess a slight sheen that reminds me of inexpensive plastic toys. It's not a functional issue, but the build quality of the Innocn 27M2V is not on par with top-tier competitors. The Dell U2723QE, for example, feels more premium when handled, and the AOC Agon Pro AG274QZM has a bold design more suited for a typical PC gaming setup.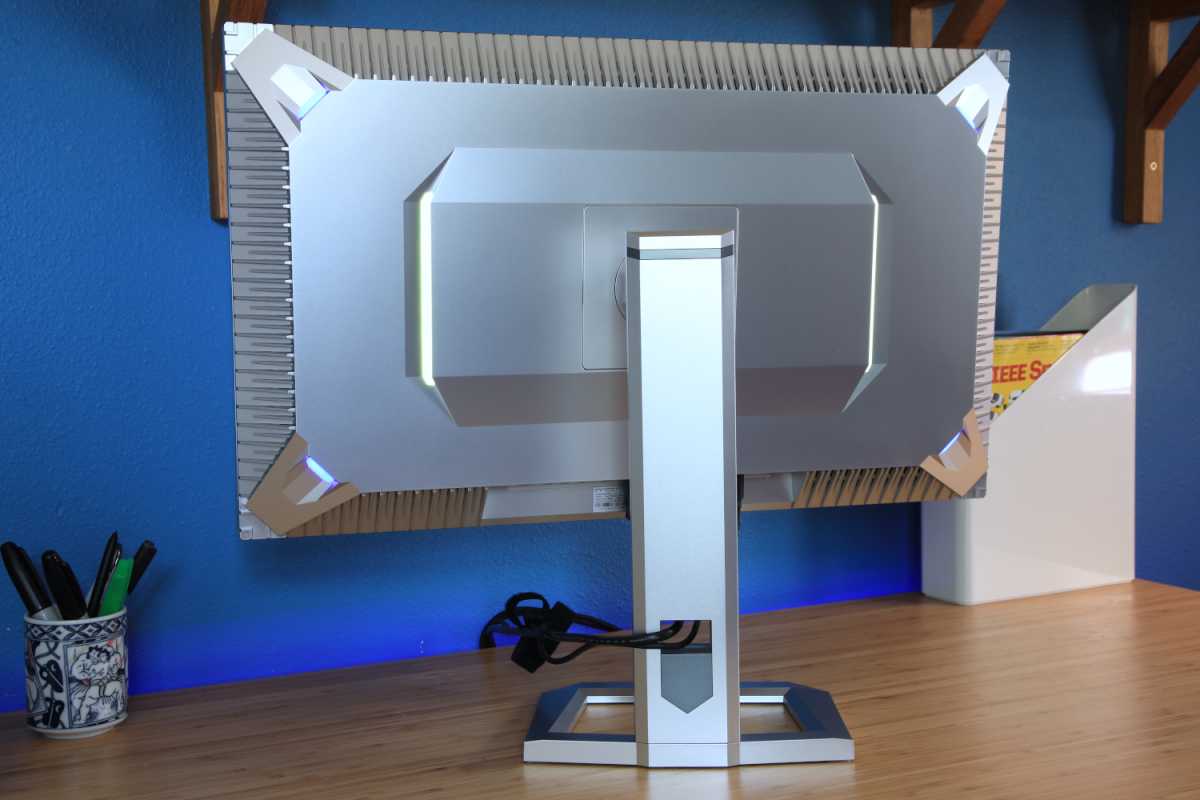 Matt Smith
Several RGB-LED lights line the rear panel and add a touch of flair to the monitor's otherwise sensible design. The LED lights are bright enough to add some drama to a desktop, even in a room with modest lighting, and a variety of colors and lighting modes are available through the monitor's on-screen options menu.
An ergonomic stand comes with the monitor and offers adjustments for height, tilt, and swivel. The stand's adjustments operate smoothly, and its weight ensures the monitor remains stable on your desktop. The stand base is compact, too, ensuring it doesn't occupy too much desk space. Its height adjustment is somewhat limited, though, and taller users might find the monitor sits too low even at the stand's maximum height. The monitor does offer a standard 100x100mm VESA mount for use with third-party monitor stands or arms.
Innocn 27M2V features and menus
Innocn provides plenty of video connectivity. The 27M2V is equipped with a USB-C port that supports DisplayPort Alternate Mode and up to 90 watts of USB power delivery. It's complemented by two HDMI 2.0 ports and one DisplayPort 1.4, totaling four video inputs.
The USB-C port can drive two downstream USB-A ports on the rear of the monitor. That makes the monitor a USB-C hub, but the location of the USB-A ports makes them difficult to access. The USB-A ports can be driven by a USB-B input if your PC lacks USB-C.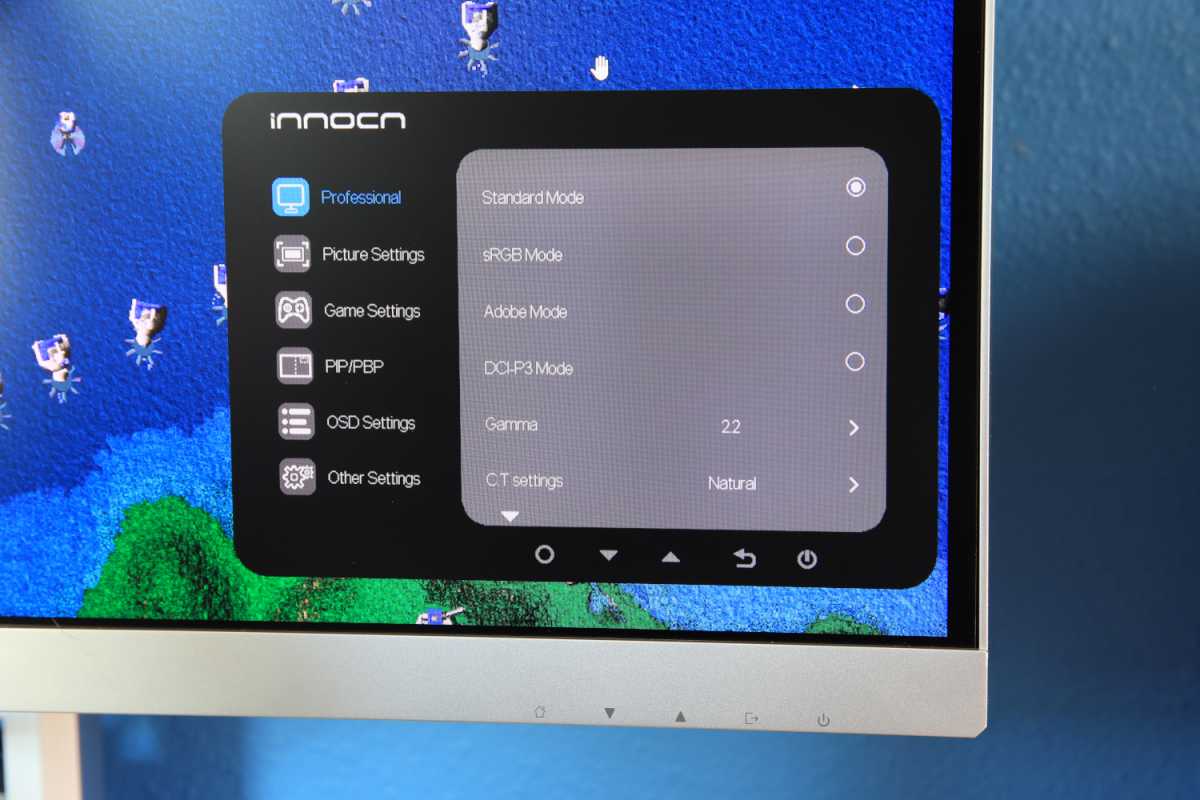 Matt Smith
The on-screen menu is navigated through a set of buttons located discreetly along the lower right side. They're a bit less intuitive than the joystick-style controls found on many modern monitors, but the buttons are easy to find and respond quickly to user inputs.
Innocn offers an array of image quality options that includes multiple color presets, precise gamma settings, color temperature adjustments, and color calibration. For gamers, the monitor also boasts features like a shadow boost, which enhances details in dark areas to make foes visible. The 27M2V's wide range of options is impressive given its price point and generally defeats competing monitors.
The monitor has a "Smart Brightness" feature that uses a light sensor on the top of the monitor's bezel to detect ambient light and adjust brightness accordingly. It's enabled by default in SDR mode, but doesn't function in HDR. I found it was too aggressive in dimming the monitor, so I turned it off.
However, there are some drawbacks. The placement of certain features, like the local dimming setting (which is found under game settings), is confusing, and some options have unclear labels or use abbreviations that won't be familiar to most users. This becomes a problem, as Innocn's manual leaves much to be desired, and the online documentation is similarly lacking. Fully understanding the monitor's capabilities requires a bit of experimentation.
The monitor is equipped with a pair of 5-watt speakers that deliver acceptable sound quality. Their volume is suitable for a quiet office environment and their audio quality meets basic needs, such as listening to podcasts or video conferencing. The monitor also provides a 3.5mm audio jack for relaying sound to external speakers.
How is the Innocn 27M2V's SDR image quality?
The Innocn 27M2V's 4K resolution and Mini-LED resolution promise excellent image quality, and the monitor wholly delivers on that promise. It performs exceptionally well by every metric.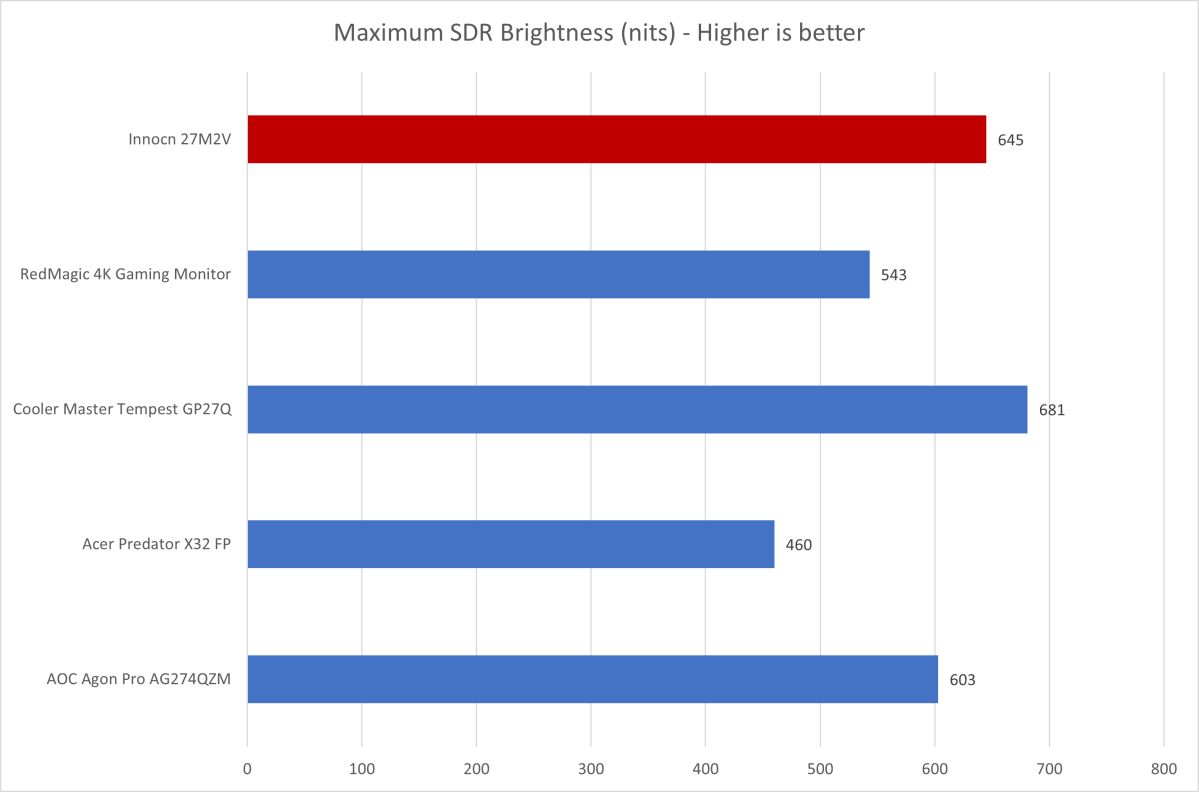 Matt Smith
First up is brightness, where the Innocn 27M2V delivers a maximum SDR brightness of 645 nits. That's the second-best among this pack of Mini-LED displays. In truth, the brightness of these displays is a bit irrelevant in typical use, because they're all bright enough to remain usable even in a sunny room. Still, the high level of brightness is great if you work in a fully lit room and also hints at the monitor's strong HDR performance, which I'll discuss later in this review.
Matt Smith
The Innocn 27M2V delivered a maximum contrast ratio of 8150:1 in our standard SDR contrast test. That's an excellent result that beats most Mini-LED monitors in the Innocn's price bracket, as well as some that are more expensive.
However, the full story remains nuanced. Our standard SDR test pattern is a checkerboard. I've observed that Mini-LED monitors do not display their maximum contrast ratio in this test because the LED backlight elements bleed into dark areas of the image, causing a reduction in contrast. The Innocn 27M2V is capable of an infinite contrast ratio, but this only occurs when measuring bright and dark elements on opposite ends of the display.
If that's a bit confusing, don't worry—it's a nitpick. The monitor's contrast is generally excellent, beaten only by a few other Mini-LED monitors, such as the RedMagic 4K Gaming Monitor, and OLED displays.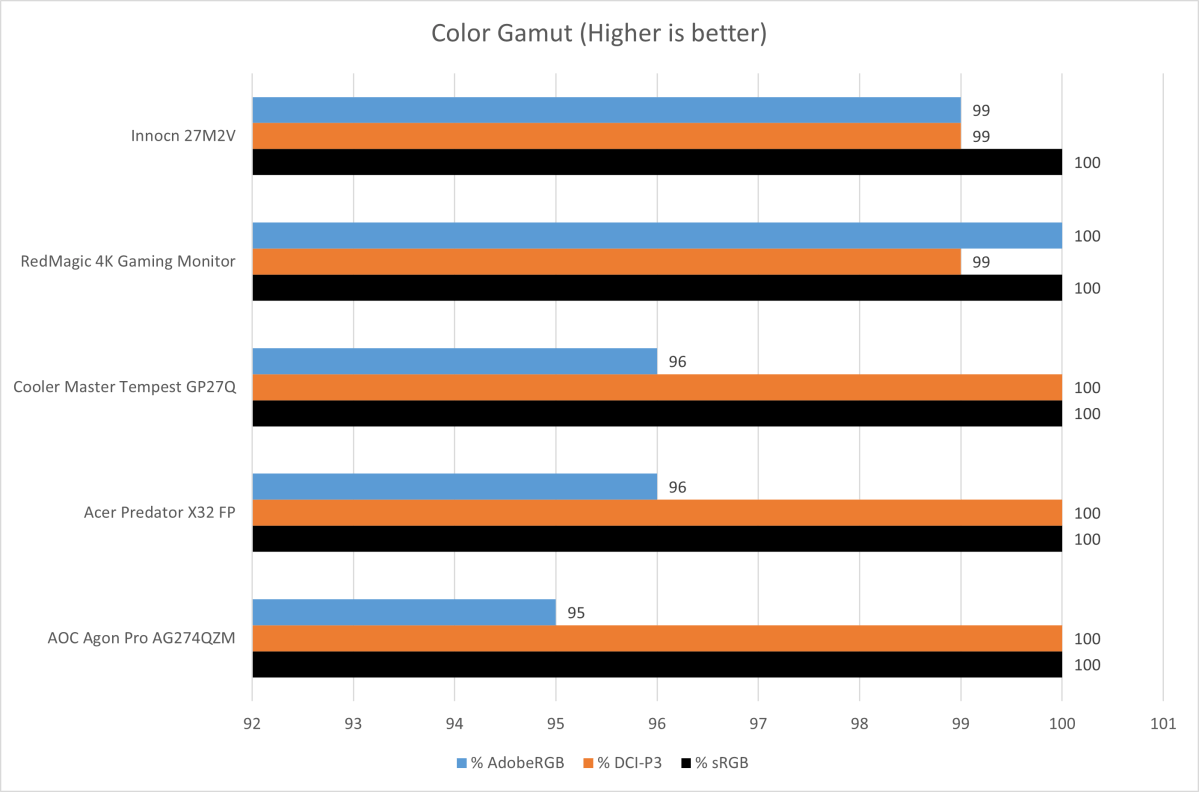 Matt Smith
Color gamut, on the other hand, requires no caveats. The Innocn 27M2V delivers a jaw-dropping color gamut that spans 100 percent of sRGB, 99 percent of DCI-P3, and 99 percent of AdobeRGB.
This stands out even among Mini-LED monitors, which generally earn top marks in this test. Only the RedMagic 4K Gaming Monitor slightly outperforms the Innocn 27M2V. The Innocn's exceptional color gamut provides a vivid, saturated look that many viewers will adore.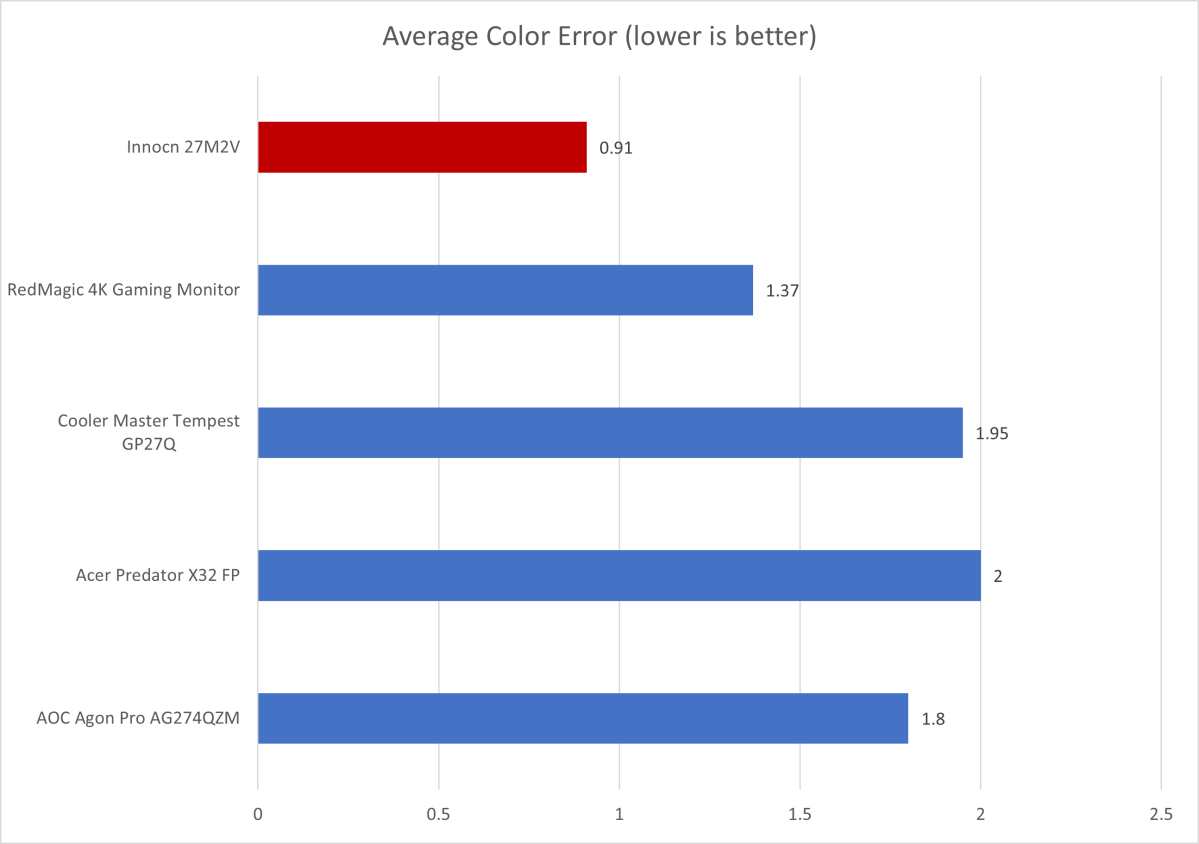 Matt Smith
Color accuracy is excellent, too. This surprised me: Strong out-of-the-box color accuracy suggests good quality control, which isn't what I expect from a budget brand. It's wonderful to see out-of-the-box color accuracy that outperforms even better-known brands like Acer and Cooler Master.
Excellent color accuracy provides a more lifelike image and is useful for professionals who need to know the colors they see on their monitor will look similar on other displays. Also, as mentioned earlier, the Innocn 27M2V has many image quality options. These will further aid professionals who need to tweak the image to meet their specific needs.
Sharpness provides more good news. The 27-inch 4K panel packs in 163 pixels per inch, which is close to the highest pixel density found on consumer monitors (5K and 6K monitors are more pixel-dense, but extremely expensive). 4K movies and games look tack-sharp, and small fonts are easy to read.
The Innocn 27M2V's overall image quality is tough to beat at any price. It delivers on all fronts: brightness, contrast, color gamut, color accuracy, and sharpness. RedMagic's 4K Gaming Monitor performs a tad better, but the gap is narrow.
How is the Innocn 27M2V's HDR image quality?
The Innocn 27M2V is VESA DisplayHDR 1000 certified, the second-best level of HDR certification currently available from VESA. HDR performance is good overall, though there are a few caveats.
Mentioned in this Article
Acer Predator X32 FP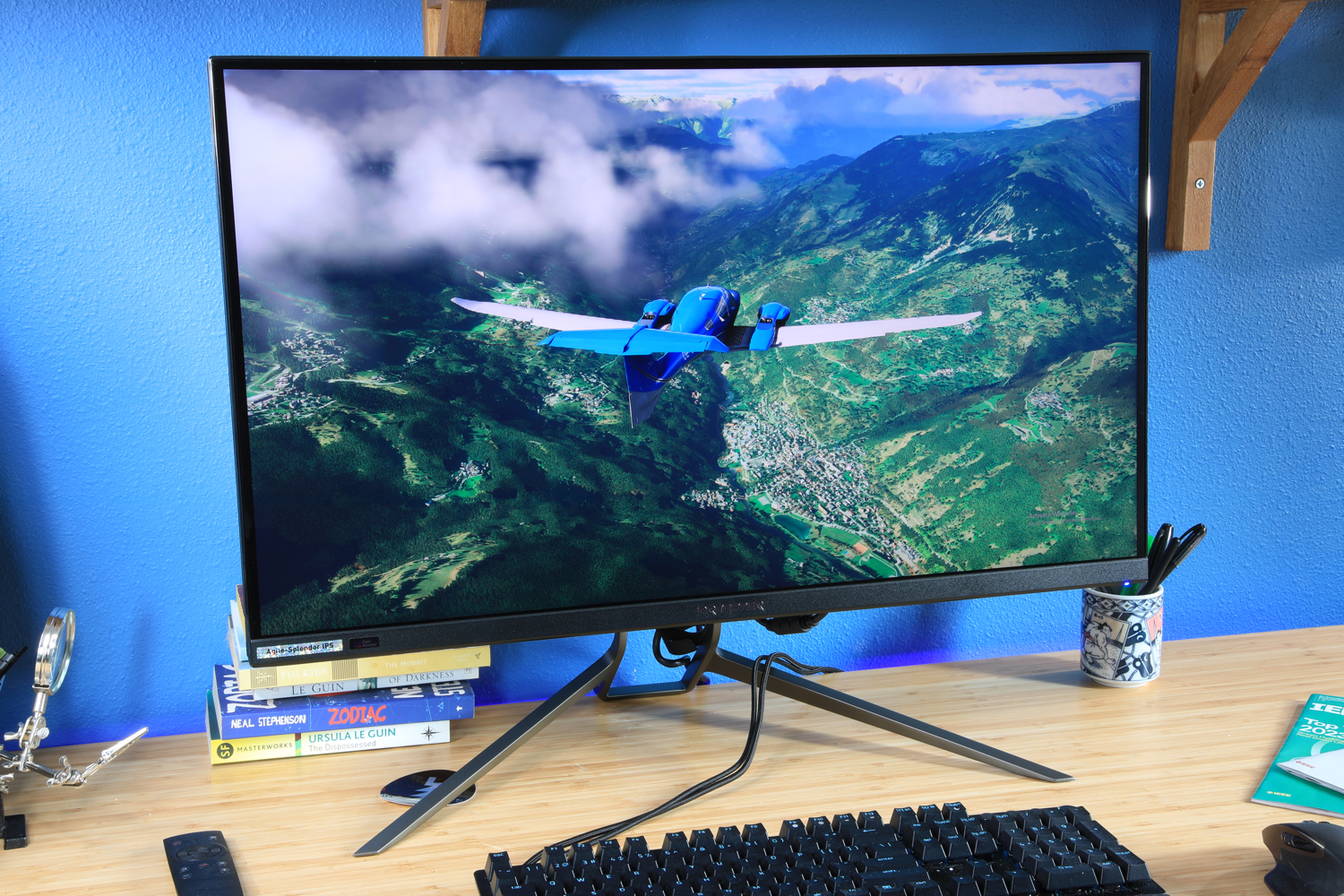 Price When Reviewed:
$1,499.99
First, the good news: the Innocn 27M2V is bright, vivid, detailed, and colorful in HDR content. I measured an impressive maximum brightness of 877 nits in HDR content, which is a solid result. I've tried a few HDR monitors that do better—I measured the RedMagic 4K Gaming Monitor at 1206 nits, and the Acer Predator X32FP at 947 nits—but the Innocn outperforms most HDR monitors available today.
It's an important result. High brightness is necessary to provide better detail in bright, vivid scenes. Viewing a clip from Top Gun: Maverick showed good detail in the cockpit of Maverick's fighter while sunlight gleamed off its surface, while a clip from Interstellar showed strong details in the rings of bright, hot gasses surrounding a black hole.
The Innocn 27M2V isn't perfect, however. While it can reach a brightness of 877 nits, I noticed a quick reduction in brightness when viewing a scene in which the entire display is bright, such as a snow-capped mountain. In this case, the maximum brightness leveled out at 530 nits. That's still good for a monitor, but it may cause a loss in detail when viewing HDR movies and games with scenes that demand a high level of brightness across the entire display.
Fortunately, this problem is mitigated by the 27M2V's contrast. As mentioned earlier, the monitor can hit the ideal minimum luminance of zero nits, which means it has an effectively infinite contrast ratio. That ensures excellent detail in both bright and dark HDR content.
The 27M2V can show blooming, an issue which displays a soft glow around bright objects on an otherwise dark background, but the problem is much less prevalent than with similarly priced Mini-LED monitors. How much this matters depends on how you use the monitor, as blooming is easier to see in a darkened home theater than a home office that's partially or fully lit.
If this feels like a lot, here's the takeaway: the Innocn HDR 27M2V isn't the absolute best Mini-LED monitor for HDR, but it delivers excellent HDR bang-for-the-buck.
How is the Innocn 27M2V's motion performance?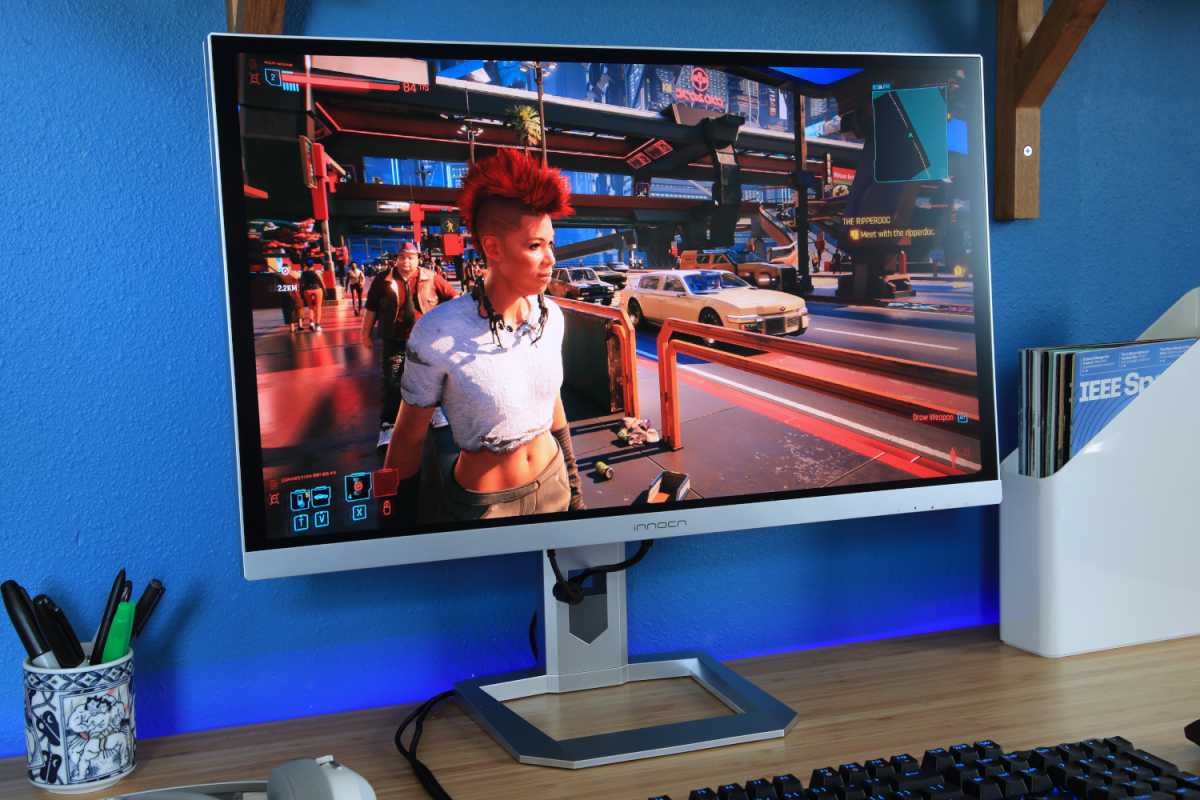 Matt Smith
The Innocn 27M2V has a maximum refresh rate of 160Hz and provides support for AMD FreeSync Premium Pro.
The 160Hz refresh rate delivers good motion clarity. Fast-moving objects look detailed and fast camera pans through 3D scenes keep most of the environment intact. It's nowhere near the clarity available from cutting-edge PC gaming monitors like the Alienware AW2524H, which can hit a refresh rate of 500Hz, but gamers upgrading from a 60Hz monitor will be impressed.
A note about customer support
At this point, you might be wondering—okay, really. What's the catch? The Innocn 27M2V's image quality doesn't provide one, but there is a possible issue to note: customer support.
Innocn is a less well-known company with only a basic presence in North America, and it shows. The monitor's packaging isn't as robust as most, the user manual is thin, and Innocn doesn't provide a customer support number on its website. Users who need help can only get in touch over email.
Customer service is difficult to account for in a review. I experienced no problems, so I have no reason to doubt the monitor's quality. Still, this is worth considering if documentation and customer service are important to you.
Should you buy the Innocn 27M2V?
Innocn's 27M2V is an excellent option for shoppers looking to buy a Mini-LED monitor on a budget. It delivers the benefits of Mini-LED, including a high contrast ratio and good HDR performance, at a price that's more similar to competing monitors that lack a Mini-LED backlight. The monitor's on-screen menu is a bit confusing and Innocn's documentation is lacking, but these relatively minor issues are forgivable given the monitor's price. Innocn also manages to defeat budget Mini-LED alternatives like the Cooler Master Tempest GP27Q and AOC Agon Pro AG274QZM, and neither of those competitors is a pushover.