Review: Nextly brings together the best of RSS, social networks, and Web browsing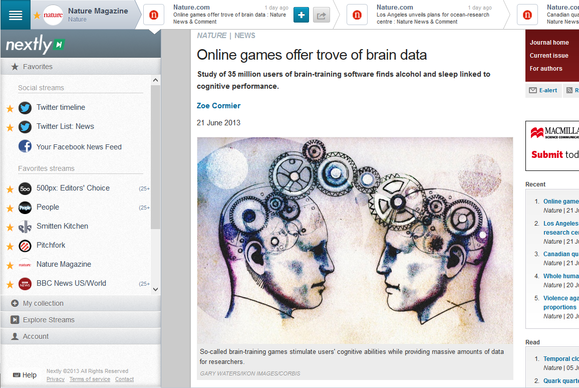 Today's Best Tech Deals
Picked by PCWorld's Editors
Top Deals On Great Products
Picked by Techconnect's Editors
At a Glance
Generic Company Place Holder Nextly
Google Reader is dead. It changed forever the way we read our news, and it's gone for good, leaving the arena open for other players to attempt the same feats. Nextly, an innovative reading app based on streams, takes regular RSS feeds, strips them of everything that's annoying about the format, and provides a new reading experience that combines RSS with regular website browsing and social-network surfing.
To personalize the experience further, sign into Nextly using Facebook or Twitter. This will give you access to the My Collection and Favorites features, but will also enable Nextly's social Web browsing. Let's say you connected Nextly with your Twitter account; you can now use Nextly's stream to browse your Twitter feed and lists, automatically accessing all tweeted links as full articles. In other words, your Twitter (or Facebook) feed will be miraculously transformed into an easy-to-browse stream, complete with reply, retweet, and other sharing options.
This is all great, you might be thinking, but browsing single feeds doesn't sound too exciting in a post-Google-Reader, Feedly-inspired world. This is where Favorites come in. Once signed in, you can add any stream (or website) to your favorites, which then acts as a regular RSS reader for all intents and purposes.
All your favorite websites are listed under the Favorites tab, and while you can't sort these into folders like you can in other readers, Nextly makes up for it with full articles—no "read more" links—and a built-in social browser. Although Nextly displays full webpages in its streams, these are all pre-loaded, so you never have to wait for them to load while you browse.
Nextly also includes a built bookmarking feature called My Collection, to which you can add articles, tag them, and put them aside for later reading. You can also use the My Collection feature to save important articles for quick reference, and browse it at any time just like any other Nextly stream.
Nextly is still in beta, but you won't notice this most of the time. The only bug I encountered, and this too was rare, was Web elements that failed to load correctly, mostly special ones like an iOS 7 live demo I was trying to check out. There's also no way that I could find to add streams manually if you can't find them in the Explore tab or by using the nextly.com/websitename method. While I was able to browse the vast majority of websites I tried using one of these two methods, I could not browse the ones I failed to find. With that said, if you're tired of truncated RSS feeds and traditional RSS readers, Nextly is sure to brighten your day.
Note: The Download button takes you to the vendor's site, where you can use this Web-based software.
Note: When you purchase something after clicking links in our articles, we may earn a small commission. Read our
affiliate link policy
for more details.
At a Glance
Generic Company Place Holder Nextly

Nextly is a refreshing way to browse your favorite feeds and social networks.

Pros

Includes full websites, not truncated RSS entries
Integrates with Facebook, Twitter, and Reddit
No folder system for favorite streams

Cons

Includes full websites, which also makes them less readable
Unreliable unread counts
Shop Tech Products at Amazon