At a glance
Expert's Rating
Pros
Reasonably priced for a 60% layout
Eye-catching RGB lighting
Splash-proof according to IP33
Cons
Rubber-dome technology is not considered particularly durable
Larger dimensions than necessary
Customization options take some getting used to
Software is rather confusing
Our Verdict
Available for around $50 online, the Roccat Magma Mini offers an affordable entry into the world of 60% keyboards, with an eye-catching RGB look. The rubber-dome technology provides a pleasant key feel, although ambitious gamers might miss the precision and feedback of mechanical switches.

Despite minor criticisms, such as the suboptimal software and the slightly larger footprint, the Magma Mini delivers good value for the price overall. It's an option worth considering for those who want to try out the compact keyboard format without spending a fortune.
Price When Reviewed
$69.99
Best Prices Today: Magma Mini
With its compact design and attractive price, the Roccat Magma Mini promises to be an interesting option for gamers who want to take up less space on their desk. But can it live up to the high bar set by the G.Skill KM250, which reviewer Michael Crider called the "gold standard for the bargain bin"?
Further reading: See our roundup of the best gaming keyboards to learn about competing products.
Roccat Magma Mini design
The Roccat Magma Mini presents itself as the little brother of the Roccat Magma introduced in 2021. The design is similar, with the same keycaps and eye-catching RGB top plate. Despite the reduction in key layout, Roccat has added a few new features, including an IP33 rating that protects the keyboard from splashing water. However, with dimensions of 12.12 x 5.20 x 1.44 inches (W x L x H), it's comparatively large for a 60% board.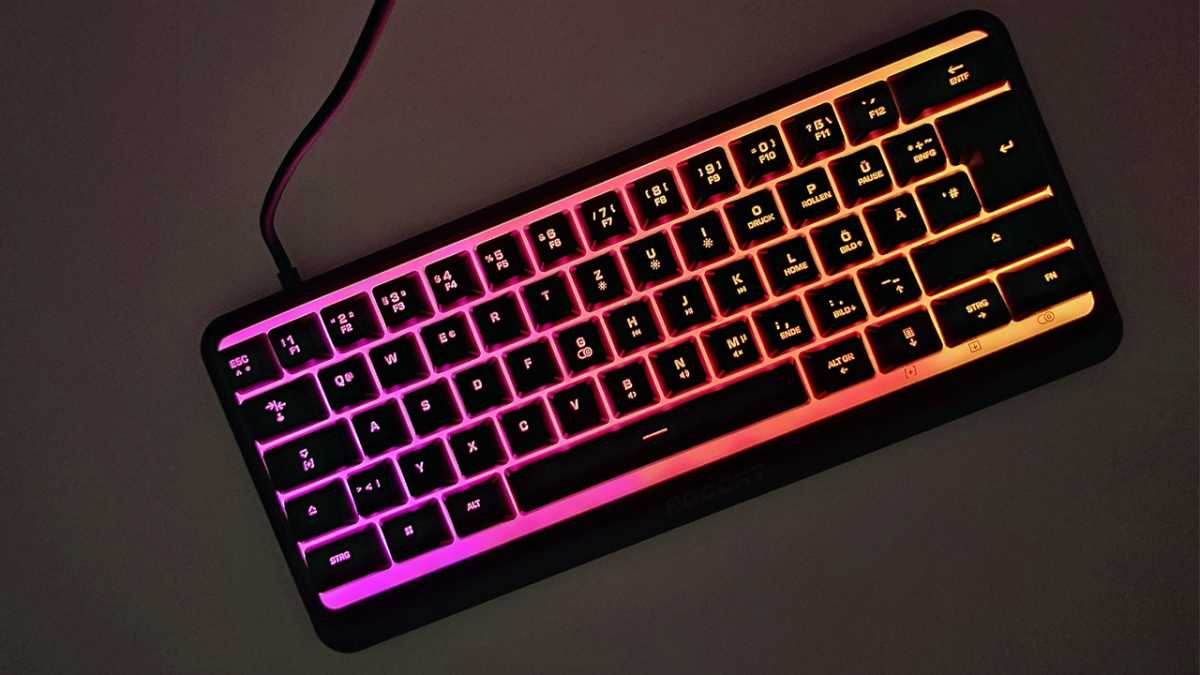 Friedrich Stiemer
How is the Roccat Magma Mini's RGB?
The Roccat Magma Mini has 61 buttons mounted on the RGB top plate, which in turn are illuminated by 10 LEDs. These LEDs allow for five different color zones that respond to key presses by default, but can also be customized via software.
The Roccat Magma Mini's shortcut keys, especially for accessing secondary functions, take some getting used to. For someone coming from a standard keyboard, these combinations can be unintuitive and confusing at first. For example, activating arrow-key mode requires holding down the function key and pressing the left shift-key. Such combinations are not always self-explanatory and can disrupt workflow until you get used to them.
It would have been nice if Roccat had provided clearer labelling or easier integration of these functions to ease the transition for new users.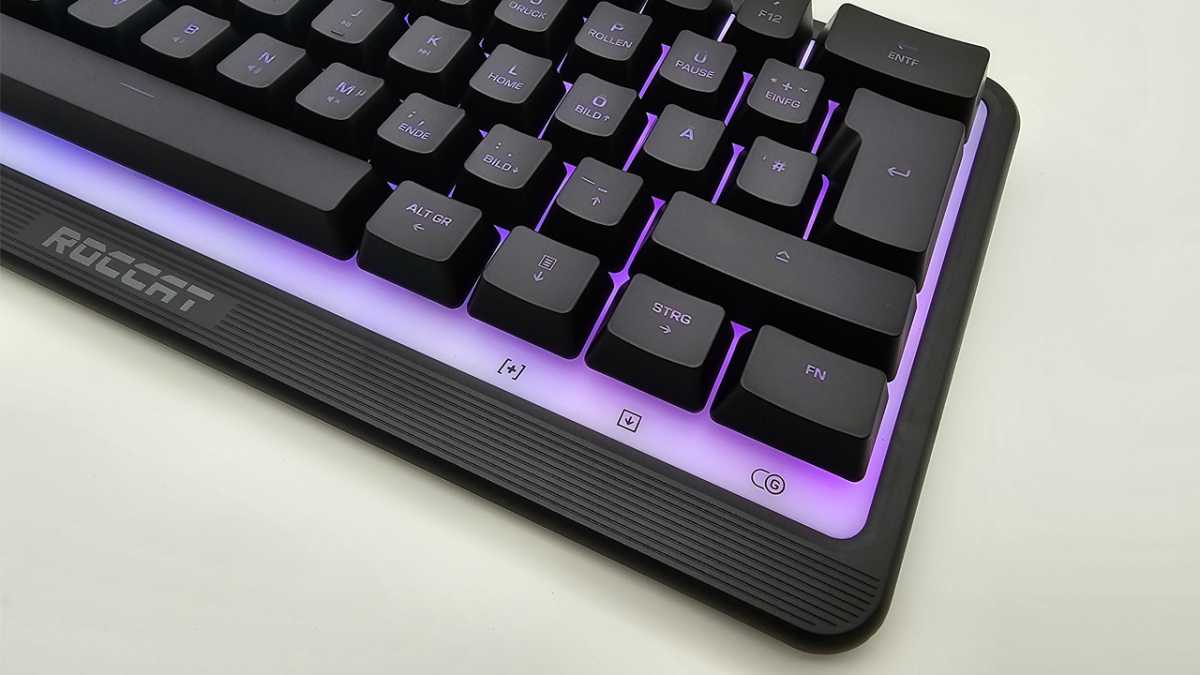 Friedrich Stiemer
Rubber-dome instead of mechanical switches
The Roccat Magma Mini relies on rubber-dome technology, a tried-and-tested method that offers a soft and muted key feel. This feel can be comfortable for some gamers, especially those who prefer longer gaming sessions, as the rubber domes dampen the keystroke and can prevent fatigue.
Contrast this with mechanical switches, which are often praised for their precision and consistent response. They offer direct feedback that many gamers appreciate, especially in fast-paced games where every millisecond counts.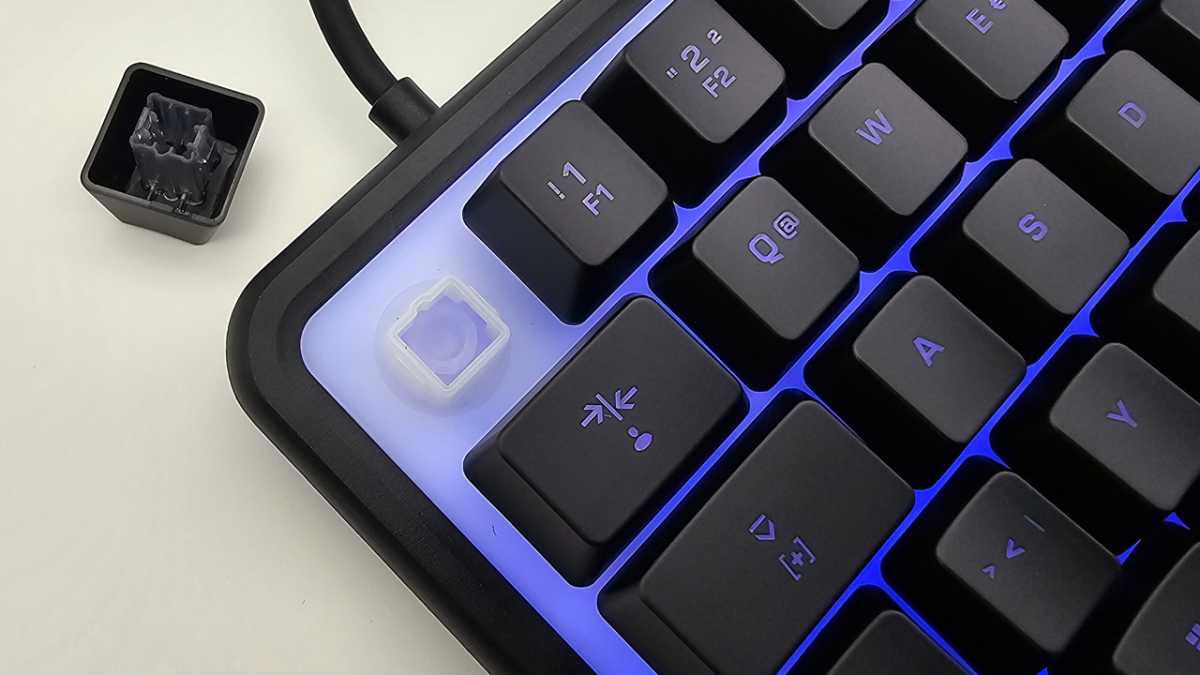 Friedrich Stiemer
Another relevant difference is durability. While rubber-dome keyboards tend to lose consistency over time, mechanical switches often withstand millions of keystrokes without losing quality.
Best value gaming keyboard
G.Skill KM250 RGB Keyboard

Price When Reviewed:
$39.99
In terms of the Roccat Magma Mini, this means: Although it offers a comfortable key feel for longer gaming sessions with its rubber-dome technology, hardcore gamers looking for maximum precision and longevity should consider other options.
How does the Roccat Magma Mini perform?
In practice, the Roccat Magma Mini shows that it has more to offer than just a pretty exterior. The keys even feel better compared to the larger Magma model. The rubber-dome keys offer a noticeable spring feel, which could, however, diminish over time.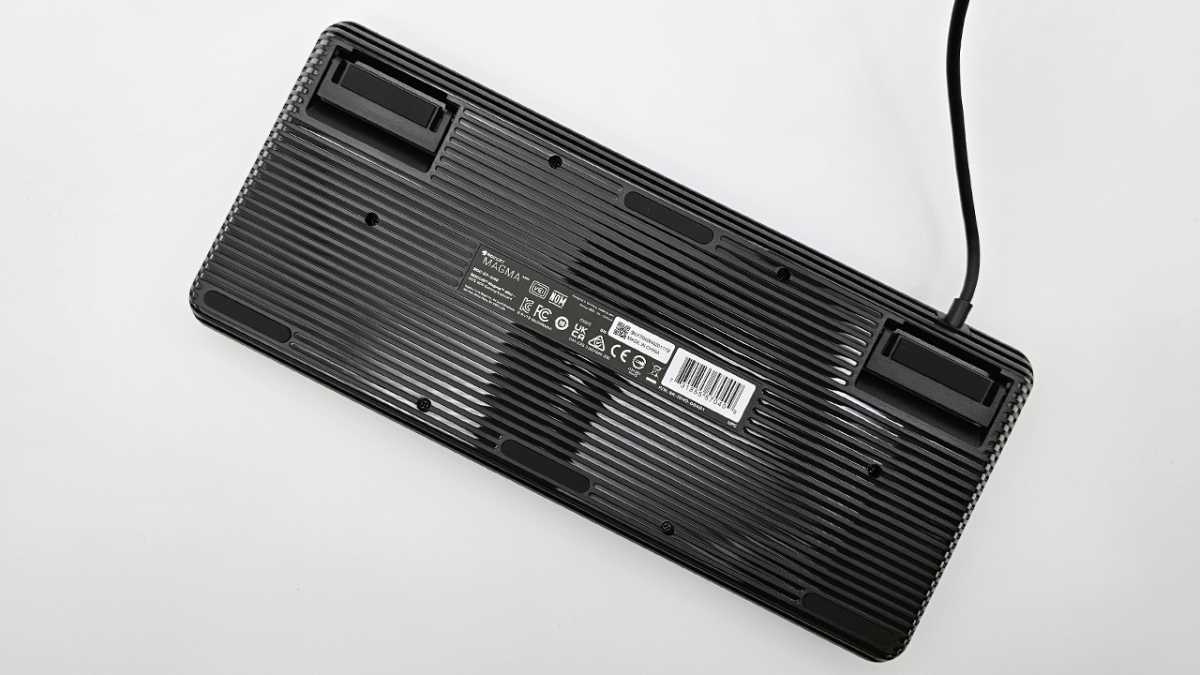 Friedrich Stiemer
The Roccat Magma Mini's Swarm software, however, leaves a lot to be desired in terms of user-friendliness. Its user interface seems outdated and is not intuitively designed for newcomers. Important customization options are often difficult to find or unclearly labelled. In addition, the special key combinations and modes, such as Game Mode and Easy Shift, can cause confusion without clear instructions in the software. It's a pity that despite the keyboard's potential, the software cannot keep up at the same level.
While the Roccat Magna Mini still offers a lot for the money, it's hard to recommend over the G.Skill KM250, which has even better value and fewer flaws.
This article was translated from German to English and originally appeared on pcwelt.de.