Review: SyndiFeed brings a personal touch to RSS reading, but needs more features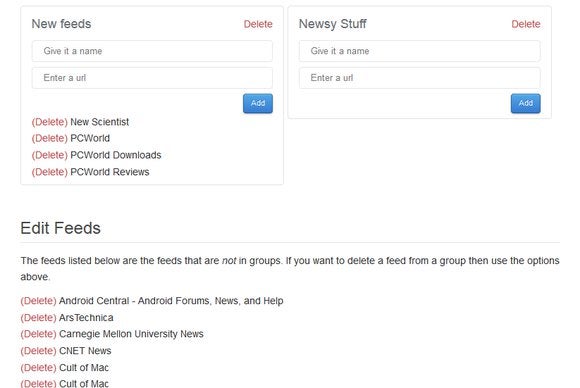 Today's Best Tech Deals
Picked by PCWorld's Editors
Top Deals On Great Products
Picked by Techconnect's Editors
At a Glance
Generic Company Place Holder SyndiFeed
Almost everyone was sad to hear of Google Reader's demise. Free, easy to use, and relatively simple, Google Reader brought RSS to the public awareness almost single handedly. Alternatives such as Feedly, Pulse, and various browser add-ons have always existed, but received a significant boost since Google Reader's fate became known. SyndiFeed is a standalone RSS Web app (with mobile apps coming soon) that doesn't really offer anything its competitors don't, but does offer a personal touch for those burned by Google's indifference.
Unlike Google Reader, SyndiFeed is a one-man development project, and is also fairly new. Accordingly, it's still pretty basic when it comes to the features it offers. This is refreshing at times—basic is not always bad, after all—but makes the app almost inconvenient to use at others.
Like any RSS reader, SyndiFeed revolves around feeds, which you can either add manually by entering the feed's URL, or by importing them from Google Reader. Feed groups also exist, but there is no way to add existing feeds to them, meaning, when importing your Google Reader feeds, they're going to be jumbled around groupless, and short of adding them all again manually to groups, there's nothing you can do about this. There's also no way to edit feeds once added.
When it comes to reading, SyndiFeed doesn't get much better, unfortunately. While the interface is far better-looking than Google Reader's, usability is SyndiFeed's current downfall. Each of your feeds is arranged in a magazine-like grid or a list, but there's no easy way to move between articles or feeds.
After reading an article, which opens in a separate lightbox, you need to click "Close" and click on the next article in order to move on. The reading experience is nonetheless good, making articles from any source readable with images and links that stand out, and no unnecessary page elements. While reading an article, it's also easy to share it through Twitter, Facebook, or Google+.
SyndiFeed is not only about reading right now, however, making it super-easy to save articles for later reading. To do this, you can either connect SyndiFeed with your Instapaper account, or use the built-in Read Later feature to add articles to your Saved tab. There's also a SyndiFeed bookmarklet for saving items from any website to your SyndiFeed Saved tab. The Saved tab is not completely thought-out yet, but you can add several folders to it, arranging your saved items as you please.
I love that SyndiFeed is made by one person, and I adore its interface and simplicity. As it stands, however, it will not become my go-to RSS reader; there are just too many important features missing. The developer assures me that all these features are in the works, so if you like the look of it, it's well worth it to keep an eye on SyndiFeed and see how it develops. Every app has to start somewhere, and although it's not done yet, SyndiFeed is off to a promising start.
Note: The Download button takes you to the vendor's site, where you can use this Web-based software.
Note: When you purchase something after clicking links in our articles, we may earn a small commission. Read our
affiliate link policy
for more details.
At a Glance
Generic Company Place Holder SyndiFeed

If you like simplicity in your RSS and have the patience to wait for more features, give SyndiFeed a try.

Pros

Beautiful and simple interface
Instapaper integration and an ability to save articles for later
Responsive developer

Cons

Very limited groups feature
No keyboard shortcuts or article navigation
No way to edit or organize existing feeds
Shop Tech Products at Amazon