Google is bringing its Duet AI to Google Workspace, with features ranging from automatic summarization of documents to something you'll probably really appreciate: a virtual avatar that can attend meetings for you when you can't make it.
Unfortunately, Duet AI for Google Workspace is just for businesses right now, who will be asked to pay for it: $30 per user per month, the same price Microsoft charges for its own Microsoft 365 Copilot AI offerings for businesses. Aparna Pappu, Google Workspace's vice president and general manager, told CNBC that a consumer version will arrive next year.
Some of these features were announced at Google I/O in May, but are arriving on Workspace for the first time.
Still, the features look intriguing. In Meet, for example, AI is being used to automatically adjust lighting and audio, which Google calls "studio lighting" and "studio sound." If you're in a meeting room, AI will also recognize you and give you your own "tile" within Meet, so that any remote user can more easily pick you out.
It's the more advanced features, though, that promise that you'll be able to "work," even on a sick day. Not only can Duet capture notes and generate summaries of the meeting (even in real time) but an "attend for me" feature will be able to join the meeting for you," delivering your message" and securing a recap to review later. It sounds like any avatar will be less of a virtual you than a voice mail message of sorts, but at least you'll be able to direct colleagues and receive their responses without having to dial in.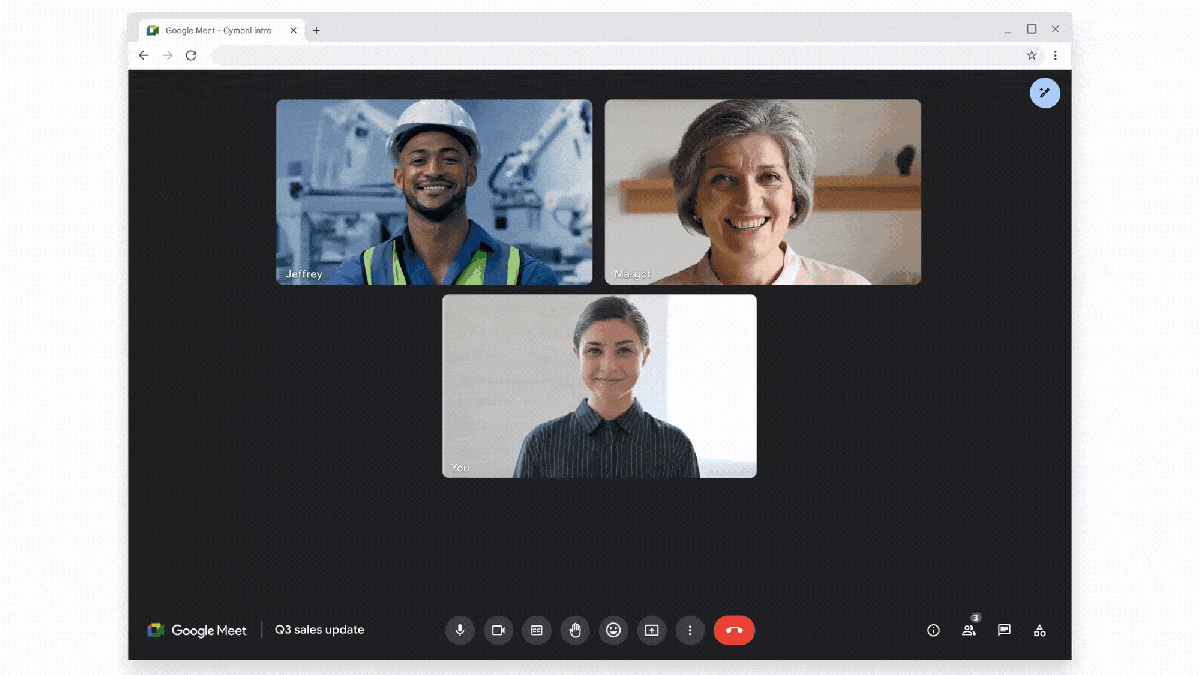 Google
Gmail, too, is adding some AI features, some of which it's tipped off before. One in particular sounds handy: improved, longer automated replies. It's not unusual for Gmail (or Word, or Outlook) to suggest words and phrases as you type, but Gmail will now even add longer, personalized replies to save time. This feature will come first to Gmail mobile, followed quickly by a contextual feature that will "fill in" colleagues by name. Likewise, Google Chat now offers the ability to talk "directly" to Duet, though that's a feature that Microsoft, Slack, and others have already implemented.
Otherwise, Workspace is adding features that have been talked about before, from Microsoft and elsewhere: synthesizing multiple documents, for example, to create summaries. Google says that these summaries can includes text, charts, and images, though it's not clear whether Duet will create them on the fly or they'll simply be pulled in from existing documents.
Google is also adding specific features to its Workspace components that aren't barnburners, but that feel particularly helpful: In Sheets, for example, Duet's AI will try to assign a label to a column of data if you haven't already given it one, trying to save you some time. You can also use AI to come up with a plan or project to help you get organized, which you can further refine. In Docs, Google says, Duet is smart enough to automatically generate job postings, based upon what it knows of the organization.
Google
Some of the new features feel rather blah, especially after Microsoft announced similar capabilities in Microsoft 365 Copilot: Meet can auto-generate an AI background, for example, and Google Slides can do the same for a custom background. But that just goes to show you how far AI has come. Consumers will just have to wait a bit longer.