Lenovo announced two new display solutions at the IFA show in Berlin: a 3D display for content creation, and a pair of micro-OLED goggles for consuming that content (or anything else) on a pair of private screens that you can strap to your head.
The Lenovo ThinkVision 27 3D Monitor is a 27-inch IPS display that will ship at a whopping $2,999 beginning in January, while the Lenovo Legion Glasses will cost $329 and ship in October. Lenovo also announced the Legion 9i, a liquid-cooled laptop, and the Legion Go, its first entry into the handheld Windows gaming market.
By now, the concept of a lenticular display might not be that unusual: after all, Acer announced one with the Predator Helios 300 midway through 2022, and Asus somehow combined a lenticular display with a 120Hz OLED inside the StudioBook 16 3D OLED. But both companies featured them in their high-end, premium products for creators, not average users.
Seeing them, however, is another thing entirely. The Lenovo ThinkVision 27 3D tracks your eyes, so that it knows how to project half of its 4K screen into each eye, to provide the 3D effect. (Without the 3D effect turned on, it's a standard 4K display with 3840×2160 resolution; with 3D on, each eye sees a 1920×2160 screen.) You'll need your app to support the display, though Lenovo has both an 3D Explorer app as well as an SDK for supporting third-party software.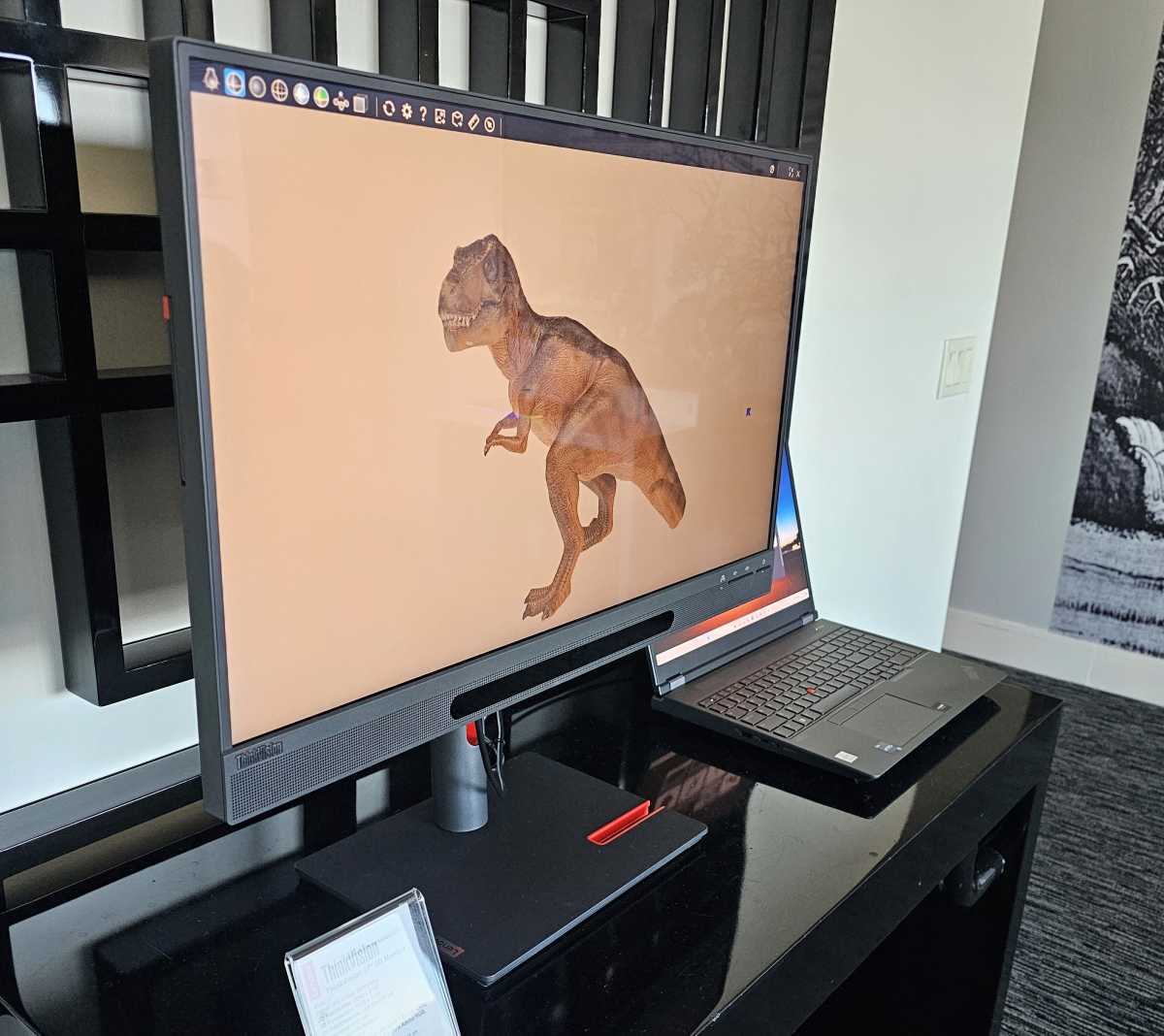 Mark Hachman / IDG
The screen definitely produced a 3D effect without the need for glasses. However, instead of the image floating in front of you, it was "contained" inside the monitor, never projecting beyond the surface of the display itself, with a field of view of about 40 cm and a "depth" of between 60 and 100 cm. Since the refresh rate is 60Hz, you'll see the image refresh at 30Hz out of each eye. In total, it puts out 310 nits of brightness in either mode.
According to Lenovo, there are a number of ways to perform 3D content creation, designing the assets used in video games and the like. Wearing a specialized device like the HoloLens, for example, is one way, though it can be fatiguing. But the ThinkVision can also be flipped into a standard "2D" mode, which operates as a standard 4K display. Here, the ThinkVision 27 provides enough color accuracy to serve as a content-creation machine.
Interestingly, this is one of the few displays that actually ships with hardware requirements: to turn on the 3D capability, you'll need a PC with at least a 7th-gen Core i5 as well as an Nvidia GeForce GTX 1050 and 16GB of RAM.
The ThinkVision 27 3D also includes a broad range of ports: a pair of HDMI 2.1 ports, DisplayPort 1.4, and, interestingly, a USB-C input. The latter supports High Bandwidth Rate 3 (HBR3), a form of compression that can drive a display from just a USB-C output, provided that the laptop supports it.
Is the ThinkVision 3D going to usher in 3D displays on to your desktop, just like the 3D TVs of yore? Probably not. But what companies like Lenovo are showing is that, for the right application and the right user, they can make sense.
Lenovo Legion Glasses: strap a display to your face
We know a little bit less about the Lenovo Legion Glasses. Instead of a publicly-viewable display like the ThinkVision 27 3D, the Legion Glasses are all about privacy: each screen shows the equivalent of a 1080p micro-OLED screen to each eye, with a closed eyecup that only you can see.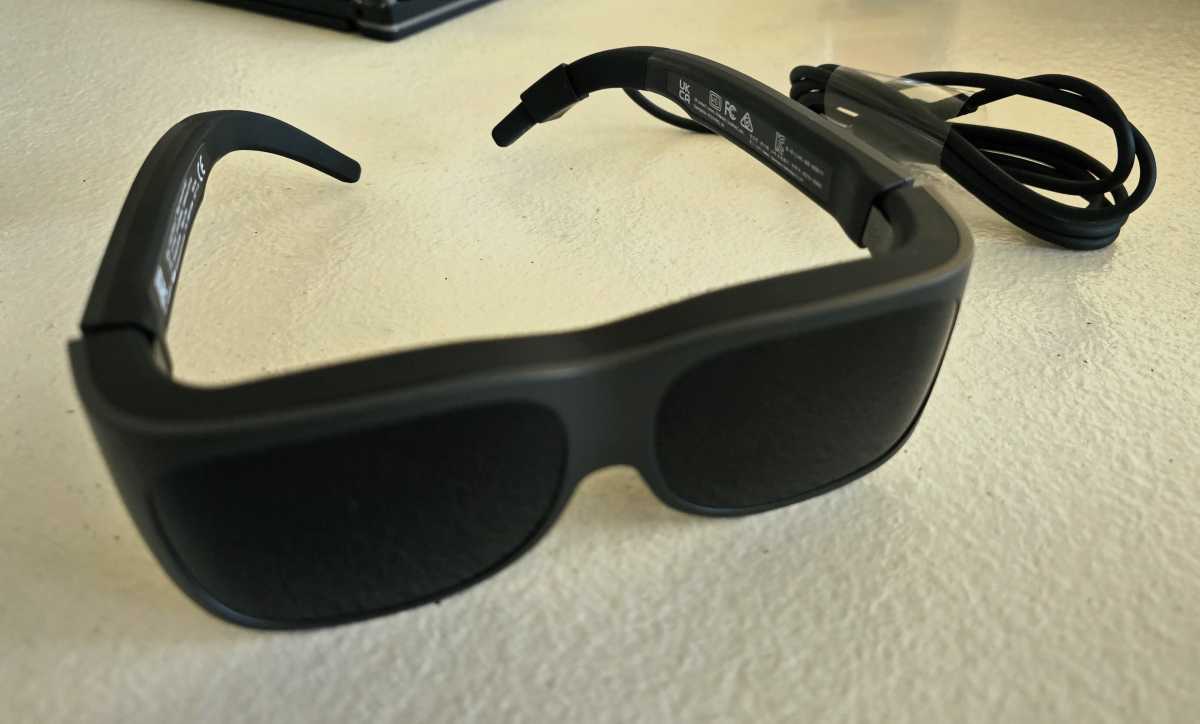 Mark Hachman / IDG
Small speakers are mounted inside the headset, so that you can hear the audio of the movie or TV show that you're watching. The Legion Glasses are wired, using a USB-C cable to drive and power them. They're not restricted to just Lenovo devices or just Windows, however. The Legion Glasses are compatible with Windows, Android, and MacOS — including the new Lenovo Legion Go handheld introduced today.