Review: Audio Notetaker lets you sit back and listen while it takes notes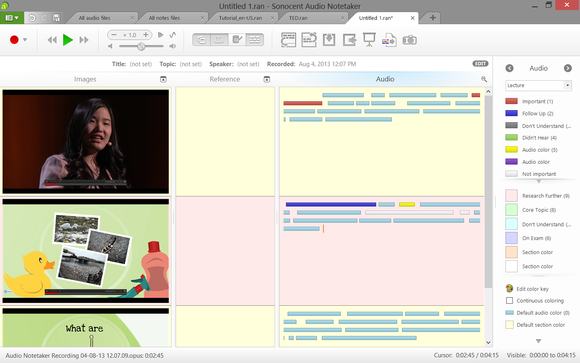 Today's Best Tech Deals
Picked by PCWorld's Editors
Top Deals On Great Products
Picked by Techconnect's Editors
At a Glance
Generic Company Place Holder Audio Notetaker
Every student or conference attendee knows the ever-present dilemma: listen to the presentation, or try to take notes? Sonocent Audio Notetaker is an ambitious product that brings an end to this plight...at least some of the time.
Audio Notetaker analyzes audio recorded either by the program or outside it to create speech bars that are easy to navigate. You can enhance these bars with colors, text, images, screenshots, slides, and PDF documents, and add text and references to boot. Audio Notetaker can record live lectures, interviews, Skype calls, and even online talks a la TED. It makes it possible to concentrate on listening while taking minimal notes, and easily go over the recorded material later.
Audio Notetaker is a truly innovative way to handle recordings, but at its current price of $150 for a perpetual license, it's not an impulse buy. It also crashed multiple times while I tried it, causing me to lose my work, so frequent saves are advised. It's a great product if you can soak the cost.
Note: The Download button takes you to to the vendor's website, where you can download the software.
Note: When you purchase something after clicking links in our articles, we may earn a small commission. Read our
affiliate link policy
for more details.
At a Glance
Generic Company Place Holder Audio Notetaker

Audio Notetaker is extremely powerful and valuable tool, but it's pricey.

Pros

Makes it easy to scan through, highlight and organize recorder material
Lets you attach slides, papers, images and more to audio
Very easy to use

Cons

Crashed multiple times while testing
Recording settings keep going back to "Mic only"
Very expensive
Shop Tech Products at Amazon