Review: Notable.ac lets teachers and students share slides and notes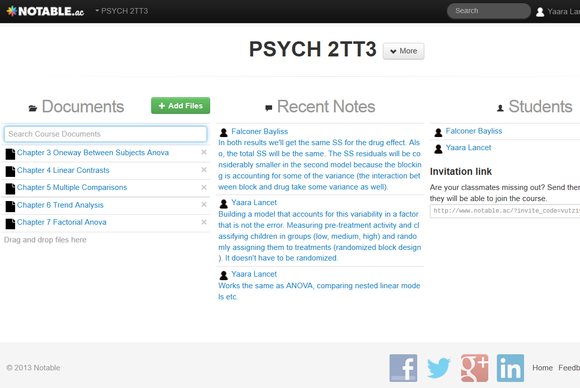 Today's Best Tech Deals
Picked by PCWorld's Editors
Top Deals On Great Products
Picked by Techconnect's Editors
At a Glance
Generic Company Place Holder Notable.ac
Some note-taking techniques are kludgey: printing out slide decks and writing on them, for instance, or copying and pasting images into a word processor. Notable.ac is another take on the note-taking problem, this time in the form of a free-to-use Web app.
Notable.ac is more than a note-taking app. It's a complete course platform for both students and lecturers. Once a course is created in the system, anyone can upload the course's slides, and the entire class can join in and either collaborate on notes or write their own private ones on slides.
No highlighting features are currently available, but you can tie slide notes to certain points on the slide for easier reference. The lecturer panel, currently available only by request, also provides some trends and insights into the class's behavior.
Notable is a great alternative to university-provided platforms—and with some added features, it can really give classes a boost.
Note: The Download button takes you to to the vendor's website, where you can use this Web-based software.
Note: When you purchase something after clicking links in our articles, we may earn a small commission. Read our
affiliate link policy
for more details.
At a Glance
Generic Company Place Holder Notable.ac

Notable is a great idea for students and lecturers alike, but still has some growing to do.

Pros

Same system for students and lecturers
Allows real-time collaboration through the app
Provides an easy way to add notes to slides and access them

Cons

First new courses for a user need to be added manually by the developers
Limited highlighting an annotations
Only supports PDFs
Shop Tech Products at Amazon