SLIDESHOW
The 10 most anticipated PC games coming this holiday season
The year hasn't vanquished its supply of must-play PC games. Behold the greatness we'll be playing by December.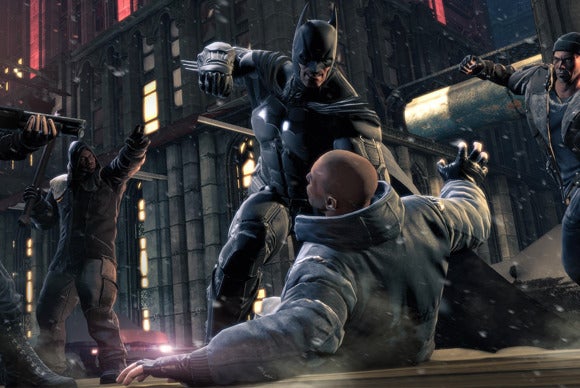 What's next?
2013 has already delivered an onslaught of amazing games. From Bioshock Infinite to Company of Heroes 2 to Antichamber, the hits have kept us glued to our keyboards. Okay, we don't want to talk about SimCity, but sometimes the tragedies are what make PC gaming so interesting.
And there are many more titles to come. The year may be more than half over, but some of 2013's best months for PC gaming are still ahead. So take a look at the following list, and remember: Patience is a virtue.
We start with the most realistic combat simulator you might ever get your hands on.
Arma 3
Arma 3 will blow you away with its engrossing take on simulated combat.
Military and simulation enthusiasts are already neck deep in the beta, playing with a fraction of the weapons, vehicles, and locations that will be available at release. And ever since getting early access to the code in March, players have been creating campaigns, missions, and modifications to make this the most intense and realistic combat experience to date.
Again, remember: It hasn't even released yet! But it is coming soon—September 12 to be precise. So suit up and get ready, and make sure to check out our hands-on with Arma 3 from this year's E3 show.
The Witness
There's nothing better than an addictive, well-designed, nearly impossible puzzle game. Enter The Witness, another title from the creator of Braid (which is perhaps the most innovative puzzle-platformer since the very first Mario romp).
The Witness will likely invoke feelings of nostalgia in Myst fans—the main setting is a serene but mysterious island full of puzzles and challenges. Beating the game will require cerebral problem solving rather than any mechanical skills that could be taught in a tutorial. So get ready to burn some brain cells.
No release date has been set yet, but we hope to be scratching our heads, vigorously, before 2014.
Command & Conquer
The Command & Conquer name is legendary among hardcore gamers, and now it's back in a re-imagining of the original game—and it won't cost you a dime when it's out this fall.
Fight for world domination as the technologically advanced European Union, the brutally strong Asian Pacific Alliance or the sneaky Global Liberation Army. This new iteration brings back the base-building and resource-gathering mechanics that made the original games so strategic and fun.
Like in Command & Conquer: Generals, you can choose between a handful of generals that offer perks and unique units to give you a leg up in battle. Play to their strengths, and you stand a good chance of crushing all foes.
Watchdogs
This open-world sandbox game hits home with a premise that's directly relevant to real-world, everyday life.
Set in Chicago, you play as a tech-savvy vigilante who can hack just about anything from ATMs to surveillance cameras to traffic lights. You use your tech smarts to get the upper hand on criminal scum while evading the law—neither the bad guys nor the cops are your friends.
How you play is up to you. Protect the city's citizens, or venture on your own path of vengeance, hurting anyone who gets in your way. It's like Grand Theft Auto meets Hackers—and we can't wait to "hack the planet" on November 19.
South Park: The Stick of Truth
What happens when our favorite foul-mouthed kids plays pretend? You get a crude and hilarious fantasy RPG.
Obsidian Entertainment, the developers behind Star Wars: Knights of the Old Republic II and Fallout: New Vegas, is developing the game with the direct help of South Park creators Trey Parker and Matt Stone. The graphics, dialogue, and humor look to be taken straight from the beloved show, and we couldn't be more excited.
Though its future looked bleak when the original publisher, THQ, shut down last January, the game was soon put back on track with Ubisoft. No release date has been set, but we're confident (well, more hopeful, actually) that we'll see it before the end of the year.
Battlefield 4
On the surface, it doesn't look far off from its 2011 predecessor, Battlefield 3, but just wait until you get into the game.
The Commander role, first made popular in Battlefield 2, has been revived. The commander sports a top-down view of the map and is able to coordinate attacks as well as support teammates with supplies or a Tomahawk missile—whatever he feels is more fitting for the situation.
Along with the Commander mode, we look forward to new environmental tricks, such as Levolution, a feature that allows destructible objects to change the map layout. Example: A whole skyscraper toppled over in the E3 demo, changing the capture point for the rest of the game.
Grab your buddies and squad up October 29.
DayZ
Zombies are scary, sure, but loot-hungry survivors in the post-apocalyptic wasteland are downright terrifying. They can kill you from hundreds of yards away with the pull of a trigger and not even bat an eye. Surviving this zombie- and maniac-infested game will take skill, teamwork, and a ton of luck.
It's an open-world survival game where everything is your enemy and backstabbing is an all too common practice. Teaming up to scavenge the wasteland for supplies and weapons may be beneficial, but how much can you trust your partner? When the food runs scarce, you'll find out.
The release date has been nudged back slightly over the last couple months, but it looks like we'll see this release in the next month or two.
Total War: Rome II
All of Rome's bloody history is at your fingertips—and now it's for you to decide how the history books will be written.
The original Total War: Rome was the first (and perhaps most beloved) in a long series of Total War titles that has spanned many eras and battles. It's a mixture of real-time combat and turn-based strategy where you manage massive armies. Everything from their formation to their morale can affect the outcome of the battle and even turn the tide of the war itself.
Total War: Rome II will span 300 years of Rome's history, and we can't wait to sit at our monitor for 300 hours once it's released on September 3.
Batman: Arkham Origins
You've been to the asylum. You've been to the city. But now it's time to venture back to the beginning when Batman wasn't a household name in Gotham and he didn't have so many sworn enemies (yet).
The game takes place five years before the events in Arkham Asylum. A crime lord has placed a hefty bounty on Batman's head, and this brings some of the world's deadliest assassins to Gotham City on Christmas Eve.
Watch Batman as he's introduced to some of his most iconic foes—and then punches them in the face with the best third-person fighting mechanics in the series to date. Of course, for the challenges that violence won't solve, you can put on your Sherlock hat and become the world's greatest detective thanks to a bevy of fun gadgets.
We can't wait to don the Dark Knight's tool belt on October 25.
Elder Scrolls Online
If we've learned anything from the past five Elder Scrolls games, it's that Tamriel is a vast and diverse continent—and soon you'll be able to explore it with thousands of other players.
Since this MMO will be set a millennium before the events of Elder Scrolls V: Skyrim, you can help be a part of the rich history as you join one of the three factions fighting over Tamriel's throne. We know what Bethesda is capable of, and can't wait to take on massive monsters and explore deep catacombs with friends. Being locked in an endless struggle over the land also sounds like a good time.
The release date is not yet set, but the game has already gone through extensive beta testing. We'd give up being the Dragon Born to be playing this by the holiday season, but we aren't holding our breath. There's a "fus roh dah" joke in there somewhere…
Check out our hands-on with the game right here!
10 puzzle games that will bend your brain
If you're tired of waiting for the awesome games that are just around the corner, then get your hands on some awesome puzzle games that you can play now!
Next Up: Check out these related slideshows
Today's Best Tech Deals
Picked by PCWorld's Editors