At a glance
Expert's Rating
Pros
Efficient
Slim, compact size
Both a battery and a wall charger
Cons
Charging a device at the wall takes up the whole outlet
Our Verdict
The Anker 511 FusionCore 5K is a great travel companion, particularly when out and about in a city. Its hybrid design makes it ideal if you don't like to carry much but always want an adequate charge for your phone.
Price When Reviewed
$29.99
Best Prices Today: Anker 511 PowerCore Fusion 5K
As someone whose clothing regularly has wimpy, tiny pockets (through no fault of my own), I prefer to carry a slim hybrid power bank when I'm out. I get the best of both worlds—a little extra juice for my phone, plus the ability to charge at the wall. And the $30 Anker 511 PowerCore Fusion 5K fits that bill nicely.
Further reading: See our roundup of the best power banks to learn about competing products.
Anker 511 specs and design
The Anker 511 has a 5,000mAh battery providing a total of 18Wh of power. Anker claims the battery will maintain a maximum capacity of 90 percent for almost two years (20 months), based on a recharging cycle of every two days. You get a two-year warranty as well.
This power bank is compact, measuring 4.38 x 1.19 x 1.19 inches (11.12 x 3.02 x 3.02 cm) and weighing 6 ounces (170g). Its housing is made with two plastic finishes—glossy on the upper half and matte on the bottom half. I would have preferred an all matte finish, as scratches wouldn't be as visible.
The Anker 511's design is simple. There's just one charging port (USB-C) at the bottom, and a battery status button with four indicator lights on the front. Each light represents 25 percent of the battery life. When recharging the power bank, the lights all go dark upon 100 percent charge.
The USB-C port delivers a max of 20W power (9V/2.25A). It also supports 5V/3A (15W) charging.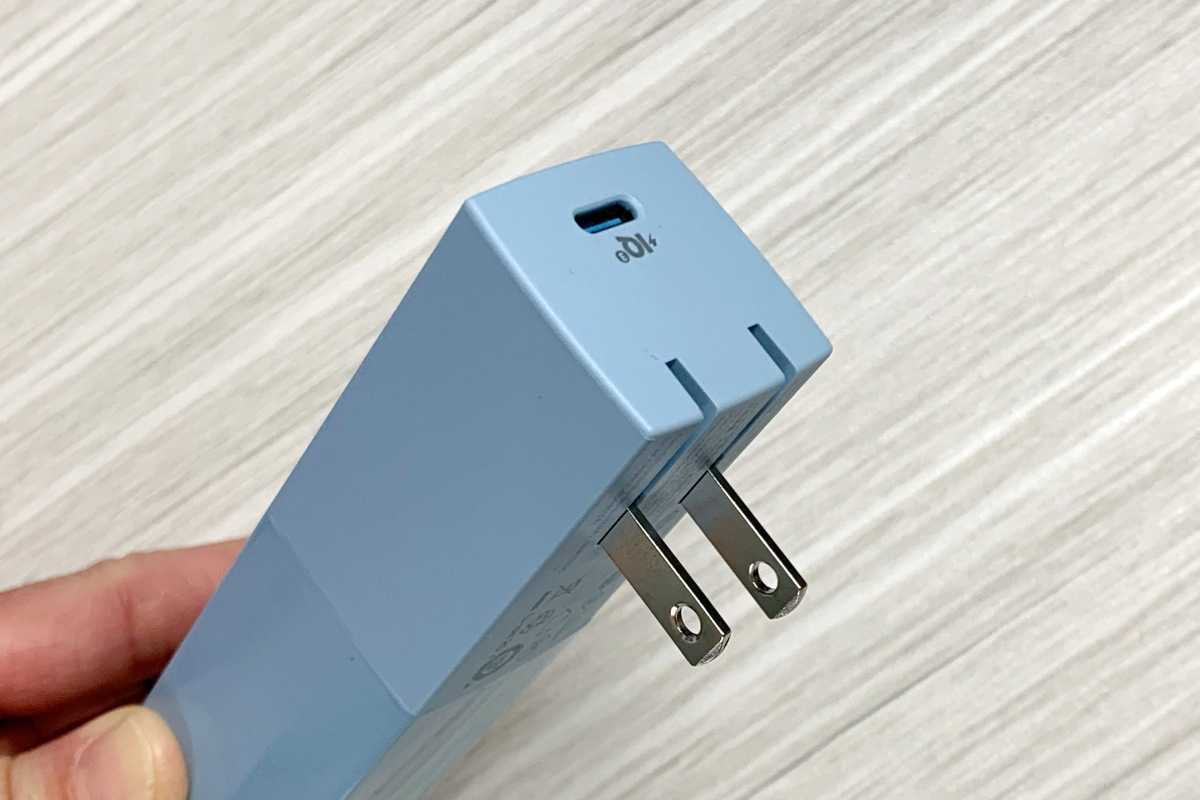 Alaina Yee / Foundry
How does the Anker 511 perform?
On the back of the Anker 511 is a set of flip-out charging prongs, which can be used to recharge the battery or to pass electricity through to a connected device. It can't do simultaneous charging.
You can recharge the battery from empty to full in about 2.5 hours.
On top is a tiny built-in carry strap. It's very short, measuring just two inches long, and is made from thick ribbon.
The Anker 511 is 89.8 percent efficient. You'll get about 3,200mAh when charging a device at 5 volts (5V). On a phone like the Pixel 7 Pro, which has a 5,000mAh battery, that works out to about 64 percent charge. So not enough for a full charge, but enough to decently stretch its life when away from a wall outlet.
Currently, the average efficiency for all portable batteries we've tested is 83 percent.
This power bank does have one notable drawback. If you use it as a wall charger, it will take up an entire electrical outlet. Because its USB-C port is near the prongs, attaching a cable will block the other socket in the outlet.
If you're only recharging the power bank, you won't have this issue.
Should you buy the Anker 511?
Overall, the Anker 511 FusionCore 5K is ideal for traveling light, particularly if you're wandering within a city. You'll stretch your phone's battery life by a decent amount while out, and if you still need more juice, you can always plug it into a wall to keep your device alive. All while burning very little space in a pocket or purse.
Best Prices Today: Anker 511 PowerCore Fusion 5K