Review: Forte starts the flow of music between instruments and computer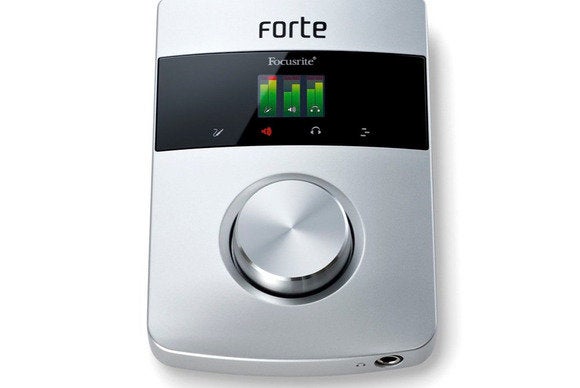 Today's Best Tech Deals
Picked by PCWorld's Editors
Top Deals On Great Products
Picked by Techconnect's Editors
Focusrite's Forte is a stylish audio interface that lets you connect microphones and instruments to your computer for recording and performing music.
Rather than connecting the instruments directly to ports on the device, Forte uses a breakout cable with four connectors (two for 1/4-inch instrument cables and two for XLR microphones) on one end and a connector that plugs into the Forte. The many-headed cable setup can be a bit unwieldy, especially since you can only record from two of the four inputs at a time. Having four connectors can be convenient, however, allowing you to keep your instruments and microphones plugged in, even when not in use.
Forte has one big button that you can rotate or push to navigate the onboard OLED menus or to control certain features of your digital audio workstation (DAW).
I got stuck the first couple of times using Forte. I wasn't able to figure out how to select the two inputs I wanted to use to record. I soon realized that you could switch between the microphone and quarter-inch inputs using the Forte Control software. I later learned that its possible to use the button on the Forte itself to change the input through a series of clicks and turns of the button, but it wasn't something I could figure out on my own.In this case, the one-button simplicity that Forte is striving for made the process more difficult for me.
Once I figured out the Forte Control software, I came to appreciate the app. You use the Forte Control software to choose whether you're using the Mic, Line or Instrument for input one and input two. The Forte Control app lets you set many the sample rate (up to 24-bit 192 KHz), preamp gain, pad, high pass, and phase reversal. The software also gives you two mixes, one for the speakers and one for headphones. You can use this to set the mix of the dry input from the guitar with the processed signal received back from your DAW.
I used Forte to record vocals, guitar, and bass, and was happy with the results. I used different interfaces in the same project and found Forte to be very similar to the PreSonus FireStudio in being able to admirably capture my performances, with the resulting tracks free of unwanted distortion.
Bottom line
If you need a high quality instrument interface that works with both Macs and Windows computers, the Forte by Focusrite takes a little getting used to, but it offers great sound quality and a striking design.
This story, "Review: Forte starts the flow of music between instruments and computer" was originally published by TechHive.
Note: When you purchase something after clicking links in our articles, we may earn a small commission. Read our
affiliate link policy
for more details.
Shop Tech Products at Amazon