At a glance
Expert's Rating
Pros
Cheap basic package
Good admin panel
Few limitations
Cons
Scarce space
Almost non-existent support for beginners
Additional space gets expensive
Our Verdict
Inleed's basic package is one of the cheapest full-fledged web hosts in Sweden, but it has limited space and the service is not adapted for total beginners with more manual settings than its competitors.
Price When Reviewed
2 euros/month
Best Prices Today: Inleed
The Helsinki-based web hosting company Inleed has its headquarters, and its largest data center, in Tällberg, Sweden. It has chosen an open business model where the customer decides how much space and bandwidth makes sense for a certain number of sites or number of email accounts. The basic Standard package costs approximately 2 euros per month if you pay per year (about twice that amount if you opt for a monthly payment) and includes 2 gigabytes of storage and 50 gigabytes of traffic per month.
There are no other restrictions — you can add as many domains as you like with as many websites as you need, as long as you can fit them into the limited space available. Email accounts are also unlimited in number, but share space with the website storage.
If you want more space or more bandwidth, you'll have to upgrade to a more expensive package. The Special package is the next step and costs 3 euors per month with an annual payment. This increases storage to 10 gigabytes and traffic to 250 gigabytes per month, while your server gets two instead of one CPU core on the server. These are relatively good resources.
Further reading: See our roundup of the best web hosting services to learn about competing products.
Good admin panel
Inleed has chosen the admin panel Direct Admin instead of the slightly more popular cPanel, which is a good thing for a beginner. It is more organized and easier to navigate for those who are not used to web hosting administration. The disadvantage is that it is a little slower than competitors with cPanel, such as Bluehost.
What Inleed doesn't have is a lot of automated features. There are guides and tutorials, but some basic functions that are fully automated in competitors require some work here. A typical example is SSL/TLS certificates, which you need to activate for your domain and the subdomains you've specified and want to use. It's not complicated, but there's no clue that it's needed other than that a site you've added won't work on the https address.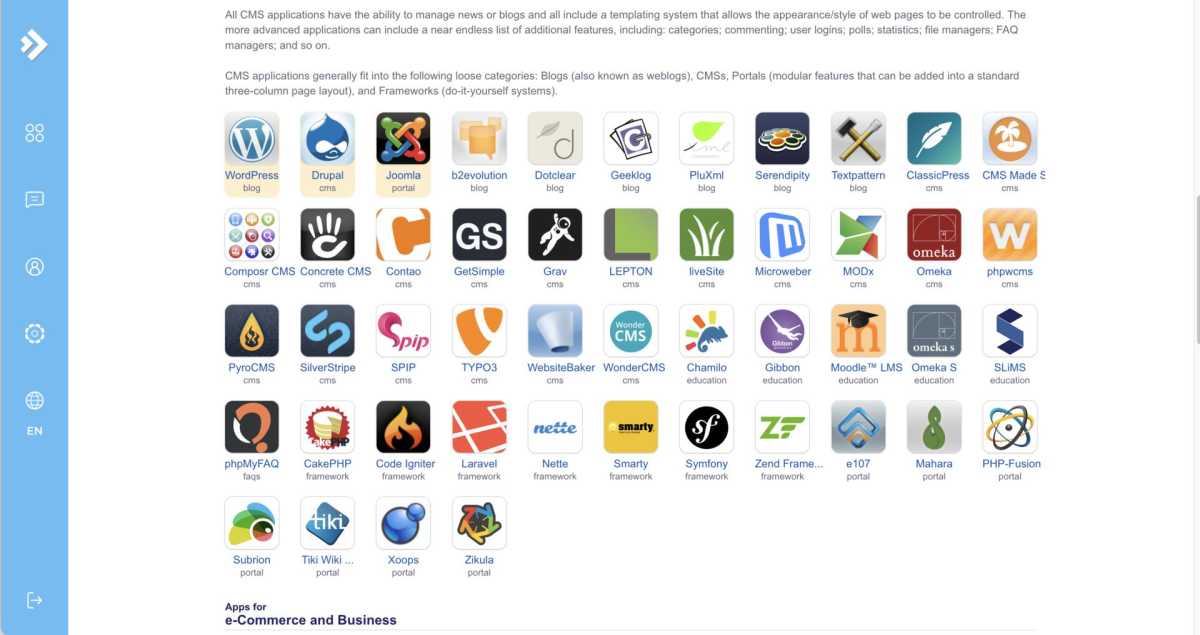 Foundry
Page builder disappeared without a trace
Inleed has references to the Kopage page builder on its store page, but the link to it from the support pages goes nowhere and once I've activated an account I can't find a way to install either something called sitebuilder or Kopage. It should be under Extra Features in the Direct Admin interface, but is nowhere to be found.
However, it is easy to install WordPress, Drupal, Joomla, and a lot of other popular web apps. The WordPress plugin can also keep itself, any extensions, and installed themes updated automatically, which is an additional service offered by several competitors.
Is Inleed worth it?
All told, Inleed's Standard package is one of the best options for those who want to run a WordPress blog with their own domain for as little money as possible. With its array of options, Inleed could be easily used to run, for example, a small private forum for an association or a wiki for a hobby.
This review was translated from Swedish to English and originally appeared on pcforalla.se.
Best Prices Today: Inleed