SLIDESHOW
12 of the coolest technologies we spotted at IDF 2013
There was a lot of great new products on display at this year's Intel Developer Forum, including powerful new CPUs, power-sipping SoCs, and PCs in brand-new form factors.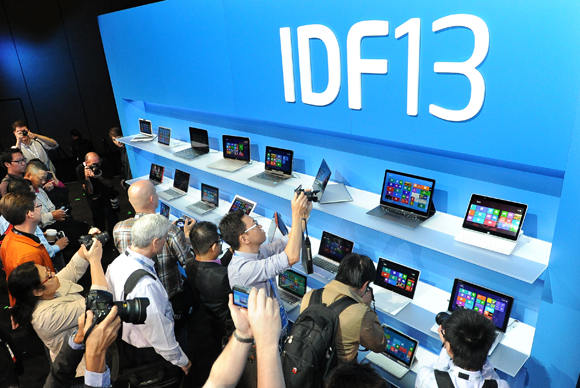 Intel Developer Forum 2013
Intel's annual developer forum ended Thursday, capping three days of keynote speeches, new product announcements, and in-depth technical sessions.
There was a lot to see, ranging from brand-new chips to PCs and tablets in bold new form factors to steaming tanks of liquid nitrogen. These photos depict just a few of the event's highlights.
Dell Venue 8 Pro
Dell has resurrected its Venue brand name to launch a new line of Windows 8 tablets.
Neil Hand, VP of Dell's Tablet & Performance PC Group, showed off the Intel Bay Trail-powered tablet at Wednesday's keynote speech by Intel's Vice President and General Manager, Mobile and Communications Group Hermann Eul.
Here's hoping the company has better luck putting the brand on tablets than they did using it to market smartphones.
Intel bets big on two-in-ones
Intel put heavy emphasis on two-in-one devices at this year's IDF. The hyped hybrids received a great deal of attention during the keynote speeches, they were all over the exhibit floor, and models were shown at a number of after-hours events.
Asus Transformer Book Trio
Asus goes one step further than a two-in-one with its Transformer Book Trio.
This Core-i7-powered PC functions as a notebook when its display is docked to its keyboard, and a stand-alone Android tablet when the display is detached.
The keyboard unit, meanwhile, can be connected to an external display and function as an independent desktop PC.
Intel's photo display trick, part one
Intel presented a very cool photo-viewing technology demo at its booth. In this slide, the photos on this Sony Duo appear in windows that you can manipulate with a mouse or the touchscreen. But in the next slide...
Intel's photo display trick, part two
...sensors in the display portion of the two-in-one detect when it has been separated from the keyboard and present the images in more of a presentation format. The photos slide left or right as the display is tilted.
The Intel engineer presenting the demo said it was just that—a demo—and that manufacturers would need to add the feature to their own products.
Gigabyte's Brix Mini Gaming PC
Gigabyte showed off its NUC-like Brix Mini Gaming PC at its IDF booth.
Gigabyte says Intel's Core i7 CPU, with its Iris Pro integrated graphics, will render this palm-sized desktop computer capable of playing the most demanding PC games when it ships in December.
Gigabyte's Brix Projector PC
Road warriors who make frequent Powerpoint presentations will dig this Brix model. It packs a DLP video projector and a powerful PC into the same palm-sized package.
DDR4 memory is coming! (to servers, at least)
There's a lot more to IDF than consumer products. Memory vendors such as Kingston were on hand to display the next generation of server memory: DDR4.
This new type of memory promises higher refresh rates, better error correction, and lower power consumption. It will appear in servers next year, but it will be one to two years beyond that before it begins show up in consumer PCs.
Panasonic WiGig demo board
Now that the Wi-Fi Alliance and the WiGig Alliances have merged, the IEEE 802.11ad standard is finally gaining momentum. Several manufacturers were showing off WiGig prototypes, including this wireless SD card reader from Panasonic.
Intel's Thunderbolt 2
What's the fastest way to get 4K video in and out of a PC for editing? With Thunderbolt 2.
The new interface standard is backward-compatible with the original Thunderbolt, but the controller combines two bidirectional channels to achieve throughput of a staggering 20Gb/s (USB 3.0, in comparison, offers throughput of 5Gb/s).
And since Thunderbolt 2 incorporates the DisplayPort 1.2 specification, PCs equipped with the port will be able to transfer 4K video (resolutions up to 3840 by 2160 pixels) to and from an attached Thunderbolt 2 peripheral and output that video to a single 4K display at the same time. (Thunderbolt and DisplayPort 1.2 can daisy-chain as many as three lower-resolution—up to 1920 by 1200-pixel—displays).
Silicon Power Thunder T11 palm drive
Intel showed off more than 100 certified Thunderbolt peripherals at IDF, ranging from NAS boxes to pro-quality video-transfer systems. Silicon Power's Thunder T11 palm drive, $189, houses a 120GB mSATA SSD. (It's based on the original Thunderbolt technology, so it's limited to throughput of only 10 Gb/s.)
Corning's new optical Thunderbolt cable
Corning was on hand to show off its seemingly indestructible Thunderbolt optical cable. To demonstrate its resiliency, Corning reps bent the cable to a nearly 180-degree angle and shoved it in a block of Lucite. They later tied the cable into a knot. Nothing could prevent the digital signal from traveling from one end of the cable to the other.
Thunderbolt 2, by the way, is backward compatible with the original version of Thunderbolt and uses the same cable.
OC Main Event
Lest you conclude that IDF 2013 was focused only on mobile computing and servers, Intel, Asus, and Corsair sponsored the OC Main Event overclocking party on Tuesday night. Expert overclockers using liquid nitrogen set five new world benchmarking records that evening. We captured their efforts in a fantastic video of the event.
You may also enjoy:
Next Up: Check out these related slideshows
Today's Best Tech Deals
Picked by PCWorld's Editors