4 portable notepad apps to replace the default Windows notepad
pNotes review: Make sticky notes simple or fancy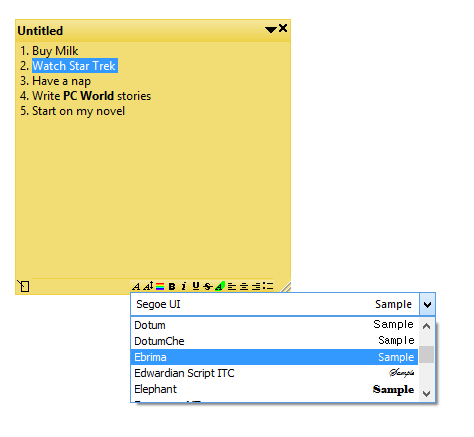 Today's Best Tech Deals
Picked by PCWorld's Editors
Top Deals On Great Products
Picked by Techconnect's Editors
At a Glance
Generic Company Place Holder pNotes
4 portable notepad apps to replace the default Windows notepad
Despite the name, pNotes is not a notepad as such. Instead, it is the digital equivalent of yellow sticky notes, and as anyone who is addicted to using the real paper ones will tell you, these things are incredibly useful for simple lists and notes.
PNotes is fantastic because it is so simple. When you want to make a note, you just click the sticky note icon in the WIndows taskbar, and a new note pops up on your screen. As well as just typing what you want to remember, you can also use a wide range of formatting options, such as line alignment, font color, font size, font type, highlighting, and bulleting. You can also strikethrough text, which is ideal for to-do lists. You can delete notes simply by closing them in the top right-hand corner with your mouse.
Note: The Download button takes you to the vendor's site, where you can download the latest version of the software.
Note: When you purchase something after clicking links in our articles, we may earn a small commission. Read our
affiliate link policy
for more details.
At a Glance
Generic Company Place Holder pNotes

Half sticky-notes and half notepad, this open-source utility is worth a look.

Pros

Various fonts, colors and other formatting available
Have lots of sticky notes appear on your computer screen

Cons

Cannot save notes as text files to the computer
4 portable notepad apps to replace the default Windows notepad
Shop Tech Products at Amazon