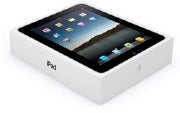 Hardly a day passes in the world of technology news without a story on Apple's iPad and the legion of supposed iPad killers lining up to take it down.
Recognizing the success Apple has had, a host of companies including Microsoft, HP, and RIM have announced plans to release tablet-style devices of their own.
Many of these devices won't hit the market until 2011. That fact has done little to quell the media speculation or consumer anticipation though. There have been stories devoted to why HP's tablets will be superior to the iPad, why the iPad will continue to dominate the market, and what Microsoft needs to do to compete against Apple's dominance.
The hype has become somewhat overwhelming. With the success of the iPad, Forrester Research has had to upwardly revise their market projections for tablet computers, and recently, Samsung executive Hankil Yoon made some bold predictions. According to a Wall Street Journal article , Yoon declared that Samsung's Galaxy Tab (which has yet to set a U.S. release date) would ship 10 million units and claim one-third of the tablet market by 2011.
As more and more consumers consider tablets, either in addition to or instead of a more traditional computer, they face a difficult decision. Should they go with the known factor in the iPad or wait for one of the unknown devices.
To iPad or not to iPad? What should you consider?
Will it last -- Tablets are like all new technology: exciting, intriguing, and seductive. Everyone wants to get their hands on the 'new' which can sometimes be costly -- see: the Microsoft Kin. With so many unknowns about the Microsoft, HP, RIM, and Android tablets, it's impossible to know if any will ever reach the heights of the iPad, or fall quickly into obsolescence. Verdict: To iPad
Competition -- On the other hand, nothing is more conducive to technological advancement than competition. Every other manufacturer is far behind Apple in the mobile market, considered by many to be the future of computing. All those companies, Microsoft in particular, have every reason to make sure their iPad killers are competitive, top-of-the-line tech devices that make them players in the market. If you're looking for 'the next big thing', competition is what you need. Verdict: Not to iPad
What's under the hood - Sure, the iPad has a sleek design, as is standard with Apple products. But what sets it, and Apple's other mobile devices, apart is what they run on. Apple has tailored their OS to the touch heavy tablet environment. In the past, other manufacturers -- such as Microsoft with its Windows Mobile OS -- have been guilty of simply trying to shoehorn their existing operating systems into mobile devices. Certainly, Windows Phone 7, Google's Chrome, and Android all have the potential to compete with the iPad, but until they've been seen in action, Apple has the edge. Verdict: To iPad
Viability -- Tablets are poised to become a central component in a constantly linked world. Their portability and ease of use make them attractive to any number of user markets. Already, the Wall Street Journal has reported that more and more businesses are considering adopting the iPad. Technological viability requires stability, usability, and top flight tech support -- Windows XP is a prime example. While Apple has made inroads, the expected Windows-based slates from Microsoft could allow for smoother and more seamless integration for many consumers, and ease is always a big selling point. Verdict: Not to iPad.
The Experience -- Forrester refers to it as 'curated computing', essentially the streamlined user experience of working with an iPad. Simple, straightforward, and linked to other Apple products, 'curated computing' provides the type of experience that entices mainstream consumers into purchasing a product. Considering the number of apps for everything from Netflix to e-book reading and everything in between, as well as the ability to use the iPad as an all-in-one entertainment device, other manufacturers will be hard pressed to match the 'iPad experience' any time soon. Verdict: to iPad.
In many ways the battle for tablet supremacy has barely begun. With so many variables still unknown when it comes to the iPad's competition, making a final ruling is difficult. However, in the end, that fact alone may show the tremendous mountain Apple's competitors have to climb. For many consumers, it may just be too long a wait to see if the challengers can meet the reigning champ's lofty standards.
David A. Milman, Founder and CEO of Rescuecom
This story, "To iPad or Not to iPad: That is the Tech Question" was originally published by Computerworld.