At a glance
Expert's Rating
Pros
Robust build quality
Excellent OLED display
Enjoyable keyboard and touchpad
Long battery life
Cons
Boring exterior design
Weak graphics performance
Could use another USB-A port
Our Verdict
The Asus Zenbook 14X OLED is a cheap, cheerful laptop that checks all the right boxes.
Price When Reviewed
$799.99
It's tempting to think the inexpensive Asus Zenbook 14X OLED, which retails for just $799.99, is little more than a vessel for delivering a crisp, beautiful OLED display. On the contrary, the 14X OLED is an inexpensive yet fundamentally great laptop that scores well in battery life, build quality, and day-to-day usability.
Looking for more laptop options? You'll definitely want to check out PCWorld's roundup of the best laptops available today.
Asus Zenbook 14X OLED: Specs and features
The headline feature is, of course, the 14.5-inch OLED display. It packs a resolution of 2880×1800 and a 120Hz refresh rate, specifications that put competitive laptops with 1080p displays to shame.
CPU: Intel Core i5-13500H
Memory: 8GB LPDDR5
Graphics/GPU: Intel Iris Xe
Display: 14.5-inch 2880×1800 120Hz OLED
Storage: 512GB SSD
Webcam: 1080p
Connectivity: 2x Thunderbolt 4 / USB-C, 1x USB-A 2.1, 1x HDMI 2.1, 1x 3.5mm audio jack
Networking: WiFi 6E, Bluetooth 5.2
Biometrics: IR webcam for Windows Hello facial recognition
Battery capacity: 70 watt-hours
Dimensions: 12.67 x 8.88 x .67 inches
Weight: 3.44 pounds
MSRP: $799.99
But the 14X OLED is more than a pretty screen. It has an Intel Core i5-13500H processor, which is a step up from the Intel Core i5 U-series and AMD Ryzen 5 series processors found in most competitors. And its most important traits are those that don't show up on a spec sheet—like a quality keyboard, durable design, and strong real-world battery life.
Asus Zenbook 14X OLED: Design and build quality
IDG / Matthew Smith
The Asus Zenbook 14X OLED, like most inexpensive Windows laptops, isn't much to look at. It's a humble slab of matte blue metal adorned only by a few subtle geometric shapes along the display lid. I must admit that I miss the classic "concentric circle" design of past Zenbooks, and I don't get why Asus hasn't continued to use that design on all Zenbook machines.
Looks aside, the 14X OLED is exceptionally well-built for its price point. Both the display lid and lower body show little flex when the laptop is handled, and the body panels hold up when pressure is applied. The Zenbook 14X OLED's build feels noticeably more durable than similarly priced alternatives like Acer's Aspire 3 14-inch, HP's Envy 14, and MSI's Prestige 14.
The Zenbook 14X OLED weighs 3.44 pounds, measures about a foot and a half wide, and is 0.67 inches thick. These figures are similar to alternatives like the Acer Swift X 14, Lenovo Slim 7i, and MSI Prestige 14. A few alternatives, like the LG Gram 14 Style, can significantly undercut the 14X OLED's size and weight—though at a higher price.
Asus Zenbook 14X OLED: Keyboard, trackpad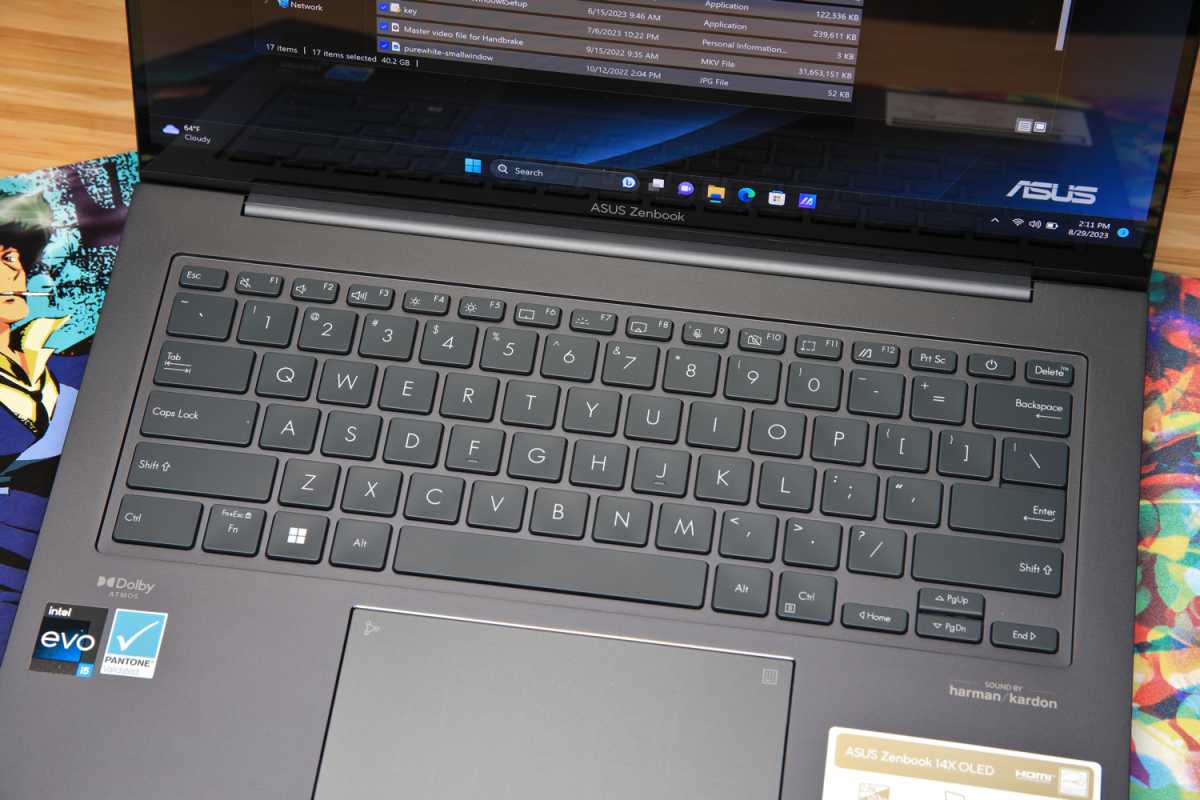 IDG / Matthew Smith
Asus provides a spacious keyboard for the Zenbook 14X OLED. Most keys are large and the layout feels immediately familiar. Key travel is respectable at 1.4 millimeters and keys bottom out with a precise action that provides a tad of tactile feedback. It's a great typing experience that outpaces most competitors.
The keyboard lacks a numpad (which is true of most 14-inch laptops), but Asus compensates with a touch-sensitive numpad that's hidden in the touchpad. It's activated by a long press of the touchpad's upper right corner. I don't think it's a great substitute for a real numpad, but it might work in a pinch.
The touchpad is otherwise typical of a budget Windows laptop. It measures five inches across and about three inches deep, providing a smooth, responsive touch experience. Multi-touch gestures are reasonably easy to use, although the touchpad's size can feel a little limiting. It's certainly not the best touchpad available, but it does the job.
Asus Zenbook 14X OLED: Display, audio
IDG / Matthew Smith
The Asus Zenbook 14X OLED includes "OLED" in its name for a reason. The 14.5-inch OLED touchscreen, which delivers a resolution of 2880×1800, is the laptop's most appealing feature.
OLED panels have a reputation for excellent contrast and color performance, and the 14X OLED is no exception. It provides an infinite contrast ratio that can reach a perfect minimum luminance of zero nits. Dark, nuanced content provides an immersive, alluring, and lifelike experience with excellent detail in dimly-lit scenes.
The display also has an excellent color gamut that covers 100 percent of DCI-P3 and 97 percent of Adobe RGB. This color performance is similar to competing laptops that use the same OLED panel—and there's a lot of them. Still, it's impressive to see this level of color quality in an affordable laptop.
The OLED panel can only reach a maximum SDR brightness of 335 nits, which is a bit weak. However, laptops in this price category often have panels that are not as bright as those in laptops sold for $1,000 and above, so this downside is less of a disadvantage in the 14X OLED than in more expensive laptops. The 14X OLED's brightness is fine for use indoors, but can feel inadequate outdoors or near large, sunlit windows.
Brightness improves to 513 nits in HDR mode, though this remains insufficient for great HDR performance (at brightness of 1,000 nits or better is preferred). HDR is disabled when the laptop is on battery power, too, so you can't watch HDR movies on the go. This isn't a problem exclusive to the 14X OLED: all Windows laptops with HDR I've tested had the same restriction.
The display panel has a pixel density of roughly 234 pixels per inch—a major improvement over 1080p resolution, which provides roughly 155 pixels per inch on a panel of similar size. The difference might be hard to discern on the Windows desktop, but the added sharpness is noticeable when viewing high-quality video content or editing high-resolution photos.
The 14X OLED's audio quality matches the impressive display. Audio comes through clear and crisp with minimal distortion through the mid-range, even at high volumes. The speakers are downward-firing, which can muffle the volume when the laptop is used on your lap. But, because the speakers are strong to begin with, they still outperform most competitors.
Asus Zenbook 14X OLED: Webcam, microphone, biometrics
A 1080p webcam is integrated into the slim upper bezel of the Asus Zenbook 14X OLED. It provides good image quality with decent sharpness and acceptable color reproduction, but it retains the grainy and muted look of a webcam. Most Windows laptops introduced in 2023 are upgrading to 1080p webcams, so the 14X OLED's webcam doesn't stand out from the crowd.
However, Asus includes an infrared camera with support for Windows Hello facial recognition login. This is an unusual but appreciated upgrade for a laptop priced under $800. Windows Hello facial recognition is quick, easy to use, and works even in a dimly lit room.
The built-in microphone array has strengths and weaknesses. It captures clear audio with good volume even when leaning away from the laptop, but the microphones also tend to pick up background noise. The 14X OLED sounds good in voice and video calls, but shoppers with a talkative canine companion or a loud window AC should be wary.
Asus Zenbook 14X OLED: Connectivity
IDG / Matthew Smith
The Asus Zenbook 14X OLED packs a pair of Thunderbolt 4 ports (which also support USB-C) alongside one USB-A port and one HDMI 2.1 port. A 3.5mm audio-out jack rounds out the options.
That's an acceptable but unremarkable range of connectivity for a modern laptop. The most notable pain point is the lonely USB-A port: there's plenty of situations where a second port would prove useful. The laptop also lacks an Ethernet port, so those looking for a wired Internet connection will need to use a USB-C to Ethernet adapter.
Both Thunderbolt 4 / USB-C ports support Power Delivery, and the laptop ships with a 90-watt USB-C power brick. The power brick is a compact square unit measuring three inches across and about an inch thick. This gives Asus an edge over some competitors: some inexpensive laptops still use old-school barrel-plug power adapters.
Wireless connectivity spans Wi-Fi 6E and Bluetooth, as is true of nearly all Windows laptops sold in 2023. Wi-Fi performance was solid with strong download speeds of up to one gigabit per second, the maximum possible over my home WI-FI network.
Asus Zenbook 14X OLED: Performance
Intel's Core i5-13500H powered the Asus Zenbook 14X OLED I reviewed (a Core i7-13700H is available for an extra $200). The i5-13500H packs four performance cores and eight efficient cores for a total of 12 cores and 16 threads. It also has a maximum Turbo frequency of 4.7 GHz. The 14X OLED I tested paired this processor with Intel Iris Xe graphics, 8GB of memory, and a 512GB solid state drive.
IDG / Matthew Smith
The Zenbook 14X OLED has a mediocre showing in PCMark 10, a holistic system benchmark. Blame the laptop's integrated graphics—this benchmark does include a graphics test, so any laptop with lackluster graphics performance will fall behind. With that said, the 14X OLED's performance in this test is broadly in line with what I expect for the price, and the laptops which outperform it are more expensive.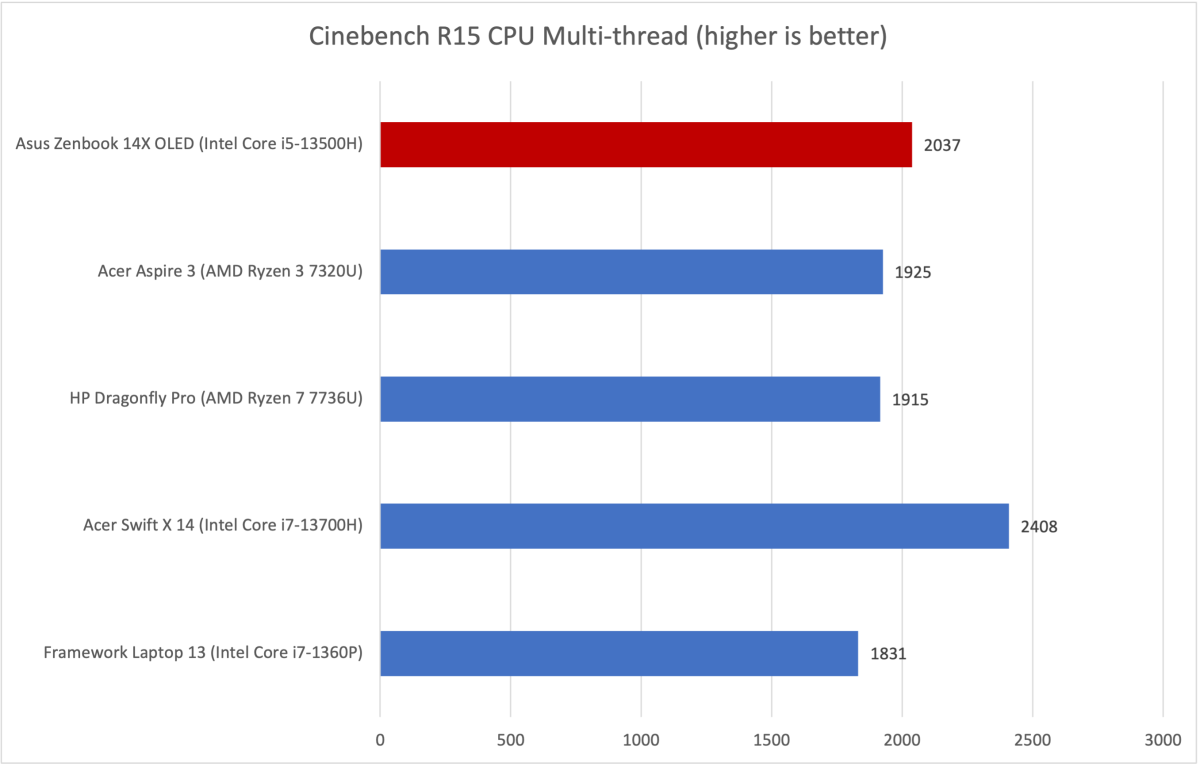 IDG / Matthew Smith
Cinebench R15, a short-duration multi-core benchmark, provides a strong result for the Asus Zenbook 14X OLED. It hit a score of 2,037, which beats most laptops used for comparison and only falls notably behind the Acer Swift X 14. That's fair, as the Swift X 14 is much more expensive (it retails for $1,599) and has an Intel Core i7-13700H processor.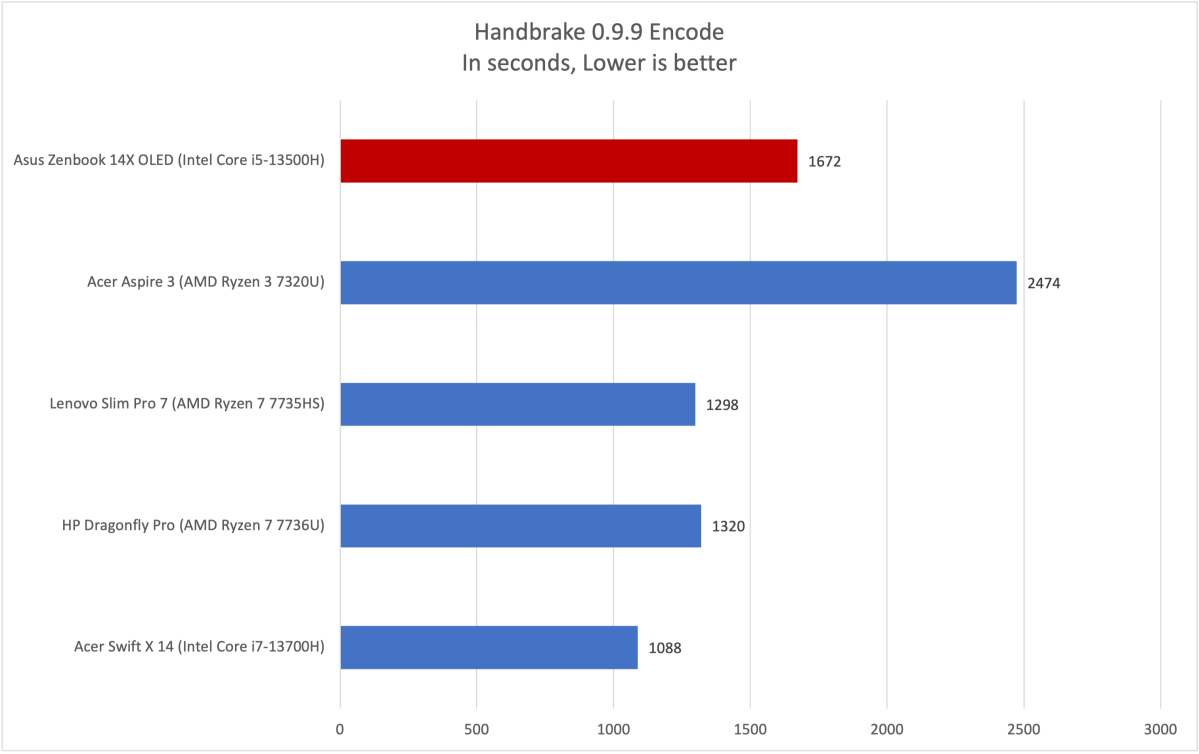 IDG / Matthew Smith
The Handbrake result is arguably less favorable to the 14X OLED, though it's a nuanced debate. Intel's Core i5-13500H struggles to keep up with AMD's Ryzen 7 7000-series chips, which have an edge of roughly 25 percent. However, both of the AMD Ryzen 7 laptops are several hundred dollars more expensive, so an edge in performance could be expected. As mentioned, Asus offers an upgraded Zenbook 14X OLED with Intel's Core i7-13700H for $999.99, which presumably would compare better against the Ryzen 7 competition.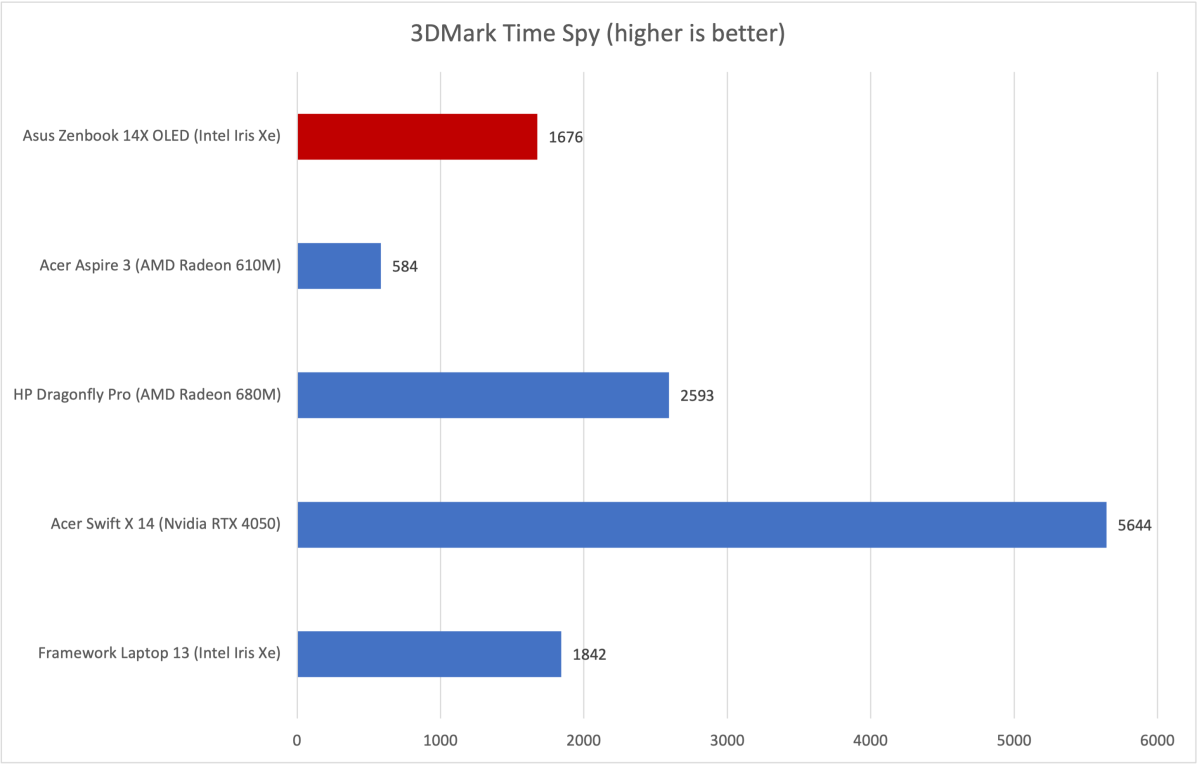 IDG / Matthew Smith
The Asus Zenbook 14X OLED's processor performance isn't stellar, but it's respectable for the price. I'm not sure the same can be said of its graphics performance, as Intel's aging Iris Xe struggles.
3DMark Time Spy delivered a score of 1,676, which is towards the low end of what I expect from laptops with Intel Iris Xe graphics (most score between 1,600 and 2,000). This is a big upgrade from bottom-dollar alternatives, like the Acer Aspire 3, but also way short of AMD laptops with the company's top-tier Radeon 680M graphics. A laptop with discrete graphics, like the Acer Swift X 14, will blow the doors off the Zenbook 14X OLED.
That's a bit disappointing. To be fair, few Windows laptops sold below $800 have discrete graphics, and those that do are usually budget gaming laptops which don't compete directly with the slimmer, lighter 14X OLED. Shoppers looking for a 14-inch laptop with acceptable 3D graphics performance should up their budget.
Asus Zenbook 14X OLED: Battery life
Asus crams a 70 watt-hour battery into the Zenbook 14X OLED. Its capacity is average for a 14-inch laptop, but the laptop's lack of discrete graphics and otherwise modest specifications help to achieve strong results in battery tests.
IDG / Matthew Smith
The 14X OLED lasted 10 hours and 32 minutes in our standard battery test, which loops a 4K trailer of the short film Tears of Steel. That's a good result for our test, and the 14X OLED leapfrogs many laptops of similar size.
Also, as mentioned earlier, the laptop charges over USB-C and ships with a compact 90-watt power adapter. The laptop's solid battery life means you can leave it at home for day trips, but it won't take up excess room if you need it.
Asus Zenbook 14X OLED: Should you buy it?
The Asus Zenbook 14X OLED is an excellent choice for if you want a simple, sensible laptop that nails the fundamentals of a good laptop experience at a low price. It's possible to find laptops that are slimmer and lighter, or larger and more powerful, at this price point—but they often make sacrifices in display performance, keyboard quality, or battery life. The 14X OLED not only avoids these problems, but delivers results that are often comparable with more expensive laptops. That makes for great value.