At a glance
Expert's Rating
Pros
Strong contrast ratio
Excellent color performance
Sturdy design and stand
Plenty of video input
Cons
Setup requires a screwdriver
Stand lacks ergonomic adjustment
Motion clarity could be better
Our Verdict
The Dark Matter 35-inch Zero-G Curved Ultrawide V2 packs great image quality and a high refresh rate at an appetizing price.
Best Prices Today: Monoprice 35in Zero-G Curved Ultrawide Gaming Monitor V2
Shoppers looking for a budget ultrawide monitor have no shortage of choice, but sorting the wheat from the chaff is difficult. Many top-listed monitors from Amazon are from unknown brands, and multiple generations of monitors are sold side-by-side with little hint at which is best. Fortunately, Monoprice's 35-inch Zero-G Curved Ultrawide V2 provides some clarity in this confusion. It's a great inexpensive ultrawide well suited to games, movies, and day-to-day productivity.
Further reading: See our roundups of the best ultrawide monitors and best gaming monitors to learn about competing products.
Monoprice 35-inch Zero-G Curved Ultrawide V2: What are the specs?
Monoprice's 35-inch Zero-G Curved Ultrawide V2 has specifications comparable to most 34- and 35-inch ultrawide monitors, especially those sold below $1,000. This includes a resolution of 3440×1440, a refresh rate of 120Hz, and AMD FreeSync support.
Display size: 35-inch ultrawide
Native resolution: 3440×1440
Panel type: VA LED edgelit
Refresh rate: 120Hz
Adaptive Sync: AMD FreeSync
HDR: No
Ports: 2x HDMI 2.0, 2x DisplayPort 1.4, 3.5mm audio-out
VESA mount: 75x75mm
Speakers: None
Price: $399.99 MSRP
The 35-inch panel is a bit different from the more common 34-inch panels found on ultrawide monitors, but it's virtually impossible to distinguish between the two without a direct comparison—and even then, it's subtle.
Monoprice 35-inch Zero-G Curved Ultrawide V2: Design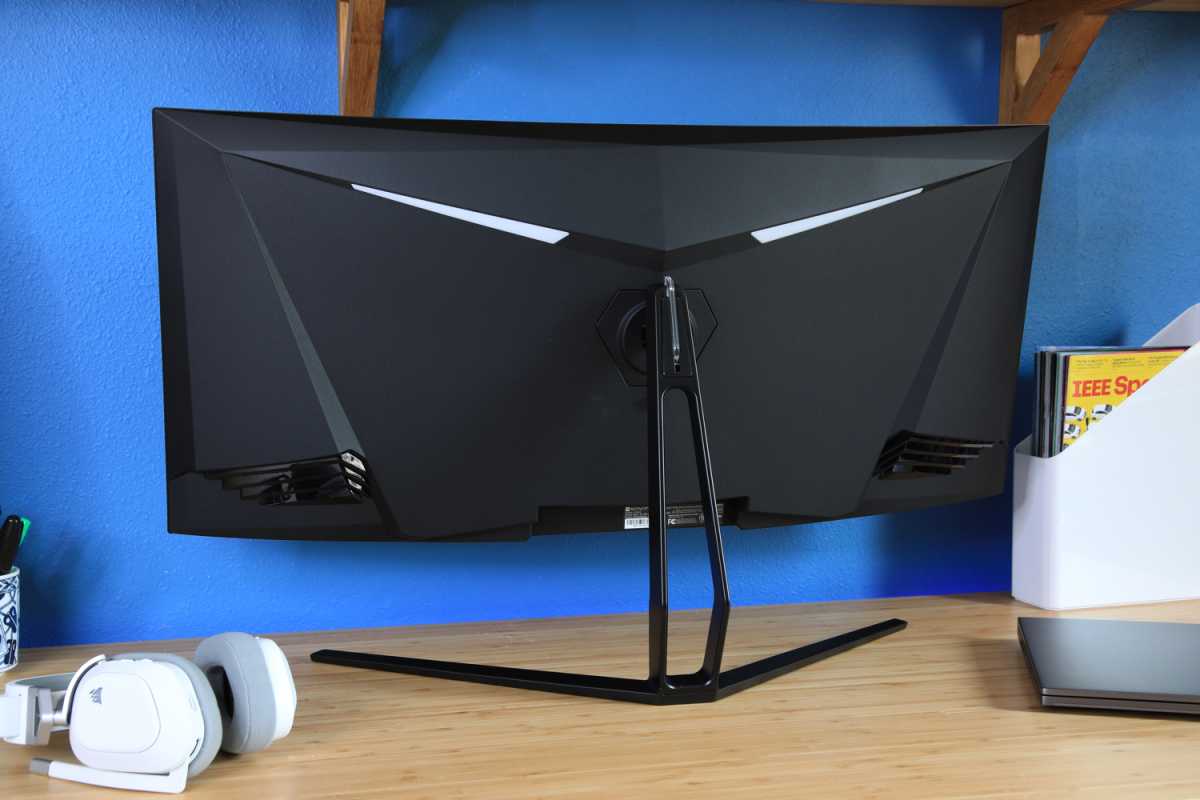 Matt Smith
The Monoprice 35-inch Zero-G Curved Ultrawide V2 is an inexpensive monitor for its size, but far from the cheapest—fortunately, its build quality holds up. Plastic dominates the display bezels and rear panel, as is true for nearly all monitors, but panels feel firm in-hand and most plastic surfaces have some texture, which provides a sense of luxury and rigidity.
Monoprice's design is generic but does the job. Matte black is the only colorway available. A pair of LED accent lights provide a bit of flair, but they're dim and provide few options for color and lighting pattern. The monitor looks best from the front, where its slim display bezels and thin, all-metal stand offer a professional look.
The stand, though rigid and attractive, is a drawback. It requires far more assembly than most monitor stands: Several screws are used to connect the base and neck of the stand, followed by a pair of screws to connect the neck to the mounting bracket. The bracket then clips into the monitor.
You receive no reward for completing the stand's assembly, as it only adjusts for tilt. Height, swivel, and rotation adjustment aren't available. The default height was fine for me (I'm just over 6 feet tall) but taller users may find it too low.
The monitor is compatible with a 75x75mm VESA mount, at least. This is less common than the almost universally used 100x100mm VESA mount, but many third-party monitor arms support it. The 75x75mm mount requires an adapter that's included with the monitor.
Monoprice 35-inch Zero-G Curved Ultrawide V2: Features and menus
A pair of HDMI 2.0 ports and a pair of DisplayPort 1.4 ports provide the Monoprice 35-inch Zero-G Curved Ultrawide V2 with its video connectivity. That's a healthy selection of ports, and all ports can drive the monitor at its native resolution of 3440×1440 and maximum refresh rate of 120Hz. Most ultrawide monitors at this price point have just three video inputs.
The video ports are joined by just one additional port: a 3.5mm audio jack. There's no USB connectivity available. That's certainly a disappointment, though not unexpected for an ultrawide monitor in this price bracket. Most competitors also lack USB connectivity, or, if it's included, stick to just two USB-A ports.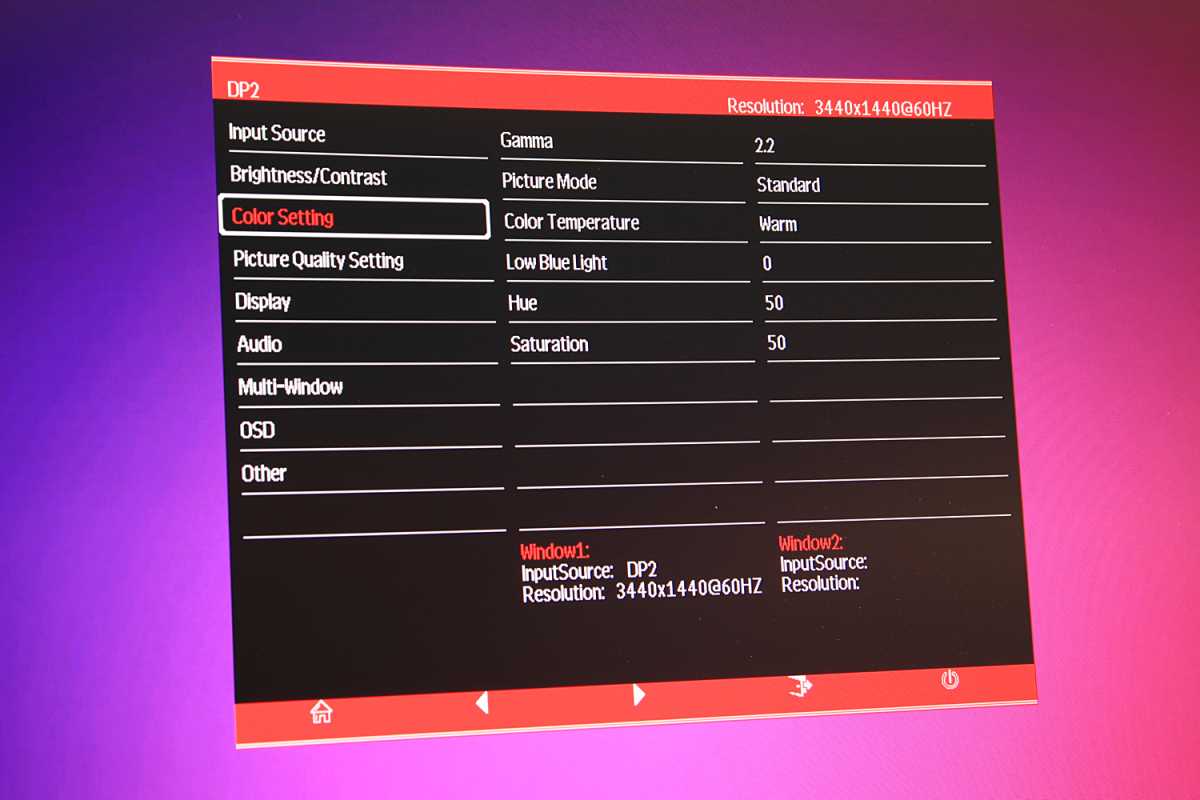 Matt Smith
A set of old-school clicky buttons are used to navigate the on-screen menu system. They're less intuitive than a joystick, as the direction in which buttons are pressed can sometimes seem contrary to the direction of movement within the menu. The menus are well-labeled, however, and the buttons respond immediately to input.
The range of image quality customization is solid for an inexpensive gaming ultrawide. It includes several gamma modes that target precise game values, a couple color temperature modes, and color calibration for hue and saturation. Monoprice also supports picture-in-picture and picture-by-picture modes, which are always handy on an ultrawide monitor.
How is the Monoprice 35-inch Zero-G Curved Ultrawide V2's SDR image quality?
Monoprice opts for a VA panel in the 35-inch Zero-G Curved Ultrawide V2. VA panels are common among inexpensive ultrawide monitors and usually provide solid image quality, and the Monoprice 35-inch is a fine example of the breed.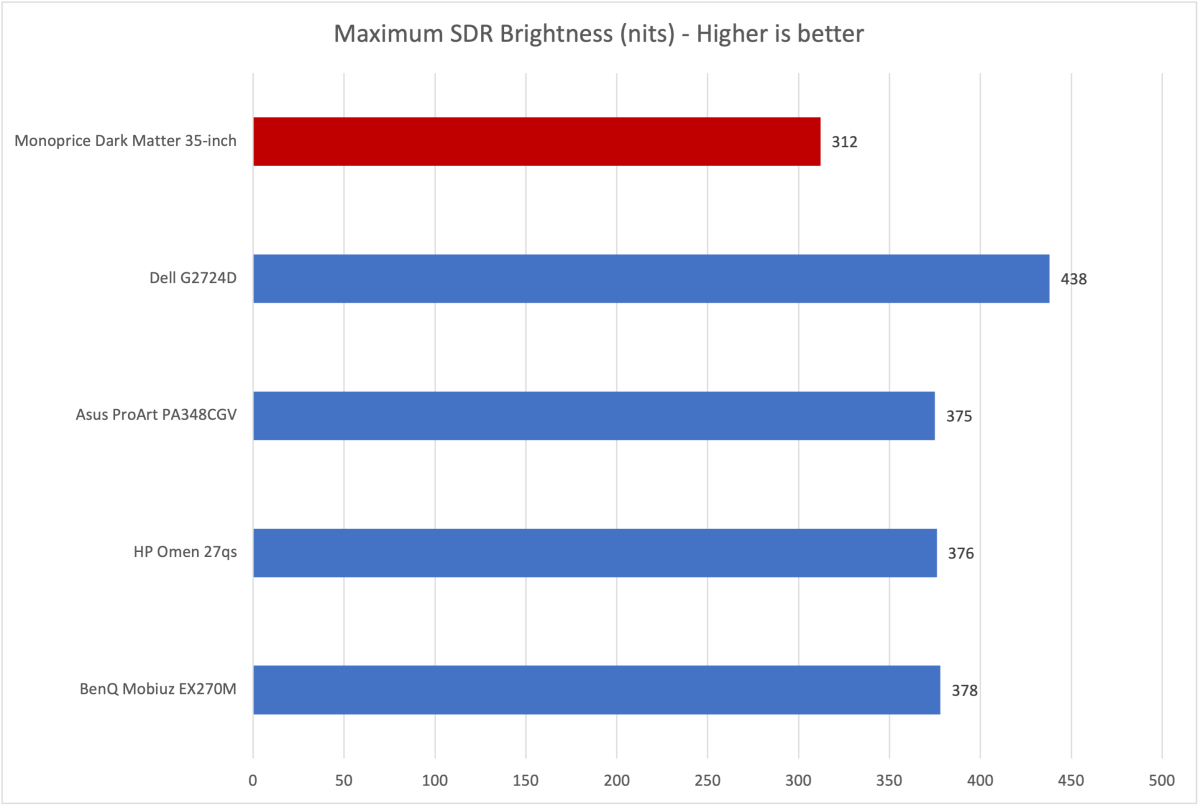 Matt Smith
Brightness is a weakness of the Monoprice 35-inch. It achieves a maximum SDR brightness of just 312 nits, which can't match up to most similarly priced monitors. Its low level of brightness means the monitor can look dim in brightly lit rooms and is better suited to a room with light control. It probably won't be a problem in a typical home office or gaming den, but could be an issue if you have large windows that face the sun.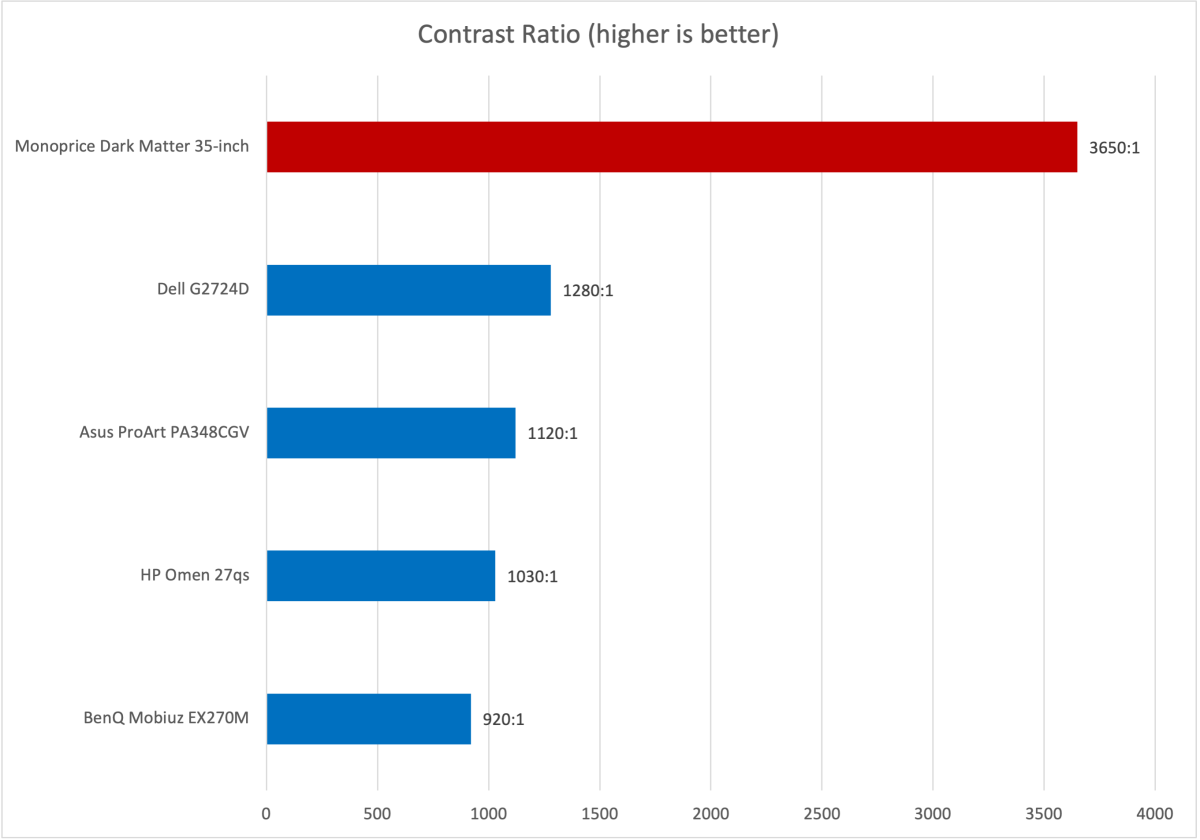 Matt Smith
Contrast, on the other hand, clearly favors this ultrawide. It provides a VA panel which, due to the way the crystals inside the monitor function, is better at blocking unwanted light from the backlight. This eliminates the hazy, grayish "IPS glow" common to many budget and mid-range monitors that use an IPS panel.
The Monoprice 35-inch's superior contrast, which it achieves through reaching a lower minimum luminance, is important if you plan to use the monitor in a dim room. This monitor will have a deeper, more immersive look than many competing monitors.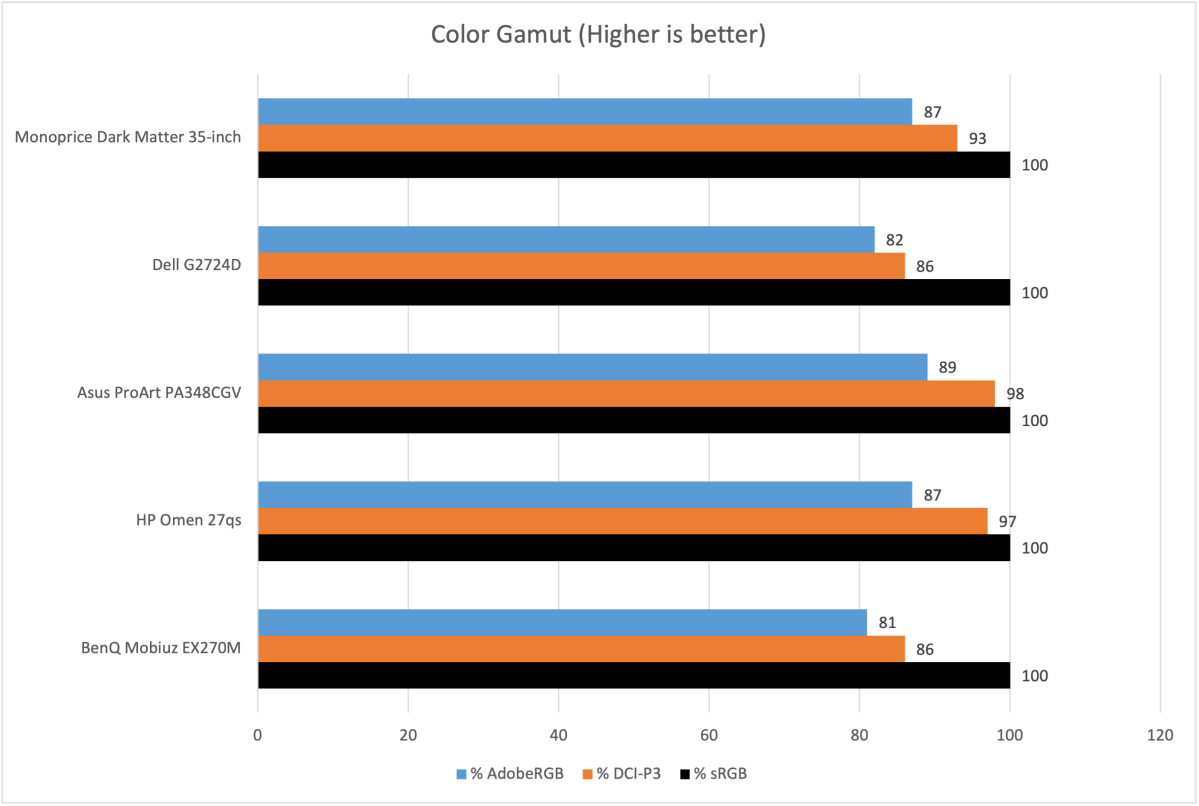 Matt Smith
The Monoprice 35-inch's color gamut is respectable, but not outstanding. It provides 93 percent of DCI-P3 and 87 percent of AdobeRGB. That's better than some budget gaming monitors, like the Dell G2724D, but behind mid-range displays like the HP Omen 27qs and Asus ProArt PA348CGV.
However the Monoprice 35-inch's color gamut is well suited for its purpose. The monitor targets gaming, entertainment, and general use, all of which should be well-served by this color gamut. Demanding creatives might find it limited, though, and should consider an upgrade to the more expensive Asus ProArt ultrawide.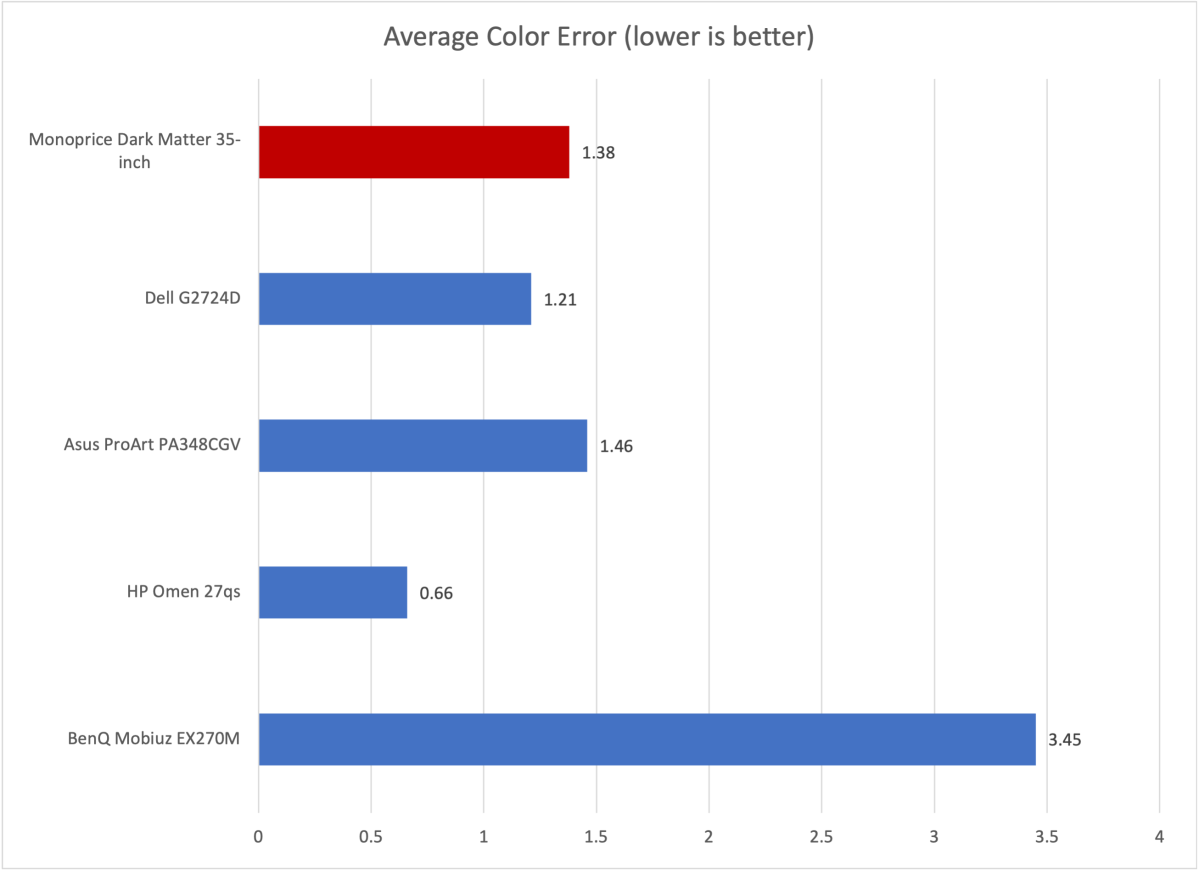 Matt Smith
Color accuracy is strong, as well. The Monoprice 35-inch doesn't leap out of the pack but remains accurate enough to provide lifelike, realistic color that most users shouldn't feel a need to adjust or calibrate. However, the monitor offers RGB hue and saturation adjustments to tune the color if you feel it's needed.
The Monoprice 35-inch's gamma was off-kilter at default settings, returning a gamma reading of 2.5 even while the on-screen menu claimed I should see a result of 2.2. This means the default image looks darker and less luminous than it should, which can crush details out of subtle, shadowy scenes. Fortunately, the problem was fixed by adjusting the gamma setting to 2.0, which resulted in a real gamma reading of 2.2—precisely what I expect from a computer monitor.
best ultrawide for creative professionals
Asus ProArt PA348CGV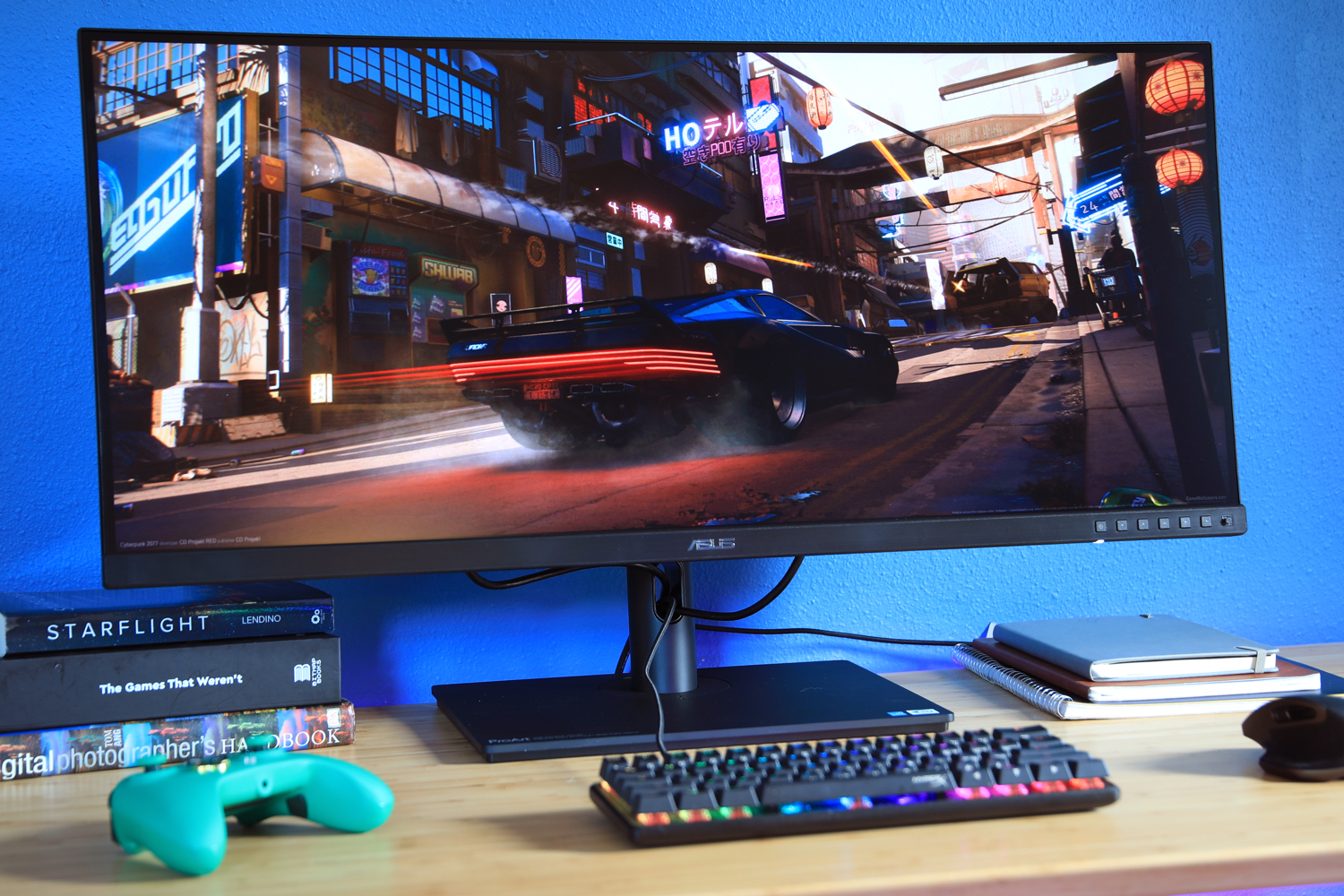 Price When Reviewed:
729.99
Color temperature was 6800K at default settings, which is close to the ideal of 6500K. This indicates the image looks a tad cooler than I would prefer, but I doubt most people (myself included) would immediately notice.
Sharpness is rather good, as the monitor's 3440×1440 resolution provides a pixel density of 106 pixels per inch. This is similar to a 27-inch 1440p monitor, which provides roughly 108 pixels per inch—and better than a 27-inch 1080p monitor, which has just 82 pixels per inch. High-contrast edges and small fonts look sharp from a typical viewing distance of 3 feet, though close inspection can reveal some jagged edges. Games and movies don't look as sharp as a 4K monitor but still provide impressive detail.
The Monoprice 35-inch is not a perfect monitor, but it has far more perks than problems. It provides a high-contrast, colorful, and sharp image that looks vivid and punchy at default settings. It will generally look better than IPS alternatives, especially in movies and games, which are typically viewed in a dark or dim room. An OLED ultrawide like the Alienware AW3423DWF will prove superior, of course, but OLED alternatives are often at least twice the price—and I'm not sure they look twice as good.
How is the Monoprice 35-inch Zero-G Curved Ultrawide V2's HDR image quality?
HDR is not supported on the Monoprice 35-inch Zero-G Curved Ultrawide V2. It was able to accept an HDR signal in my testing, but image quality was extremely poor, and HDR support is not listed on the monitor's specification sheet. This is just as well: The monitor's obviously not bright enough for attractive HDR, so advertising HDR support would be misleading.
How is the Monoprice 35-inch Zero-G Curved Ultrawide V2's motion clarity?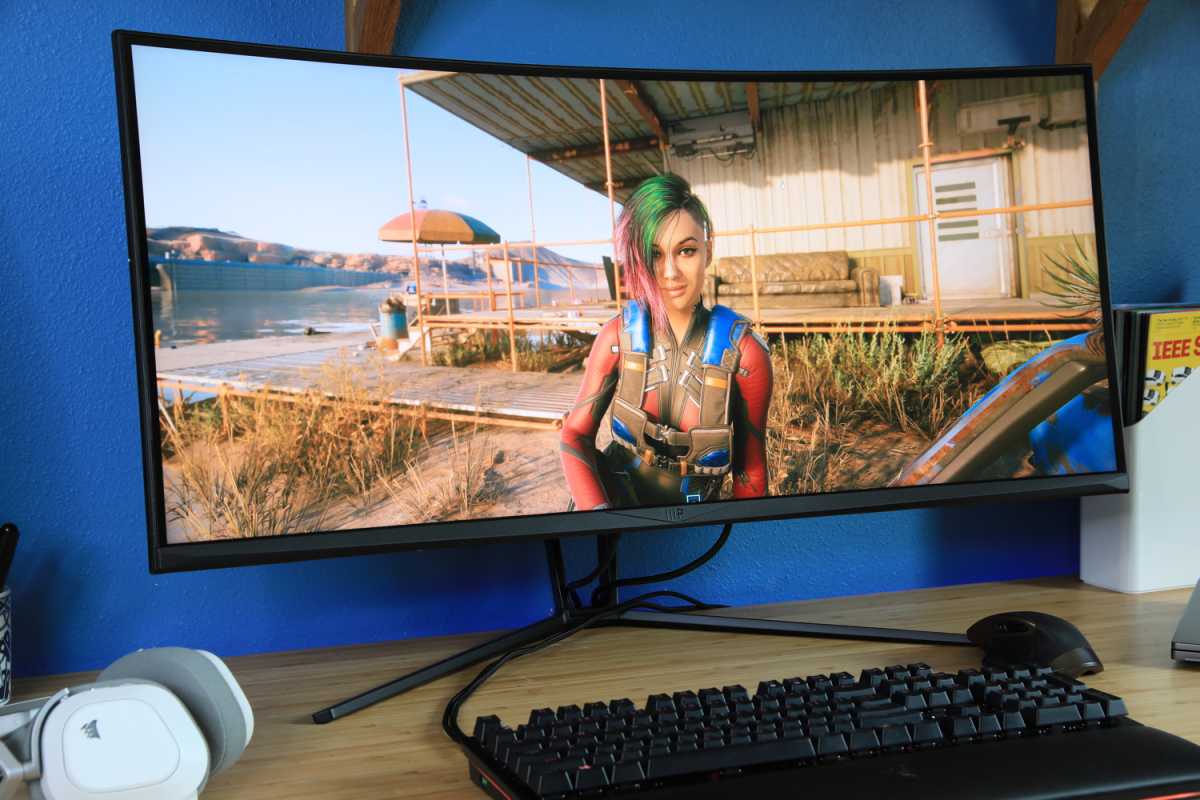 Matt Smith
The Monoprice 35-inch Zero-G Curved Ultrawide V2 is a 120Hz monitor and provides official AMD FreeSync support (Nvidia G-Sync should work, too, but support is unofficial). The monitor provides smooth, responsive motion that feels enjoyable in fast-paced games. It doesn't beat the competition, but it's on par, and a definite upgrade over a 60Hz ultrawide.
Motion clarity, however, is a problem. The 120Hz refresh rate is a boon, but the VA panel has a relatively high quoted response time of 8 milliseconds (which can drop to 4 milliseconds when the "Overdrive" mode is turned on). Most IPS monitors achieve a response time of one to four milliseconds.
The result? A fair bit of motion blur, especially for a 120Hz monitor. Blur is most obvious in dark areas of the image, which often display long, dark trailers in motion. This is a known downside of VA panels that's often known as "dark smear," as it only occurs in dark areas of an image.
I don't think it's a deal-breaker for most shoppers, but it's important to keep in mind. Gamers who want excellent motion clarity at this price will need to look at competitors with an IPS panel. The options at this price are few, but the AOC U34G3X and Innocn 40C1R are two such examples.
Is the Monoprice 35-inch Zero-G Curved Ultrawide V2 worth it?
The Monoprice 35-inch Zero-G Curved Ultrawide V2 is an excellent choice for those looking to buy a quality ultrawide monitor at a more affordable price. It's a versatile, attractive display with excellent image quality that outpaces many similarly priced alternatives. The monitor's complicated stand, which doesn't adjust for tilt, is a downside, and motion clarity could be better, but Monoprice's build quality and design holds up well. The Monoprice 35-inch is an easy recommendation at $399.99, and at this writing can be found for as low as $269.99.
Best Prices Today: Monoprice 35in Zero-G Curved Ultrawide Gaming Monitor V2