SLIDESHOW
Windows 8.1 surprises: 25 hidden features and little extras
Tiles. Files. Apps and Snaps. The update's jam-packed with little things that add up to a big improvement over Windows 8.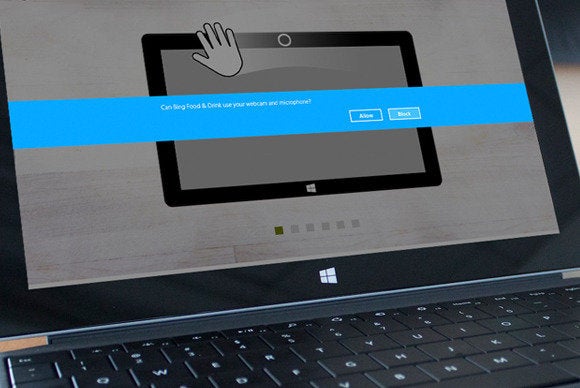 It's the little things that count
Sometimes, it's the little things that make a big difference, and that's definitely the case with Windows 8.1. Even after covering the update's best new features, its five most compelling improvements, and its most intriguing secrets, there's still plenty to discover. And the operating system doesn't actively point you to some of the cooler things it has on tap.
No more!
Discover a universe of hidden extras that range from the mundane to the mind-blowing. You could spend hours scrounging for them all—or you could just read this article. Enjoy.
Look Ma, no hands
One of Windows 8.1's coolest tricks is buried deep in the new Food & Drink app. The app is chock-full of recipes for all sorts of delectable goodies, but touchscreens and foodstuffs don't mix so well. Enter hands-free mode.
In hands-free mode, waving your sauce-stained hand in front of your device's webcam flips through the steps of the recipe. Your touchscreen stays clean, your food gets cooked, and the whole thing is so novel (yet practical!) that it feels like magic.
SkyDrive app as modern File Explorer
SkyDrive knits itself thoroughly into Windows 8.1, as evidenced by the invitation to save all your photos and files to the cloud upon installing the update, and its prominent spot in the desktop File Explorer.
Microsoft's cloud service fills the much-needed role of a modern UI File Explorer in Windows 8.1 as well, allowing you to browse your files from the finger-friendly interface. Simply open SkyDrive, click the big SkyDrive name at the top of the screen, then select This PC from the drop-down menu. FINALLY.
One app, many windows
The ability to dynamically readjust the "Snap" ratio of multiple apps opened side by side is a small, yet major improvement in Windows 8.1, but one of Snap's auxiliary features isn't getting much airtime. Windows 8 allowed you to have only one modern app open in a single "window" at a time; you couldn't, for example, snap two different instances of Internet Explorer next to each other.
Now you can in Windows 8.1—at least with IE11, the app that needs the capabilities the most. You can't just Snap the app to one side and open it again, though. You'll need to press and hold or right-click on a link in IE11, then select Open in a new window to take advantage of the feature. Other apps don't appear to offer multi-window capabilities, alas.
IE 11 Reading View
Internet Explorer 11 is one of the slickest touch-friendly browsers around, and buried within is a setting that makes browsing the Web even more pleasant: Reading View. Reading View strips the clutter (and ads!) from the article you're, well, reading and presents the info in a pleasant, horizontally scrolling format.
To enable Reading View, just click the open-book icon on the right side of IE 11's address bar. Here's a look at a PCWorld article displayed in standard view…
IE 11 Reading View, part deux
…and the same article displayed in IE 11's Reading View. Yummy.
Automatic app updates
Windows 8 required you to dive into the Windows Store and manually update your modern apps. Windows 8.1 handles the busywork in the background—if you activate the option. Launch the Windows Store, then open the Settings charm and select App Updates. Here, ensure that the 'Automatically update my apps' option is set to On. Voila!
Restarting apps
In Windows 8, dragging apps down off the bottom of the screen closed them. In Windows 8.1, it only hides them—the app continues to run in the background. If you want to restart an app completely, drag it down until just the top half of it is peeking up from the bottom of the screen. Hold it there, and after a few seconds you'll see the tile spin around to show the app's icon. Reboot complete!
Major Mail tweaks
Microsoft tweaked Windows 8.1's Mail app far more than any other native app, and the beauty here is more than skin-deep. Opening hyperlinks in Mail automatically opens the page in a Snapped version of Internet Explorer 11, allowing you to browse the site without leaving your inbox (assuming IE is set as the default browser and can run in the modern environment, that is). It's a small change, but a huge boost in usability.
Another small, yet crucial addition: You can now drag and drop mail to other folders. Again: FINALLY.
Batch app-editing tools
Tinkering with apps and Live Tiles in Windows 8 was an exercise in tedium: You had to delete or resize apps manually, one by one. In Windows 8.1, entering the Start screen's Customize mode (right-click on an empty part of the Start screen, then select Customize in the bar that appears at the bottom of the screen) lets you select several apps simultaneously, then move or resize their tiles or uninstall the apps completely en masse. Huzzah!
To see additional controls, open the Search and apps section in the modern PC Settings and then navigate to the App Sizes menu. You can see how much space each app is chewing up and delete any hogs if desired.
New Live Tile sizes
And while we're talking Live Tiles, did you notice the new, itty-bitty Small and great big Wide resizing options?
Library support for removable media
Yep, Windows 8.1 disables Libraries by default, though it's easy to turn them back on. But wait! Don't stop there. Libraries in Windows 8.1 now let you include locations on removable storage—something you couldn't do in Windows 8 vanilla.
That matters because Windows 8.1 ships on numerous laptops, hybrids, and tablets with space-limited flash storage or solid-state drives. If you plan on watching videos on your Windows tablet, for example, a removable thumb drive is virtually a must-have. Continuing the example, you can now have the flicks that are stored on your thumb drive appear in your Videos library when it's connected.
Just right-click a library and select Properties > Add… and continue from there to integrate additional folders.
Camera and Skype apps on the lock screen
There are even new features available right at the start of the Windows 8.1 experience: You can now access the Camera app straight from the lock screen, for those times when you need to take a snapshot lickety-split. It won't mean much to proper PC users, but it's a helpful touch for early adoptees of Windows 8 or Windows RT tablets.
That's not the only change: You can now answer Skype calls and messages straight from the splash screen, too.
Camera app improvements
The little tweaks continue once you actually open the Camera app, which can now take panoramic pictures in the style of Microsoft's Photosynth app (seen at left)—though the feature isn't supported on all hardware, even if you have a webcam. (An icon will appear if your device is compatible with the feature.) The Camera app also packs a BlackBerry-10-esque Photo Loop, which takes a bunch of pics in rapid succession and then lets you choose the best one(s) to keep.
Quiet hours
With Windows 8, Microsoft mashed disparate desktop and mobile elements into a singular whole. One of those mobile elements is app notifications, which pop up with a sound. In standard use, notifications are pretty wonderful (though a discrete notification center would be nice). But if you're using a tablet or you leave your PC on 24/7, those subtle chimes can become an ongoing annoyance.
Rejoice! Windows 8.1 adds a Quiet Hours setting that lets you silence notifications (and calls, optionally) for specific times of the day. Open the Settings charm, navigate to Change PC Settings > Search and apps > Notifications, then scroll down a bit.
Secret desktop shutdown
Sure, you can eradicate Metro from Windows 8.1 if you like, but shutting down your device requires a multistep jaunt into the charm bar, right? Wrong.
To shut down from the desktop, right-click on the returned Start button to bring up a hidden power menu, then hover over Shut down or sign out to bring up a list of log-off options.
Secret desktop bliss
Speaking of the desktop, right-click on your taskbar, select Properties, then open the Navigation tab—a new addition to Windows 8.1. Inside, you'll find a bounty of tools with a pro-desktop bent, letting you disable some hot corners, boot directly to the desktop, and more.
All Apps sorting
One of those options is to launch the All Apps screen, rather than the modern Start screen, when you click on the desktop's Start button. New to the update, you can also open the All Apps screen either by clicking the small arrow in the lower-left corner of the tiled Start screen or swiping up on a touchscreen device.
The All Apps screen itself sports had a much-needed makeover in Windows 8.1. A static list in Windows 8, the Windows 8.1 iteration allows you to sort your apps by name, date installed, most used, or category. The secret taskbar menu mentioned previously lets you have desktop programs appear first on the list.
Finagling with Photos
The Photos app may have lost its Facebook and Flickr integration, but it has gained a handful of basic photo-editing tools. It's no Photoshop, but you're now able to crop images, adjust the focus and color, and add numerous effects from directly within the app itself.
Miracast wireless display support
Windows 8.1's future-facing capabilities don't end with hand-waving, though. You can also wirelessly beam your modern-style apps to a discrete display—if your Windows 8.1 device supports the nascent Miracast standard (as the Surface Pro does), and if the receiving display does as well. (You can also buy set-top boxes that support Miracast, like the Netgear Push2TV.)
If you check all those boxes, WithinWindows has a detailed explanation of how to get rolling with Windows 8.1's wireless display support. For most people, though, this is a hidden feature that will remain hidden until Miracast gets wider support.
The cutting-edge of printing
In another bout of future-proofing, Microsoft built robust 3D-printing support into Windows 8.1, so printing real things will be as seamless as printing stacks of paper.
Microsoft is pushing the bleeding edge of printer technology even if you're stuck in two dimensions, however. Windows 8.1 packs in support for NFC tap-to-print and Wi-Fi Direct printing. Who needs local networks?
New (and super) sync settings
SkyDrive was a big deal in Windows 8, but it's an integral part of Windows 8.1's vision for "One Windows across many devices." Great new cross-device syncing options abound in Windows 8.1, including the ability to sync your app list, your Start screen layout, and even your IE 11 tabs.
Just open those PC Settings in the Settings charm yet again, then head to SkyDrive > Sync settings for granular cloud-based options galore.
Systemwide wallpaper
One of Windows 8's biggest problems lies in its very nature: The desktop and modern UI feel like two warring operating systems battling for your attention, rather than a single, cohesive whole. The core experience remains the same in Windows 8.1, but the OS is packed with refinements to make the two environments play nicer with each other, including—yessssss—the ability to use your desktop wallpaper as your Start screen background. (How was that not included from the get-go?)
If your OS didn't do so automatically when you updated from Windows 8, you can set the Start screen background by opening the charm bar while on the Start screen. Navigate to Settings > Personalize, then select your desktop wallpaper from the list of available backgrounds.
Built-in screenshot sharing
One small Windows 8.1 addition is a big boon for tech journalists (like me) or anyone else who needs to share something happening on their screen with pals. Open the Share charm, click the name of the app you're using, select Screenshot from the drop-down menu, then click the name of the app you want to use to share it, like Mail or Twitter.
Lock screen slideshow
Sick of the static look of Windows 8.1's lock screen? Turn your monitor into a digital picture frame by diving into the Settings charm and heading to Change PC Settings > Lockscreen. Enable Play a slide show on the lock screen, and a wealth of options will appear.
Default device encryption
Like Windows RT, Windows 8.1 now encrypts your storage drive—maybe. While all Windows RT tablets support encryption, very few PCs are likely to be compatible with Windows 8.1's device encryption.
To support the feature, your PC needs to have a laundry list of not-very-common checkboxes ticked: Secure Boot support, Trusted Platform Module 2.0, and Connected Standby (with all its own obscure requirements).
If your PC supports all that, then you'll find the device encryption in the PC Settings section of the Settings charm. Head to PC and devices > PC info: If your hardware gets the seal of approval, you'll see a device-encryption option. (Mine doesn't, despite the fact that it rolls with a high-end Ivy Bridge Core i5 processor and an SSD. If it did, 'Device encryption' would appear underneath 'Change product key' in the image at left.)
Broadband tethering
Windows 8.1's embrace of the mobile lifestyle extends beyond the touch-friendly modern UI. If you're using a PC or tablet that includes mobile broadband—like, say, the Asus VivoTab with LTE, or the forthcoming Nokia Lumia 2520—you can configure the device to function as a Wi-Fi hotspot and share your connection with up to ten other devices.
Doing so is easy: Open PC Settings in the Settings charm once again, then browse to Network > Connections. Select your mobile network, then slide the Share this connection option to On. (The option won't appear if the connection isn't a mobile one.)
Broadband tethering just scratches the surface of Windows 8.1's work-friendly chops. Mark Hachman has all the nitty-gritty business details about Workplace Join, MDM improvements, and more.
Making room
Whew! That's it. Did I miss anything? If so, be sure to let us know in the comments.
And while we're on the topic, Windows 8.1's new additions are balanced out by a few functionality subtractions. Check out the 8.1 features Microsoft excised from Windows 8.1 for the list of has-beens.
Next Up: Check out these related slideshows
Today's Best Tech Deals
Picked by PCWorld's Editors