It's official: The next-generation Thunderbolt spec will be called Thunderbolt 5, debuting next year with enough charging power and bandwidth to support eGPUs and a new class of "external AI devices."
Intel teased the new Thunderbolt specification at the end of 2022, promising that the next-gen Thunderbolt would continue the trend of doubling bandwidth, all the way to 80Gbps in one direction. That included a promise, now confirmed, that the four lanes of Thunderbolt could be reconfigured to allow three lanes from a laptop to a monitor, rather than two. That will allow the option of a 120Gbps connection to a display, which Intel now refers to as Bandwidth Boost.
Thunderbolt 5 will eventually be integrated within Intel's Core platforms, primarily laptops. Although Intel has a prototype dock and laptop that it will begin showing off to customers, integrated Thunderbolt 5 will debut in laptops "in 2024," Intel executives said. Unfortunately, Intel is not saying whether that will be inside its new Meteor Lake chip or some other platform. Thunderbolt 4 and 5 will coexist for some time, though, Intel said, eventually giving way to the updated spec.
Intel's discrete Thunderbolt 5 controller will be known as "Barlow Ridge," a chip which Intel will sell to Thunderbolt dock and device makers.
Thunderbolt and the associated ecosystem of Thunderbolt docks quietly emerged into the mainstream alongside the growth of working from home, as workers discovered that their laptops were lacking in display and I/O ports, which were largely replaced by a single USB-C connection.
More and more of these laptops now run the Thunderbolt high-speed connection through the USB-C port — and Thunderbolt embeds the DisplayPort protocol. All this means is that a variety of devices, from docks to displays to SSDs to even external GPUs, can be run over a single Thunderbolt cable. That cable will remain at its current 1-meter length in Thunderbolt 5, Intel executives said, though a 2-meter active cable is in development.
What's in Thunderbolt 5?
The rule of thumb with Thunderbolt 4 is that the 40Gbps connection allows a laptop to connect to two 4K displays running at 60Hz. The additional bandwidth of Thunderbolt 5 will allow for three 4K displays running at 144 Hz — which you might call the entry level for the refresh rates gamers typically demand.
Intel executives said that Thunderbolt 5 will be backwards-compatible with earlier Thunderbolt implementations. If you plug a Thunderbolt 5 device or dock into a Thunderbolt 4-equipped laptop, it will work, albeit at the older, slower, 40Gbps speed, they said.
Thunderbolt 5 will also double the available data bandwidth to address storage devices and eGPUs, going from 32Gbps in Thunderbolt 4 to 64Gbps in Thunderbolt 5. Two additional features are worth noting: Thunderbolt 5 will supply 240W of charging power downstream to the PC (plus a maximum of 15W to connected devices) and that the spec will support PCIe Gen 4, versus PCIe 3 in Thunderbolt 3. Gamers should cheer both improvements, as the first will allow some gaming notebooks to store their proprietary charging cables inside the box and use a USB-C charger and cable instead. The second will allow those PCs to connect to faster PCIe Gen 4 SSDs and devices, too.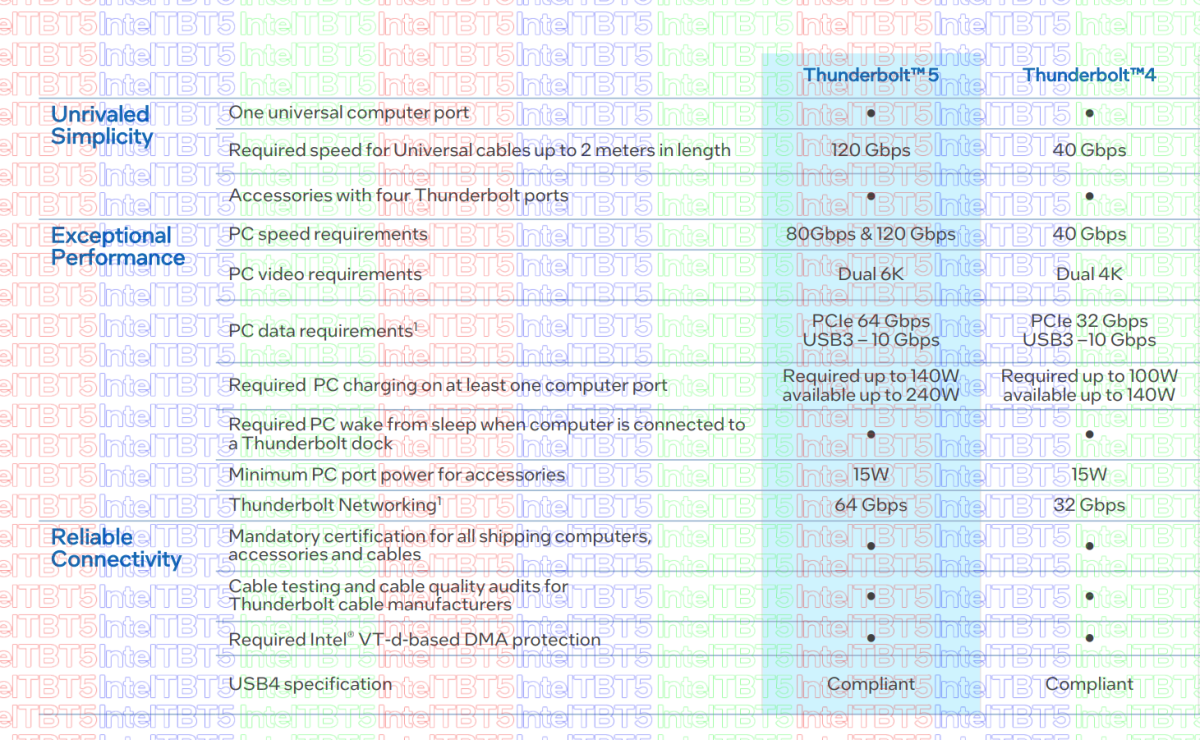 Intel
The additional display bandwidth will also be able to drive multiple 8K HDR displays or single displays at up to 540Hz. (Intel isn't breaking out all of the possibilities quite yet.)
Thunderbolt 5 also supports DisplayPort 2.1 (versus version 1.4 HBR3 supported in Thunderbolt 3). The difference is that DisplayPort 2.1 supports a maximum 10K resolution (10,240×4,320, 60Hz) on a single display, versus the 8K resolution DisplayPort 1.4 supported. DP2.1 also includes an improved version of Display Stream Compression (DSC 1.2a), which can do a better job of managing bandwidth versus the older spec.
Intel's Bandwidth Boost is a new feature, and one users shouldn't have to worry about, especially if they have a standard 1080p or 4K display. According to Jason Ziller, general manager of the Client Connectivity Division at Intel, Bandwidth Boost will be handled by the Intel Connection Manager utility.
"If it detects a high-bandwidth display that's requesting the extra bandwidth, [it] will automatically switch into that bandwidth boost mode," Ziller said. "And then…if you disconnect the display, the same thing would [come into] play, in that it would readjust to whatever devices are connected."
Though few users probably use Thunderbolt to network two PCs, the available networking bandwidth in Thunderbolt 5 has doubled to 64Gbps. That's the same amount of bandwidth that users will have to access storage devices like SSDs — again, double that of Thunderbolt 4. Given that Thunderbolt 5 supports PCIe Gen 4, laptops could gain a nice I/O performance boost, overall.
And yes, that includes even eGPUs. While Thunderbolt 3-enabled eGPUs exist, few if any Thunderbolt 4 eGPU enclosures were ever produced. Ziller specifically highlighted Thunderbolt 5 eGPU enclosures as devices that could be attached to Thunderbolt 5.
A surprising new category could be external AI accelerators, Ziller said. Intel's Pat Gelsinger has said that the new Meteor Lake processor will usher in the "AI PC," and apparently Thunderbolt 5 could complement an eGPU with a specific AI box. "We may see a similar thing for different types of external AI accelerator solutions that could be improving things like video, video conferencing, collaboration, audio effects, various types of creator and gamer effects that are using AI, and then the local AI inferencing," Ziller said, thus avoiding the need to send AI requests to the cloud.
How will you know it's Thunderbolt 5?
Intel has slightly reworked the Thunderbolt logo, giving at an updated look. On a laptop, though, the rules are the same: Look for a port with a lightning bolt atop it, and it should signal a Thunderbolt connector, not a generic charging cable. Thunderbolt cables will continue to carry the lightning-bolt logo, then a small "5" beneath to designate it as Thunderbolt 5.

Intel
Since technical collateral will only be provided to Thunderbolt developers beginning in the fourth quarter, docks and devices will take some time to ship.
Still, there several key issues that the market will have to work out. For one, Thunderbolt is primarily a mobile solution: Ziller said that about 90 percent of all Core laptops ship with Thunderbolt, but there is a "much lower attach rate" on desktops, especially powerful gaming desktops. More and more monitors are now including a USB-C connection, but it's still unclear whether any will have Thunderbolt built in, either as a hub or a display connection. The irony is that Thunderbolt 5's bandwidth exceeds DisplayPort, but that continues to be a popular connector on graphics cards.
Ziller also didn't really speak to the lingering question of USB4 v2, USB's own 80Gbps answer to Thunderbolt 5. Intel has said before it will license Thunderbolt to anyone. But because of what is believed to be Intel's refusal to certify non-Intel platforms, notebooks with AMD Ryzen chips inside use USB4; Intel Core notebooks use Thunderbolt.
"From a technical standpoint, the Thunderbolt 5 silicon could go into any device that has the appropriate connections," Ziller said when asked if this situation would change with Thunderbolt 5. "So theoretically, it could be done."
Ziller also didn't address the elephant in the room: a competing technology, DisplayLink, is arguably cheaper and more stable than Thunderbolt itself.
A DisplayLink USB-C dock uses a hardware-driven compression technology from Synaptics to provide many of the benefits that Thunderbolt devices do, for less. But maybe as Thunderbolt devices become more pervasive, DisplayLink docks will fade away? We'll have to wait and see.
Thunderbolt 5 features
Overall throughput (including display): 80Gbps, up to 120Gbps upstream via Bandwidth Boost
Data throughput (storage, eGPUs): 64Gbps
Standards supported: DisplayPort 2.1, PCI Express 4.0, USB4 v2, USB3 20Gbps
Thunderbolt networking: 64Gbps
Power delivery: 140W downstream PC charging (required), 240W downstream PC charging (optional), 15W per device
Backwards compatibility: Thunderbolt 4/3, USB 4/3, DisplayPort 2.1
Cable length: 1-meter (passive); 2-meter active cable in development