Today, HP's yanking back the velvet curtain and revealing the Spectre Foldable PC, a new 3-in-1 device that switches from a tablet to a laptop or desktop. We love innovation here at PCWorld and although we've seen our fair share of 2-in-1 laptops before, we don't see many 17-inch ones with detachable keyboards, especially with a portion of the screen being foldable.
HP claims it's the "thinnest 17-inch foldable PC" and while we haven't tested it yet to confirm, it does weigh an impressive 2.9 pounds without the keyboard. That slots it right into the ultraportable category. Let's dive right into the details then, as I'm sure you're dying to know what's under the hood.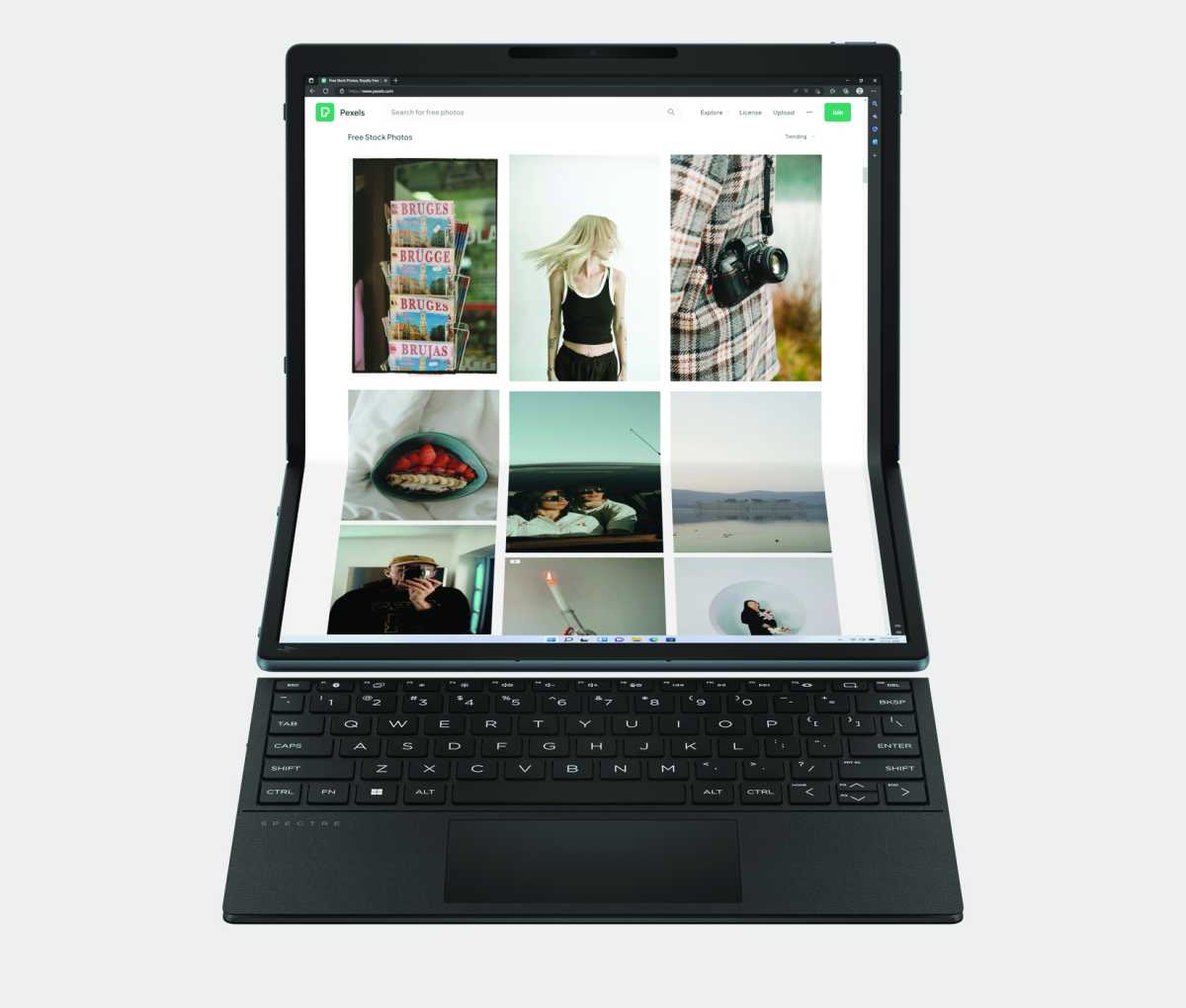 HP
The HP Spectre Fold PC features an Intel Core i7-1250U CPU, Intel Iris Xe graphics, 16GB of DDR5 RAM, and 1TB of PCIe NVMe SSD storage. That's more than enough power for office work, watching Netflix, checking email, and so on. The 17-inch foldable OLED panel has a resolution of 1920×2560 and a maximum brightness of 500 nits. Given those numbers, the picture should be absolutely lovely. It also has two Thunderbolt 4 ports with USB Type-C as well as Precision Touchpad support and it's compatible with the HP Wireless Rechargeable MPP 2.0 Tilt Pen.
The Fold PC is designed for those with hybrid lifestyles. Need to ditch the keyboard and take notes on the tablet during an important business meeting? This device is intended for exactly that scenario. There's even an imbedded kickstand for those times when you want to use the Fold like a conventional laptop. Also, for the eco-conscious buyers among us, there's ocean-bound plastic in the speaker enclosure and recycled metal in the inner frame and keyboard. Cool, right?
The Fold is available to pre-order today at Best Buy for a whopping $4,999.99. It will also be available in limited quantities in October on HP.com with the same starting price.