SLIDESHOW
Geeky holiday gifts for people you secretly hate
What's wrong with a little passive aggressiveness for the holidays?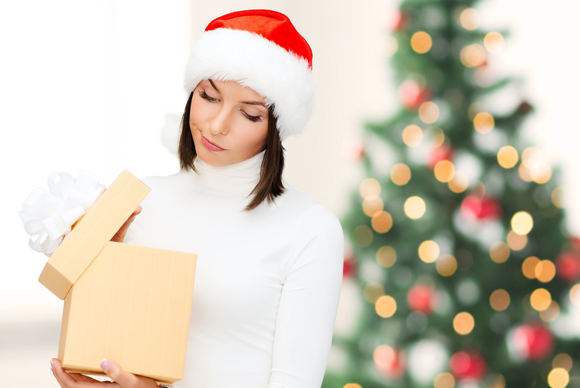 Figgy pudding
It's better not to give gifts to people we don't like. But sometimes we're forced into it, for familial or political or public relations reasons. But that doesn't mean we can't have a little fun with gift-giving shenanigans.
Here are some of our best ideas for special gifts that say, "Merry Christmas #%!$-hole."
Bob, what are you doing?
From Matco Enterprises comes the Uro Club, the perfect gift for the Flomax user on your list. "Bob, now you can play nine holes without wearing a diaper, wetting your pants or exposing your parts in public." Yes, this fake golf club has a reservoir in the shaft—you can figure out the rest. Includes a "privacy towel."
Aliens
Some company had the bright idea to build one of those front-loading baby carrier things into a garment. The horrifying result, Peekaru, looks like a baby head growing directly out of your abdomen. Classy.
Stacked
Perfect for the weight-conscious person on your list, consider the Pancake Sweatshirt from Beloved Shirts. Nothing like a subtle insult to celebrate the birth of baby Jesus.
Merry Christmas, Michael Myers
Yeah, you wear this around the house on Christmas morning. It's the Rejuvenique Facial Toning Mask. "Instruction video tape and contact toning gel included."
Bugs for Christmas
Give the people on your list a giant fluffy bug head! It's the The Power Nap Head Pillow
I bet this thing comes in handy when you have to sleep in an uncomfortable place. But the moment this monstrosity comes out of the box on Christmas morning, it will get very quiet and you'll see faces go blank.
Intellectually stimulating
Another great place to find weird and off-putting gifts is inside SkyMall—you know, that shopping mag you find in the pouch of an airplane seat. This long-time bestseller, the Head Spa Massager, gently massages your noggin as you gaze meaningfully out the window on a quiet Christmas Eve night.
Perfect for zombies
Etsy! Some genius thought it would look cool to walk around with a Zombie Brain Beanie yarn thing on your head. Give it to somebody this Christmas, and it will be the one thing they remember from the holidays.
Over and out
Give this Walkie Talkie iPhone headset to the most style-conscious person on your Christmas list, then guilt him or her into using the thing while they drive around in their SUV throughout the coming year.
Bugs for Christmas, part two
Make a statement
The iArm forearm mount from Delta Technology lets you turn your iPad or Kindle into a giant wristwatch. Stylish!
Nobody will notice
Spray On Hair from Jerome Russell never fails to shock and disappoint the hair-challenged (or not) person on your list. Like black insulation foam spray, it colors your hair and skin, and can also be used as flocking for the Christmas tree.
The best gift of all
If you prefer to take a more honest approach, you can give your fair-weather friends that Christmas Lunch from the Harvey Nichols "Sorry, I spent it on myself" collection.
Oops. Psych! This is really just a promotional ad from the upscale U.K. department store.
Next Up: Check out these related slideshows
Today's Best Tech Deals
Picked by PCWorld's Editors