IObit Uninstaller 3 review: Free utility competes with a built-in Windows feature, almost wins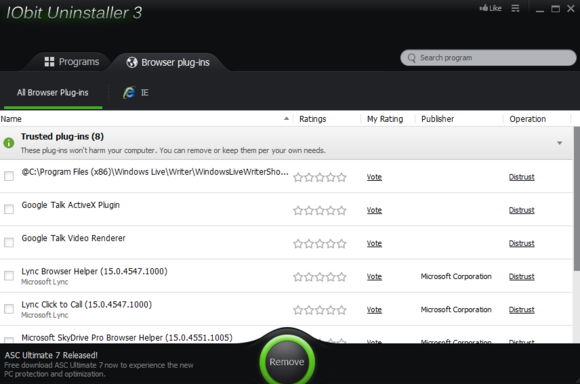 Today's Best Tech Deals
Picked by PCWorld's Editors
Top Deals On Great Products
Picked by Techconnect's Editors
There's something ironic about third-party uninstallers: They make you add another tool  to get rid of the crud that's already installed on your computer. Windows' own Programs and Features tool does a good job of letting you browse through installed applications and remove what you don't need—so IObit Uninstaller 3 needs to work hard to convince users it really is needed.
The first piece of good news is that IObit Uninstaller 3 doesn't need to be installed in the traditional sense of the word—it won't make you Next-Next-Next through a setup wizard before you can use it. You just need to run it, click through a single UAC prompt, and start removing software you don't want.
It may feel like you're running a portable app, but IObit Uninstaller 3 does install itself, in a sense: It adds a button to the Programs and Features tool, which serves as a handy reminder that you have the app installed (seeing as how most people don't uninstall software on a daily basis).
Inside IObit Uninstaller 3, you'll find two tabs: Programs, and Browser plug-ins. The former isn't much different than what's built into Windows, save for one key point: You can select multiple applications for batch removal. IObit Uninstaller 3 would then sequentially launch the uninstallers for those applications, which means you'll still have to sit there and click through every uninstaller.
Once an application is uninstalled, IObit Uninstaller 3 can scan your system for remnants, hunting for both leftover files and registry keys. You can then review and remove them.
The second tab, Browser plug-ins, is more of a gimmick. You do get a list of plugins, but it doesn't say which plugin is installed on which browser—not much use in these days of multiple browsers. When you click on a plugin to remove it, you get an alert asking you to "please make sure each plug-in selected is malicious." That's a tall order: IU3 does show ratings for every browser plugin, but they're all empty at the time of this writing. Determining malice is up to you.
The main reasons to try out IObit Uninstaller 3 are its fetching interface and the batch uninstall feature. The price tag (free) doesn't hurt either. That said, if you're getting along fine with the uninstaller built into Windows, you're not missing out on anything important.
Note: When you purchase something after clicking links in our articles, we may earn a small commission. Read our
affiliate link policy
for more details.
At a Glance
IObit Uninstaller 3

If you're partial to its looks, go ahead and get IObit Uninstaller 3. Otherwise, you're not missing out on much.

Pros

Nice-looking interface
Allows batch application removal

Cons

Doesn't add much beyond what Windows already includes
Shop Tech Products at Amazon