SLIDESHOW
Our favorite PC components of 2013
It's what's inside that counts: Fast CPUs, raging GPUs, super storage and other fine computer fittings.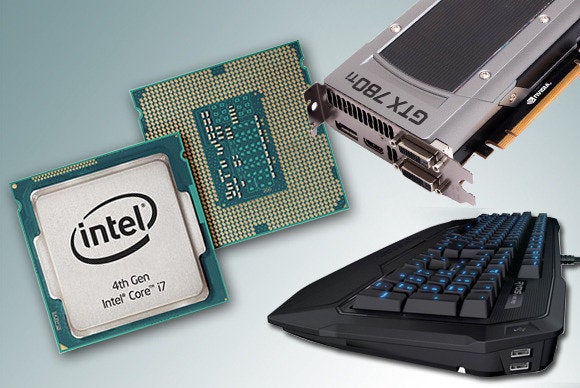 The best of the best components and peripherals
The PC's open architecture is one of its best features: You can extend the useful life of an aging machine by replacing nearly all of its core components.
If it can no longer keep up with the latest games, swap out its video card. If it takes too long to encode media, upgrade its CPU. To take advantage of a new I/O technology, such as USB 3.0 or Thunderbolt 2.0, replace its motherboard. There are dozens of ways to update and upgrade.
Here are our favorite PC components for 2013, along with a few accessories for good measure.
Intel Core i7-4770K x86 processor
The greatest benefits of Intel's Haswell architecture are reduced power consumption and improved graphics. In terms of performance, it's no great leap over the previous generation's microarchitecture. But it's still leagues beyond the competition.
For enthusiasts interested in building their own desktop PCs, Intel's Core i7-4770K is the CPU to get. It's an unlocked processor, meaning you can tweak it to run faster than stock to squeeze additional performance out of the chip.
If the Core i7-4770K isn't fast enough for you, consider going with one of Intel's Ivy Bridge-E chips. They're based on an older microarchitecture and don't have all the power-conservation features that Haswell delivers, but they're incredibly fast, and their clocks are also unlocked.
Asus Z87 Deluxe motherboard
If you're building a new PC based on one of Intel's Haswell-class CPUs, you won't find a motherboard with more features than Asus's Z87 Deluxe. This bad boy has it all, including Thunderbolt 2.0.
The Thunderbolt 2.0 interface combines PCI-Express with DisplayPort 1.2 (including that standard's multistream transport feature, which lets you daisy-chain high-resolution displays).
The Z87 Deluxe boasts plenty of other juicy features, too, including three PCIe x16 slots, ten SATA 6-gigabits-per-second (gbps) ports, eight USB 3.0 ports, and an integrated 802.11ac Wi-Fi adapter.
And as a convenient segue to my next component topic, this board supports both AMD's CrossFire and Nvidia's SLI multi-video-card solutions.
AMD Radeon R9 290X video card
Intel's Haswell processors have much better integrated graphics, but if you're a gamer, you'll still want a discrete graphics processor to play triple-A titles like BioShock Infinite, Tomb Raider, and Battlefield 4 at high resolution with high frame rates.
AMD and Nvidia spent the year topping each other. While Nvidia came out on top in terms of overall performance, AMD's Radeon R9 290X is my favorite.
Instead of concentrating solely on speed, AMD's engineers expanded their focus to include game audio. It's a little early, but I'm really excited about AMD's TrueAudio technology, which promises to help developers break new ground in game audio.
Nvidia GeForce GTX 780 Ti video card
If AMD's Radeon R9 290X is a sports car, Nvidia's GeForce GTX 780 Ti is a muscle car. This monster video card takes Nvidia's absolute best GPU—the GK110—and pairs it with 3GB of GDDR5 memory clocked at an astounding 7GHz.
The GTX 780 Ti is faster than Nvidia's own GTX Titan, which was already the fastest single-GPU video card on the planet.
Cards powered by the GTX 780 Ti cost about $150 more than those running AMD's Radeon R9 290X part, and they don't have that GPU's special audio-processing features, but if you want the absolute fastest gaming performance, Nvidia delivers the goods. 
NEC MultiSync EA294WMi 29-inch widescreen display
Go big or go home, I say. I'm sure I'll want a 4K monitor someday, but I'd be happy as a pig in muck to put NEC's MultiSync EA294WMi on my desk right now.
As it is, my work environment consists of three separate displays: two 24-inchers, plus the 14-inch display in my Lenovo X1 Carbon. What I wouldn't give to have one ginormous, 29-inch-wide monitor like the one NEC delivers.
With a resolution of 2560 by 1080 pixels, this IPS panel can replace two smaller displays. It's great for productivity, but pair it with one (or more!) of the industry's best video cards, and you'll have an awesome gaming experience, too.
Corsair AX 1200i power supply
A powerful PC needs a reliable power supply. Whether you're building a world-class workstation or an uber gaming rig, Corsair's AX1200i is one of the best you can buy. We use this power supply in the PCWorld Lab to run our storage benchmarking platforms.
As its name indicates, the AX1200i delivers a staggering 1200 watts of power to your system. It's certified 80 Plus Platinum, which means it's highly efficient, wasting less than 10 percent of its electric energy as heat while operating under full load.
Toshiba Q Series Pro 256GB SSD
When it comes to SSDs, Samsung's 840 Pro gets most of the attention, but we recently tested Toshiba's Q Series Pro SSDs and found them to be quite capable performers.
We'll post our full review soon, but fast performance both while reading and while writing are among the highlights. Don't be deterred by Toshiba's nosebleed sticker prices, either: We've found them heavily discounted online, selling for less than 80 cents per gigabyte.
On the flipside, Toshiba warrants these drives for three years, whereas Samsung warrants its 840 Pro for five. Still, 80 cents per gigabyte is a compelling price.
WD Black 4TB WD4003FZEX hard drive
SSDs are great for speed, but when it comes to data storage—everything from documents to your music, photo, and video libraries—an old-fashioned mechanical hard remains the best solution.
And it doesn't have to be inside your PC. Put a NAS box on your network and you'll be able to access those files from any of your devices (PC, tablet, smartphone, or what have you) from anywhere you have Internet access.
My current favorite drive is Western Digital's WD Black. This 3.5-inch drive packs a whopping 4TB of storage, and it spins its platters at 7200 rpm, so you can retrieve that data super-quick. Prices for this drive vary widely, so shop around for the best deal.
Roccat Ryos MK Pro gaming keyboard
Gaming keyboards are very different from their productivity cousins. They're almost never wireless, because that would introduce crippling lag. The better models have backlit keys, since gamers spend a lot of their time playing in the dark. And the best ones are completely programmable, so you can quickly execute complex sequences of actions with just a couple of keystrokes.
On each of those counts, Roccat's first mechanical gaming keyboard, the $170 Ryos MK Pro, is a winner. If you don't need some of its more advanced features—such as the ability to program every key with a different color backlight, or the integrated USB 2.0 hub—you can save a few bucks by opting for the Ryos MK Glow ($140) or the Ryos MK ($100) instead.
Razer Ouroboros gaming mouse
Whether they're designed for gaming or productivity, most mice are built for right-handed users. But Razer's Ouroboros is an awesome gaming mouse no matter which of your hands is dominant.
It also breaks the usual mold by virtue of being wireless—as an option, at least. You can also plug in a USB cable and use it as a conventional wired controller.
You can customize the length of the Ouroboros, switch out various magnetic panels to change its texture and shape, and program almost every one of its buttons (the exception being the left primary). If you're a gamer, this is the mouse to buy.
Microsoft Sculpt ergonomic desktop
You don't have to play games to want a high-quality mouse and keyboard. Microsoft shipped a honey of a wireless combo in the form of the Sculpt Ergonomic Desktop.
The keyboard is decidedly weird-looking, with its wavy design and the big gap separating the left and right sides, but oh, is it comfortable to type on. That goes double if you're using Windows 8.
The bulbous mouse will drive southpaws nuts, but the rest of the world will love the way its contours fit your hand. And you can buy all three components (there's a separate numeric keypad) for less than the price of either the Roccat MK gaming keyboard or the Razer Ouroboros gaming mouse.
Bowers & Wilkins MM-1 speakers
The last component I'll cover here has actually been on the market for several years, but it's still rocking my world when I get to work in my home office.
Bowers & Wilkins' MM-1 speakers are some of the best small speakers I've ever heard, and they're absolutely beautiful to look at.
They connect to your PC's USB port, so they bypass the storm of electrical noise inside your computer. Audio stays in the digital domain until it reaches the speaker, which has an on-board DAC (digital-to-analog converter) and a DSP (digital signal processor).
The MM-1 is undeniably expensive at $500, but it's sublimely worth it.
Next Up: Check out these related slideshows
Today's Best Tech Deals
Picked by PCWorld's Editors