SLIDESHOW
CES 2014 Fails: The gadgets and goings-on we'd rather forget
An event featuring the Cowardly Lion? A store devoted to the Kardashians? Grumpy Cat headphones? Join us as we grumble about the stinkers of CES 2014.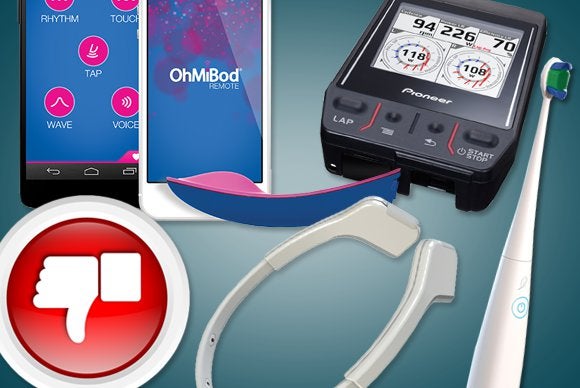 Not keeping up with the Kardashians
Las Vegas is the home of glitz, glamour, and all things sparkly—from rhinestones to flashy casinos to the latest gadgetry at CES. But as the saying goes, all that glitters is not gold. So it was at this year's show.
Submitted for your disapproval, here are our least favorite sights from CES 2014. 
Michael Bay — The big meltdown
Director Michael Bay's quietly muttered "I'm sorry" as he fled the stage at Samsung's CES press conference ricocheted around the Internet.
Bay was supposed to talk up Samsung's beautiful new curved screens, but when a teleprompter failed to deliver his lines, Bay froze.
How hard is it to improvise a few oohs and ahhs about a cool new TV? Apparently for Bay, the job was too difficult to manage. —Caitlin McGarry
[Image: AP Photo/Isaac Brekken]
Grumpy Cat headphones — No
I disapprove of the notion of any Internet meme being used to sell a product, but I have particular disdain for using the photo of a genetically challenged cat to hawk crappy headphones.
The only thing that disturbs me more about Grumpy Cat headphones is the fact that its product manager told me, "This product is actually doing very well for us." —Michael Brown
Hot Topic | $25
TrewGrip — We can't wrap our heads around it
The TrewGrip may not be the world's worst product, but the bizarre, curved keyboard sleeve simply won't pass the smell test for many users.
For those people who need to type lengthy memos into their iPad, a wealth of Bluetooth keyboards and sleeves are already waiting to take your dollars. —Mark Hachman
TrewGrip | $250
HiSense's marketing team — What was it thinking?
Really, who doesn't want to buy a TV from Jason Voorhees?
Instead of choosing a family-friendly image to push its televisions, Chinese maker HiSense chose to surround its booth with video columns showing creepy white-masked dancers gesticulating toward the CES audience.
Unsettling, to say the least. —Mark Hachman
AT&T hospitality — Gate-crash!
Okay, we get that AT&T and T-Mobile aren't the best of friends these days. T-Mobile offers to pay early-termination fees for customers who switch from other carriers; AT&T responds by offering its own incentive for existing T-Mobile customers to abandon their plans.
Still, why not take the opportunity to bury the hatchet at CES, maybe over a couple cocktails?
No dice. When T-Mobile CEO John Legere showed up at AT&T's CES shindig, he says, security staff arrived to escort him out the door. That's poor party manners, AT&T. Then again, maybe Legere's magenta T-shirt didn't meet the dress code. —Philip Michaels
'Wizard of Oz'–themed event — Nightmare fuel
Evening product showcases are a staple of CES, and organizers often come up with a theme because Cool Products and Free Food apparently aren't enough of a draw.
Pepcom's Digital Experience had performers wander around dressed as characters from the wonderful world of Oz. And that took things a yellow brick road too far, especially when the characters looked a bit like they were welcoming you to some half-mad fever dream.
When I'm learning about advances in 3D printing, I don't want to see some sinister version of the Tin Man giving me the hairy eyeball from across the room. —Philip Michaels
Pioneer Cycling Sports products — What were those names again?
Pioneer's new cycling products are very high end, and very cool ... and they have such horrible names that I cringe when typing them.
The Cyclocomputer sounds like a weather tracking system, while the Cyclo-Sphere sounds like an exercise ball. Neither name communicates what the product is or does, and both are overly gimmicky. —Amber Bouman
Smart jewelry — A not-so-smart idea
Wearable tech typically isn't fashionable—and the problem isn't that CSR's Bluetooth smart jewelry doesn't look good.
I'm just dubious about the value: The pendant necklace prototype can blink to alert you of incoming texts or calls, and you can change the color of the pendant from your smartphone.
But you know what else lets me know about incoming texts and calls? My actual phone. —Amber Bouman
Muse: The Brain-Sensing Headband — A walk will do
Eons before batteries, electricity, integrated circuits, and smartphones, people trained their minds to relax and contemplate. Thanks to the geniuses at Interaxon, we can finally incorporate technology into the practice.
Wrap the Muse brain-sensing headband around your noggin, and its seven sensors will monitor your brain activity and send the data to your smartphone over a Bluetooth connection.
But don't dillydally: The batteries last only 4.5 hours, and then you'll have to go back to meditating the old-fashioned way. By yourself. In a cave. —Michael Brown
Interaxon | $269
OhMiBod BlueMotion — Um, we'll pass, thanks
OhMiBod has been pushing high-tech sex toys for years, and the company's latest is a pair of Bluetooth panties that you can control from a smartphone. Yup.
The product is due out in March and will retail for $135 and the TechHive staff is half ladies and we don't hate fun or anything but this still creeps us out and we'd like to stop talking about it now, thanks. —Susie Ochs
OhMiBod | $135
3D content on tablets — Still a thing nobody wants
Why is 3D content still a thing? I saw a couple of iOS accessories aimed at making 3D content viewable on the iPhone and iPad at this year's show, such as Nanoveu's EyeFly 3D system.
It consists of a film that you stick over your device's touchscreen, and with some help from a specialized app, it converts 2D content into 3D content.
Sure, it's neat technology, but does anyone really want to watch a 3D movie or video clip on an iPad? I don't think so. —Leah Yamshon
Nanoveu | $27
Prototypes that will never happen — What do you mean I can't have it??
Don't get me wrong, concept tech is a lot of fun: I even named Sony's Life Space UX as one of my picks of the show.
But most prototypes are just for demonstration, and aren't something that will see the light of day anytime soon. I just don't like looking at a concept, wanting it, and then hearing that there are no immediate plans to bring it to the consumer market. Bummer. —Leah Yamshon
IZON glasses-free 3D TV — Not there yet
We saw a few tech demos of glasses-free 3D TV technology at CES, and both Ultra-D from Stream Networks and Vizio's Dolby 3D implementation were impressive.
Unfortunately, IZON's version looked all kinds of wrong. The edges of objects were weirdly visible, almost jagged. The LED edge-lit LCD had washed-out colors.
And while Vizio's and Stream Networks' versions were strictly 4K, the IZON sets are 1080p. Here's hoping the company can iron out some of the kinks before the projected third-quarter release, because what we saw on the show floor actually made us miss those clunky 3D glasses. —Susie Ochs
IZON | Pricing not available
Kardashian Khaos — Yet another sign of the apocalypse
Yes, I know this is Las Vegas. Yes, I know this is the Kardashians. And maybe I should thank the Kardashians for having a strong brand that is obviously employing people beyond the immediate family.
Still, what I really want to know is this: Do the employees of the Kardashian branding machine enjoy their work? Do they feel they are contributing something to society? Or are they going to look back at this someday and wonder what the hell they were thinking? —Melissa Riofrio
Next Up: Check out these related slideshows
Today's Best Tech Deals
Picked by PCWorld's Editors