At a glance
Expert's Rating
Pros
16GB RAM
Decent build quality
Balanced set of features
Cons
Poor screen
Slow USB
Weak GPU
Our Verdict
Not an exciting laptop, but a good all-rounder if you're looking for something for writing, browsing, chatting or office work at an affordable price. However, there's a lot of competition at this price point, and the Vivobook 15 doesn't really do anything to stand out.
Price When Reviewed
489.99
Best Prices Today: ASUS Vivobook 15 (X1504)
There's a word that reviewers often try to avoid because it sounds too much like damning with faint praise, and that word is 'fine.' It smacks of a product not going far enough to please its user, of cutting corners to hit a price point and producing something that works, but isn't going to make you smile.
And the Asus Vivobook 15, in its i5 CPU/16GB RAM guise, is just that. It's fine. It works. But there's no spark about it. It's not a laptop that's going to make you smile every time you open the lid. However, it is reasonably priced, and depending on what you want to do, sometimes fine is good enough.
Design & build
Silver plastic exterior
Military-grade durability
Disappointing port selection
Asus' silver plastic chassis is a very familiar one, the company having released many laptops that look the same over the last few years.
There's nothing spectacular or innovative about the design of the Vivobook 15, with the fold-flat hinge the only notable feature. The top of the lid has a satin finish while the underside is matte grey, which at least has the benefit of not picking up fingerprints or other greasy marks in the same way a shiny top does.
Ian Evenden / Foundry
The plastic has a lot of flex to it if you press on it with a finger, but Asus claims it has military-grade durability. While I'm not sure how well it would stand up to being bumped around in a tank, a life spent on a desk at military HQ is certainly within the Vivobook's capabilities.
Being able to hook up to peripherals and transfer lots of data quickly is not the Vivobook 15's strong point. It has three USB-A ports, two of which are USB3 and one which is USB2, as opposed to the latest USB4 standard.
There's a single USB-C, alongside full-size HDMI and a 3.5mm audio jack. You also get a classic DC power port, as you can't charge using USB-C.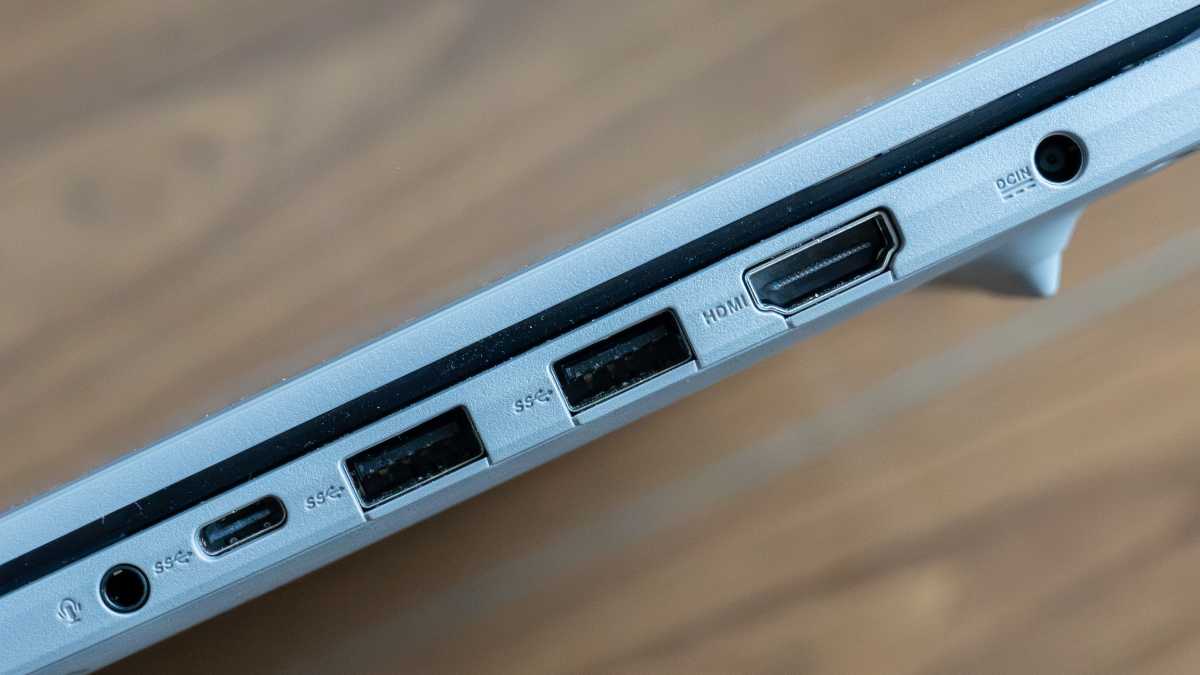 Ian Evenden / Foundry
And that's it, so no Ethernet (but you do get Wi-Fi 6), no Thunderbolt, and no SD card reader — though those missing features are common in this price range.
Keyboard, trackpad & webcam
Small, unintuitive trackpad
Spongy, squashed keyboard
Average 720p webcam

These are some of the weakest areas of the laptop. The trackpad is small, and lacks the smooth, silky surface of some other Asus laptops. It tries to hang on to your finger as it scrolls across it, and it seems far too easy to right-click when you mean to left-click, especially if you're left-handed.
The keyboard has been dipped in some sort of anti-microbial goo to inhibit the spread of viruses and bacteria, but this doesn't save it. The keys are spongy, they're not backlit, and they're slightly squashed due to the presence of a separate number pad. Ditching the latter and making the other keys larger would've been a better move here.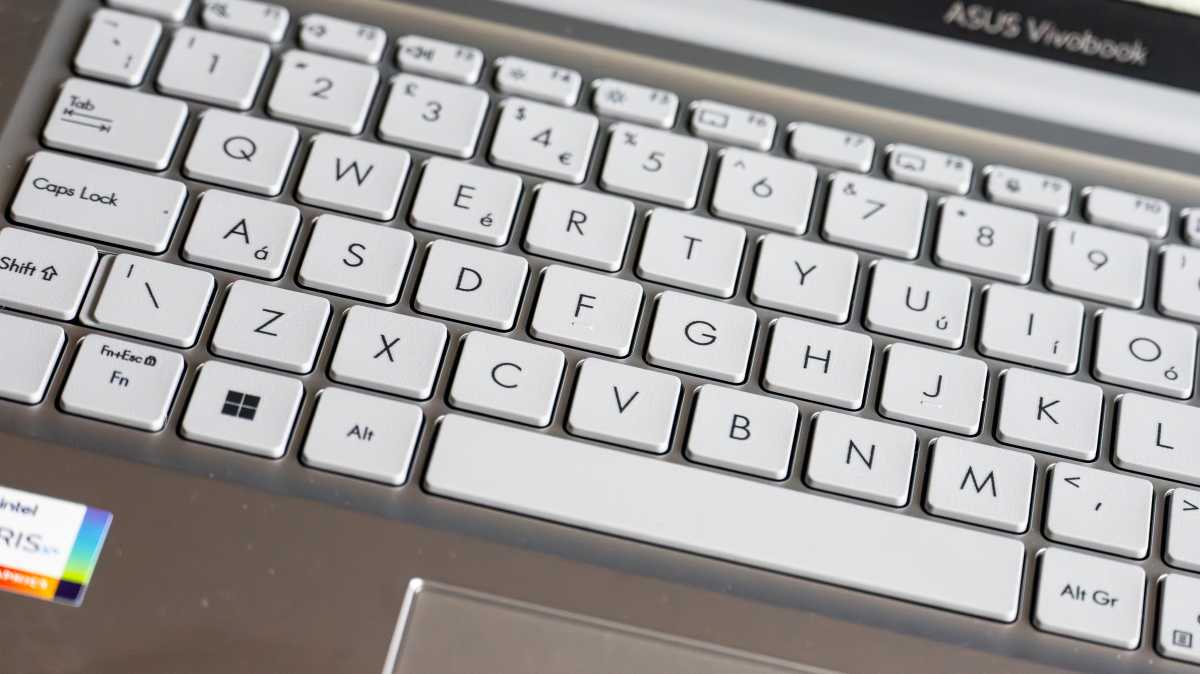 Ian Evenden / Foundry
There's no fingerprint reader or Windows Hello facial recognition on the Vivobook 15 I tested.
The webcam is a 720p model that's showing its age, though it's always nice to see a built-in privacy shutter, and the Vivobook's has an orange flash so you can always tell whether or not it's closed.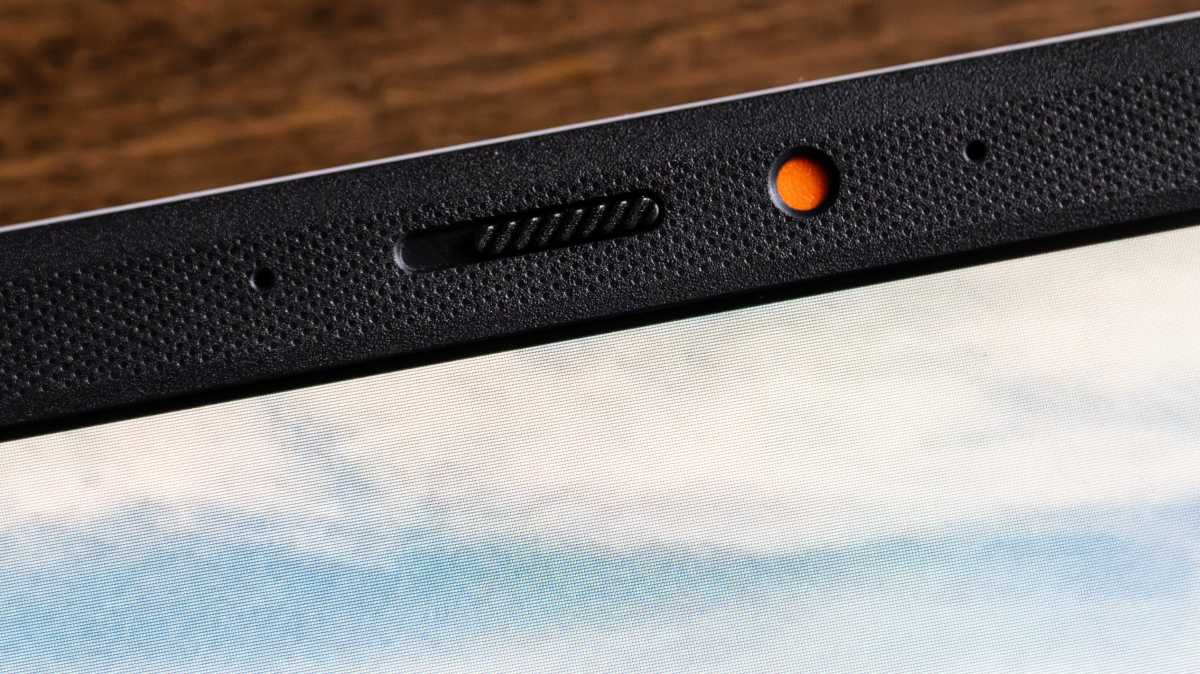 Anyron Copeman / Foundry
While usable for video calls, we've seen everything done with more panache elsewhere, and an external camera with a noise-cancelling mic will serve you better.
Display & audio
Decent 15.6in LCD display
Doesn't get very bright
Underwhelming speakers
The Vivobook is equipped with a 15.6in, LED-backlit, 1080p LCD screen with a 60Hz refresh rate. It is, once again, fine.
Recent laptops and TVs with OLED displays have ruined the poor old LCD, however, as it no longer has the brightness or contrast to really stand out. The screen's brightness – 250 nits according to Asus, 275 by my measurements – isn't the best, at only half the output of the MacBook Air M2.
However, the anti-glare coating means you can see what's on the screen when there are lights around you, and it doesn't have OLED's reflectivity issues. It's still not a screen you're going to want to use in direct sunlight, but under a tree in the park will be fine.
There's no automatic brightness adjustment for ambient light, though Windows 11's ability to adjust the display based on content comes to the rescue. The slim side bezels at least make it look good, but the top is thicker to accommodate the webcam.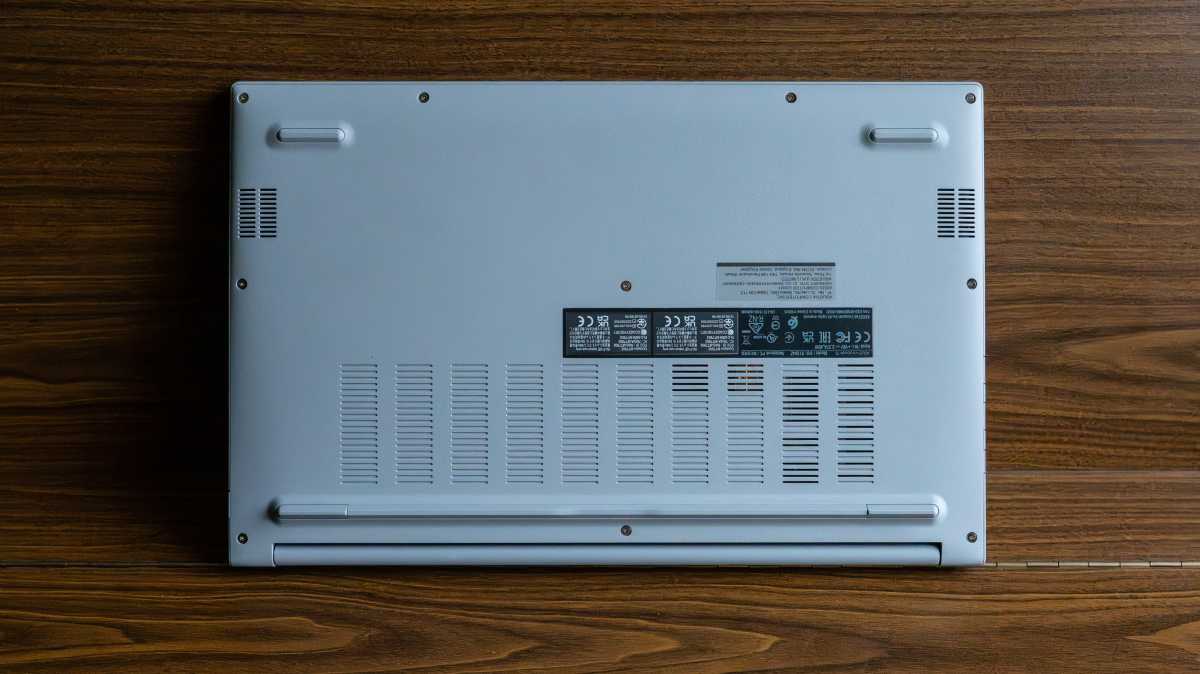 Ian Evenden / Foundry
The speakers are small and downward-firing, with no visible grille on the top of the casing. They're also provided by SonicMaster rather than Harman Kardon, which has been used for the Vivobook Pro.
They're fine for Windows alert notifications and maybe a video call or two, but you're better off using the 3.5mm headphone port or Bluetooth to connect an external headset or speaker.
Specs & performance
Intel Core i5-1235U processor
Impressive 16GB of RAM
Fine for everyday tasks
The Core i5 is a middle-ground processor in the Intel 12th-gen range, but the i5-1235U used here is from the low-power U Series.
It's also a 2022 chip, while the hybrid design (containing both performance and efficiency cores) means you're not going to get exceptional performance out of this chip, despite having 10 cores and maximum frequency of 4.4GHz.
That said, there's enough here to run office applications and browsers. The 16GB of RAM is really nice to have, as the extra headroom it provides to stop too much data being sent to and from the SSD keeps things speeding along nicely. Core i5 chips are popular with gamers who pair them with an external GPU for a budget desktop setup.
Ian Evenden / Foundry
There's no external GPU on the Vivobook 15, though. The Intel Iris Xe isn't too bad as integrated rendering solutions go, but don't go expecting to be able to play Starfield or Armored Core VI on this machine. It's just not what it was designed for.
You can get away with less demanding games such as Grand Theft Auto V, Fortnite, Stardew Valley or the many thousands of games released ten years ago or more, but it's not going to push the polygons enough for anything too modern. It runs games about as well as Nvidia's GT 1030 card, the bottom-of-the-range model from 2017, and in the Night Raid gaming benchmark that's designed for computers using integrated graphics it scored slightly higher than a generic office laptop from 2020.
But expecting it to play modern games well is unfair on the Vivobook. The i5 isn't a bad chip, and there's enough performance here for the likes of web browsing and office apps – the everyday stuff that most people use computers for.
You could turn it to image editing and 1080p video editing as long as you don't go crazy with effects thanks to the 16GB of RAM, though the slow USB ports will bottleneck large file transfers and the screen's color output doesn't manage to display the full gamut of any professional colour space.
Battery life
Not quite all-day battery life
Decent 45W charging
In battery life tests with the screen on constantly, the Vivobook 15 managed to last for six hours, which might just about get you through a day's work if you take a few breaks but more likely means you'll be reaching for the charger before the end of the day.
Ian Evenden / Foundry
Charging using the supplied 45W power adapter – you can't charge through the USB-C port – saw 30% of the 42Whr battery fill in half an hour, which is perfectly reasonable, and the charger itself is particularly small and slimline, easy to put into a bag and take with you.
Should you buy the Asus Vivobook 15?
The Vivobook 15 is a decent laptop, but it doesn't do anything out of the ordinary.
It's a good device for working, browsing, streaming, photo editing, even a little gaming. But the battery won't last all day, the screen isn't particularly bright or colorful and it's far from the most powerful machine out there.
While the strength of competition from Chromebooks and other laptops under $500 makes it harder to recommend, the Vivobook 15 will still serve you well if you don't expect too much of it.
Specs
CPU: Intel Core i5-1235U
Graphics: Intel Iris Xe
RAM: 16GB DDR4-3200
Storage: PCIe 4.0 500GB SSD
Screen: 15.6in 1080p LED backlit LCD, 60Hz refresh rate
Connectivity: USB 3.2 Gen 1 Type-A and Type-C, USB 2 Type A, Wi-Fi 6, Bluetooth 5.3, headset jack
Dimensions: 35.97 x 23.25 x 1.79 cm
Weight: 1.7kg
This review originally appeared on techadvisor.com
Best Prices Today: ASUS Vivobook 15 (X1504)