SLIDESHOW
The car of your dreams: The best concepts from NAIAS 2014 in Detroit
Hydrogen-powered. Three-wheeled. Gesture-controlled. The concept cars we saw at NAIAS in Detroit were all some kind of crazy, but don't be surprised if you see something like them in the near future.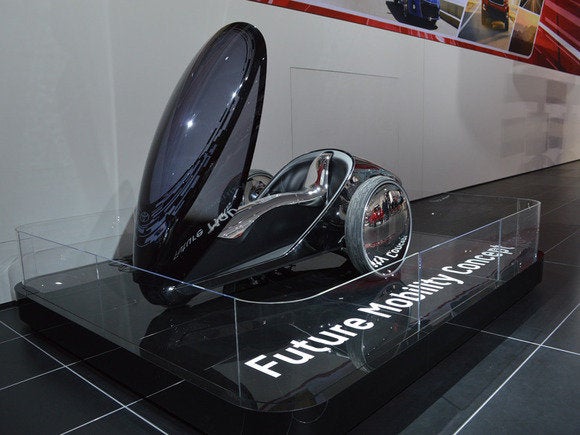 Future cars may look like these
DETROIT—Its grille is too large. Its glass roof is impractical. Its shiny, mirrored finish doesn't seem road-safe. But it's a concept vehicle at the 2014 North American International Auto Show (NAIAS) in Detroit, so it can be all these things—oversized, over-styled, impractical, and done up in a ridiculous paint job—because it will never see production in its current form. Let's take a look at this year's batch of concepts: Some are high-tech, some run on alternative fuel, and some just look cool.
Honda FCEV
Toyota wowed crowds last week at CES 2014 when it showed off its Fuel Cell Vehicle (FCV) concept, which runs on hydrogen and releases zero emissions. But it's not the only Japanese automaker working with hydrogen: Honda, which released the first production FCV in 2002, showed off a Fuel Cell Electric Vehicle (FCEV) concept at NAIAS 2014. Honda's FCEV has a decidedly more futuristic look than Toyota's FCV (which is just a regular four-door sedan), but it will have a similar range of 300 miles when it's released in 2015.
Audi Allroad Shooting Brake
Audi debuted its Allroad Shooting Brake concept, a sporty two-door crossover that features Audi's e-tron Quattro hybrid system, on Monday. "E-tron Quattro" is a hybrid system that has two electric motors, one in the front and one in the back, giving the car all-wheel drive.
Interior tech is also impressive: Instead of a traditional instrument cluster, the Allroad Shooting Brake has a 12.3-inch TFT display behind the steering wheel that acts as both the cluster and the main infotainment screen. The concept car also sports the Audi phone box, a smartphone storage compartment with inductive charging.
Kia GT4 Stinger Concept
Kia's GT4 Stinger concept 2+2 sports car is smooth—maybe a little too smooth. Accordiing to Kia, the designers wanted the car to look "shrink-wrapped," and it sort of does.
The GT4 Stinger has a surprising lack of tech. Although the instrument gauges, which are accented with red LEDs, look futuristic, the car lacks all interior tech, including a stereo. According to Kia Design Center America chief designer Tom Kearns, "The audio system starts under the hood and the speakers are the exhaust pipes."
Toyota FV-2 Concept
Toyota is really into "personal mobility devices." At CES 2014, we tried the three-wheeled, electric iRoad, and an FV-2 concept shown at the Tokyo Auto Show last year could change color based on your mood.
At NAIAS 2014, the company shows us something similar to the FV-2, the sleek, bullet-like Future Mobility Concept (FCM). The FCM looks like something out of a science-fiction museum, with its mirrored, uncomfortable-looking seat and all-glass roof. It's just a concept, but three-wheeled futuristic motorcycles might be the future…we saw two just last week.
Volvo XC Coupe Concept
Volvo is a company known for one thing: Safety. But its new XC Coupe concept is stylish, sexy, possibly a plug-in hybrid, and is based on the company's new Scalable Product Architecture (SPA), a modular platform that lets Volvo better integrate and implement safety tech. In Detroit, the concept on display included a 360-degree IntelliSafe camera (the 2015 Ford F-150 will have one, incidentally) and radar sensors all around the car for advanced pedestrian detection.
Nissan Sport Sedan Concept
Sports car or sedan? Nissan thinks you shouldn't have to choose. The company showed its new Sport Sedan concept at NAIAS 2014, a four-door sedan with sporty boomerang lights and 21-inch wheels. The Sport Sedan styling, which hints at how Nissan wants future vehicles to look, extends to the interior of the car, which has futuristic-looking gauges that appear to float in front of the dash and a minimalist infotainment system.
Acura TLX Concept
Acura also wants in on the sport sedan market. Honda's luxury line debuted the Acura TLX concept at NAIAS 2014 on Tuesday. The TLX, like Nissan's Sport Sedan, is a four-door sedan with sporty styling, including a low, wide stance and sculpted fender arches.
The TLX has custom-made side mirrors with built-in LEDs that make the mirrors glow. The TLX also sports four selectable driving modes, active noise control settings, and lots of advanced safety features, including collision mitigation braking and adaptive cruise control.
Infiniti Q30 Concept
Lots of cars are sexy, but the Infiniti Q30 is something else. I'm not a fan of hatchbacks, but according to Infiniti this isn't a hatchback—it's only one-third hatchback. The other two-thirds are coupe and crossover, so maybe that's why I'm still drawn to it.
Although looks are obviously the Q30's top priority, this coupe-crossover-hatchback also comes packed with tech to appeal to younger customers, including Infiniti inTouch—though it doesn't appear to have dual displays, like the larger Q50.
Beetle Dune Concept
Volkswagen's Beetle Dune concept is so sporty that it's got sports built-in. That's right: This longer, wider, taller Bug, which is based on the company's Beetle R-Line, has rear- and roof spoilers that double as a ski/snowboard rack. It's also got a 210-horsepower, turbocharged four-cylinder engine and some interior tech (including a large-ish touchscreen console display), but mostly what it's got is a ski rack.
Lexus LF-NX Concept
With its yawning grille and Lexus' first turbocharged gas engine, the Lexus LF-NX Turbo concept isn't exactly new—it made its worldwide debut (with slightly different specs) at last year's Frankfurt Motor Show. But its aggressive style is attention-grabbing (if nothing else), and it features Lexus' newest interior tech: A touchpad controller that supports multi-touch gestures and is similar to Apple's Magic Trackpad, according to Lexus. The touchpad replaces Lexus' old interface, a small joystick reminiscent of a traditional computer mouse.
Next Up: Check out these related slideshows
Today's Best Tech Deals
Picked by PCWorld's Editors