Gmail contacts are one of those features that Google users love to hate. Google got so much right with Gmail, but for most users, the search giant's contacts manager comes up short. Way short.
Some people hate Gmail's auto-add system, which can include a few mistyped email addresses into your contacts list that you have to delete later on. Another popular complaint takes aim at Google's "Most Contacted" label that doesn't take into account how recently you've contacted someone.
Whatever your problems are with Gmail's contacts manager, now we finally have an answer for why your Googleified address book leaves a lot to be desired. "While readying for launch, contacts was last on the long to-do list...it's been sidelined ever since," said former Google design lead Kevin Fox on Twitter.
Fox was responding to a question from Ryan Sarver, a former Twitter employee and currently a partner at Redpoint Ventures, about the suckiness of Gmail contacts.
@rsarver Blame me. While readying for launch, contacts was last on the long to-do list. Though improved, it's been sidelined ever since.

— Kevin Fox (@kfury) February 11, 2014
So now you know. Gmail contacts sucks because it just wasn't a top priority...in 2004. You would think in 2014 with identity being everything that Google would want to beef up its contacts chops.
There have been a few improvements of course. The contact card you see in the right-hand column of your inbox was a nice touch (from 2011), and Google+ integration helps if you're active on the search giant's social network.
If you're unhappy with Gmail contacts here are a few more things you can do to make it suck less.
Merge duplicates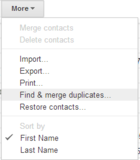 If you have multiple entries for one person, Gmail's contacts manager is smart enough to find duplicates for you. It just won't do it by default. (Sigh.)
Open up your contacts and, without clicking on an individual contact, click on the More button. From the drop-down menu select, Find & merge duplicates...
A new window will open after a few seconds with all the duplicates that Google found. You can either go through each duplicate or just close your eyes and trust Google by clicking Merge.
Separate tab
By default, Gmail doesn't let you keep your contacts open in a separate tab. But if you'd like to keep your contacts open, Google has a dedicated Contacts Web app. In the app, you can edit contacts and even email them by clicking the envelope icon next to a contacts' email address.
Use groups
Gmail groups can help keep your contacts sorted by role such as co-worker, clients, family, friends, acquaintances, or any other label you can come up with.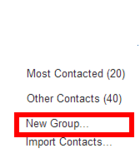 Create a new group by clicking on the "New Group..." link at the bottom of the left-hand navigation column in Gmail's Contacts manager. Enter the name of the group in the contact window, click OK and the new group will show up on the left.
To add contacts, just click on the group name and click on the add person icon at the top of the page. Google could do a better job of guiding you through the group making process, but, hey, priorities.
Stop auto-add
Gmail's penchant for adding everyone to your contacts is a love-it-or-hate-it feature. If you hate it, you can stop Gmail from automatically adding contacts to your address book when you email someone for the first time. From the inbox, click on the settings cog and select Settings from the drop-down menu. 

Then, under the General tab, look for a heading that says "Create contacts for auto-complete." Click the radio button next to "I'll add contacts myself."
Now scroll down to the bottom and click Save Changes and you're done.  From now on you'll have to manually add people to your contacts list, but that one little setting can help you cut way down on contacts clutter.
Gmail contacts may not be perfect, but for now it's the best you can hope for short of using a desktop client like Outlook or Thunderbird for your address book.
This story, "Former Googler explains why Gmail contacts stink, we explain how to make them better" was originally published by TechHive.