Preinstalled software
Unpack a consumer laptop and you'll find all manner of junk already consuming its storage space: Games, demos, trialware, links to websites, and more. Software companies pay laptop manufacturers to preinstall this and other bloatware, which can reduce the price of the finished product. You're under no obligation to leave any of it there, of course, but removing it is an annoyance, even with free software like Piriform's CCleaner. The tech-support desk at your local big-box store will be more than happy to do this for you, too. But they won't do it for free.
Businesses don't want to waste time and money removing software, so manufacturers reduce or eliminate the junkware on business laptops. And businesses that buy in bulk can specify the exact software footprint they want.
Because corporations are usually keen to keep all employees on the same platform (to simplify and reduce the cost of tech support), they often stick with an operating system long after a new version is released. When you buy a consumer laptop, it will most likely come with Windows 8.1 installed. Business laptops often come with the rights to downgrade from Windows 8 to Windows 7, or with the option to have a flavor of Linux.
Warranties, service, and tech support
The typical consumer laptop is protected by a manufacturer's warranty that it will be free from defects for one year. Low-ball units might be protected for a paltry 90 days. This keeps the purchase price low, and it allows retailers to pitch third-party extended warranties—at additional cost, of course. Any business laptop worthy of the name will come with a three-year warranty, and that's often extensible to five or even six years.
When a consumer laptop fails, you'll typically need to ship or carry the unit (at your own expense) to a service depot for diagnostics and repair. You'll rarely get a guaranteed turn-around time; and if a component needs to be replaced, you'll receive no assurance that they'll have the parts in stock. In a worst-case scenario, your laptop could be missing in action for weeks.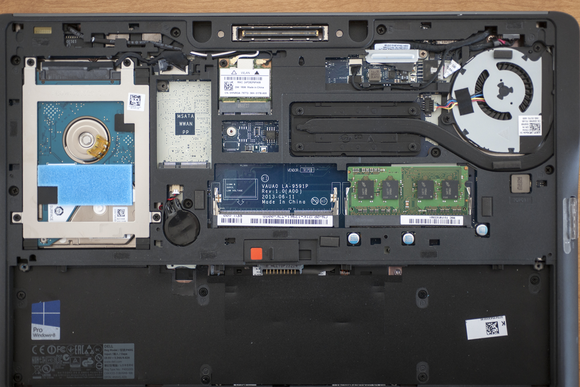 Businesses can't afford to have their employees sit around twiddling their thumbs as they wait for their laptop to be fixed. An enterprise IT department will have loaner units on hand, and they'll often perform the repairs in-house or deal with the vendor directly. Small businesses can save beaucoup bucks in lost productivity by taking advantage of the on-site service and short-turnaround guarantees (typically 24 hours, not including transit time if the unit must go back to the factory) that come with the purchase of a business laptop.
Consumer tech support varies in its efficiency, but it's generally a hit-or-miss proposition that often can be conducted only via email or online chat. If there is a 1-800 support number, it's unlikely to be available 24/7, and you'll probably experience long hold times. Software issues might not be covered at all. 
Business travelers who must finish their work before a big meeting need their problems solved right away, so support policies for business laptops are far more robust. While they're typically optional—to spare the expense for IT departments that do their own support—24/7/365 telephone tech support is nearly always available, and it includes software support.
So what'll it be, business or consumer?
This article may sound a tad like I'm shilling business laptops. I'm not. They tend to be more expensive at the outset, and their higher cost of ownership doesn't make sense for non-business buyers who can DIY.
If you're not purchasing a fleet of laptops, you aren't completely reliant upon your laptop for your livelihood (smartphones and tablets are bearable stopgaps these days), a consumer laptop should fill your business's needs.
But if time is money in your world, then the better support, longer warranties, extended life cycle, and added security features of business laptops will save you some cash over the long haul—even if your "fleet" consists of a single laptop.
Consumers should, for the most part, stick with consumer products. Buying a higher-end model will get you many of the features you'll find in a business laptop, but for less money (although you're unlikely to find vPro or HP's SureStart in any consumer SKUs).