Did you see the interview with Drake in the February 27 issue of Rolling Stone? It's called "High Times at the Yolo Estate," and the opening spread in the magazine shows Drake lounging in a huge clawfoot bathtub, puffing on an iridescent blue hookah that sort of looks like a futuristic ShopVac topped with an antique vase topped with foil and two hunks of burning charcoal. He looks cool enough smoking it, but all I could think was, "Meh. Needs more lasers."
The electronic Blow Hookah that Drake should have been smoking has lasers in the stand. And it has remote control color-changing lights that flash to the beat of any throbbing club anthem, but those aren't even the most high-tech part. That would be the voltage regulator, controlled by a custom chip designed by Blow co-founder Anand Gupta. The chip lets you adjust the power supply's output to between 3 and 6 volts. The more volts the Blow Hookah pumps out, the more smoke you get. The regulator also keeps that voltage consistent even when both hoses are used at once. The hookah's long stem holds the 16,000mAh battery, which should last at least 6 hours on a charge.
Since this is an electronic hookah, that smoke pouring out of your head-holes is really vapor. Unlike a traditional hookah, the Blow Hookah uses no actual tobacco, no water, and no dangerous discs of smoldering charcoal to worry about jostling off the top and leaving burn marks all over your tastefully decorated lounge space. It works exactly like an e-cigarette—it's just much taller.
The handle of each hose houses the heating element and the e-liquid, which is what gets vaporized. The plant-based e-liquid comes in a wide variety of flavors—I tried the creme brulee flavor—very smooth and creamy—and nicotine is optional. Yes, this isn't even necessarily about getting a nicotine buzz; it's just about being cool. Gupta and his partner Fritz Graf are focused on getting their hookah into high-end nightclubs, where Graf told me "It will get your VIP table more attention than any bottle of champagne."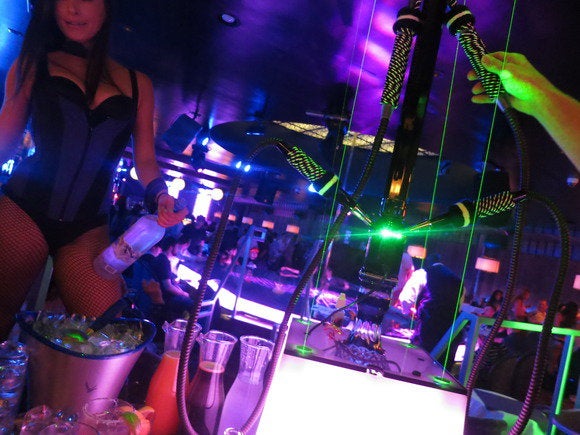 The optional color-changing stand can be conrolled by a smartphone app that connects to the hookah over Bluetooth, and the hookah itself has three tiers that allow it to be placed on the floor or on a table. LEDs inside let you pick from 30 colors, and a vibration sensor can make the lights flash to the high or low frequencies of the club's music. Press the call button on the side to make the whole stand glow red, signaling that you need service. Otherwise, you just lean back, puff on the hose, and exhale thick clouds of sweet-smelling vapor that waft over the stand's four green lasers.
The whole effect is pretty ridiculously cool. San Francisco banned hookah lounges way back in 2011 for all that evil indoor tobacco smoking, so I'm hoping an electric version catches on here soon. At $800 for the hookah and another $900 for the stand, it's a little pricey for home use (although nothing is stopping you from getting one, and please invite me over if you do). So keep your eye out for Blow Hookahs in the hot clubs of Miami, New York, and LA, and vape 'em if they got 'em.
This story, "Blow Hookah: No fire, no charcoal, just vapor and lasers" was originally published by TechHive.